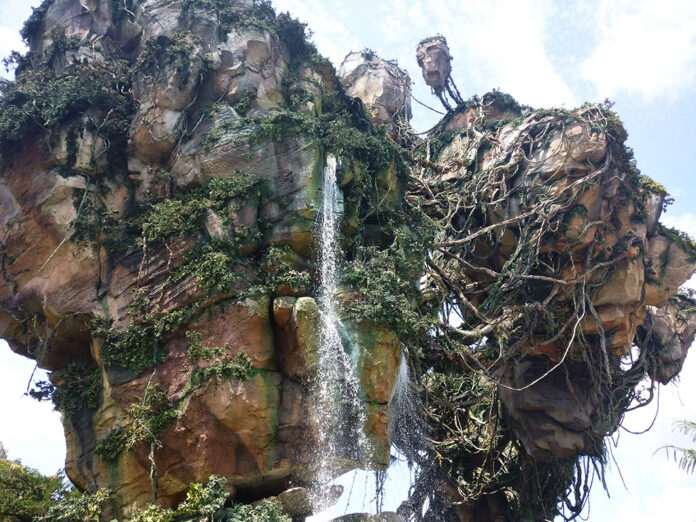 Pandora is the newest addition to Disney's Animal Kingdom located directly to the west of the entrance. This venture has been six years in the making, with construction ongoing for the past three years. Officially open to the public in May of this year, park goers are presented with a land wholly devoted to a movie that was released nearly a decade ago, and one that didn't even tell a very good story.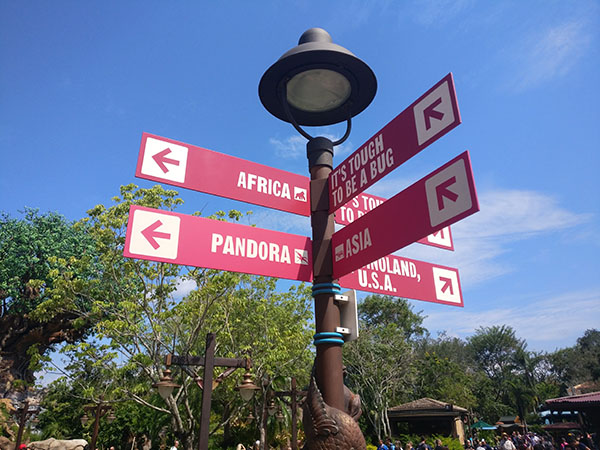 None of that matters the second you pass Tiffins and cross through the figurative portal window entering the imagination of Cameron's most beautiful film.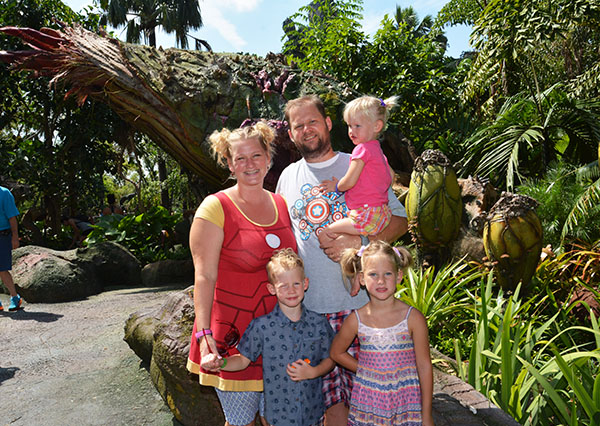 ►

Ranking

: #cleandiaper
Pandora – The World of Avatar
Animal Kingdom
Walt Disney World
Orlando, Florida
It's absolutely fitting that they built Pandora at Animal Kingdom. Animal Kingdom is a park that celebrates nature in all her forms and the animals which reside upon our beautiful planet. It honors the myths and folklore of ancient cultures including the Yeti on Mount Everest. It praises the sights and sounds and smells abundant in each region of the African and Asian continents, and it does so with reverence. Visiting Animal Kingdom doesn't feel like you are gallivanting through a theme park replete with rollercoasters and cotton candy. Animal Kingdom feels like a place where you go to pay homage to the things you love about Mother Earth.

The land of Pandora is based off of the Valley of Mo'ara located on the planet and moon, Pandora. It is marked by the floating mountains which are not tethered to the ground, the bioluminescent plants and the native people, the Na'vi.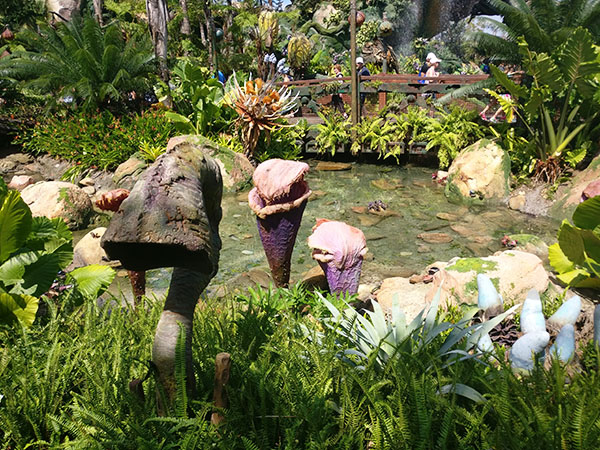 Pandora is a place to explore both day and night. During the day the mountains make up the very landscape of the park. An inquisitive eye may determine where the vines touch the ground, but when imagination is allowed to take over, this singularity can fade into obscurity in the background. The mountains do appear to be floating, particularly when along the very long winding, path leading to Avatar – Flight of Passage. Coming down from the ride, one mountain high and to the left, in particular, appears to be completely suspended in air. The mountains feel like mountains; they look dense, heavy and solid.
What has been accomplished here in Pandora, is an incredible feat of magic to witness. At night, not only do the plants light up the walkways, but new sounds echo through the darkness. The bioluminescent plants line the walkways, scatter across the ground, leap out of the rivers, and breathe with the flowers that emerge from their cocoons.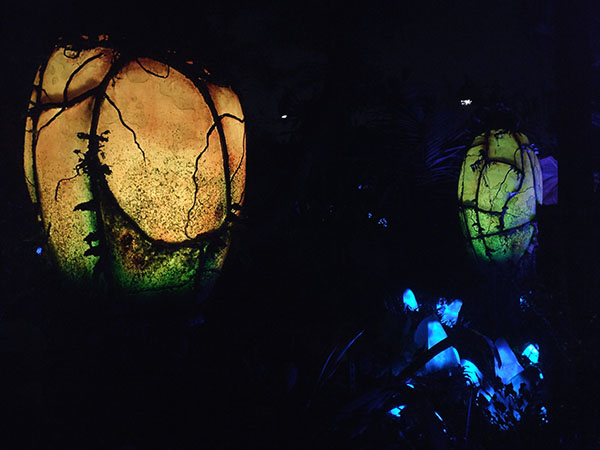 The castmembers are true to character, as with every kingdom at Walt Disney World. When you ask for directions, you will be told every time to head across the bridge back to Earth. This is one of the reasons my daughter kept asking how it is we are on a different planet, let alone a moon in the Alpha Centurion A System near Saturn. You try explaining a black hole which has created a window to distant planet to a six year old.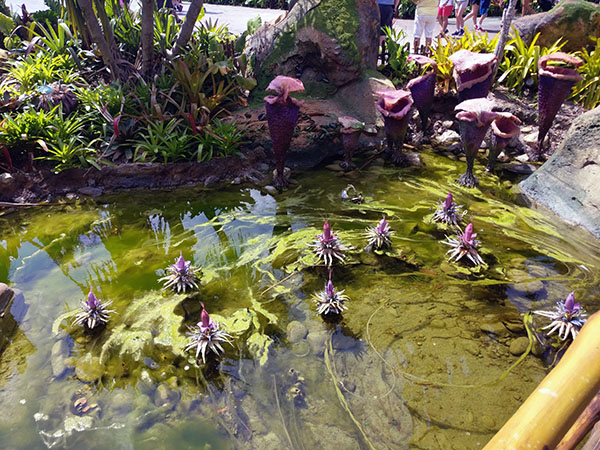 Along with Avatar Flight of Passage, a first person 3D flight simulation, there is Na'vi River Journey, a family boat ride through the mountainous caverns of the native people. There is also Satu-Li Canteen, a flavorful quick service restaurant, and Windtraders a retail store where, among other things, you can purchase a pet banshee to bring home.
►

For Kids

: Pandora is remarkable and extraordinary. It is visually impressive and is easily one of the most stunning and captivating lands in the entirety of Walt Disney World. Children are immersed in a land that is like nothing they've ever seen, no matter how well traveled they are. Nothing feels fake or contrived here, and they will be asking endless questions of you. Best be brushed up on your science and sci-fi knowledge before bringing them here. Rides are accessible for most children ages six and older.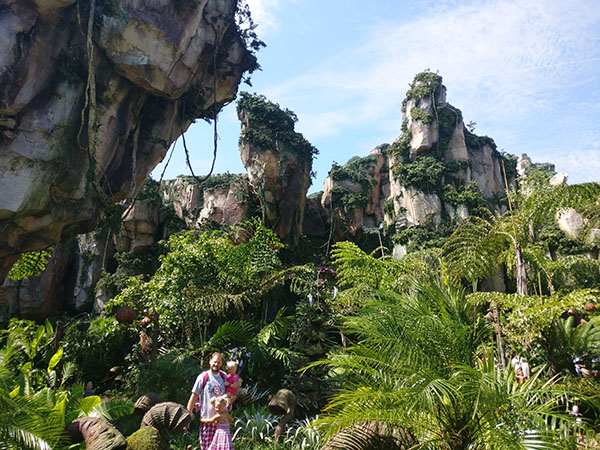 Have you been to the new Pandora land at Animal Kingdom? What did you think? Did you get wrapped up in the glowing wonderland, or think it was too good to be true?
►

Nap-Time Version: A review of Pandora, the newest land unveiled at Walt Disney World in Animal Kingdom, based off of James Cameron's movie Avatar released in 2009. 
Check out our other reviews of Walt Disney World, and Disneyland Theme parks Across the World. Be sure to check out our full Table of Contents: Where to Eat at Walt Disney World.