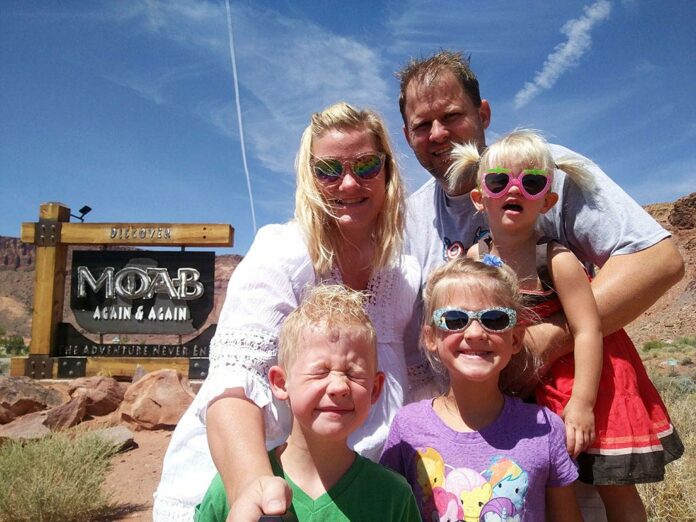 Arches National Park, located in the beautiful town of Moab, is a passageway carved through the sandstone ridges, mountains and cliffs. Witnessing the most beautiful shade of red, everywhere you turn, is hypnotizing. We've compiled a 3 day itinerary for Arches National Park that your family can enjoy without worrying about missing anything. We've taken into account tiny tired feet, bathroom breaks, unquenchable thirst, and items both parents and the kids will love to experience.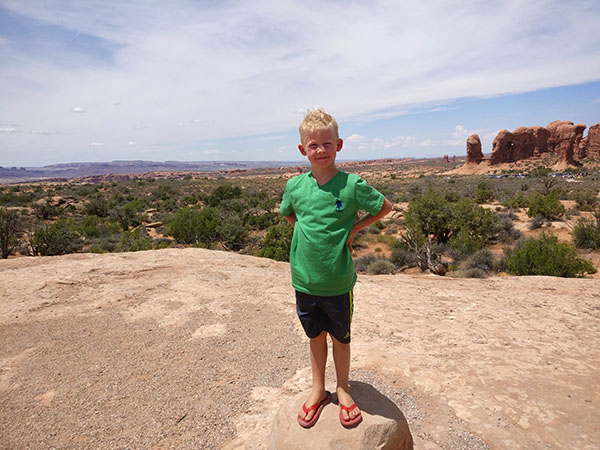 The first stop for each day must be the local grocery store, City Market. Get a head start even earlier by picking up donuts, yogurt or fruit for breakfast. There is a lot to see and do in Arches, so getting an early start is ideal. Plus it helps beat the heat.

Grab ice for the cooler, and a package of water bottles – you'll want to plan for a minimum of three 16oz bottles per person, per day. While there, it's a good idea to grab snacks to last throughout the day, or items to make an easy lunch while enjoying the park. Plan to arrive at the park no later than 10am.
Keep in mind there isn't anywhere to eat in Arches National Park, but fortunately, there are plenty of bathrooms and even campgrounds. Entrance to the park takes a minimum of 30 minutes, so it's not worth your while to exit and re-enter for food/snacks/water. Planning ahead with these items can ensure your family has a great time and gets to see everything during this 3 day itinerary for Arches National Park.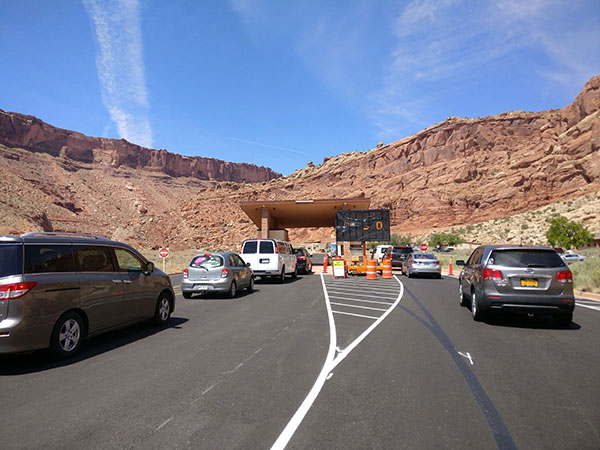 3 Day Family Itinerary for Arches National Park
Park Avenue

Courthouse Towers

Balanced Rock

Devil's Garden to Landscape Arch (2 miles)

Eat at Moab Dinner for dinner and ice cream
On Day 1 you'll view the monolithic towering cliffs that jut up in every angle and from every vantage point at Park Avenue. This section of Arches is aptly named for the cliffs that resemble skyscrapers.
Arches National Park Hike names Courthouse Towers as the most popular in the entire park.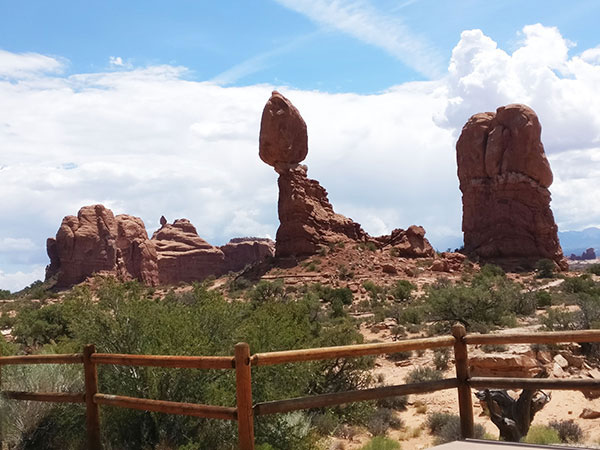 Balanced Rock is one of the most bewildering sites at the park. It's truly a feat of nature to see this giant rock perched a top the pin of a needle. 

End the day with an easy hike to Landscape Arch and see lizards, desert wildlife, views that stretch to the horizon, twin trees, and 7 other natural arches along the way. This is the longest arch in the park spanning 300 feet across!
Dine at Moab Diner after completing your day in the park and grub on some good homestyle dinner.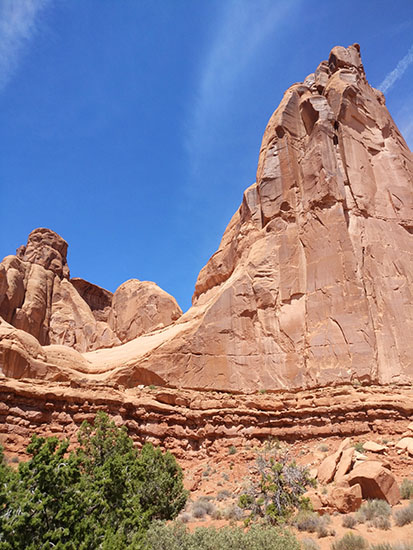 Drive directly to the trail entrance for Delicate Arch at Wolfe Ranch

Hike 4 miles to the Best Hike in Arches National Park: Delicate Arch

Eat at Quesadilla Mobilla for dinner
Day 2 of your Perfect 3 Day Itinerary at Arches National Park is all about discovering what makes Utah, Utah. Delicate Arch is the most iconic arch in the entire park, and has become a symbol of Utah itself. The four mile hike to the arch takes you in an upward trajectory 480 feet /146 meters to witness this majestic free standing arch with an opening 46 feet high and 32 feet wide.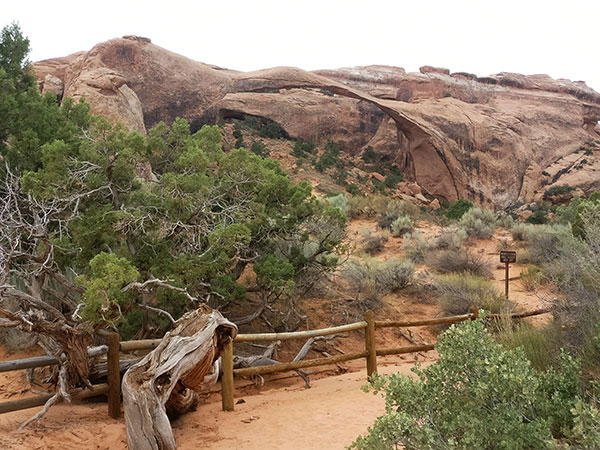 Delicate Arch is perched on the outer rim of a cliff. It is surrounded by a bowl, resembling a caldera. The bowl slopes downwards as the arch rises up from the escarpment. It is so striking because there are no other features near it. No other arches, trees, rocks, etc. It is extraordinarily magnificent, placed there almost as a decoration for the vast desert.

This tiny little Mexican food truck, parked in a rock covered patio has quite a reputation in Moab, Utah. Quesadilla Mobilla has gained notoriety for offering unique flavor combinations sandwiched together with cheese between two Mexican pancakes. Though the final product resembles more of a burrito when it comes down to it, these quesadilla's are mouth watering. Literally. They're super spicy. And, they are the best place to eat in Moab, Utah!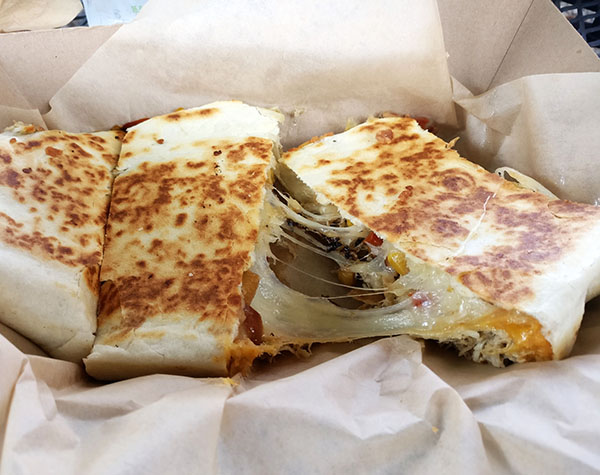 Panorama Point

Windows

Fiery Furnace Viewpoint

Panorama Point 

Eat at Milt's Stop and Eat for dinner
Panorama Point is one of the most beautiful views in all of Arches! In the distance you can see radiant mountain peaks, while up close you can peer out onto the vast rocky lands that resemble Bryce Canyon. The view is so vast you can even see Delicate Arch from here.
The light creates a different experience every time you visit Panorama Point, so we recommend hitting this stop on your way into the park, and on your way out! This way you can experience the views with a vastly different experience each time! 
Windows sounds just like what it is! Most of the arches are located inside the rock, as if they are a conveniently placed window. It's a ton of fun taking this hike with little ones, and discovering the windows around every nook and cranny. This looped hike is 1.2 miles and takes you through Turret Arch, North Window, Cove of Caves and Parade of Elephants.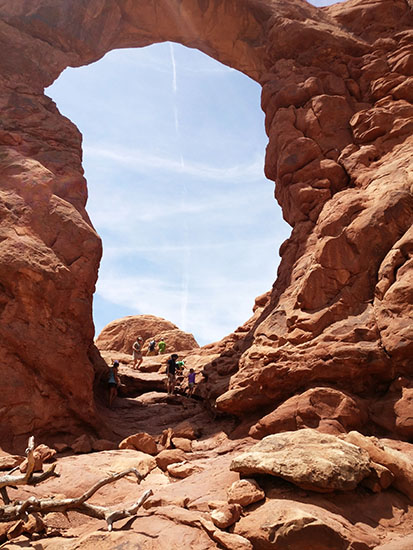 Fiery Furnace offers a lot of really rich history and geological manifestations. If you make your way down into this section of the park, you'll find a maze of narrow trails suffocated by protruding rocks. To make it through, you'll actually have to slide and slither to scale your way through this intricate rock jungle.

You can only complete this hike if you obtain a special hiking permit at the Visitor's Center, or if you go on a guided ranger tour. Yes, it's that intense. Compass required.
End your 3 day itinerary for Hiking Arches National Park at Milt's Stop and Eat. This 4.9 star eatery has quite the reputation in Moab! They are well known for their hormone free, grass fed beef and buffalo burgers plus fries, and milkshakes! They are touted as the best along US Highway 191.
What do you think of this itinerary for Arches National Park? Does it cross off your favorite items? Check out our family's full list of things to do at Arches National Park and in the neighboring town of Moab.