On day two of our family trip to Arches National Park with kids, we hiked one of the best hikes in Arches National Park: The complete 4 mile roundtrip trek to Delicate Arch! We didn't intend to do this from the get go, but nightly thunderstorms contributed to flash flooding throughout Arches, and as a consequence many areas of the park were closed. Many areas of the park, including the roads leading to Delicate Arch.
The Best Hikes in Arches National Park
Hiking to Delicate Arch with Kids
What is Delicate Arch?
Delicate Arch is located inside the park at Wolfe Ranch. It's the most iconic arch in the entire park, and has become a symbol of Utah itself. The four mile hike to the arch takes you in an upward trajectory 480 feet /146 meters to witness this majestic free standing arch with an opening 46 feet high and 32 feet wide.
Like all arches in the park, Delicate Arch is a formation of Earth found throughout the midwestern states including Utah, Wyoming, Colorado, New Mexico, and Arizona called Entrada Sandstone. The arches are created as a result of rainfall causing erosion through the salt bed layer of rock. As the rain seeps through the salt bed, it disappears until only the original sandstone remains. The dynamic nature of the Arches park is the weathered result of millions of years of transformation.

Delicate Arch and Utah are synonymous. When you think of Utah Arches, or even Utah itself, chances are, you imagine Delicate Arch. It is one of the best hikes, if not the best hike in Arches National Park and it is the most iconic. It is known the world over! It's even on every single license plate in the state, postage stamps and even was a featured image of the Salt Lake City, Utah 2002 Olympics.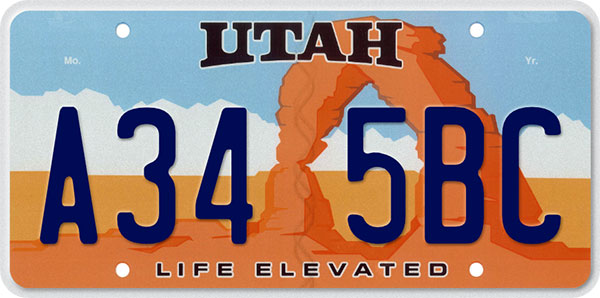 How Was Delicate Arch Named?
In 1934, explorers from the Monument Scientific Expedition wrote a story about the best hikes in Arches National Park. They called Delicate Arch the most delicately chiseled arch in the entire area. The name stuck.
Those research enthusiasts digging deeper into the history and significance of these arches and the explorers who set off on this expedition that led to this well-known name, might find some useful information on websites like Genealogy Bank (https://www.genealogybank.com/explore/obituaries/all/usa/utah/ogden/standard-examiner), or others that store archived records online.
Prior to 1934, the arch was known in different areas by different names. Some called it Cowboy's Chaps, others Old Maid's Bloomers, and even Salt Wash Arch. Delicate Arch has remained the official name for nearly 100 years.
If you see nothing, and do nothing else in all of Utah, you need to come see Delicate Arch and go on the best hike in Arches National Park.
So of course, we had no intention of coming to Arches National Park and skipping seeing Delicate Arch! It was either hike the 4 miles to Delicate Arch with three kids under 5, or hike the 4 miles to Delicate Arch with three kids under 5.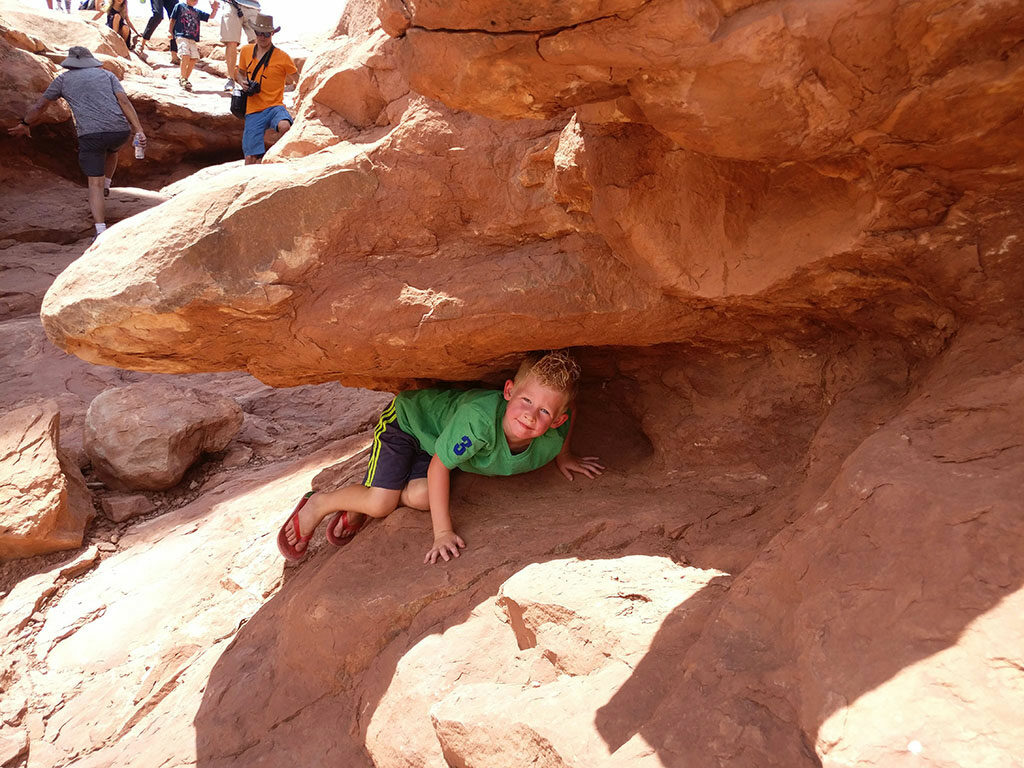 3 Hikes to Delicate Arch
There are three ways to experience the best hike in Arches National Park, however only two of these experiences get you up close and personal to Delicate Arch.
Lower Delicate Arch Viewpoint
This view is just a short 100 yard jaunt. You can drive up to the starting point, walk less than a minute, take some photos and go back to your car. You'll still be a mile away, but you can say you did it. It's not very fulfilling though, I'll tell you that much.

Upper Viewpoint
The second way to see Delicate Arch covers a half mile of ground and includes some stairs. It's less obstructed the the one mile away view that Lower Viewpoint offers, but it's still not the real deal.
Neither of these were open during our visit due to the flash flooding, and neither offer spectacular views. So, even though Gabriel was in the middle of battling bronchitis, he was insistent on hiking to Delicate Arch. (Why did we visit Arches National Park when Gabriel had bronchitis? That's another story! We rented our home on airbnb.)
Delicate Arch Hike
This left the real whopper of a 4 mile hike for us to traverse. Some people say it's 3 miles, some people say it's 4; we're going with 4 because that's what the harrowing journey felt like, especially with a baby/toddler.

It was all worth it. This is one of the Best Hikes in Arches National Park! We were aware of the closures on Day 1 so we planned our second day entirely around it. We knew it would be strenuous, even when we are all healthy. We knew it would be hard with a 2 year old in tow, and no hiking backpack. But we also knew it is the the best hike in Arches National Park.
Trail Difficulty
Difficult. There is no moderate about it. The elevation of Delicate Arch is nearly 5,000 feet and 500 feet of that occurs along the hike. It's pretty much straight up. There are sections where you have to crawl, and sections with a sheer cliff drop off. But again, it's so worth it.
Beginning the Best Hike in Arches National Park
The day started out with a drizzle, so we started our hike shivering with sweatshirts on. It only took about 10 minutes for us to warm up, so that definitely ended up being a bad idea considering we had 5 additional sweatshirts to lug around for four miles.
The initial part of the trail is very easy and is along a paved path. Approximately 15 minutes in you can see the giant looming petrified sand dunes that the trail crosses. This marks the end of the easy part.

Upward Climb
The dunes appear to shoot straight upwards. They are slick, and it was arduous. This is the section of the park where you have to crawl up the mountain on hands and knees. After reaching the summit of the dunes, you cross through a sandy gorge which offers a bit of momentary relief from the steep climb. The gorge is partly flat, but has sections of ups and downs.
Sheer Drop Offs
The final section takes you along a semi narrow path that borders a sheer drop off all the way until you reach Delicate Arch.
Payoff for Accomplishing the Best Hike in Arches National Park
Delicate Arch is perched on the outer rim of a cliff. It is surrounded by a bowl, resembling a caldera. The bowl slopes downwards as the arch rises up from the escarpment. It is so striking because there are no other features near it. No other arches, trees, rocks, etc. It is extraordinarily magnificent, placed there almost as a decoration for the vast desert.
►
For Kids
: This is the best hike in Arches National Park! It's hard, but the payoff is an unbelievably memorable experience! The kids did awesome, and they loved seeing the varying landscapes along the path. We crossed muddy puddles, there were huge rock structures accessible through an easy climb, viewpoints, and an incredible reward at the end.
The final stretch of the path can be scary for little ones. Gabriel carried our baby, (because in addition to having weak lungs, I also have intense vertigo), and I held our little guy's hand. He was terrified of the drop off, and for good reason, it was extremely far down.


Of course what goes up must come down, so on the way back it was all downhill. Knowing the worst of it was over our kids had a blast climbing all the boulders and giant rock structures, splashing through the muddy water, jumping off rocks into the sand, and seeing the tadpoles in the standing water. Even our baby did great – we were impressed.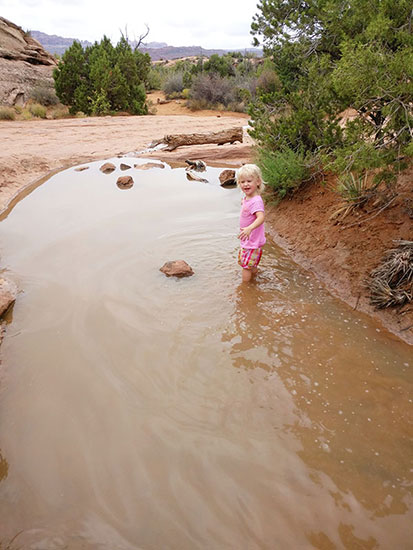 The best hike in Arches National Park is hands down Delicate Arch, It's is the pinnacle of this National Park, and it's worth whatever hike it takes to see it. We're so glad we took the time and energy to make the expedition, and it proved a worthy goal. Have you made this hike? What did you think?
►
Nap-Time Version
: A synopsis of one of the best hikes in Arches National Park: 4 miles to Delicate Arch. Well worth it.
Check out Day 1 and Day 3 of our Family Trip and download your free copy of a 3 Day Family Itinerary touring Arches National Park.