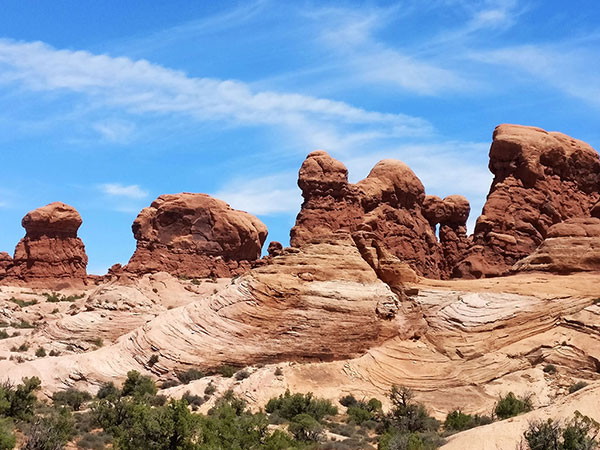 If you are wondering what do do in Arches National Park, we've got you covered. Three days in Arches National Park will provide you with unforgettable memories that will last a lifetime. You will scale mountain tops on the best hike to Delicate Arch and witness iconic Utah, eat at famous local restaurants, and even see giant dinosaurs. The highlights of day 3 of our family trip to Arches include Panorama Point, Windows, and Fiery Furnace (read about day 1 and day 2 at the park).
What to Do in Arches National Park
► Ranking: #cleandiaper
What to do in Arches National Park: Panorama Point
This is one of the most beautiful views in the whole park. In the distance you can see radiant mountain peaks, while up close you can peer out onto the vast rocky lands that resemble Bryce Canyon. The view is so vast you can even see Delicate Arch from here.

The most important thing to keep in mind at Panorama Point is that the time of day you visit will drastically alter what you can see. As the light changes, so do the shadows. Try and time it so that you can catch this view at multiple times throughout the day to enhance your experience.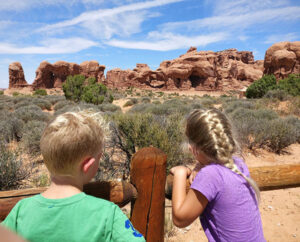 This year the National Park Service is offering a new stargazing experience at Panorama Point. It's unique elevated location makes it a prime spot for experiencing astronomy and seeing the milky way without any light interference. Read more about this opportunity on your next visit here!
What to do in Arches National Park: Hike Windows Trail 
This is a great hike for the whole family offering a minimum of three arches to see and touch. The 1.2 mile Window Loop takes you through Turret Arch, North Window, Cove of Caves and Parade of Elephants. It's called windows because most of the arches are located inside the rock, as if they are a conveniently placed window. 
A significant part of the path is a low grade staircase which leads to side by side arches. The hike also takes you directly underneath several arches and offers fantastic views of the desert valley below along with many additional arches to see from afar.
In addition, this hike offers kids a chance to test their limits in a relatively safe place. There are steep ridges to assist them in feeling adventurous and show off excellent examples of how Arches National Park was formed. After you finish here, you can cross the road to see and touch two more arches, including Turret Arch and Double Arch. 
What to do in Arches National Park: Furnace Viewpoint
From the viewpoint of Fiery Furnance we felt similar to how we felt when viewing the Petrified Dunes. There is a lot of really rich history and geological manifestations at this location, but unless you enter the furnace it's not going to look like much. If you make your way down to the trails you'll find a maze of narrow trails suffocated by protruding rocks as you slide and slither and scale your way through this intricate rock jungle.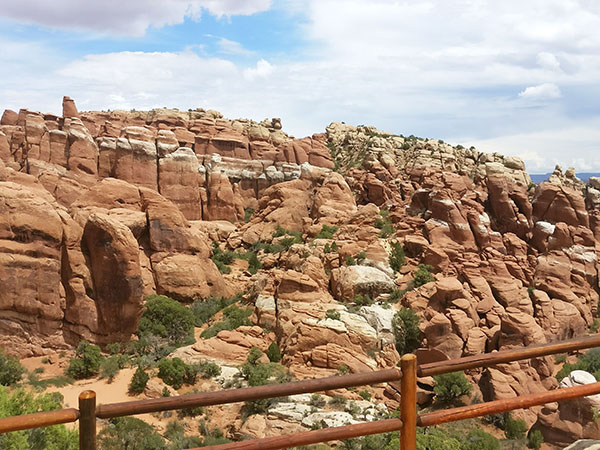 Family Hint: It is recommended to complete this hike with a guided ranger. If you opt to do it by yourself, you must obtain a special hiking permit at the Visitor's Center. We did not complete this hike, but it comes highly recommended.

You'll need a compass and can't rely on GPS though this maze. It won't work. You'll just have your wit and skills to guide you. This section of the park is all about getting up close and personal with the formations. You will literally have to slide your body through many sections. 
A ranger led hike will enable you to learn all about the history and the geology of this area, and of course, ensure that you make it out without getting lost.
Be sure to stop by Quesadilla Mobilla for your last stop of the day! This little food truck is the best Mexican food in Moab!
► For Kids: Touring Arches National Park is a great way to spend your family vacation. Arches is a historical landmark and geological wonder. When it comes to what to do in Arches National Park, the hikes and geological formations and make it a great hands on learning experience. Kids will love finding new arches, arches that are hidden behind huge formations or in the shadows, and if they find a new one – they get to name it!
What to do in Arches National Park: Desert Camping!
The last thing you should make sure to do to make your Arches National Park trip the best ever is camping in the desert! Fox in the Forest has a 22 Rockin' Tips to Master Desert Camping that make an excellent guide and are worth a read before your next trip!
► Nap-Time Version: A guide for touring Arches National Park including the most famous and well traveled spots you don't want to miss.
Don't miss day 1 and day 2 of our Family Trip to Arches and our Free 3 Day Itinerary to Arches for getting the most out of your family trip.