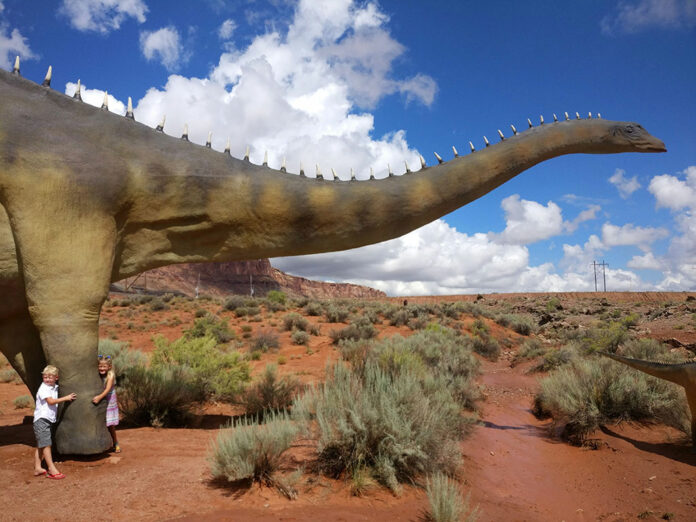 Moab Giants is a Dinosaur Museum in Utah, and it is a big deal. Like, both literally and figuratively. You can see the literal giant dinosaurs from the highway every time you drive through the town of Moab on your way to Arches National Park. They look real, and they look incredible. Figuratively, they look like they are going to eat you.
Moab Giants looks so compelling from the roadside you can't help yourself from wanting to go there. 
But it's not just the dinos on the side of the road that make you want to visit Moab Giants. From the second you see that first dinosaur, the kids will start begging. We heard a million times a day how much our kids wanted to see/touch/feel/meet these literal Moab Giants.
After spending 3 days at Arches National Park we gave in, and spent our final day in Moab at the Dinosaur Museum. 
Moab Giants
Dinosaur Museum Utah
It was a giant waste of money.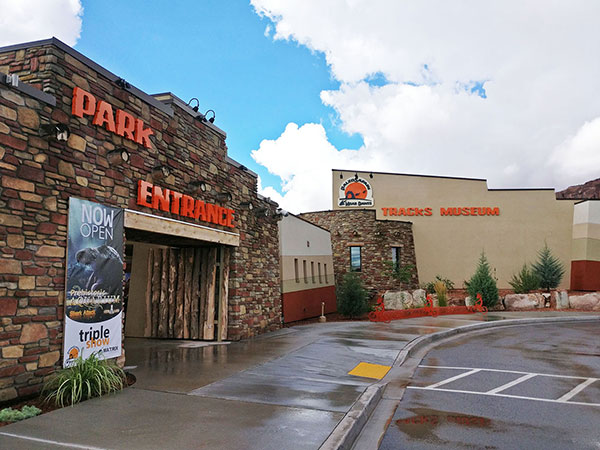 Moab Giants
112 UT-313, Moab, UT 84532
Phone: (435) 355-0288
Hours: 10a – 6p
Cost: $70 Family Pass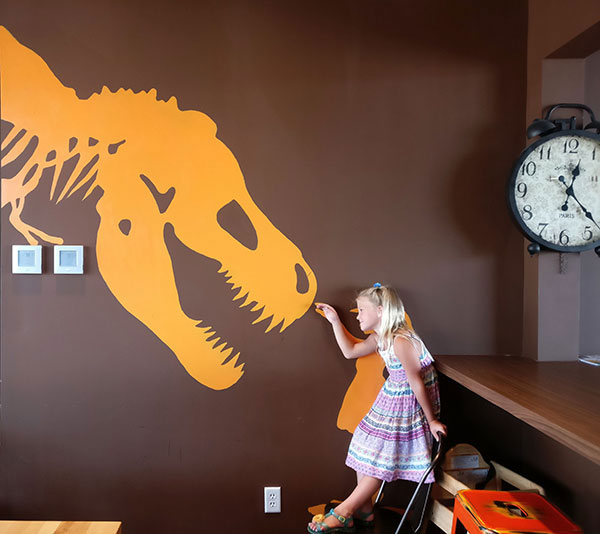 Jurassic Park
This place is a dud mostly just because of the exorbitant cost. In reality, it's not half bad as a side excursion for no more than an hour or two, but the admission fee borders on robbery and taints any goodwill. 
Moab Giants self proclaims to be the original Jurassic Park, except none of their dinosaurs are actually alive, or moving, or a threat. That kind of takes all the fun out of it. I'd totally take my family to a real Jurassic Park for a $70 family pass. However, for this dinosaur museum in Utah a price of $30 for a family pass would have been much more fair.
At $30, we'd be roaring like the dinosaurs about how great this place is, but for nearly $100 we felt eaten alive.

Cost of Admission
$22 Per Person Ages 15+
$16 Per Person Ages 4-15
$70 Family Pass 5 People Total | 3 Children Ages 4-15 Years Old
$20 Per Person Groups between 15-25 People
$18 Per Person Groups 26+ People
$22 Per Person up to 6 Birthday Party Pass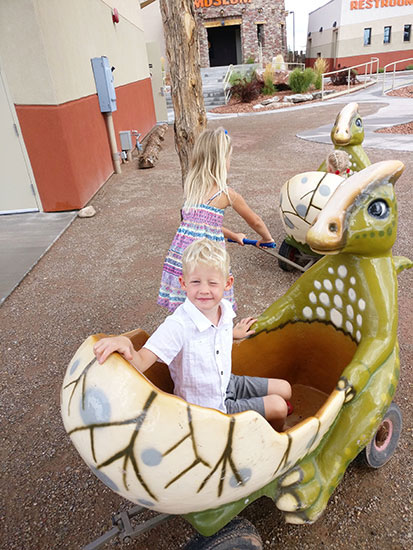 Be sure to check groupon before your visit. On occasion they'll offer a discounted coupon to enter the park for a slightly more competitive rate.
Attractions
Attractions at Moab Giants are hit and miss. Some are really awesome, and some aren't really attractions at all. The list of sort-of attractions at Moab Giants include:
Dinosaur Train

Dig it Out Site

Dino Playground

Tracks Museum

3D Theater

5D Plaeoaquarium

Gift Shop

Giants Cafe

Paleo Camp
Gift Shop | Giants Cafe | Paleo Camp
Though the list of attractions seems rather lengthy, the reality is each attraction is quite slim. Obviously the gift shop and the giants cafe aren't even really attractions, so it's just cheap to include them in the contents.
Paleo Camp, is just a teepee tent in the middle of the path. 
Dinosaur Train | Dig it Out Site | Dino Playground
The Dinosaur Trail, Dig it Out Sites, and Dino Playground are all part of the same attraction at Moab Giants.
The Dino Playground feeds into the Dinosaur Trail and it's a pint size bit of fun with lots of things to climb on, plus a huge round swing made of netting that my three kids loved swinging on all together. Basically, a playground that costs $70 to play on a swing.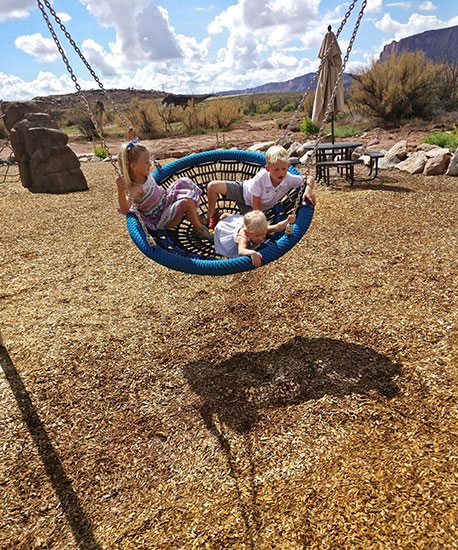 Half of the Dinosaur Trail was flooded on our visit, so we missed half of this attraction. This was a huge bummer, because the life size dinosaur replicas are definitely the coolest part of the entire park. Thankfully, for this reason we did get $20 knocked off the price (and we didn't even half to ask for it).
The full size replicas of Moab Giants, or giant dinosaur sculptures roaming the grasslands, are fantastic. These are the same dinosaurs you see from the highway, plus tons more hidden along the vast trail. We saw full size long necks, a T Rex, and lots of other little goblins.
They are sculpted to exact dimensions, painted to look absolutely terrifyingly real, and have a movement about them that make them appear to be alive in the desert. Each dinosaur has an informative marker for guests to learn what it ate, how it behaved, and other fun facts that teach kids all about these prehistoric animals.
Midway through the trail is the Dino Dig It Out site, located in the blazing hot sun. It looked fun, even though it is located in a really bad place, but it was also flooded during our visit so we weren't able to play.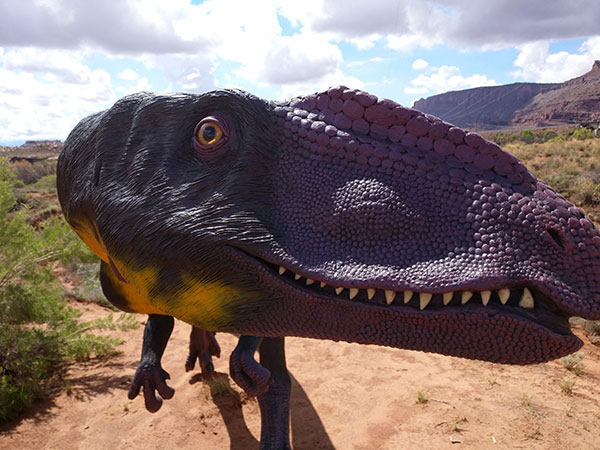 Tracks Museum
The tracks museum, on the other hand, is dreadful. In contrast to the Dinosaur Trail, the Tracks Museum is located indoors.
Every dinosaur replica in this indoor exhibit has fur, which apparently is a new thing since about 2014. Since scales and fur are thought to emanate from the same reproductive tubes, all the scientists in the world have decided that Dinosaurs must have been covered in fur.
Throughout the Tracks Museum a round, spherical, scary little ball pops up around every turn to share obnoxious dinosaur facts whether you want to know them or not. This scary little ball also has fur: 3 wisps of hair sticking out of its head.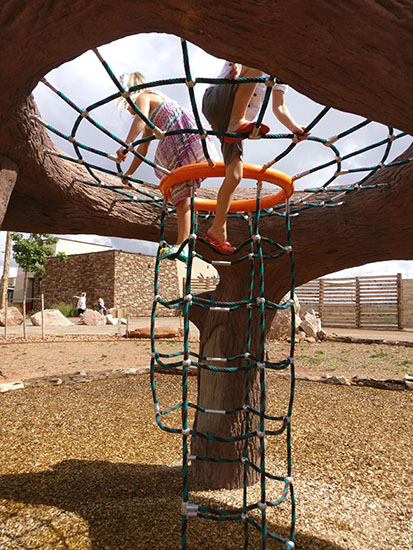 The museum has a giant movie projector that you can crank a wheel on for absolutely no reason whatsoever. That's just the highlights of the museum. The rest of the museum is blasé.   
3D Theater 
The 3D Theater is a tiny movie theater that plays one movie on repeat. The film is based off of popular science theory about how the galaxy came to be.
It has nothing to do with dinosaurs, at all.
It's all about the big bang theory and current climate change. And, it's boring.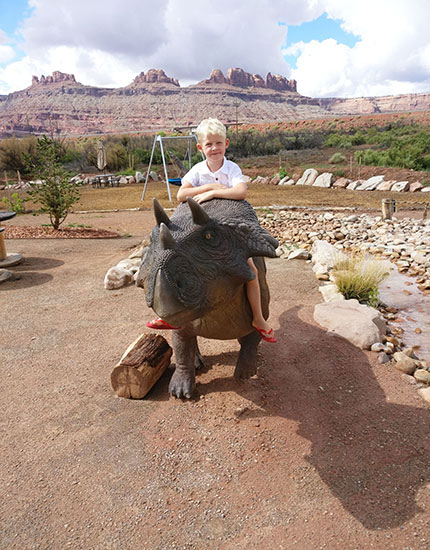 5D Plaeoaquarium
The 5D Plaeoaquarium was the only other semi decent thing here in addition to the Dinosaur Trail. It could have been even better minus the very awkward tour guide that doesn't like to be interrupted with basic and logical questions.
At this attraction, you'll walk through an aquarium filled with ancient sea creatures that supposedly morphed into the dinosaurs whose fossils were found here in Moab, Utah.
The visuals are really cool and the 5D images look real by employing cutting edge  technology. This aspect is really intriguing. This is the one place you don't want to miss if you decide to come to Moab Giants.
Until the end, when it just starts getting really weird.
There is a mermaid type female in a test tube, and she starts banging on the glass to get out. When my kids asked why she was in there, and why she was obviously scared, the tour guide answered that she wasn't finished growing. I had a really hard time explaining that one to my 5 years old's.
Was she scared of growing?
Was she in pain?
Was she a mermaid that they were experimenting on to turn into a dinosaur?
Was she a dinosaur they were trying to turn into a mermaid?
Was she asking for their help?
Should we go back in to help her try to escape?
Would she live if we did?
Yes, these are all the questions Gabriel and I had to answer after traumatizing our children at Moab Giants.
After the mermaid debacle, we went into a room where apparently a Megladon was going to try and eat us. First though, we were warned for 5 minutes about how scary the next 30 seconds was going to get. We didn't need to worry though, because our guide would yell out, "It's coming"  in a very dry and nasally voice just before the glass broke.
You could tell he really loved his job. The misting of water that came with the breaking of the glass really sealed the deal.
It started out great, then got absurdly weird and troubling and ended truly awful.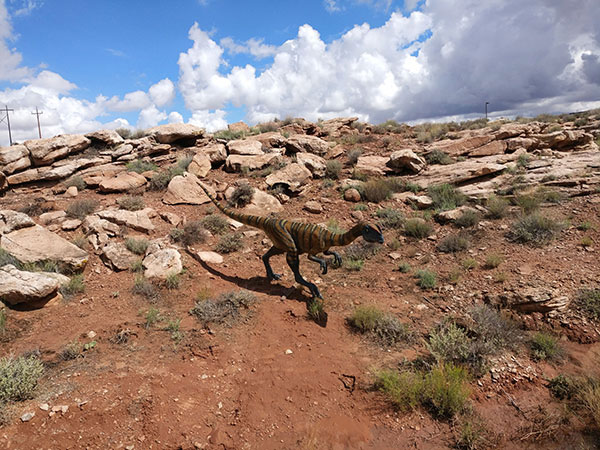 ► For Kids: If your kids love dinosaurs, you can easily spend 2 hours at Moab Giants walking the Dinosaur Trail and playing on the playground. This Dinosaur Museum offers historical and biological facts about the earth, and even better specific facts about the Dinosaurs who lived in Utah. When it comes to value though, you'd get more for your money by watching Dinosaur Train for free.
Finally, there is also a Paleo Cafe. The food looked decent, but we'd wasted enough money here already so we took a hard pass and left without partaking of the dino meat.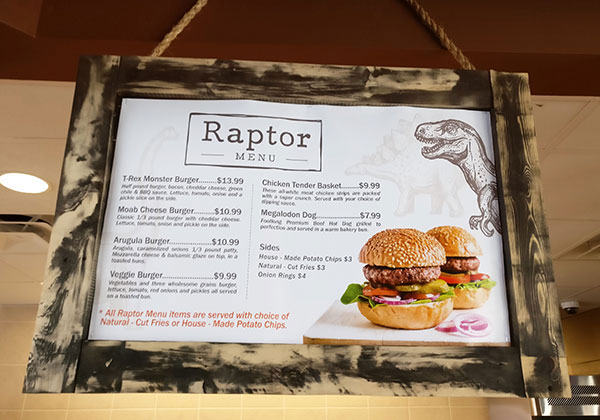 ► What We Learned: At Moab Giants we learned all about various types of dinosaurs that roamed the earth where we live, and got to see exactly what they looked like. We learned what they ate, how the behaved, what they probably sounded like, and more.
For a museum that boasts to be the only museum in the world dedicated solely to Dinosaurs, they sure have a lot of attractions that aren't about the Dinosaurs.
Have you visited Moab Giants? What did you think? Or maybe Hole in the Rock? Which one did you prefer? We'd love to hear all about it in the comments!
► Nap-Time Version: Moab Giants is an overprice and overrated attraction in Moab. Skip.
Check out the other fun adventures our family had in Moab, and exploring Arches National Park Hikes.