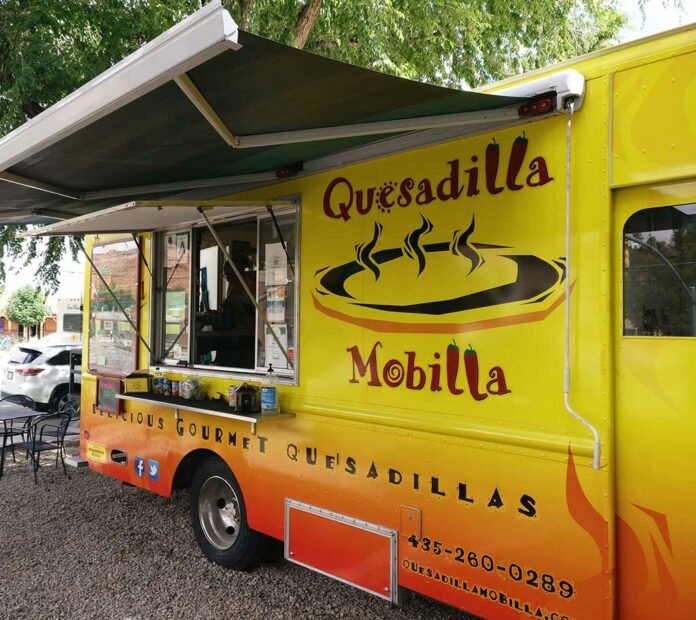 This tiny little Mexican food truck, parked in a rock covered patio has quite a reputation in Moab, Utah. Quesadilla Mobilla has gained notoriety for offering unique flavor combinations sandwiched together with cheese between two Mexican pancakes. Though the final product resembles more of a burrito when it comes down to it, these quesadilla's are mouth watering. Literally. They're super spicy. And, they are the best place to eat in Moab, Utah! They are the 1 and only place you must try when you take your family to Arches National Park. 
Quesadilla Mobilla is the
Best Mexican Food in Moab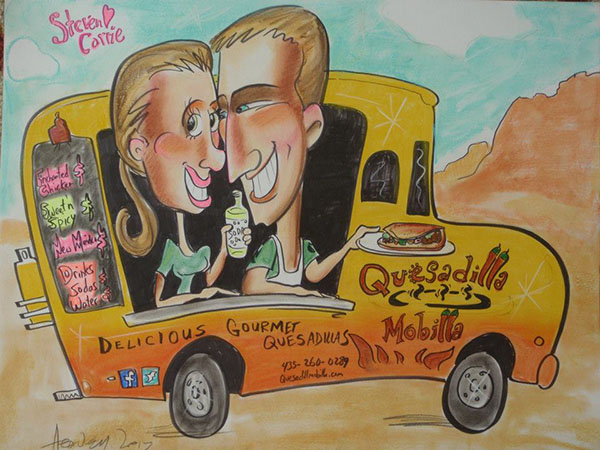 Quesadilla Mobilla
Facebook
95 N Main Street 84532
Moab, Utah
Phone: (435) 260-0289
Hours: 11am – 5pm
Menu
No matter what you choose from the menu at Quesadilla Mobilla, you'll be happy. The menu offers eight standout quesadilla choices that Mexican food lovers come back for time and time again. The choices range from plain to spicy to vegan.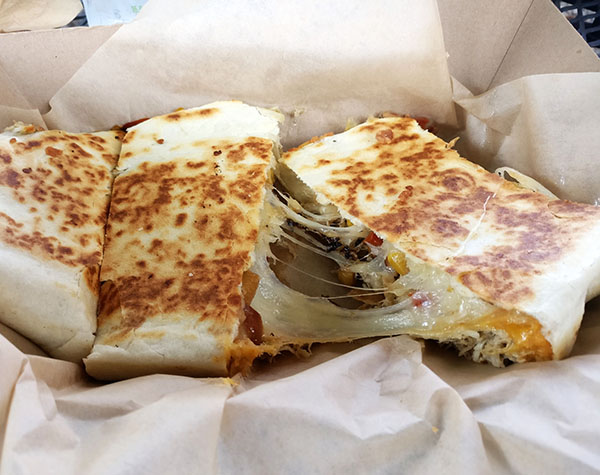 Enchanted Chicken
Southern Belle
New Mexico Identity Crisis
Fiery Fungus (spicy)
Sweet and Spicy (spicy)
Sweet & Spicy (vegetarian)
The Vegan (vegan)
The Dirt Bag
Just Cheese
Gabriel ordered the Enchanted Chicken Quesadilla with cheese, corn, onions, red peppers, refried beans and Mexican Chile sauce. While this sounds like standard Mexican fare, it's the blend of peppers and spices that really make this quesadilla stand out. It's the first item on the menu for a reason. It stands out and really proves why this little food truck deserves the title of best Mexican food in Moab. 
I ordered the Southern Belle with shredded beef, cheese, corn, onions, sweet potatoes and red Chile and spices. Gabriel always cringes when I order anything with sweet potatoes. He fails to recognize how much flavor and texture they add to most dishes. This quesadilla is no exception. The merging of beef with potatoes is my new favorite Mexican food pairing!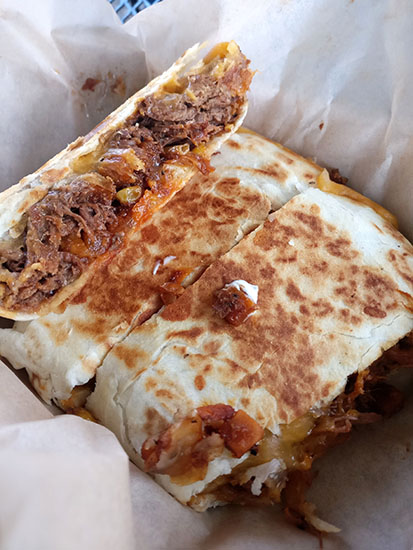 All 3 kids shared a Just Cheese quesadilla with just cheese, and an option of beef or chicken for extra. Because this quesadilla is on the standard menu, it comes with the standard spices. We opted for this menu item so all our kids could share, however, this may not have been the best choice. They also offer a Just Cheese kids version which omits most of the spiciness and definitely easier on younger palates. 
The quesadillas are huge! This is why we say they are more like flat burritos. Each gourmet quesadilla is sandwiched together and cut into 4 pizza slice sized wedges. We couldn't eat them all in one sitting, and took each half back to our glamping RV and finished it as a late night snack. It was just as good later that night!
All quesadillas are served with sour cream, and salsa. If you are like me you'll likely be begging for more sour cream. If so, they'll gladly oblige.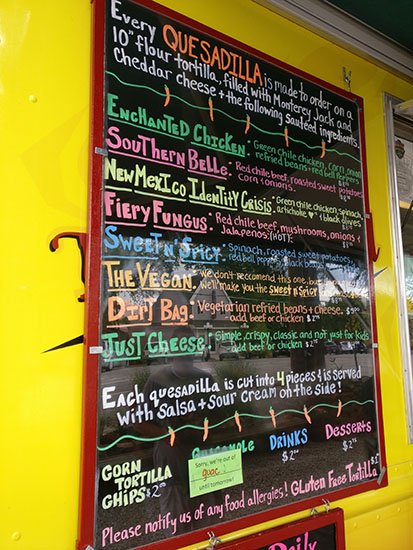 Available side items include chips, guacamole, drinks and desserts including vegan cookies! 
Quesadilla Mobilla has a fun vibe. It's a food truck, but located in a permanent spot with a large patio seating area and a view of Moab's busy main street.
Closing Time
The only downside to Moab food truck heaven and gourmet quesadillas is that the truck closes every winter between November and March. 
►
For Kids
: The kids quesadilla's are not nearly as high ranking on the spice meter as the full menu versions, so that's a good plus. There is no dress code or volume level as the food truck is located outdoors. Kids will have a fun time playing outside while they eat with all the rocks in the seating area. Yes, we said rocks. What kid doesn't love rocks? Quesadilla Mobilla is a great choice for dining with kids in Moab. 
Have you been to Quesadilla Mobilla? Which gourmet quesadilla burrito did you order? We want to hear all about it!
►
Nap-Time Version:
Quesadilla Mobilla is the best little food truck serving the best Mexican food in Moab, Utah. 
Check out our other fun adventures in Moab and at Arches National Park!