The Shanghai Toy Story Hotel at the Disney Resort is an easy and excellent choice for families. It's priced competitively, located close to the parks, and offers a fun option when visiting the newest Disneyland Park.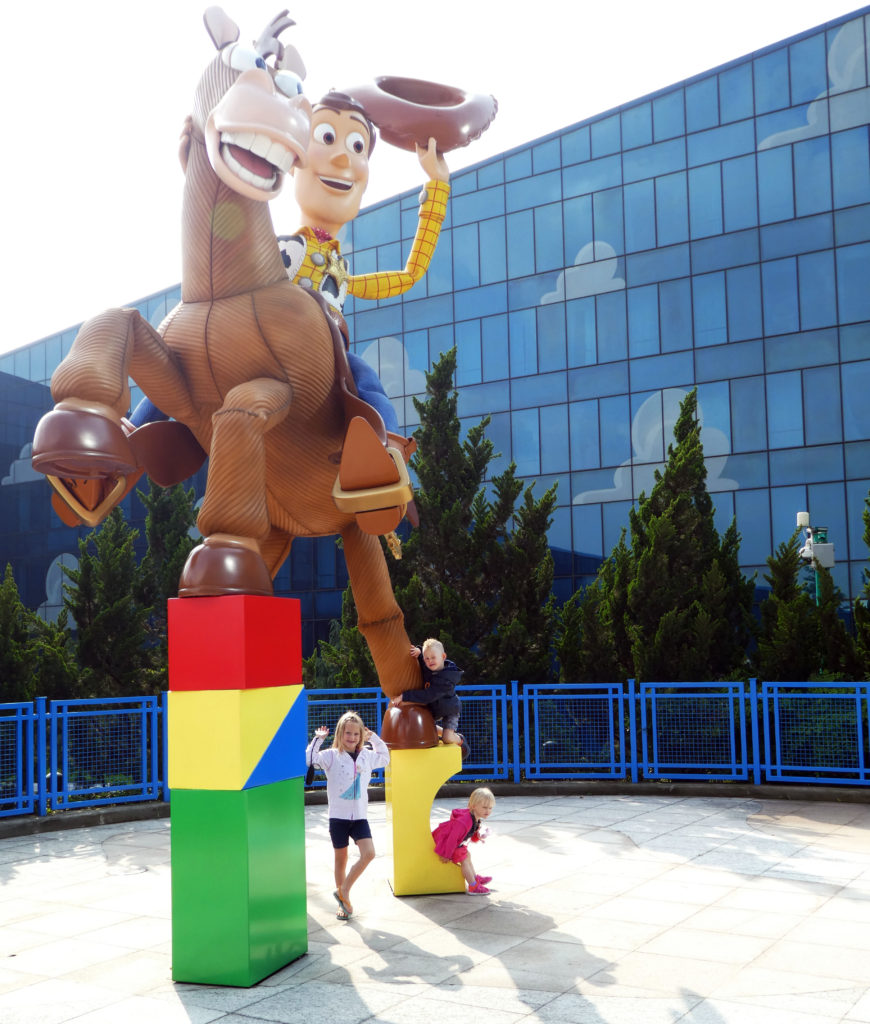 Toy Story Hotel
No.360 West Shendi Rd.
Pudong New District, Shanghai, 201205, The People's Republic of China
+86-21-2099-8003
Reservations
This value resort is one of two Disney hotels at the Shanghai Disney property; the other hotel is the Shanghai Disneyland Hotel and has double the price tag. Even still, you can get a park view from this resort! Rooms start at ¥850CNY, about $125USD. You can combine your hotel stay with park tickets, or purchase them after arriving. For a 3 night stay, and 2 days at the park for 2 adults and 2 children we paid just shy of $750USD. The price is right!
It's interesting to note that this hotel was built around the same time as the Tokyo Celebration Hotel, but the Toy Story Hotel is far superior.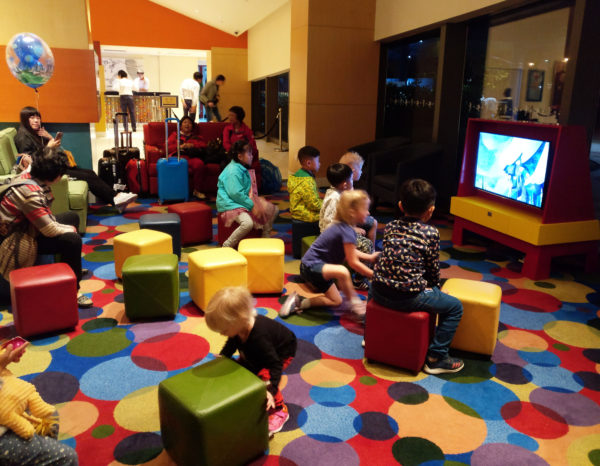 Directions: From the Pudong Airport, you can take a very long Shanghai Metro route to get to the hotel on the subway, or you can stand in a very long taxi line to get there directly. Alternatively, you can do what we did. We took the subway for two stops, then grabbed a taxi which took us a short drive directly to our hotel. BTW: This was the route suggested to us by the information booth at the airport metro station while we stood there staring at the map looking bewildered. You'll need Chinese Yuan for the subway, and the only ATM is right after the exit from the baggage terminal.
Personally, I thought it would have been really fun to take the Metro the whole way. We did it in Paris, Tokyo, and Hong Kong, but we had just arrived into Shanghai from the states after a 13 hour flight and had to go through the scrutinization of getting our temporary Chinese visa. Needless to say, we were tapped out on patience.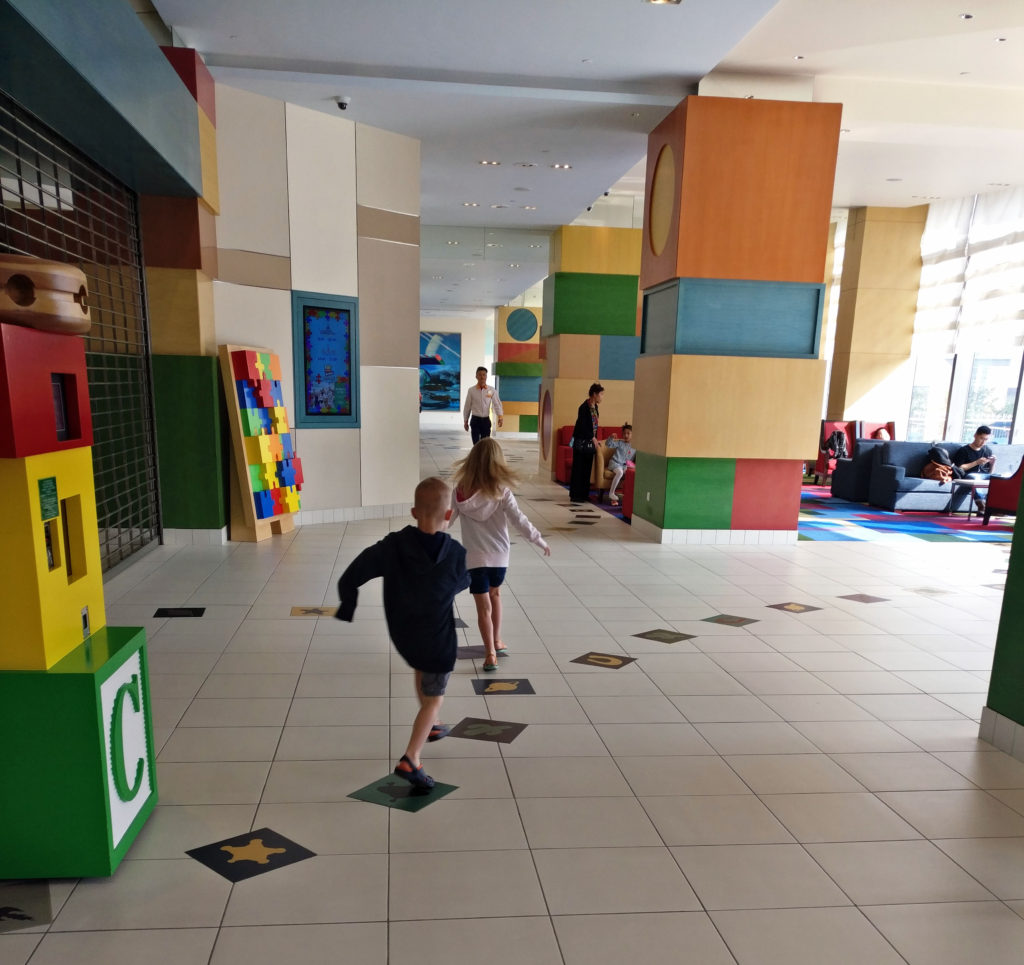 Since we were just focusing on Shanghai Disneyland this time around, and we legally had to leave within 72 hours or risk being placed in a Chinese prison, we wanted to be close to the action. We also didn't want to miss out on staying at one of the newest Disney properties and be able to experience what the Toy Story Hotel had to offer. In hindsight, we wish we'd planned staying longer. Of course, with hindsight being 20/20 we had no idea the circumstances that would occur, but we'll save that very personal and very emotional story for another time. Maybe.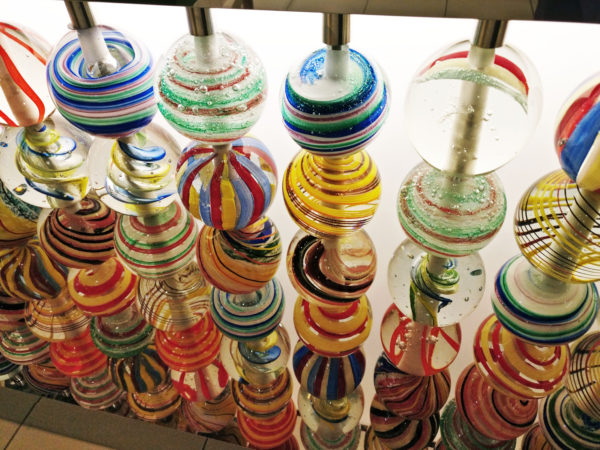 We absolutely loved staying at this hotel. The details were playful and mischievous, and the feeling the hotel evokes is straight out of the movies. Walking through the hotel you can imagine Woody, Buzz and Rex drawing up the architectural designs on their Etch A Sketch. Jessie even talks to you on the elevator! There are pathways for kids to follow in every direction patterned into the tile on the floor, a larger than life Woody and Buzz in the courtyard, baseball sized marbles for decorations, and candy land diagrammed maps of the property. There is even a Lotso (gift) Shop that offers knick knacks, souvenirs, candy, toys and lotso strawberry scented bears.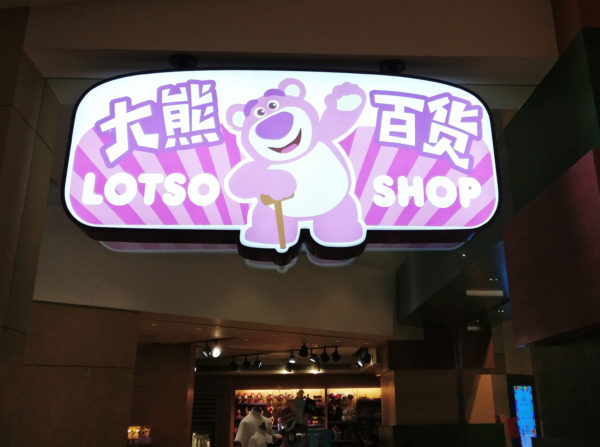 Our favorite part was the life size toy box at the front entrance to the hotel where you can play, pose and take pictures as a real life action figure. Our kids never missed a chance to jump in the box and yell at me to take pictures of them pretending to be toys. 
Everyone from the front desk personnel, to the cast members at Sunnyside Café, to housekeeping doted on us. They all contained a childlike level of energy and exuberance in every action, and were eager to help us in anyway they could. The hotel also offers a quick service restaurant, transportation to/from the parks, a splash pad, a play place, and a Woody and Jessie meet and greet in the early afternoon.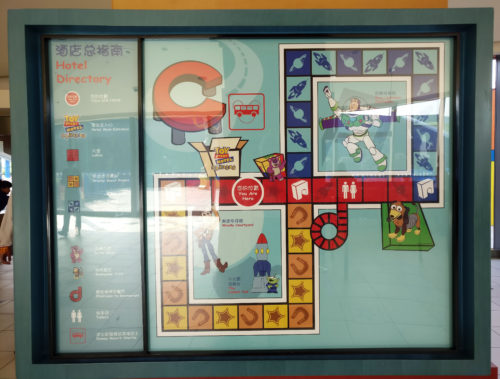 The room wasn't much larger than you'd expect for a value Asian hotel. There are two full size beds, and a crib, we managed to squeeze into. It helped that we were jetlagged from our flight and too exhausted to care about much. The room was very clean and still felt very new. Our room was directly off the elevator, but it was still quiet. We did not have any complaints.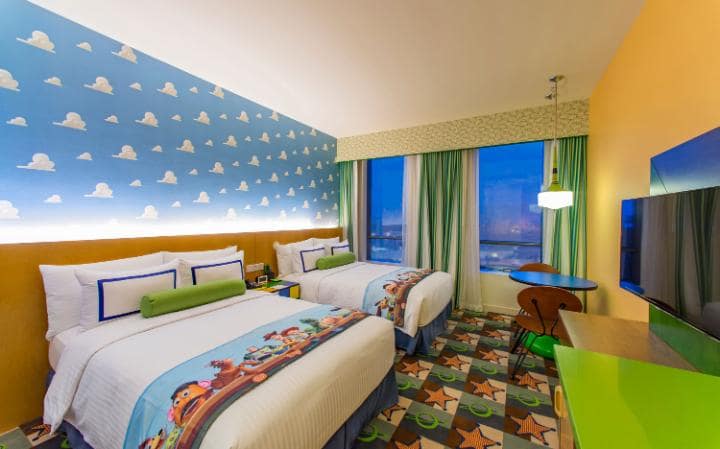 The fun theming of the Toy Story Hotel continued down the halls and into the room as well, where we found complimentary miniature tins full of toiletries (comb, toothbrush and paste, q-tips and a hair net). You can bet we hoarded those cute little things and took one for each night of our stay. The TV plays Disney classics on demand, including Tron. We appreciated being up to date on the latest film as we rode the ride. All the Toy Story movies are available as well.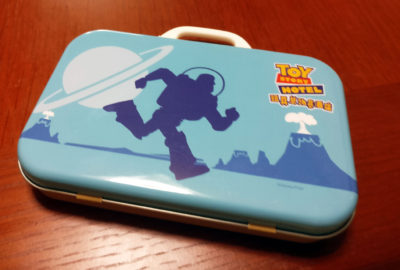 ► For Kids:
Yes! Any
Toy Story
fan will agree, this is a fun resort with a lot of great detail and attention to bringing out the child in every guest.
At Sunnyside Café you can choose from Chinese, Asian and Western options. It is very Asian centric which fits our family's tastes well, and it's what I expect from an Asian theme park hotel. This is one of the things we love about Hong Kong Disneyland too! On top of that, the food was really good which isn't something you necessarily ever get at a theme park or adjoining resort. There is also a Sunnyside Market that mostly offers bottled drinks, smoothies and pastries.
► Nap-Time Version:
One of two Shanghai Disney Resort hotels. Located close enough to the park to offer a park view in certain rooms. No frills, but super fun
Toy Story
theming your whole family will love. 
Have you been to the newest Disneyland park? Read about our experience at Shanghai Disneyland!