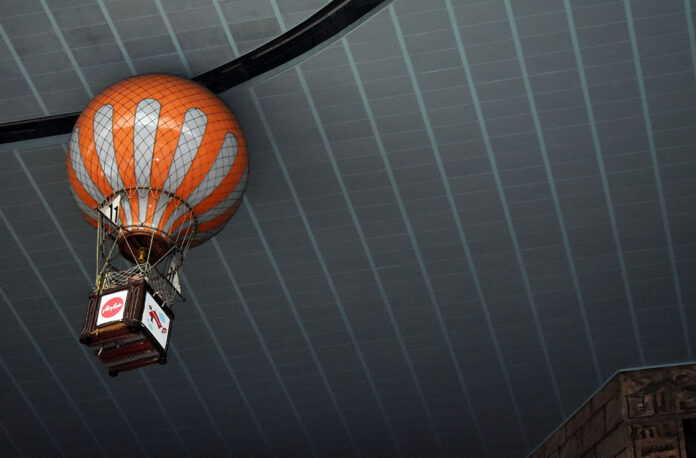 Like nearly every travel day for us, our trip to Lotte World with kids was mostly a disaster. 
But despite our natural tendencies to make poor choices, go as cheap as possible, wake up late, and not plan in advance, we truly had an amazing day at Lotte World with Kids.
This is everything you need to know about the World's Largest Indoor Theme Park in Korea!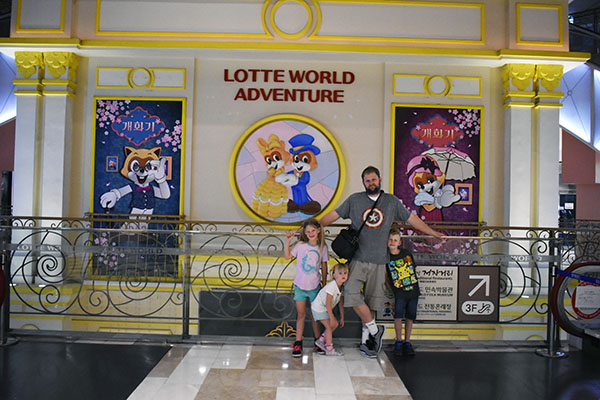 Everything You Need to Know About the World's Largest Indoor Theme Park:
Lotte World Adventure with Kids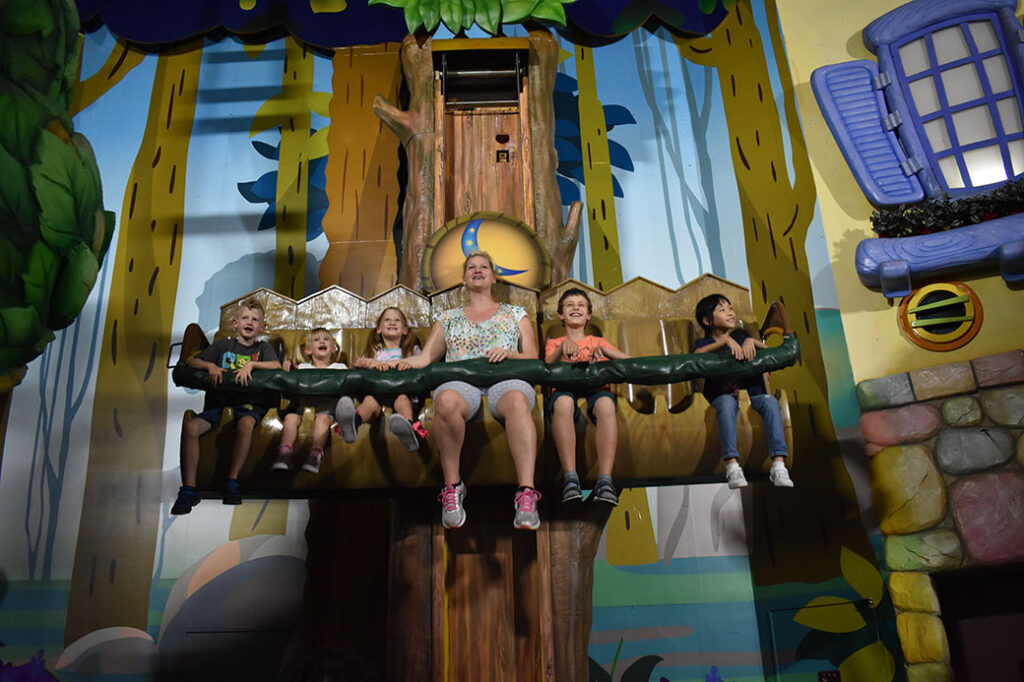 How to Get to Lotte World
When we went to Everland we took a taxi both ways. It was an added expense of $150, but it was such a breeze. We were picked up right outside our apartment and dropped off at the main shuttle for the park versus the alternative of taking a couple buses plus a subway.
Traveling to Lotte World appeared to be more straightforward though, with just one transfer on the Subway and according to maps we would be there in under two hours.
If we left by 9am, we'd be there by 11am and would have almost a full 12 hours to play at the park.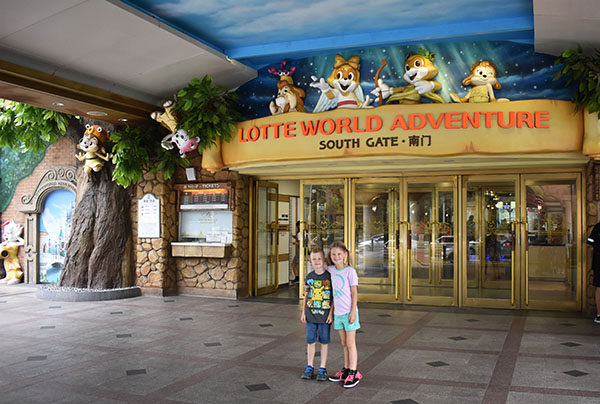 But then, Molasses decided she didn't want to sleep last night. Like, at all, so we woke up late. Got a late start, and didn't even leave the apartment until 11am. Then, when we checked maps in the morning we were now told it was going to take two transfers, and three trains.
Yet, our family still took the subway.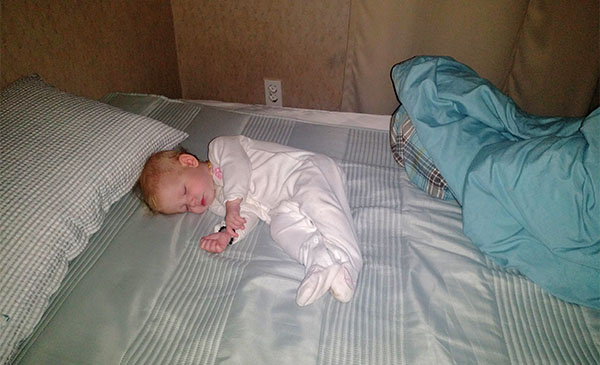 Or, How Not to Get to Lotte World
Can you see where this is going? Two hours in and I was done! We still weren't there, and I was ready to take the baby and go back to the apartment.
Gabriel and I got in a fight in the middle of the subway while the Koreans were still trying to surround us and play with Molasses! Oh my gosh, that just made me more mad. Did they think they were helping to mitigate the situation, or were they just oblivious?
Couples Therapy in the Korean Subway Station
Gabriel spent the next however long trying to convince me to still go to Lotte World

I argued with him that it wasn't saving money taking the Subway it was just wasting our time together as a family

He retorted that if I left and went back to the apartment we wouldn't spend any time together at all

I responded that this wasn't quality time it was torture
And so on and so forth.
Then, he told me it would only take another half hour on the last train, so I agreed to come, just to prove him wrong.
Oh yes, I even started the stopwatch on my phone. It took another 1 hour and 9 minutes from boarding that train until our family reached the entrance to Lotte World.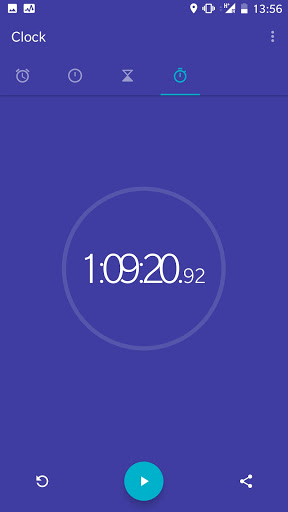 Family Tip: Don't take the subway into Seoul from Incheon – EVER, if you place value on anything other than figuring out how miserable you can make your family.
►
Ranking
: #cleandiaper
ロッテグループ 롯데 그룹
Lotte World
240 Olympic-ro, Jamsil-dong, Songpa-gu, Seoul
Phone: 1661-2000
Hours: Sunday thru Saturday 9:30am – 10pm | Varies seasonally
Price: Children 3-12 & 65+  ₩46,000 | Youth 12-18 ₩50,000 | 18+ ₩57,000 | Babies under 36 months Free
Foreign Visitor Discount through Voyagin
This site contains affiliate links to products. We may receive a commission for purchases made through these links at no extra cost to you.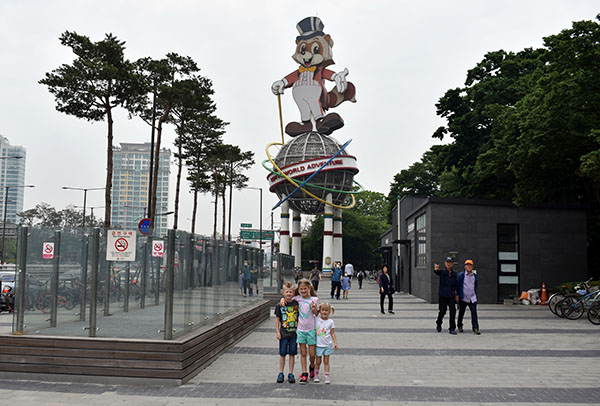 Subway Station
If you are located in proximity to Seoul, the subway could be a decent option.
Get off at the Jamsil Station and you'll be right at the entrance.
Lotte World Adventure Beginnings
So this guy, a Korean businessman named Shin Kyuk-ho living in Tokyo, decided he wanted to own everything in Korea.
He started the Lotte Corporation in 1948 selling gum to children after World War 2 and now he owns everything. Remember Lotte Mart when we were trying to discover a secret alien hideout? That's the same Lotte Corporation.
Lotte is a confectionery, vending machines, movie theaters, grocery stores, malls, credit cards, sports teams, food brands and chemicals.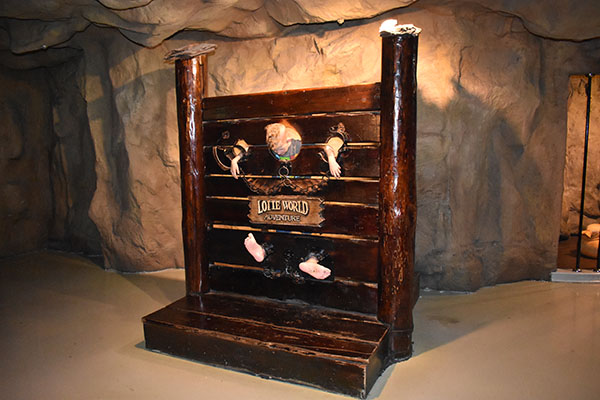 You pronounce it by emphasizing the te at the end, because it's named after a character named Charlotte. Exactly.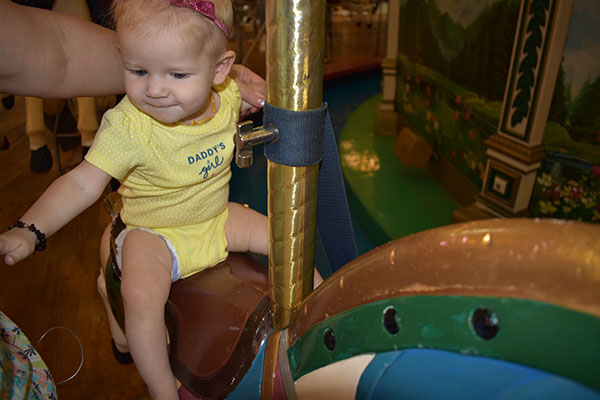 Largest Indoor Amusement Park in the World
Lotte World has two theme parks:
Magic Island

Indoor Adventure
Indoor Adventure
Indoor Adventure is the largest indoor amusement park in the world, and it's inside a mall! Lotte World Mall.
It's like they built this mall, and then Shin Kyuk-ho was like, you know what this mall needs? An indoor amusement park. And since I own everything, why not make it the world's biggest amusement park?
So, that's what they did.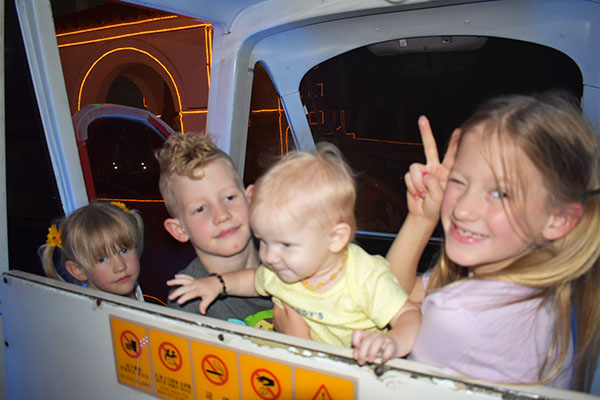 Magic Island
Magic Island is the outdoor portion. It's significantly smaller and geared towards an older crowd.
Most of the rides were closed during our visit due to the rain. This is common in Korea, hence the massive indoor section of the park.
Truthfully, you could spend all day indoors and not regret a thing!
Holidays at Lotte World
At this point we've finally arrived at Lotte World after a three hour subway trip, a night of no sleep, and let's not forget we are in a foreign country.
Then we find out it is a holiday.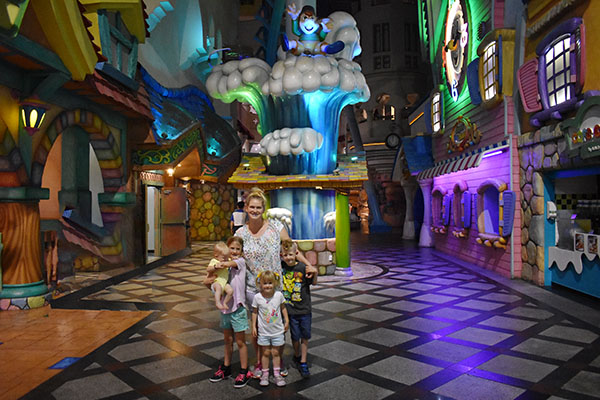 And, it started raining.
I've never seen so many people crammed into a hot indoor amusement park in my life.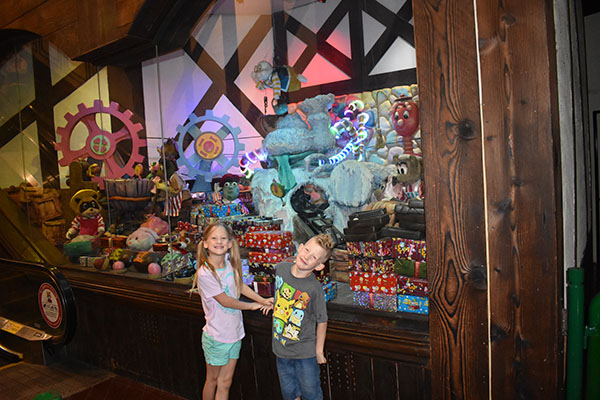 It's sticky and humid enough to melt cotton candy shaped like Teddy Bears and Bunny Rabbits.
Yet, really, really, really impressive.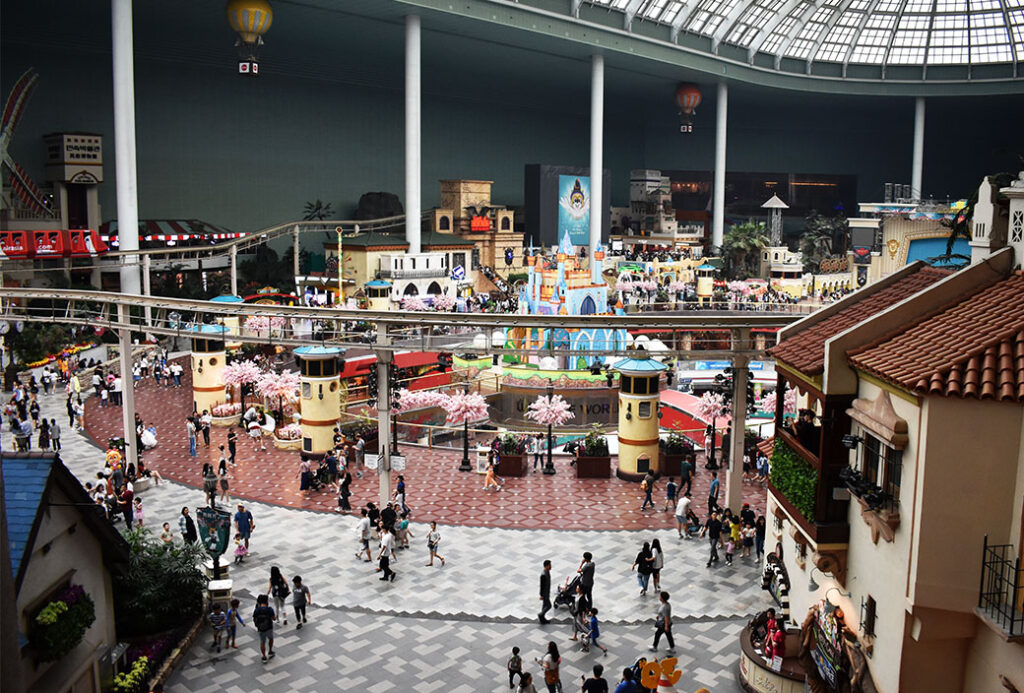 Rides at Lotte World
I mean, you can ride a hot air balloon at Lotte World with kids! 
Fly Venture is an underground hybrid ride of Avatar at Disney's Animal Kingdom and Soarin' at Epcot.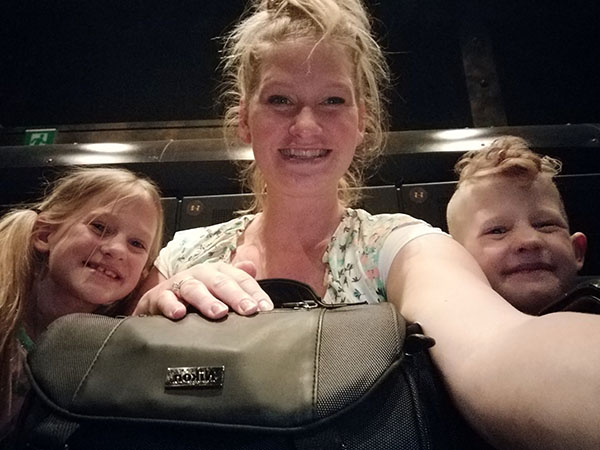 There is a whole section of the park just for taking selfies. I'd like to think I'm raising my kids to use the internet for something other than self promulgation.

Check out the Zamboni on the ice skating rink in the center of the complex!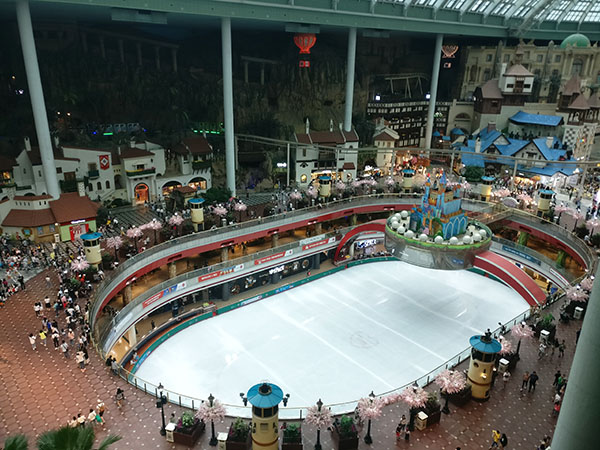 There are dancing pigs, but I'm sure it won't be long before Shin Kyuk-ho figures out how to make them fly.

Teacups at Lotte World don't just make you dizzy, they make you dizzy while hoisting you vertically.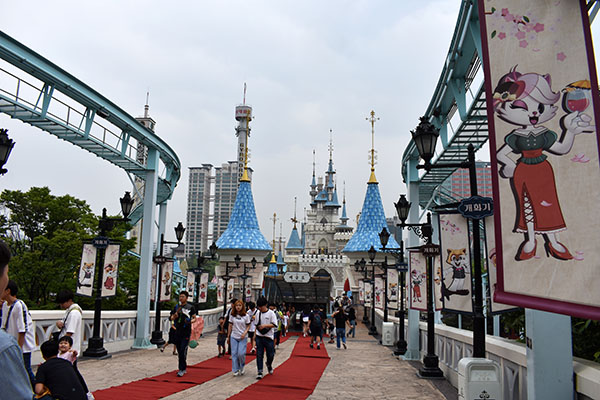 Check out the giant flume threatening to crash through the ceiling.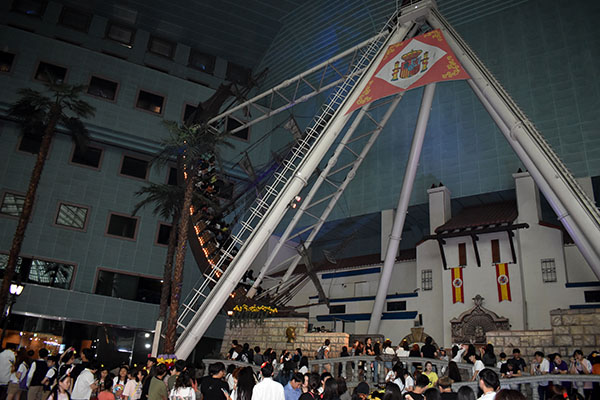 Food at Lotte World
TGI Friday's sells a half rack of ribs and there are several of these restaurants inside Lotte World.
They cost a fortune at ₩18,000.
You'll recognize a Panda Express, a Lotteria, and Smoothie King.
There is also your typical theme park food including hot dogs and pizza, tons of snacks, including peanut butter squid, slushies, cotton candy and popsicles.
Lotte World for Kids
Lotte World is geared more towards families than Everland and there are more rides for younger kids to participate in.
The characters may not be recognizable to most foreigners, but they are friendly and awesome.
The parades are out of this world, and take your breath away.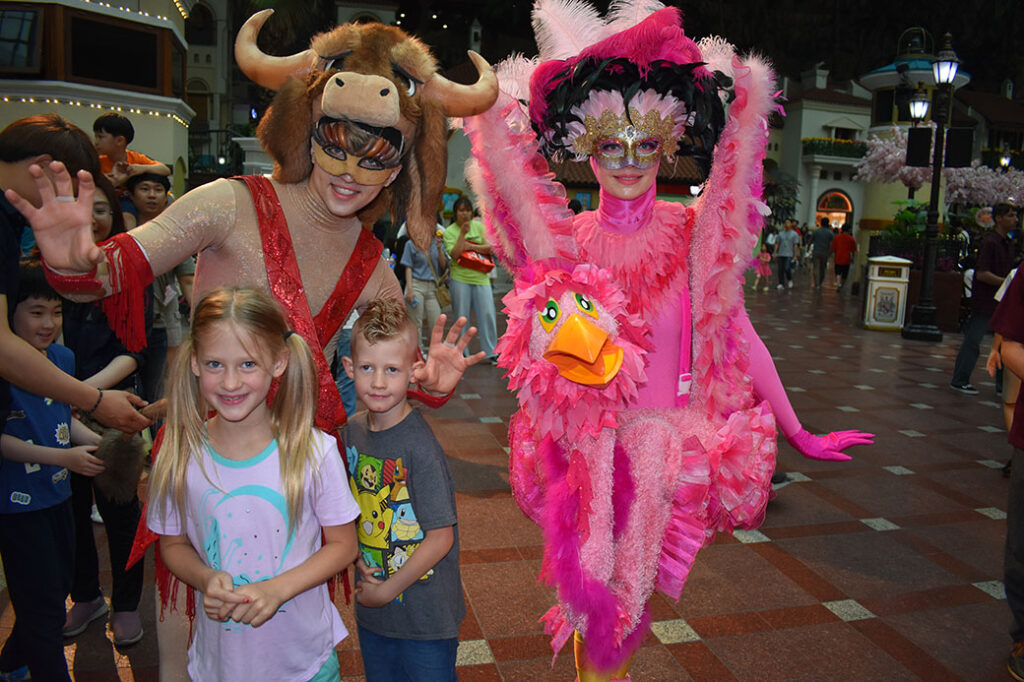 And for our final mistake, we realized Gabriel doesn't start school until next week, so we've got another 8 days to explore.
You'd think after this many years of traveling we'd be smarter at this.
► For Kids: Everything about Lotte World with kids is geared towards complete enjoyment! There are very few rides that have height limits, and there is so much to absorb and entertain the whole family!
What is your favorite thing to do at an amusement park?
► What we Learned: Other than that we never learn from our past mistakes, Lotte World with kids is an amazing cultural experience that combines everything that makes Korea incredibly unique and wonderful.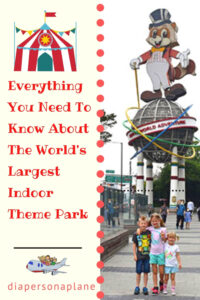 Have you been to any foreign theme parks? Which one is your favorite?
► Nap Time Version: Our fun family filled day at Lotte World Adventure with Kids!
Don't miss 101 Unique and Actually Fun Things to Do in Korea with Kids, our review of Korea's other major theme park Everland, and Which Theme Park is Best for Your Family: Everland or Lotte World? (coming soon).