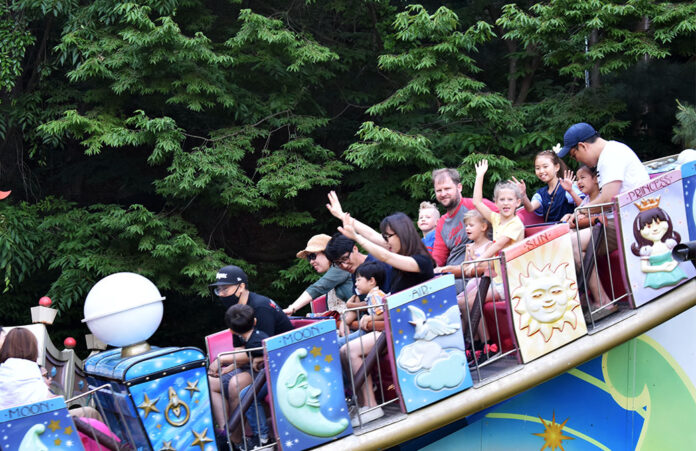 Everland Korea is the largest theme park in Korea, but we actually had no intention of coming here during our 3 month summer school field trip!
Everland Korea with Kids or Tokyo Disneyland?
In fact, ever since we knew we were coming to Korea for the summer our family planned on spending a few days at the Tokyo Disneyland resort in Japan.
We've been to every single Disney park across the world, and Tokyo Disney Sea is our favorite park! We didn't put much thought into it, just knew we'd head across the peninsula as soon as we had conquered our jet-lag!
We packed our now too small Mickey Accomplished shirts and all our Mickey Ears in preparation!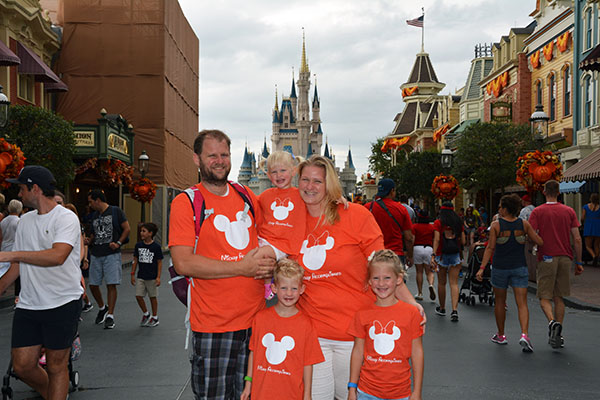 However, it turns out I don't have an agreement with an airliner that flies direct from Korea to Tokyo! If we wanted to make this dream a reality we'd have to fly to Hong Kong or Taipei first.
Instead, we decided to see what type of amusement parks we could find here in Korea and discovered Everland!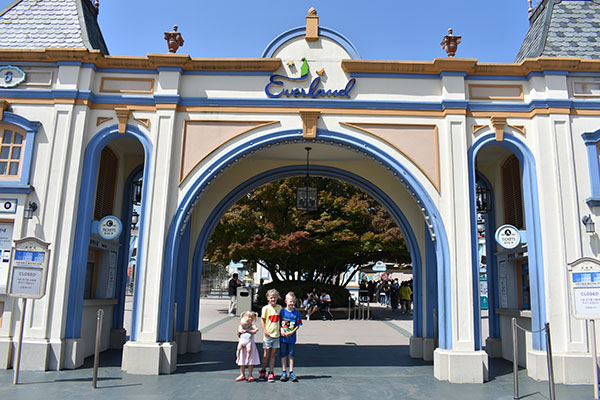 How to Have the Best Day Ever at
Everland Korea with Kids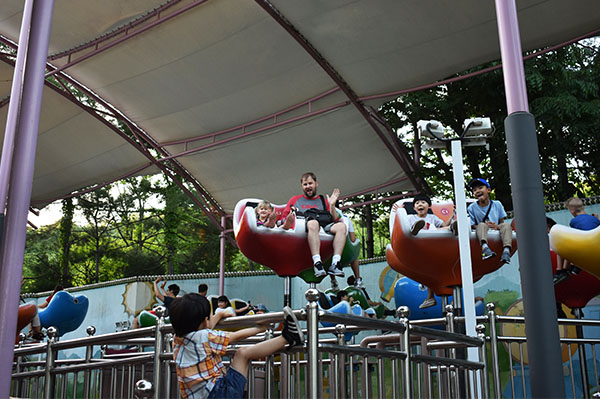 에버랜드
Everland
199 Everland-ro, Pogog-eup
Cheoin-gu, Yongin-si, Gyeonggi-do
Korea
Phone: 031-320-5000
Hours: Sunday thru Saturday 10AM – 10PM
Price: Children 3-12 ₩ 44,000 | 12+ ₩ 56,000 | Babies 36 months and younger Free
→ Foreign Visitor Discount through Voyagin ←
This site contains affiliate links to products. We may receive a commission for purchases made through these links at no extra cost to you.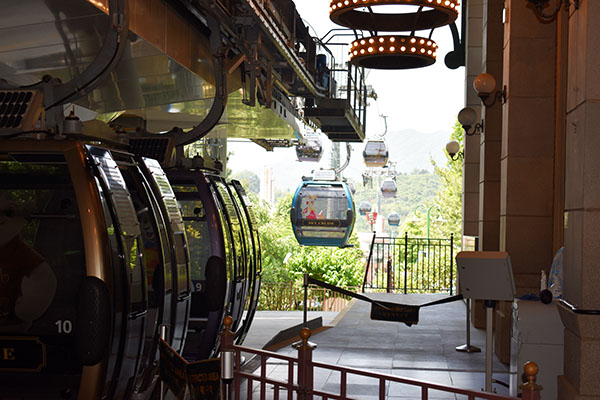 What is Everland?
Everland is the largest theme park in Korea, and is owned by none other than the tech giant Samsung. Samsung used to be called Samsung Everland, and thus the park was named after the TV you probably have in your home right now!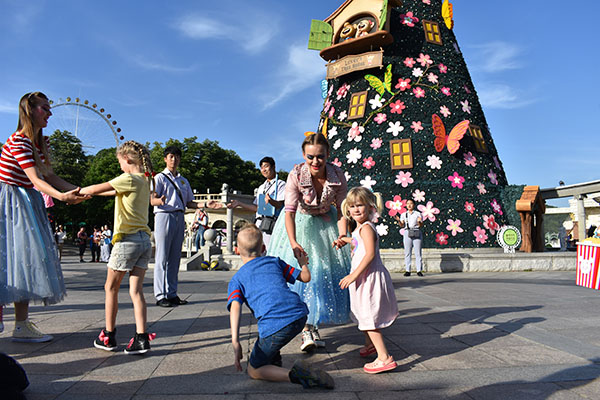 Something else we learned about Samsung since being here in South Korea, is that the company actually makes drugs too, Samsung Biologics is a giant building near our apartment, and the Branch President at The Church of Jesus Christ of Latter Day Saints Songdo Branch here in Incheon works for them.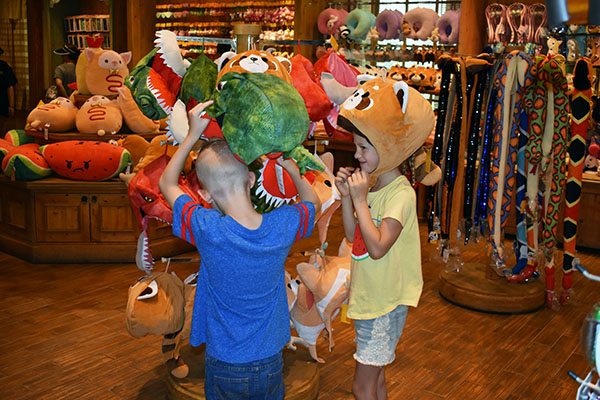 Anyway.
Unlimited happiness and the precious values that everyone wishes all dwell here at Everland.
Everland is not just a theme park.
It is a global fair where one can appreciate architecture, an Instagrammer's garden paradise, a safari for the zoologist in all of us, and an amusement park.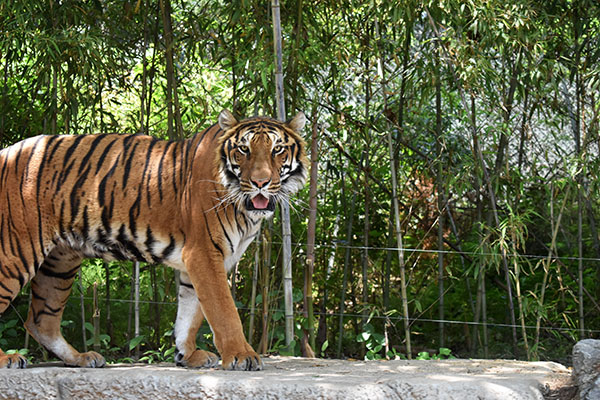 How to Get to Everland
We planned on taking the 1+ hour bus from Incheon to Seoul, but when we mapped out the route in the morning it was telling us the journey was going to take much closer to three hours.
Since that sounded miserable, we decided instead to hire a taxi and eat the exorbitant cost. It ended up being a little less than expected and for a large van we paid ₩ 90,000 for the fare.
We arrived right at 10am for opening and walked right in. There wasn't even security to check our bags.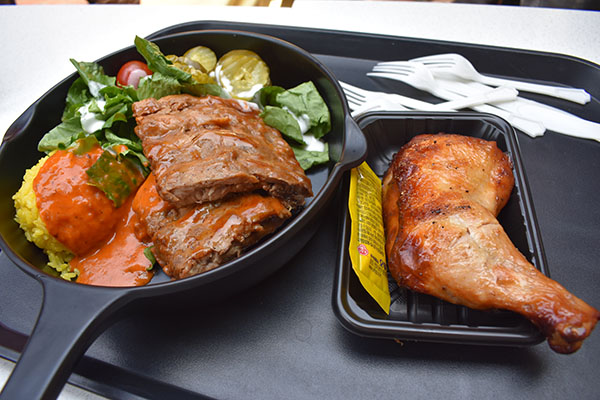 Foreign Discount Tickets for Everland
Gabriel found a site that sold discounted tickets for foreigners, and we were able to pay just ₩30,000 each, saving us nearly $100 USD!
We had to bring our passports with us to prove that we weren't locals, but they never looked at them, which in hindsight was probably obvious.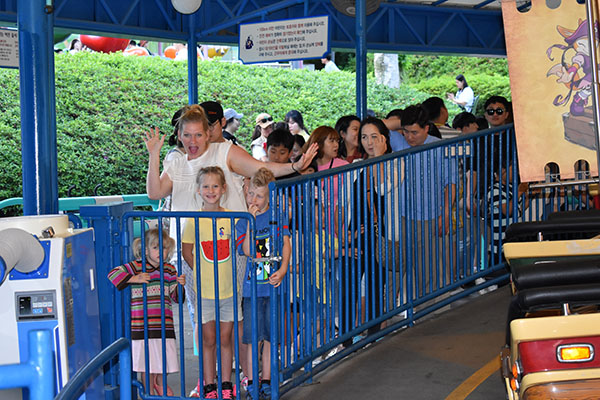 Everland Korea with Kids
Everland is set in the hilly mountainous region of Yongin-si, and there are chair lifts and gondolas to take you up and down the park due to the terrain.
The park is set over 99 hectares, or 244 acres (almost as big as Walt Disney World's Epcot), but because of the way the park is laid out with the trees and the hills, you cannot see much of the park from any one point.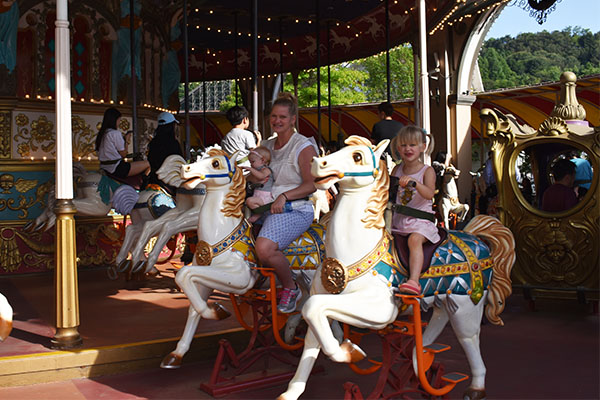 The rollercoasters peek out over the tops of the trees, the Ferris wheel is a kaleidoscope of colors, and the rest is hidden below the tree tops.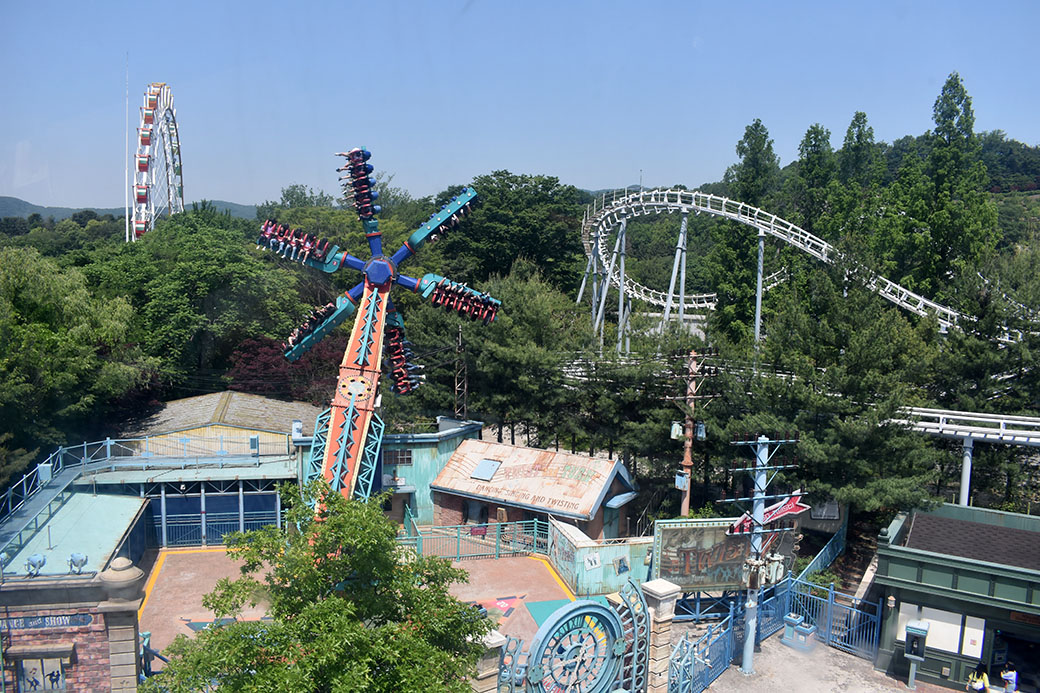 Big Kid Rides at Everland
When our family first entered the park, we were pretty discouraged.
Most of the park and the rides didn't open until 1pm or were closed entirely.
Lines for the rides that were open offered waits upwards of two hours, and to avoid waiting we would pay an additional ₩13,000 per person to cut the line.
Molasses couldn't ride anything at all, and Eclair was a close second.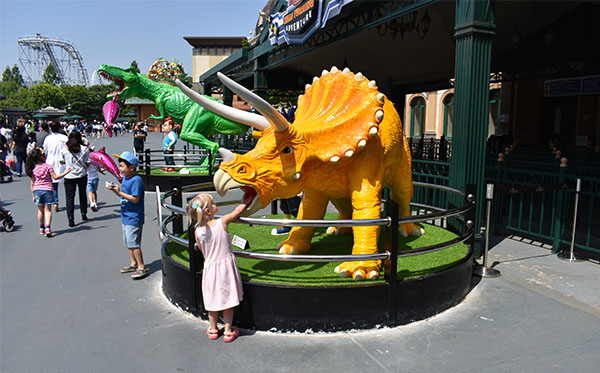 Largest Wooden Rollercoaster in the World
The T-Express is the largest wooden rollercoaster in the world topping out at 183.8 feet in the sky. The coaster reaches speeds of 104 km/64 miles per hour and when we arrived at opening the line was 110 minutes long.
Widmore was 1 cm too short, and Everland does not offer any equivalent to the rider switch pass.
We were stuck between waiting for four hours for half our family to ride one ride, or pay $30 to experience one attraction.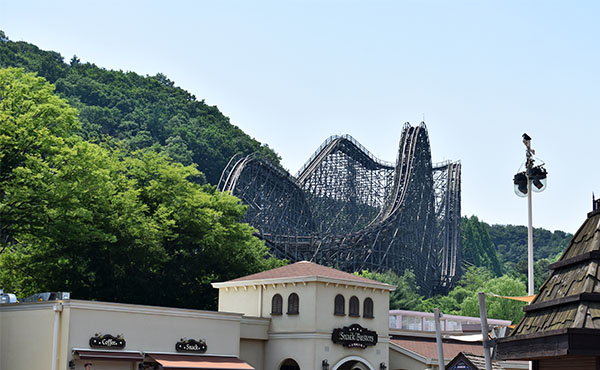 Should We Just Go Home?
By mid-afternoon Eclair was whining and crying to the point that I was about to have a mental breakdown, and Gabriel told me I was throwing a tantrum worse than our four year old.
But then 1:00pm came and all the other rides started to open. 
As the day wore on though, Lenny and Friends really grew on us. Lenny is the equivalent of Mickey Mouse. He is a Male Lion Superstar who is always eager to help others.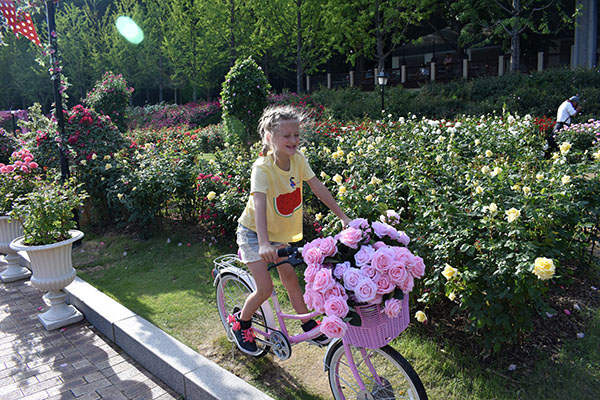 We decided to buckle down and pay the money to cut the line and ride the T-Express at Everland in South Korea, but when we got back to the queue, the line had disappeared and the wait was under an hour!
Pie and I jumped in the line and waited a meer 53 minutes, which felt like a reward after the potential for much worse.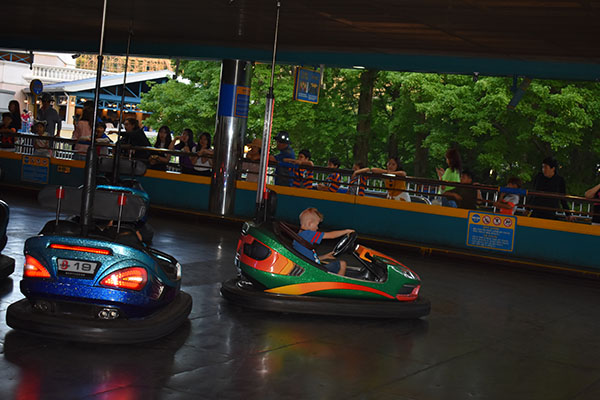 Don't Miss the Safari Ride
After that the entire family banded together for a safari ride where we saw Bengal tigers, brown bears and a ravenous vulture! 
It was a huge highlight, and everyone loved seeing the animals from our caged bus.
For a hefty additional price, you can take a caged car instead and feed the animals through the slits in the metal bars.
Hungry Raptors on the Loose
We continued on our animal adventures and joined together with 25-30 Koreans to escape a pack of hungry raptors that had escaped the tortuous mind controlling experiments of Samsung Biologics.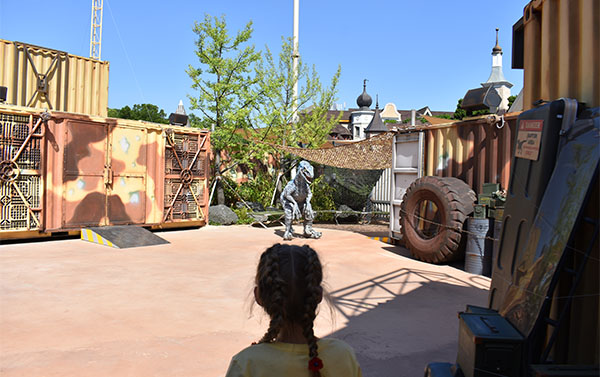 Magic Land at Everland Korea with Kids
Happy to just be alive, we decided to make the best of our time.
We left the fear of the hot raptor ranger desert behind us and made our way to Magic Land.
Eclair was able to ride almost all the rides including two roller coasters: Thunder Falls and the Dragon Coaster; we dined on Udon noodles, churros and garlic chicken.
We visited a bird petting zoo.
There is a magic show, a rodeo, a flower garden, VR, dancers that disappear and reappear from a huge tower on stilts, a hurricane and a weird space tour with Frankenstein monsters.
Everland is everything you want it to be.
We stayed until the park closed ultimately laughing our way to the exit singing Bossy, Bossy, Bossy-O in sheer delight.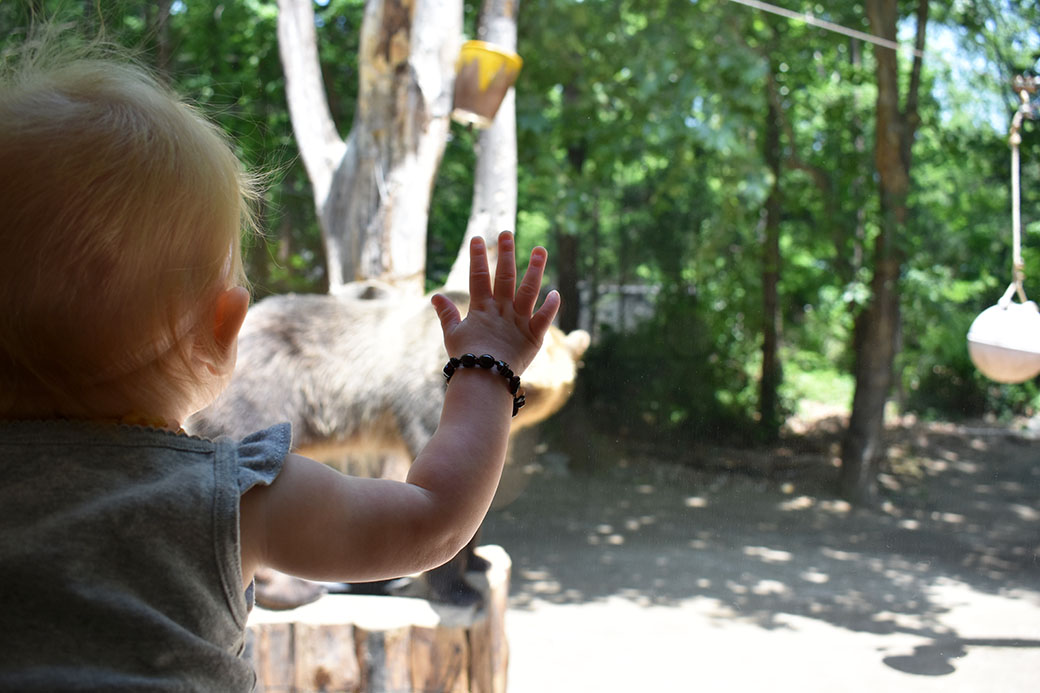 Singing and Dancing Ride Operators at Everland Korea with Kids
Once we found the more redeeming areas of the park and discovered the singing and dancing ride operators, we couldn't help but grasp on to their infectious moods.
Beyond a garden of roses, or a Korean utopia, Everland is a karaoke lounge. And I challenge you to find me one person in this world that doesn't love karaoke.
After a rough start we ended up not wanting to leave when the park closed for the night!
Everland Korea with Kids is such a fun way to spend the day. Our advice is not to worry about getting there at opening, most of the attractions don't open until mid day.
If you have little ones and toddlers, definitely start your day at Magicland! And whatever you do, don't miss the bird petting zoo!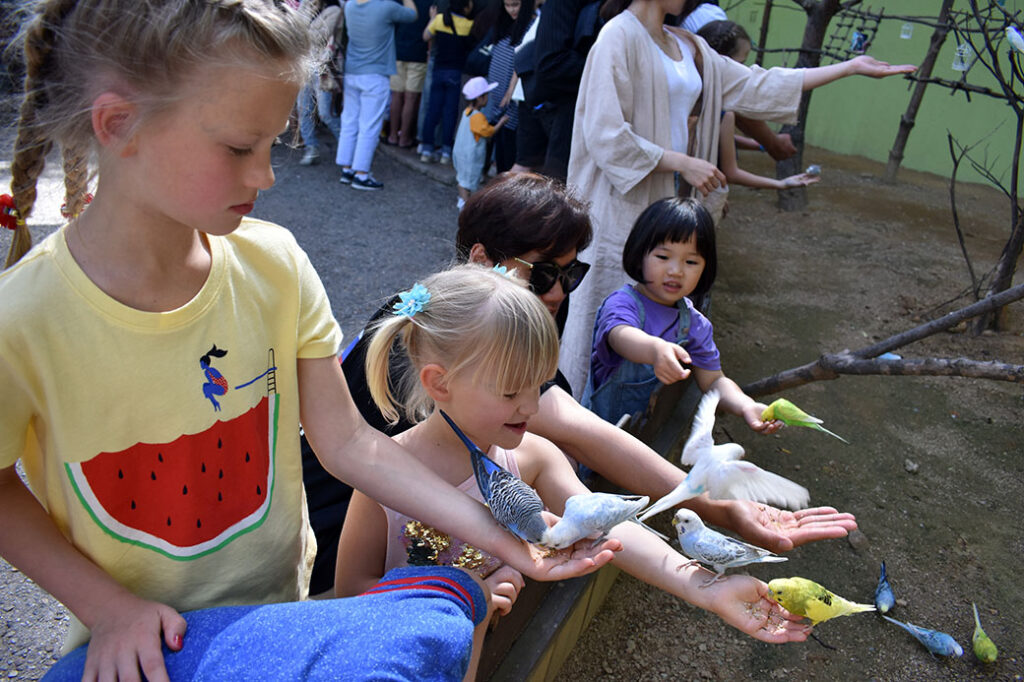 ► For Kids: Despite our initial impression, Everland is a great amusement park for all ages. There are plenty of big kid rides, but there are also several dedicated areas that both toddlers and parents will enjoy.
Are you an amusement park aficionado? Where is your favorite theme park?
► What We Learned: Forget turkey legs, peanut butter squid is what you eat when you go to an amusement park in Korea.
They still have churros and popcorn and super excellent chicken skewers for lunch!
► Nap-Time Version: All the things you need to know about playing at Korea's largest theme park Everland Korea with your brood of temporary expats.
Check out all the fun activities  during our summer school adventure including Wolmi Theme Park in Incheon, South Korea, the unbelievable difficulty in going to the movies in Korea, and how to spend a stress free day on Muuido Island.