Korea is one of the most child friendly countries we've ever been to. Children are welcomed everywhere and doted on at every opportunity. A trip to Korea with kids means becoming accustomed to restaurant owners grabbing our baby and taking her so we can have a peaceful dinner, strangers asking to take photos of our family while giggling and fawning over them like we are celebrities, to gifting our kids candies, chocolates, money and toys everywhere we go from amusement parks to the subway.
This says nothing of the number of activities dedicated just to children.
We spent more than 3 months in Korea last summer and squeezed in as much fun as each 24 hour day would allow us to. From world schooling at the North Korean border, to discovering Korean Chinatown, to traveling all the way to the Pacific Islands of Jeju we had an amazing experience exploring South Korean culture.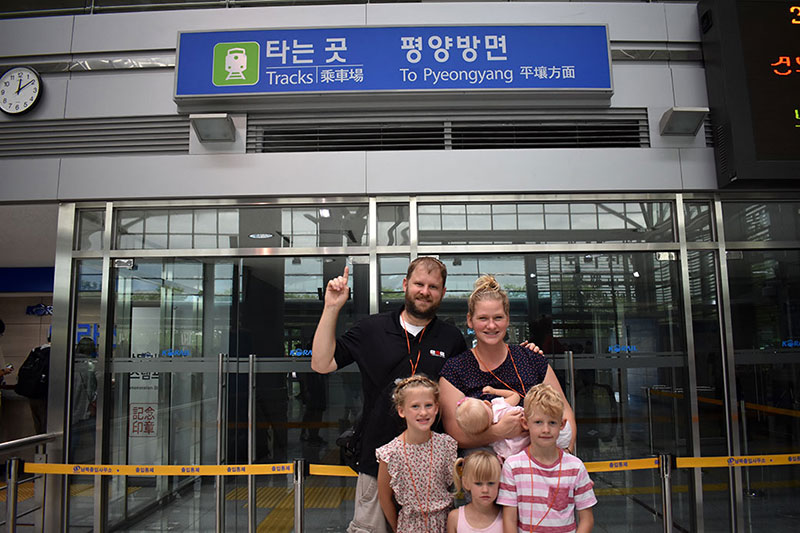 We are here to share with you – 101 actually fun things – to do in Korea with kids. This list is chock full of things that are wholly unique to Korea, things that you can't do anywhere else, and covers cities all across the peninsula.
Better yet, you won't find 'have a picnic' or 'go to a movie' on this list of fun things to do in Korea with kids.
This list is comprised of theme parks, museums, kid cafes, must try foods, culture, history and worldschooling things to do in Korea with kids. Plus, we personally reviewed all but a handful of these activities, and provide an honest review for your family to plan your next adventure!
Let's get to it! In no particular order, we give you:
101 Unique & Actually Fun Things To Do
in Korea With Kids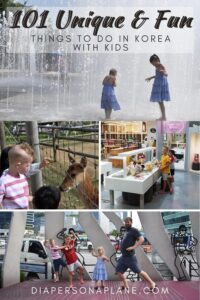 Amusement Parks & Water Parks in Korea with Kids
From Seoul to Jeju-do Island, Korea is peppered with amusement parks and water parks of different varieties. Koreans love to shop, have fun, and spend time together. An amusement park or water park is a unique way to experience the culture of Korea in more ways than one.
Even better, most parks offer a foreigner discount! If you go in the off season, you'll score an even better deal!
No list of fun things to do in Korea with kids would be even remotely complete without the inclusion of Korea's answer to Disneyland.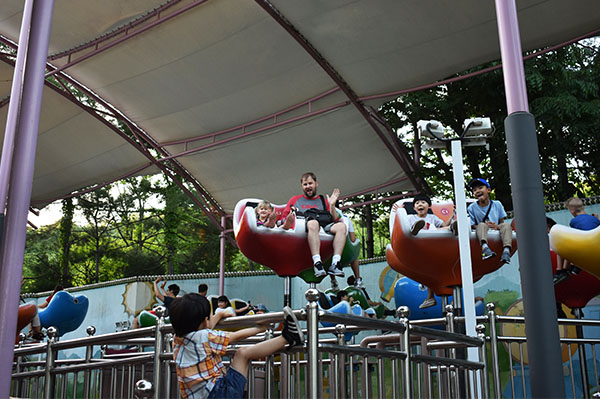 Everland is a massive outdoor theme park with the largest wooden rollercoaster in the world!
There are several themed lands, fun life sized characters to love, and a Magicland with tons of rides for all ages!
The best part? The ride operators sing karaoke while you ride!
Everland has a water park too! Caribbean Bay is Everland's water park. It has both an indoor and an outdoor section, so even in the winter they are open for business!
It's the closest you are going to get to western style swimming anywhere in Korea, so if you are missing a trip to the local pool during your stay in Korea you don't want to miss Caribbean Bay.
This water park is a lot of fun with a plethora of different rides for all varieties of thrill seekers.
The very best ride is the Megastorm. This ride is so huge it takes up a mere ⅓ of the park!
E-World is very similar to Everland except instead of Lenny and friends, you've got BeeBee and friends.
There are four outdoor themed lands:
Fantasy World
Magic World
Adventure World
Dynamic World
Between Everland and E-world the two parks share most of the same rides, so really it comes down to where you are located for which park is the best to visit.
Everland may have the largest wooden rollercoaster in the world, but Lotte World is the largest indoor/outdoor theme park in the world!
Korea is all about the biggest and the best.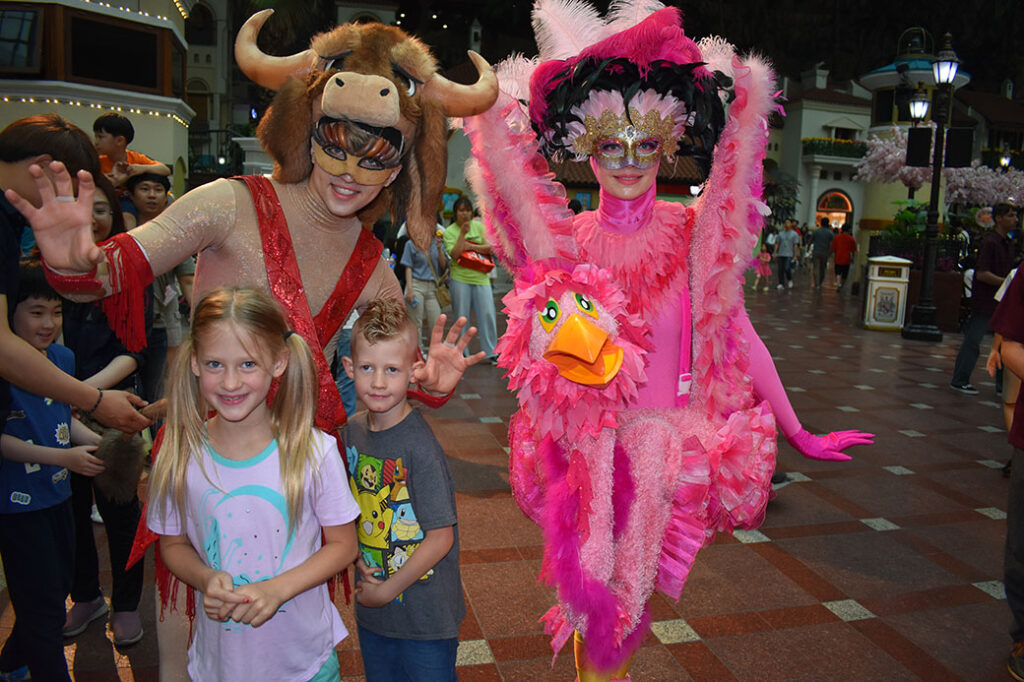 Lotte World has our vote for best theme park, even if our day there was mostly a disaster (check out the video below for details).
There is an ice skating rink, an indoor flume ride and teacups that not only spin around but also hoist you upwards vertically.
If you are trying to decide between Everland and Lotte World keep in mind that Everland is more geared towards an older crowd, whereas little ones will be included for nearly every attraction at Lotte World.
Like Everland, Lotte World has a companion water park but instead of being located next door – it's all the way in Gimhae, just outside of Busan.
Now believe me, we wanted so badly to take the Train to Busan, but turns out there is a limit to how much you can fit into one summer.

The Gimhae Lotte Water Park offers a Polynesian theme with both indoor and outdoor sections including over 25 attractions. There are tube slides, body slides, jet slides, swing slides and tornado slides; plus wave pools, toddler pools, kiddy pools and spa pools – and coasters and swings and something called Tiki Aqua Flex.
If it's anything like Lotte World, it's awesome.
Ocean World is ranked the #1 Water Park in all of Korea, and #2 in all of Asia. (There is also an Ocean World located in Hong Kong, however, they are not even close to the same park.)
With Pharaoh himself, a Sphinx and pyramids, this park offers an Ancient Egyptian theme that covers nearly 25 acres.
Like all parks in Korea, Ocean World offers both indoor and outdoor sections of the park with 4 main sections:
Indoor Zone
Extreme Zone
Dynamic Zone
Mega Slide Zone

Ocean World Water Park is part of a much larger complex. This four seasons leisure complex called Vivaldi Resort also includes Ski World, Snowyland, Golf Club, Ant World, and K1 Speed attractions, including dining and hotels. All come with separate admission, but could make it worth the trip out to Gangwon-do.
A Play Doci is a play center where they take everything from outdoors and put it inside.
Things like a water park, and things like ski slopes! It's insane!
We weren't able to go indoor skiing during our visit, but we did check out the Play Doci Water Park and enjoyed being flushed down a giant toilet slide.
True Story.
Just because this water park is located indoors, doesn't mean the size is limited. There are spas, toddler play areas, indoor water slides, a huge Olympic size swimming pool, a lazy river, a cafeteria, etc.
Plus, they have an outdoor swimming area too!
And just like all swimming activities in Korea, life vests are required at the Play Doci for all ages, as are swimming caps.

So this place is probably quite similar to the Playdoci in Bucheon, but the problem is that the day we went the place was packed shoulder to shoulder with screaming kids wearing life vests, body suits and swimming caps.
We were still pretty new to Korea at this point, and we didn't really understand swimming culture yet.
(What is swimming like in Korea?)
Plus, it was a bit overwhelming to see so many kids in there and not a spare cubic meter of water to dip a toe in. So we asked for a refund, and then decided to try and find a beach.
A few minutes after we were changed, all the school kids left and we could have had the place to ourselves!
We found out later, Water World is actually a huge complex full of slides, pools, saunas and tons to do for both kids and parents! If you are looking for a water park with little ones on Jeju island, this is a great option!
Seoul Land doesn't get a lot of love despite the fact that it has an Epcot space ball in the center of the fun. The biggest complaint people have is that it's old, and it doesn't have a lot of big ticket items to draw crowds.
On the one hand, it's not crowded.
On the other hand, it might not be that fun.
But what does it have? A ride that sprays you with ramen flavored mist. So, there's that.
We didn't get a chance to check it out, but the one thing people do attend at Seoul Land are the music festivals celebrated every summer with big headliners! Also known as the Luna Music Festival, acts range from K-POP to Rap and everything in between.
We are just going to give it to you straight. This place is notorious for broken rides and injuring guests, and on top of that is excessively overpriced.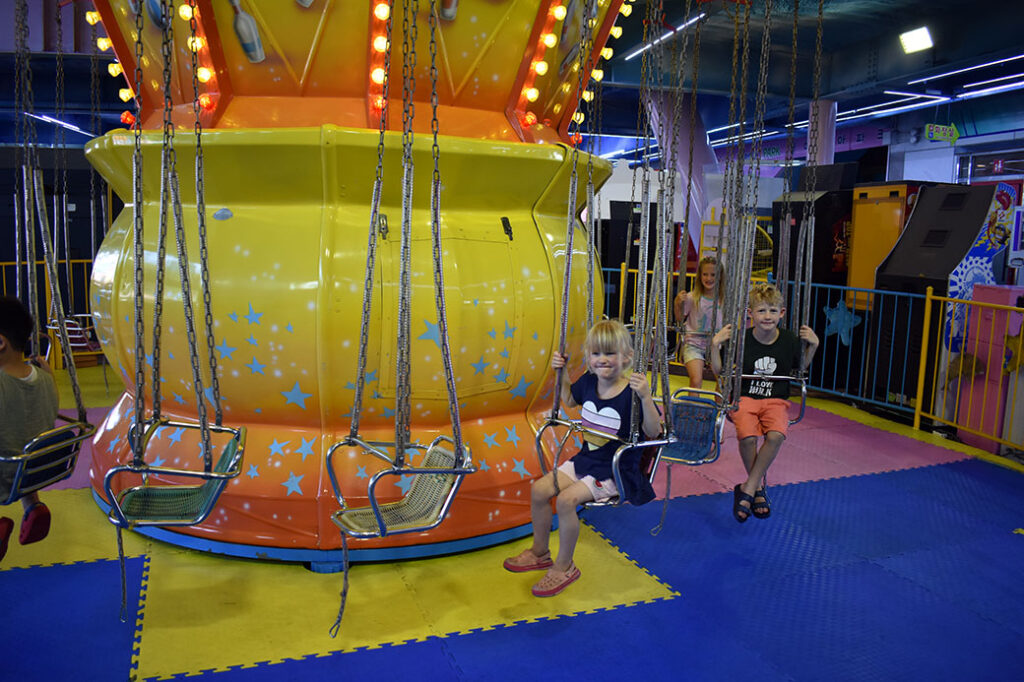 But it was a fun, yet expensive, day with the kids.
Located North of Busan, this amusement park is the largest park in the Southern region of South Korea.
The biggest deterrent to this park is it requires both an admission fee and a ride fee, making it pretty steep compared to the other parks on this list.
This park is also geared towards an older crowd with most attractions of the upside down roller coaster variety with height requirements. There is a kids area, a beach area and a winter area as well, but they are closed seasonally respectively.
Aiins World is the Korean equivalent of Disney's Epcot. There are miniature themed lands from over 25 different countries including France, Russia and Greece. They even have a miniature replica of Gaudi's Sagrada Família in Spain!
This is definitely more like a museum than an amusement park per se, but it's definitely a unique place to view and learn about history, particularly from another culture's perspective.
There are night views of each of the countries and monuments as well.
Our kids love, love, love the show Larva – okay the whole family does. It's just silly fun, and we wanted to go to Larva World more than anything!

Everything we read said it was closed, but that is not true! Larva World is part of the Shinwa Theme Park and even though we didn't get a chance to go, you still can!
Shinwa Theme Park is essentially a juvenile insect Larva themed park. A park all about fictional bugs.
I have so many questions. Are they slimy? Do they fart? Will they drool incessantly?
Based on the entrance price, you really can't go wrong. We have to go back and check out this park!
Unlike its counterpart, the Shinwa Water Park is not insect larva themed. And why not? That's just disappointing. It's the perfect opportunity.
Instead, it offers standard water park features the likes of a lazy river, a wave pool and it has the Big Cup; a ride similar to the same Megastorm ride as Caribbean Bay in Seoul.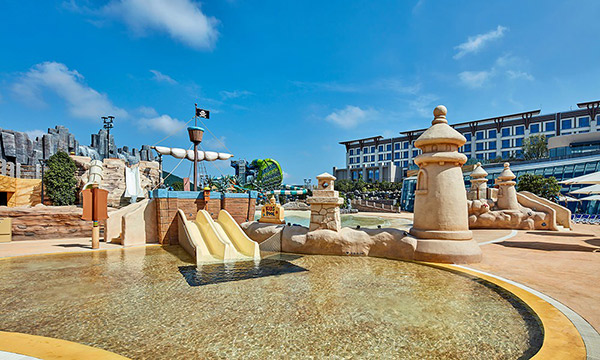 There is an indoor and outdoor section to the park, including a jjimjilbang of course.
15. Poopoo Land
How can you have a Larva land without a Poopoo Land?
You enter through a dogs mouth, and you exit through his butt, while learning all about the digestive system in this highly unique museum in Seoul.
Points for creative world schooling.
And what happens when we eat too much cheese? It's almost like they planned this.
This cheese park has it all:
Cheese Slide
Cheese Playground
Pizza Making Classes
Cheese Production
Milk Processing
Petting Zoos
► What We Learned: No matter where you are on the Korean peninsula, you'll find a fun theme park and/or water park to thrill your family.
Kid Cafes in Korea with Kids
A Kid Cafe is a place where you drop your kid(s) off, and they are attended to personally by someone tasked with watching over them, playing with them, and attending to their every whim.
It's like paying for babysitting at a supervised playground.
Korea is littered with Kid Cafes ranging from every imaginable interest and on every street corner in every city. There are art cafes, museum cafes, swimming cafes, cooking cafes, mini amusement park cafes, party cafes, animal cafes, cafes for specific ages, and more!
Parents are also allowed to accompany their child to the cafe for a nominal fee.
These were the most common Kid Cafes we found in the city of Songdo. There was one in Triple Street, one in the Hyundai Premium Market and one in the Home Plus. And that was all within a 5-10 minute walk from the Incheon Global Campus.
Each Champion had different activities for the kids to do. Some offer rock climbing walls, others have go carts. They include trampolines, obstacle courses, indoor climbing trees, inner tube slides, soccer fields, basketball courts, ball pits, simulated ice skating and so much more.
They are huge indoor playgrounds and the kids love them!
We came to find out there is actually a version of Champion Kid Cafe in Marietta, Georgia but there do appear to be some major differences when it comes to playtime and operation. (Let us know if you've been to either one!)
18. Imaginary Block (Lego Kid Cafe)
A Lego Kid Cafe is just like it sounds. It's full of legos, building sets of legos, duplo blocks and more legos!
What's more is they also offer a complete library of lego building sets with instructions!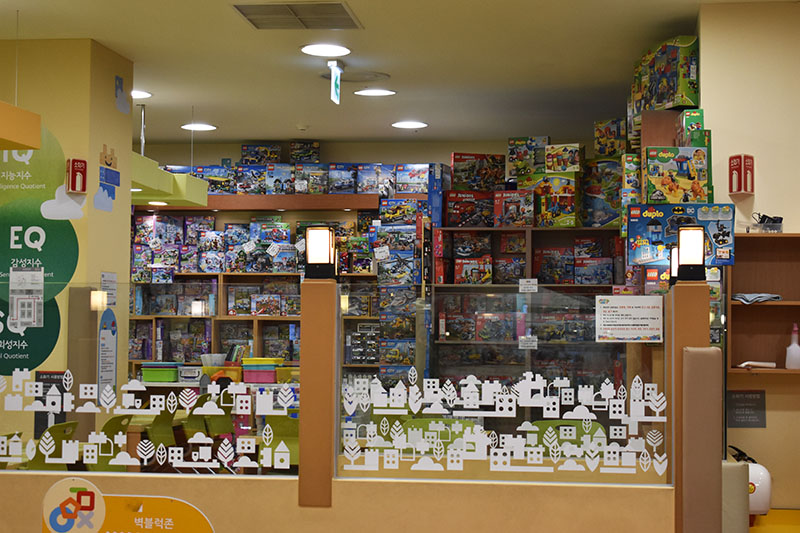 The downside to this cafe is that the entrance fee is only good for one hour which makes it a bit more expensive. On the plus side, this and all kid cafes also offer a multiple entrance pass. For this cafe, ₩70,000 paid for 10 hours of play at this cafe which gave us more flexibility.
19. Sketch (Art Kid Cafe)
At Sketch the girls were given the opportunity to make playdough and slime and paint and color and draw. They got to fill all their creations with glitter and trinkets and even bring home all their creations.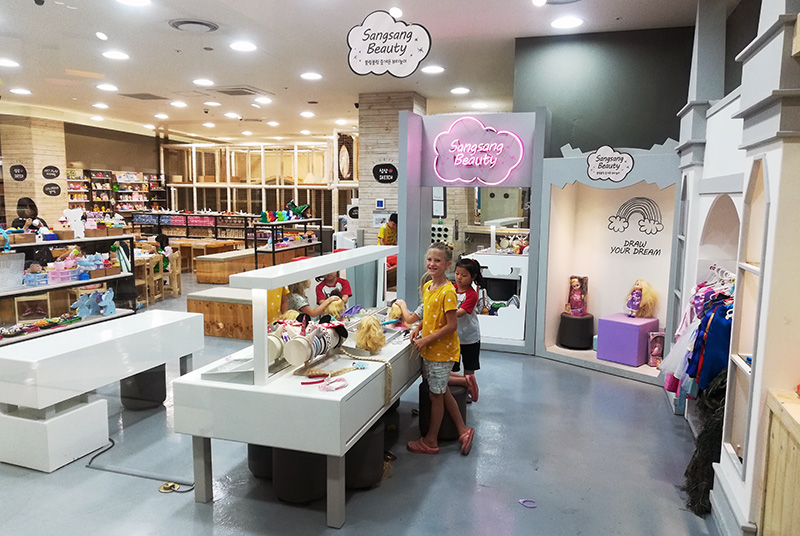 This cafe also has an area for playing with dolls, dressing up like princesses and doing hair and make-up.
PIM is an acronym for Play In Museum and these are some of the fanciest, and upscale kid cafes you can find in South Korea.
The air quality is so bad in Korea, there are many days when it is advisable not to even step foot outside. That is how the kid cafe was born. Apartments in Korea are small, and of course kids need a place they can run, play and yell.
The Play in Museum is for the parents who don't believe that playing is a form of learning and they incorporate more museum-y type activities.
Only in Korea could you get away with calling a foot soak a swimming pool, but when that's the best you can get in South Korea you take it for what it is worth.
Kids have a variety of "pools" to choose from at Plouf, from mid ankle to mid calf, plus fancy plush shower robes to wear, a pedicure and foot massage station, hair dryers, etc.
It's a mini play kids spa. And for the price, it's for kids that know exactly what "treat yo-self" means.
I&ZOO is an indoor petting zoo with a smell that doesn't leave you until long after you've forgotten how many toes a sloth has.
It's 3 by the way.
This is a super fun activity for little animal lovers. There are a wide variety of animals including raccoons, skunks, lemurs, hamsters, bunnies and more. Most of the animals are in open cages and the kids can pet them with some assistance.
The zoo also has carrots available for purchase to feed the animals. This was the icing on the cake for our little Eclair who loved watching the animals come up to her and snatch the carrots out of her tiny little hands.
Lilliput Kids Cafe is a take on the traditional kid cafe where parents can dine on authentic and gourmet food, while the kids have an area where they can be distracted and play.
It's more of a restaurant with a play area for the kids.
One of the most upscale of these dine-in kids cafes is Lilliput Kids Cafe. There is even a carousel inside the cafe.
Menu items include gourmet pizza, pasta, and steak dubbed Green Food from a Mother's Heart using sauces not developed on the market. Sounds complicated.
They also offer specialty coffees and have their own roastery using only the top 7% of beans.
This kids cafe is all about teaching kids how to bake bread; but not just any type of bread.
At Bon Bon Kids Cafe, children are taught how to shape bread into their favorite characters or food items. The type of bread they make varies in popularity and changes every two weeks. Creations range from sushi creations to Disney's Octonauts characters, to even the bread thief Pororo.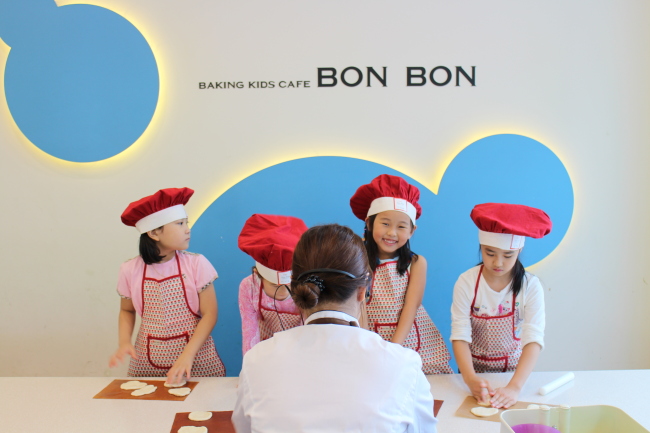 The experience at Bon Bon replicates authenticity. Kids don, act, and play the part of baker from start to finish. Kids wear appropriate chef hats and aprons and get a chance to use all the fancy baking tools provided by the cafe.
KidZania is a play place where kids can leave behind the burden of simply being a kid, and can act out their adult fantasies. It's Big in real life.

They choose professions, go to work, act out real jobs and then earn fake money for doing said jobs that they can then spend on trinkets. And parents only have to fork over $50 to let their kids pretend to be adults.
The KidZania franchise started in Mexico and is now located in over 29 countries. It makes sense in Asia where the culture is uniformly geared towards raising single children in a very business education centric society.
Reviews are phenomenal.
► What We Learned: There are so many kid cafes in Korea, it would be impossible to list them all. But, these listed are some of our personal favorites and some of the most highly rated.
Outdoor Playgrounds & Parks (Free or Mostly Free) in Korea with Kids
?️ Korea has a storied past that is riddled with being less than friendly towards children or families. With a declining population, the government is now on a mission to change that perception and instead encourage young couples to have large families and entice expat Koreans to return to their motherland.

In addition to Kid Cafes, playgrounds and activities for little ones are popping up everywhere!
26. High Rise Apartment Playgrounds
Songdo is a treasure trove of outdoor playgrounds. If you can see a skyrise apartment building, you will also find a monolith of different types of playgrounds around every corner.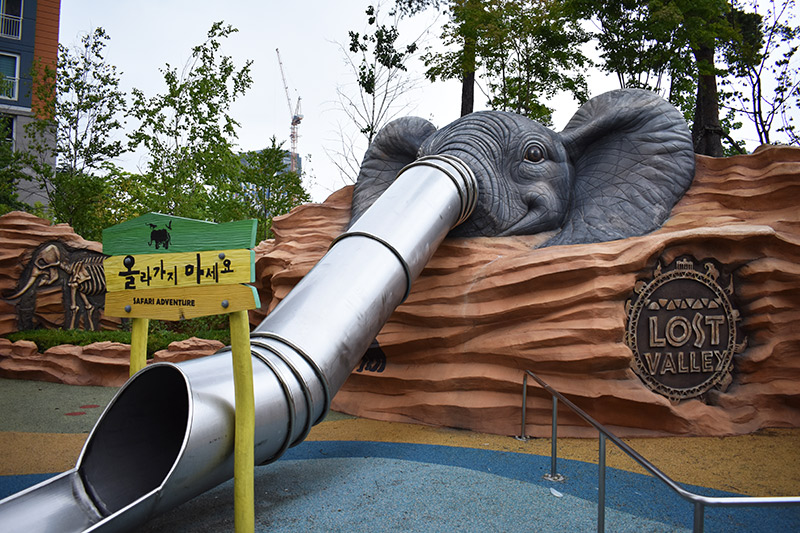 The city of Songdo is not only considered the smartest city in the world, but it's also the city of the future. It was created for young families and offers incredible playgrounds with ziplines, mazes, climbing structures, farm themes, bridges, elephants, caves – you name it!
Located inside the Square 1 Mall on the top floor is a giant potato sack tube slide with see through plastic viewing portals that careens down a bonanza of four massive shopping stories.
It's free.
It's fast.
It's super fun.
The only downside is there is a height requirement of 120cm for this silver racetrack.
28. Jungang Park
Located in downtown Bucheon, this park covers several city blocks and is a popular place for families to congregate for day camping, water play, a lake and several playgrounds.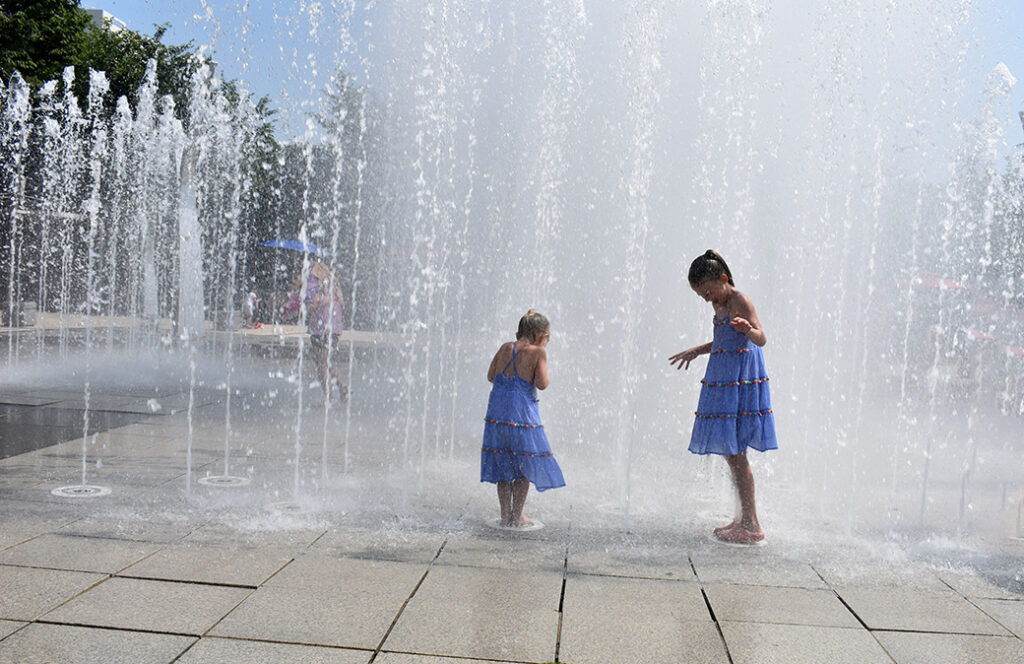 There are sports fields, gardens, walking paths, water fountains and more!
It's located adjacent to several major shopping hubs and restaurants, so it's an extremely convenient place to spend the entire day!

Central Park is fashioned after its namesake in New York City though it's significantly smaller.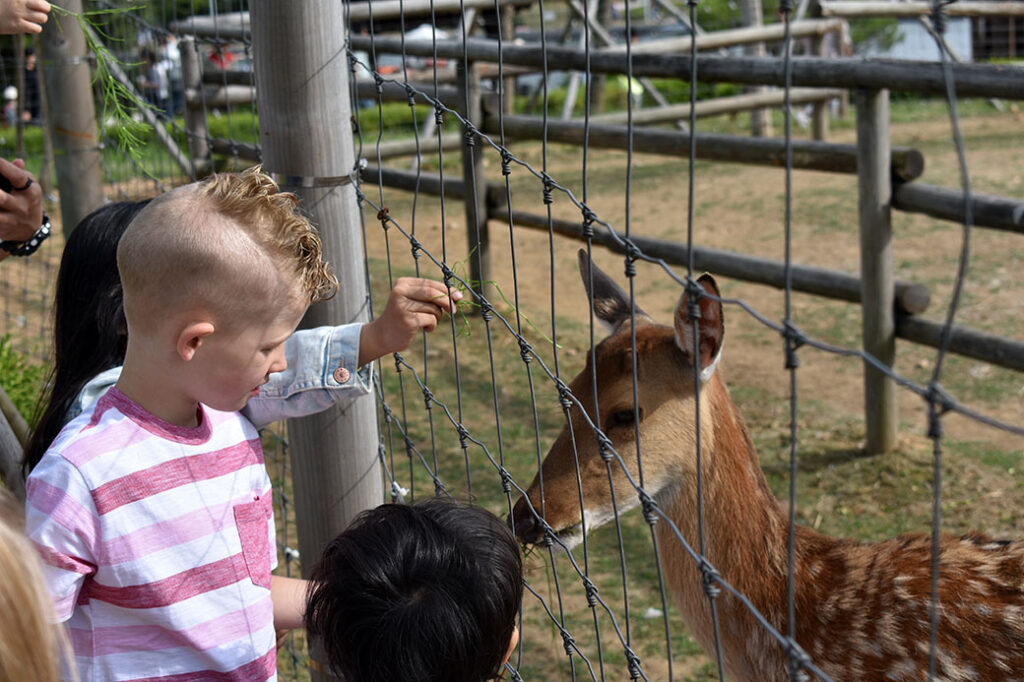 This park is beautiful and leaves little to be desired. There is a bunny island, a deer sanctuary, a lake with all sorts of water toys for rent, family bikes for hire, restaurants, an art museum, walking trail, restrooms, playgrounds and more!
Located in a newer area of Songdo, the Canal Walk is supposed to resemble the Venice canals of Italy even though you couldn't even fit a toy gondola in the stream that runs through the center.
There are four city blocks with a small stream running through the center and sandwiched by retail shops. Each block offers a seasonal theme, but with no rhyme or reason.
Winter has statues of animals, Autumn has statues of people over the water, and Spring has a life size horse with flashing neon lights.
But, you can get Hottek here and Bingsu which could possibly make it worth the trip. Maybe?
31. Wolmido Island
Located near the Incheon airport, and near Wolmi Theme Park, Wolmido Island is a fantastic place to take the kids for the day.
Culture Street offers a complementary foot spa, and a children's splash pad with multiple water features. The pier is quite beautiful extending well into the Yellow Sea and offers incredible views of the surrounding areas and the ocean.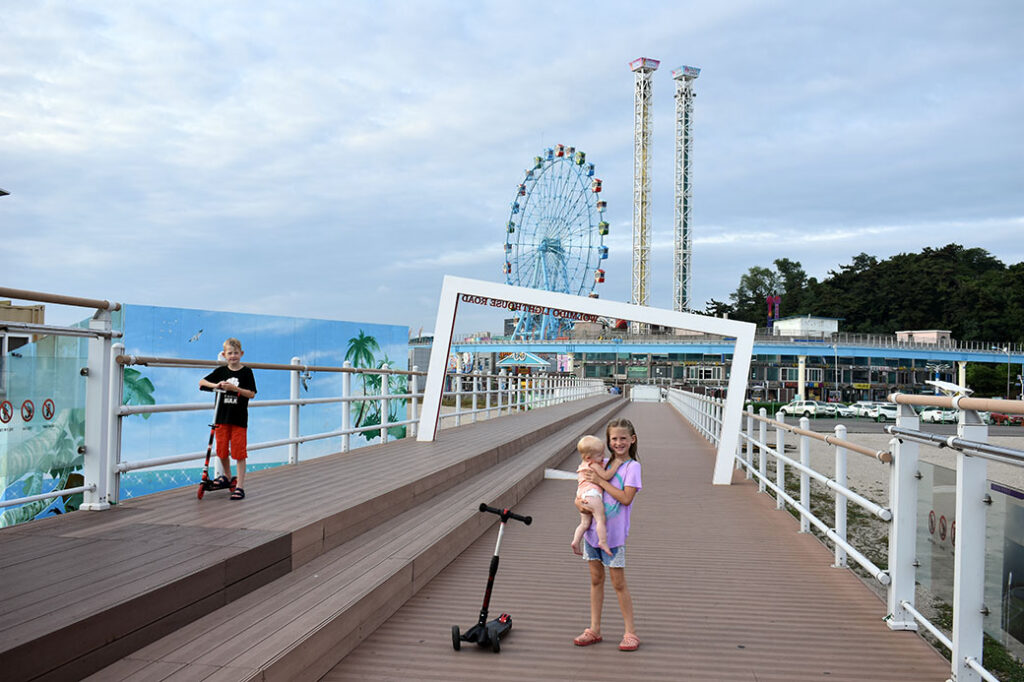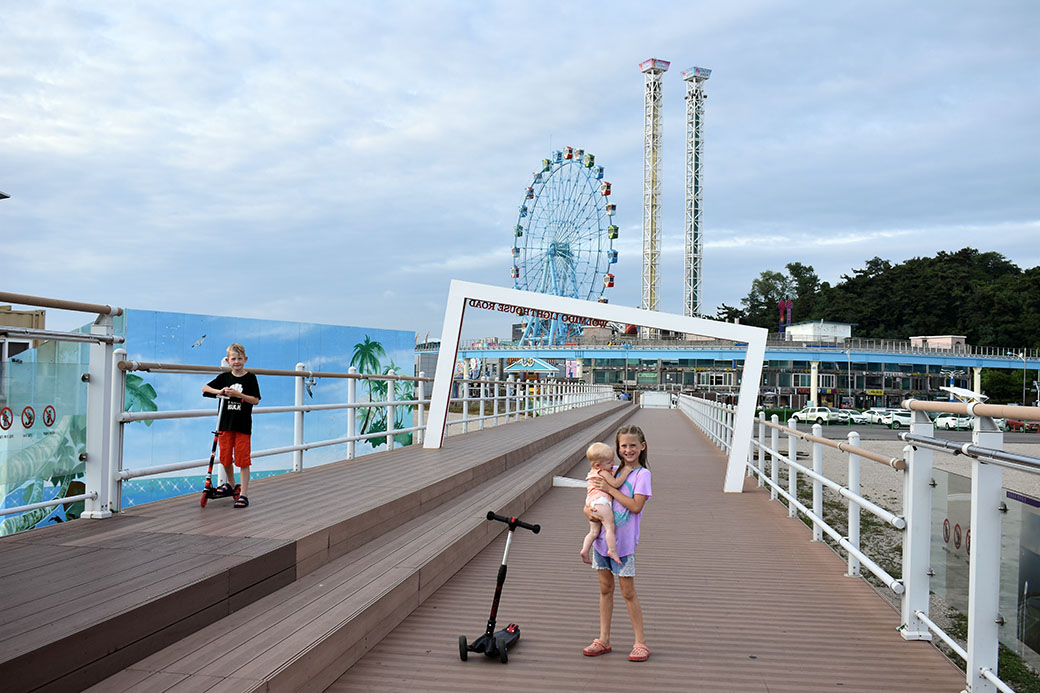 There is also Doodle Pillar, Meeting Square, Arts Square, Performance Square, and Good Harvest Square which serve as gathering places for street performers, artists and musicians.
You can play carnival games, shoot darts and rent bicycles for perusing the neighborhood. During select nights, you can even view fireworks along the boardwalk.
This large ecological park is a gorgeous space that offers views of Incheon Port and the Incheon Airport (ICN) from the glass observatory on top of the mountain. It is free for patrons.
Alternatively, you can take a ferry cruise for an 80 minute tour around the island for between ₩7,000 and ₩13,000. On Saturday nights, the ferry offers a romantic dinner option.
33. Han River
The Han River is one of the 4 largest rivers in Korea, and has a long history for the People.
In specific parts of Seoul, it demarcates the division between North and South Korea. Many defectors attempt to use this river to escape North Korea, and in the specific areas is fenced on both sides with soldiers standing guard at posts along the river.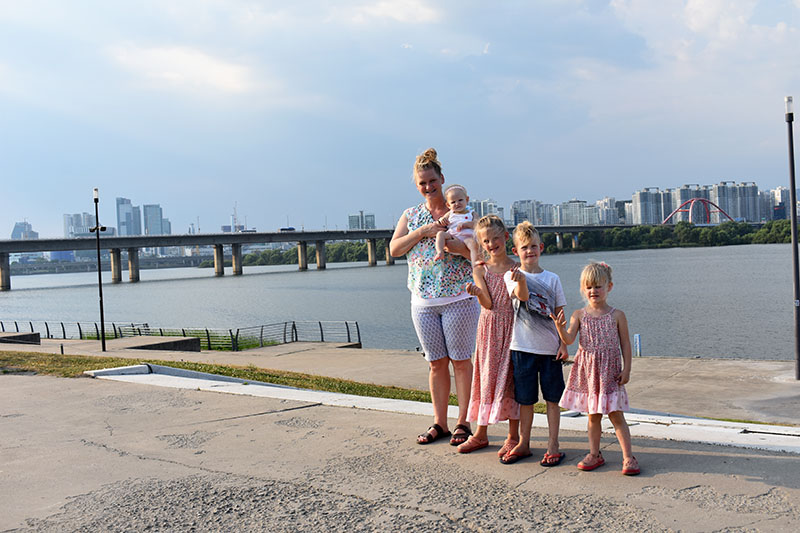 It's an incredible historical sight, and offers beautiful city and nature views.
What's more is that it's one of our absolute favorite places to go in Seoul on a Friday or Saturday night when the Bamdokkaebi Night Market is thriving (more below).
Korea loves to go big or go home, and when Psy's hit Gangnam's Style went off the charts they sculpted a giant pair of bronze hands and invited people to come dance in public.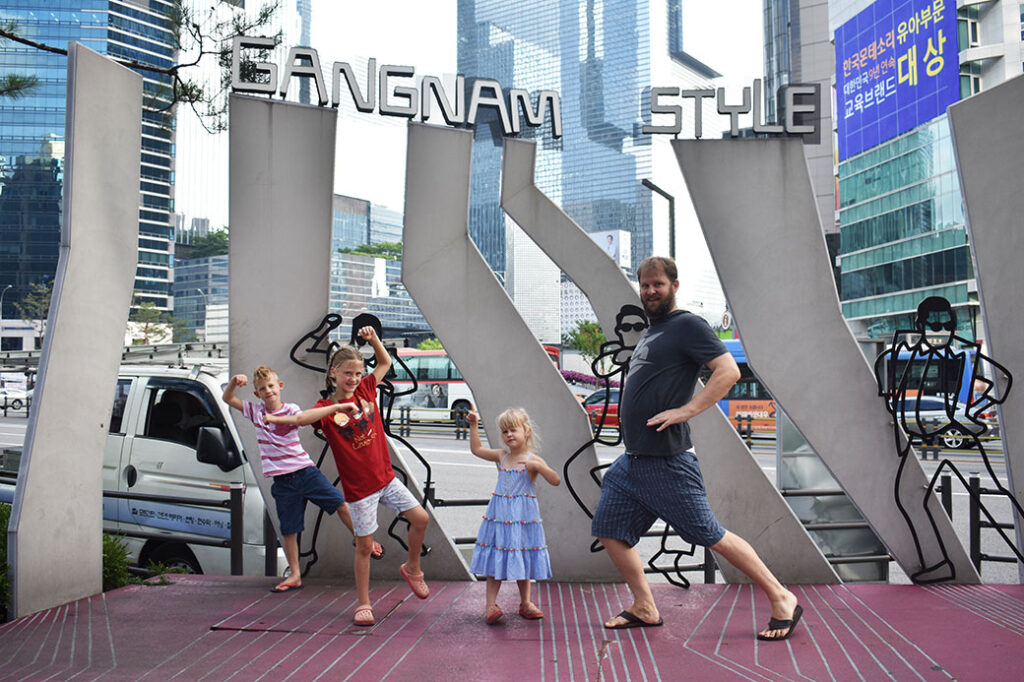 In fact, there are several Psy related statues located around Seoul and they are every bit worth the visit to partake of worthy and meaningful South Korean K-pop culture.
35. Fairytale Village
The unmistakable, lollipop rainbow imagery of Songwol-Dong Fairy Tale Village can't be missed.
Instead of gentrification, this small neighborhood in Korea decided to attract visitors by turning everything into a fairytale! Buildings became castles, gardens became homes for mushroom stools and gnomes, doorways and windows became paintings and secret entrances, Princesses came to permanently sit on the curb to visit and meet with friends and travelers, staircases became works of art.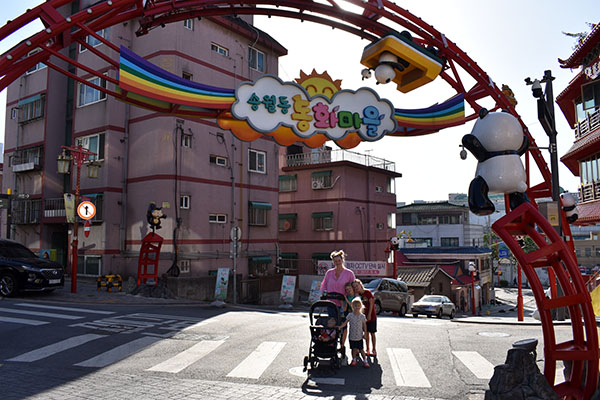 Songwol-Dong Fairy Tale Village is as imaginative as it is beautiful; a children's playground where everything can be examined, touched, and played with.
This is the first, but not the last time Chinatown will appear on this list. Chinatown is one of our personal favorite places to go in South Korea.
South Korea's Chinatown offers incredible food like frozen sugar glazed strawberries on skewers and chinese hot buns and jajangmyeon; Buddhist culture, public vendors swirling the King's Candy and making fresh food, beautiful parks and an interesting history of Confucious and Japan and China that can't be missed.
37. MaCarthur Park
One of the parks near Chinatown is MaCarthur Park named after the War Hero Douglas McCarthur who was a very controversial figure during the Korean War.
It is a beautiful park with flowering gardens and impeccable views of the city with cobblestone sidewalks.

38. Centennial Park
Also near Chinatown is Centennial Park which commemorates the year 1882 when a blood oath was made between Korea and the United States to form an allied partnership.
That partnership is still strong today, 150 years later.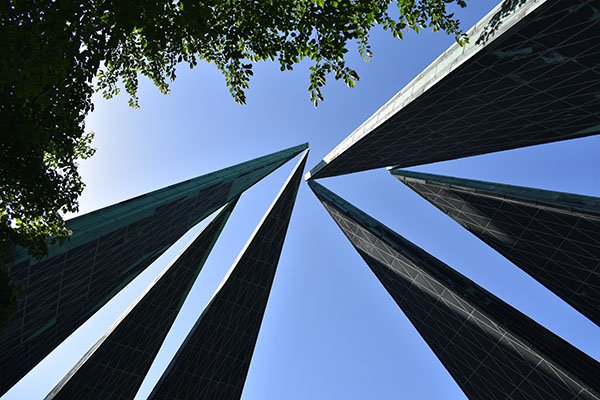 This park is quite small, but part of a web of sites that include MaCarthur Park, Chinatown and Fairytale Village. It's worth a visit to explore each one to fully immerse yourself in Korean history and culture.
39. Talking Elephant
Meet Kosik, the Talking Elephant who lives in Zootopia, the wildlife section of Everland theme park.
At the time, we didn't know about Kosik, so we skipped zootopia during our trip to Everland – because we can go to a zoo anywhere. You can guess how much we're regretting that decision now.
► What We Learned: Korea is a beautifully welcoming culture that has adapted and adopted many different peoples to its land while still retaining a unique and distinctive culture of its own.
Museums & History in Korea with Kids
From noodles to the DMZ, you can go big or you can go small in Korea.
40. Trick Art Museum
The Trick Art Museum employs the use of Augmented Reality to showcase interactive art and is another stop while you're venturing around the Chinatown neighborhood of Incheon.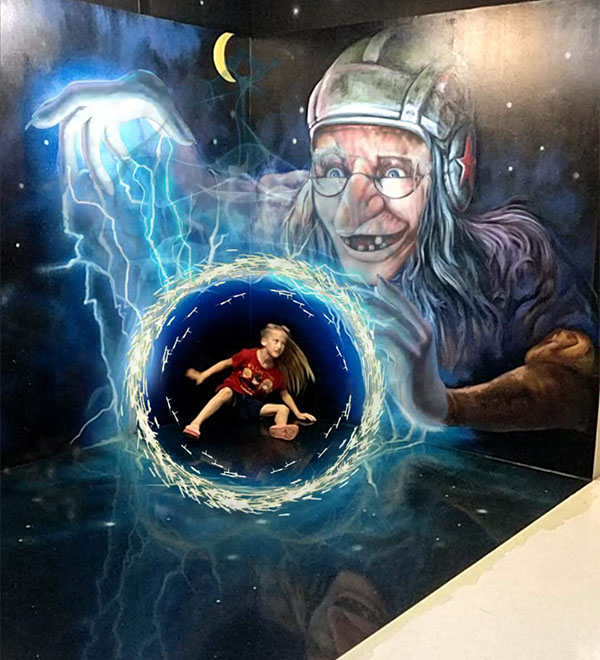 To fully immerse yourself in the museum you do have to download a free Korean app: 트릭아트스토리. You cannot find it in English so keep this Korean text handy!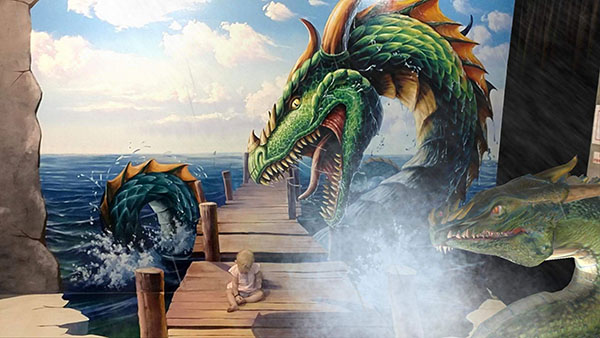 The museum is two full floors with dozens of optical illusions or augmented reality paintings. We journey into the water with Flynn Rider to watch the paper lanterns on Rapunzel's birthday. Our children got stuck in a demented wizard's vortex. Molasses went back in time to see the dinosaurs and we're just lucky she wasn't eaten!

Located in Chinatown, the Jajangmyeon Museum is a tiny little house that will tell you the entire history of the famous Korean noodle.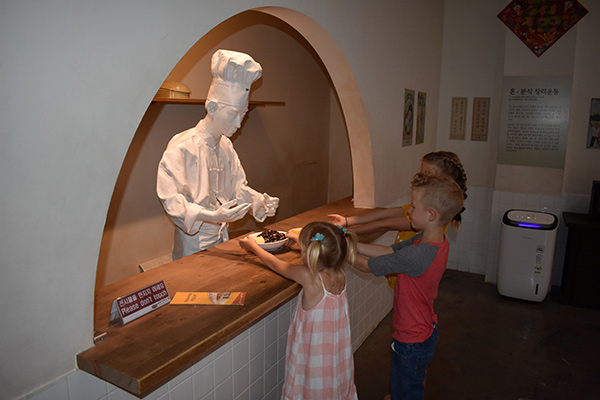 It may not sound like much, but only the fool who has not partaken of jajangmyeon would utter such foul words.
If you thought a noodle museum was a bit out of the ordinary, don't miss the Kimchi museum.
One does not simply go to Korea and not eat Kimchi.
The museum offers you a chance to view and sample over 80 different types of Kimchi as it has evolved over the past 1500 years.
The best part? You get to make your own and take it home with you!
Korea's Teddy Bear Theme Park is very literal with the word "theme park". This is quite literally a museum that is themed after teddy bears.

All teddy bears in the museum are life size and dressed according to the exhibit. There are historical exhibits, cultural exhibits, regional and geographical exhibits, evolutionary exhibits and more.
The idea is that you come here to touch, kiss and feel the fluffiness of the teddy bears.
See, Korean's love selfies. This is basically a place to come take selfies.
40m under the deep blue sea of Jeju Island lies a sunken boat and a coral reef that has grown around it and is teeming with life. This is a chance to ride in a real submarine along the coral reef of the largest island off the coast of Jeju.
You have the opportunity to see multiple species and colors of fish as well as coral, as well as a diver that will swim by the port windows and lead the fish with goodies.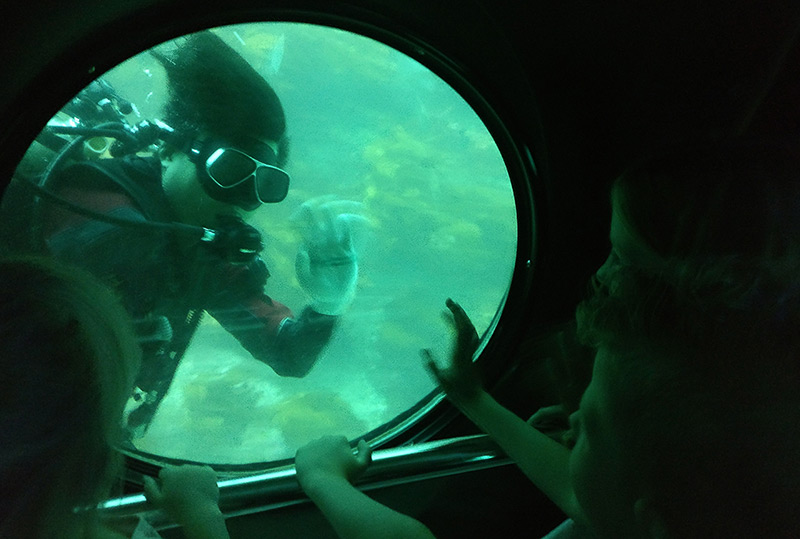 2-3 people can view from one port window, so be sure to ask for more if you are traveling with a large party. We didn't know this in advance so we were scrunched up a bit tight and really didn't get the value we paid for.
45. National Museum of Korea
The National Museum of Korea is the best-known and extensive museum in Korea. For history buffs, this is the place to be.
There are more than 12,044 pieces in the six permanent exhibition sections including Prehistoric and Ancient History, Calligraphy, Sculptures and World Art. There are also rotating temporary exhibitions, online exhibitions and events.
The Peace Park Memorial and Museum offers a complete history into the Korean War and how North and South Korea came to be divided.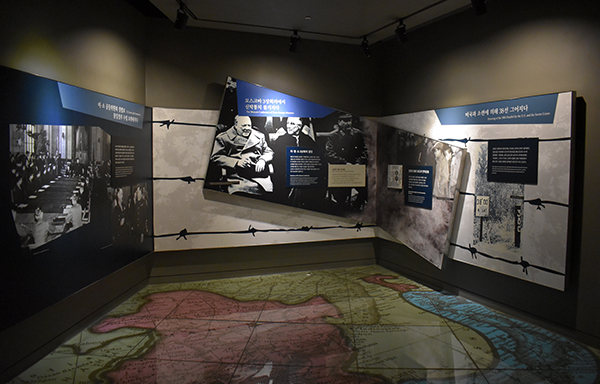 It offers a perspective of first hand accounts and local reports through newspaper and media in real time. The harrowing accounts offer a glimpse that Western society simply cannot offer.
It is an excellent introduction prior to touring the DMZ.
The DMZ is the 2.5 mile wide swath of land encompassing the demilitarized zone between North and South Korea. Within this zone, there is no military from either the South Korean or the North Korean side. There are no people, no villages, no stores.
It is one of the most intriguing, compelling and essential things you have to do when you come to Seoul.
A trip to the DMZ includes learning about the history of a nation divided by outside forces and meddling governments. You'll get to visit 3 incredible sites:
3rd Infiltration Tunnel | Secretly dug tunnels from North Korea to invade South Korea
Dora Observatory | View Kaesong, North Korea and the North Korean Propaganda Village
Dorasan Train Station | The Eastern Most Train Station on the Transcontinental Railroad and last stop before Pyeongyang, North Korea
A Korea DMZ tour worldschooling about North Korea is one of the most unforgettable experiences we've had with our children. Peering into a country that is virtually off limits to the entire world with rare exceptions is unnerving, chilling and extremely intriguing.
48. JSA
In addition to touring the DMZ, you can also tour the JSA. The Join Security Area. The only caveat is that no one under the age of 11 is allowed entry.
You'll recognize the JSA from the unmistakable blue buildings that reside halfway on the North Korean side and halfway on the South Korean side with soldiers from each side standing lock-eyed face to face.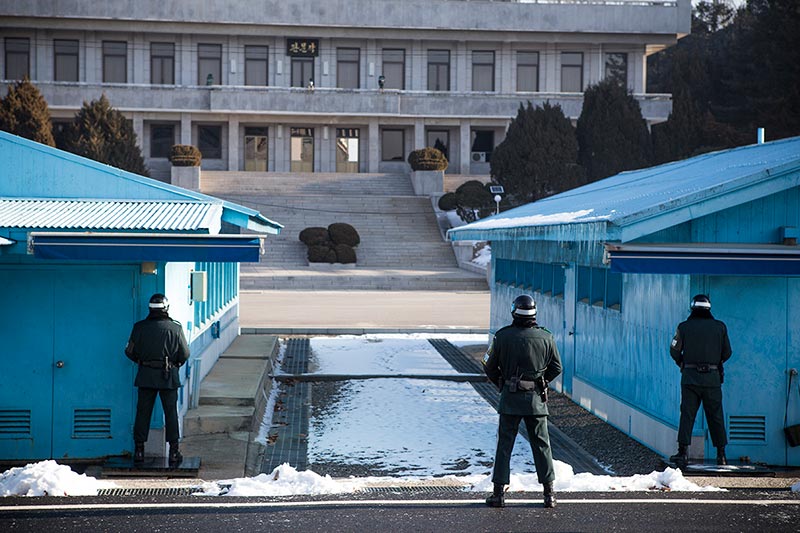 You'll visit 4 sites at the JSA:
Freedom House | Built in 1988 it was intended to be a place to reunite families separated by the borders. Instead, it serves as a conference room where talks between officials from each side meet.
Military Armistice Commission Conference Room | A second conference room for government talks.
UN Guard Post 3 | A guarded post that allows visitors to see a commanding view of North Korea territory and its mountainous horizon.
Imjingak Park and the Bridge of Freedom | Imjingak Park is a tribute or shrine to the war that divided Korea including the Freedom Bridge that was used by thousands of prisoners of war and soldiers to return home once the armistice was reached.
We didn't have a chance to go to the JSA due to our children's ages, but we would not miss the opportunity if given the chance.
49. Protests
Though not technically a full republic and much more socialist leaning, protests are very much a way of life in South Korea. So much so that protests are a common occurrence in Seoul.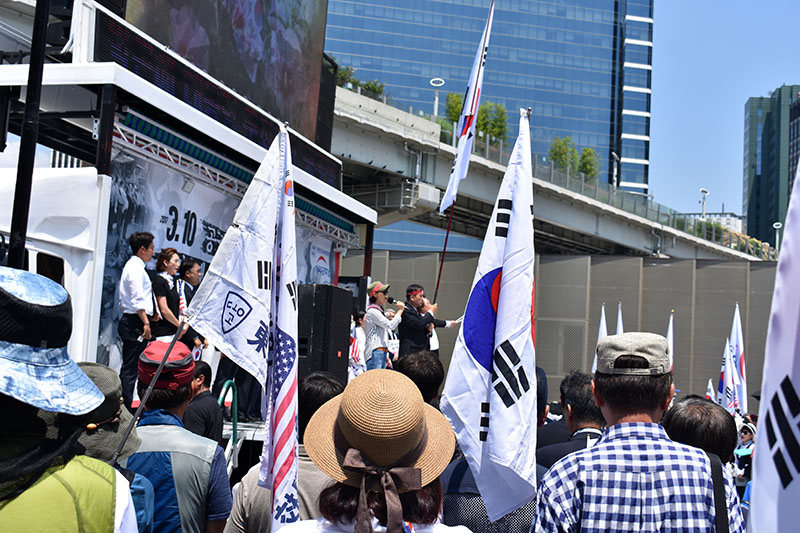 We came across several during our time living in Korea, and were told by our DMZ guide that protests are scheduled in the capital every Tuesday and Saturday.
They are engaging and riveting acts of public unification.
Some of the protests we witnessed were about a boat accident that occurred several years prior killing thousands of people, government corruption involving chabal families, police protests and Presidential protests.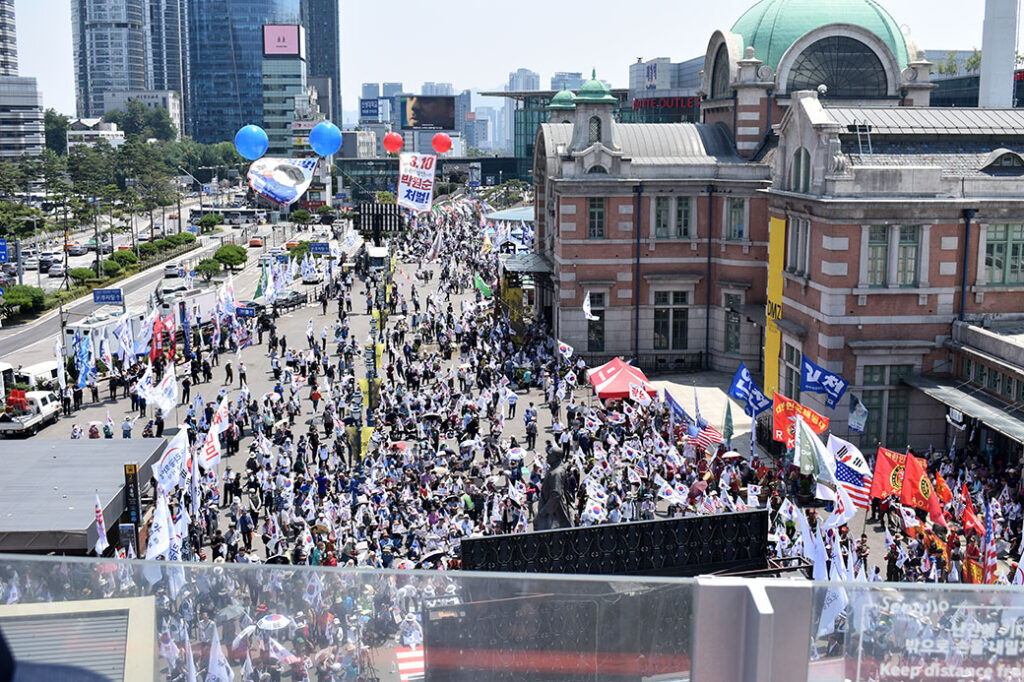 ► What We Learned: Korea has so much to offer when it comes to worldschooling about history, culture and especially their modern way of life.
Culture in Korea with Kids
Koreans are a unique people that have been under constant rule for much of their history.
Of all our travels around the world, the culture of South Korea was the most unique we've ever experienced. Everything on this entire list is about Korean culture, but these few things don't have a specific category all their own.
Monster VR dominates the landscape in Korea. You'll find it in every shopping center, mall, department store and around every corner.
Except for the fact that no one ever seems to be enjoying the facilities, they are everywhere.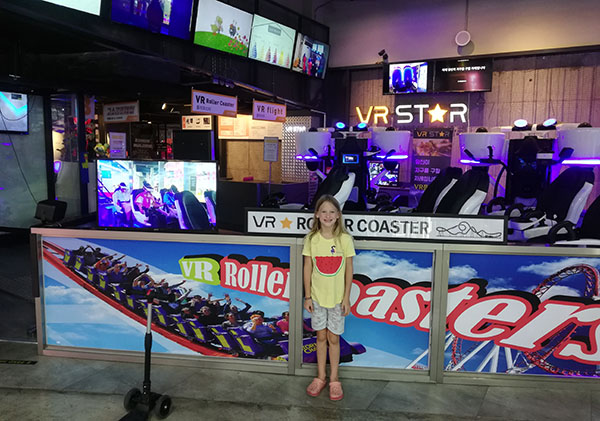 We tried them out one day and understood why no one was there.
Also, there is a height limit for VR. Your guess is as good as mine.
Similar to Monster VR, you'll find Claw Machines everywhere. Literally, you'll find entire floors of malls dedicated to the machines.
5 seconds on YouTube will show you how popular this past time is in Korea.
We've mentioned swimming on this list briefly, but swimming culture in Korea is a misnomer.
Koreans are deathly afraid of the water, most don't know how to swim, and they consider swimming an unhygienic activity.
A trip to a swimming pool involves standing in knee deep water covered head to toe with a diving suit, a swim cap, and last but not least a life vest.
Technically, this one could be filed under museums but it represents everything that is special about Korea.
A man who was born in a toilet and then became a sanitation expert had a house designed for himself in the shape of…
…wait for it…
A toilet.

An Eastern Squatty Potty to be exact. Add a perfect gold swirly statue outside to make home life truly complete.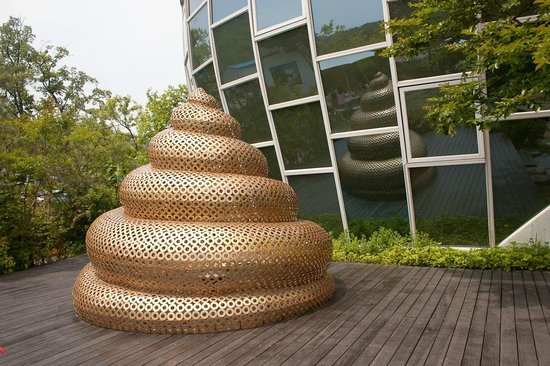 It sounds simple, but it's not.
There are magic buttons
Hidden elevators
No Level 4
You can unpush buttons
And whatever you do, don't play the scary secret elevator game
Everyone knows K-Pop is all the rage the world over, but it isn't until you go to Korea that you realize the full extent.

Koreans take celebrity status to an entirely new level.
When it's a K-POP singers birthday citizens place flowers, tokens and gifts for the idol next to billboards and posters of them all over town, including subway stations.
Regardless of your musical preferences, experiencing a K-Pop concert is as culturally rich as you'll get when it comes to modern Korean culture.
56. Archery Competition
No one bests the Koreans in the sport of Archery.
► What We Learned: Korea is awesome.
Shopping and Markets in Korea with Kids
No single person's list of markets and shopping in Korea is going to be the same, and that's because Korea puts every other country to shame when it comes to leisure shopping.
Even my mom, who shops equally dedicated as a hoarder, a connoisseur, a hobby and a compulsion wouldn't hold a candle to the average Korean.
Welcome Street in the Gangnam Neighborhood is several city blocks of your favorite South Korean shops and restaurants.
This is the place to be in Seoul.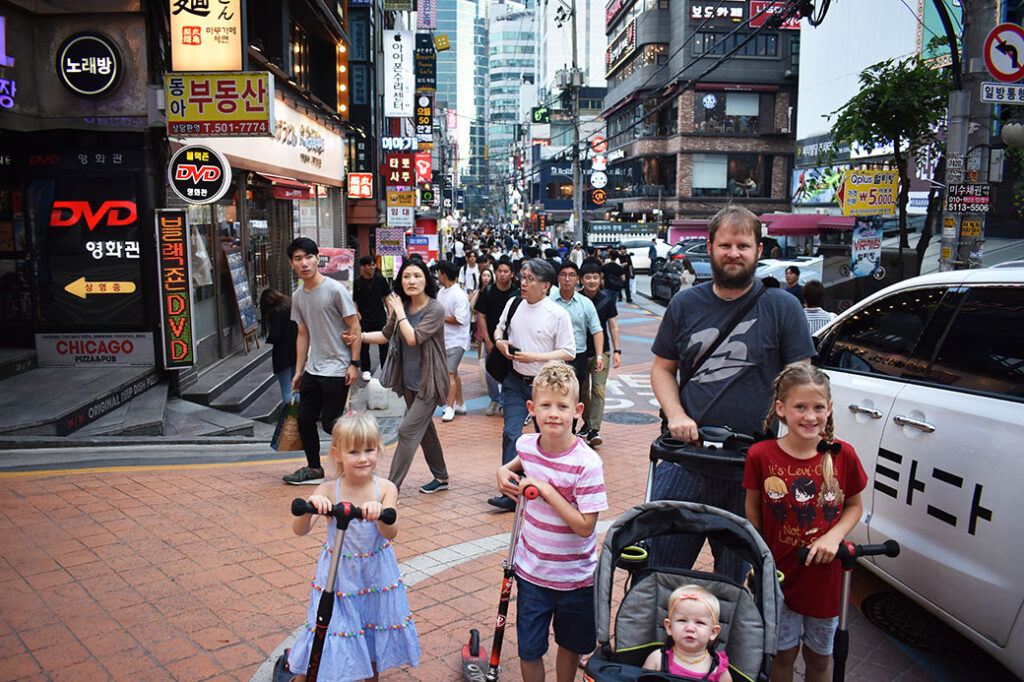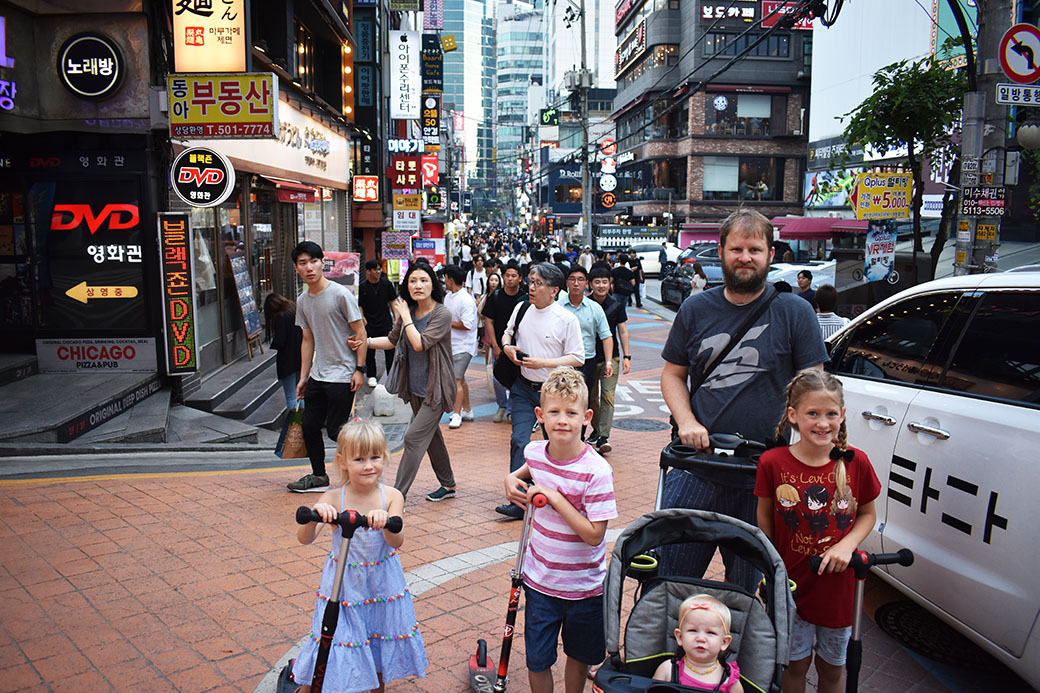 It's packed, but it's clean
Smoking is not allowed, even though it's outdoors
You can find lots of famous sites here from famous movies and TV shows
It's a fun place to go just to participate in South Korean culture. After all, everyone knows gangnam style.
Built to accommodate the needs of the international campus in Songdo, Triple Street is three floors of shopping, restaurants and a whole lot of Monster VR. This is an extremely polished and modern ritzy shopping estate.
During the summer, the shopping area also hosts an outdoor street fair every weekend.
We spent just about every single day here during our nearly 4 months living in South Korea. Our favorite Chicken Galbi restaurant is here, we stopped at the popsicle store everyday on the way home, and the No Brand grocery store always had what we needed for a quick grocery run.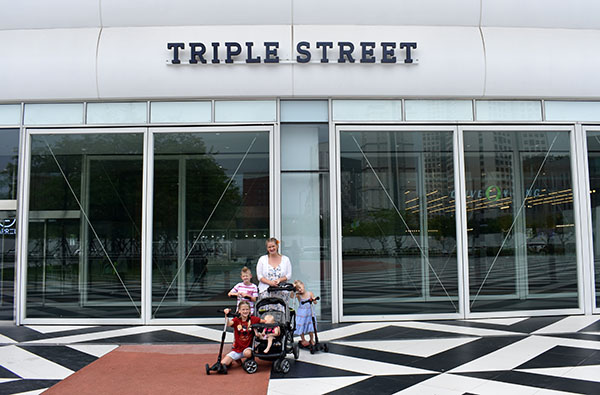 If you are working at the Global Campus, Triple Street will be your go to escape to find a fun activity.
The Outlets are located just across a busy causeway from Triple Street, but if you take the underground walkway you might not even realize that you've left Triple Street and entered the Hyundai Premium Outlets.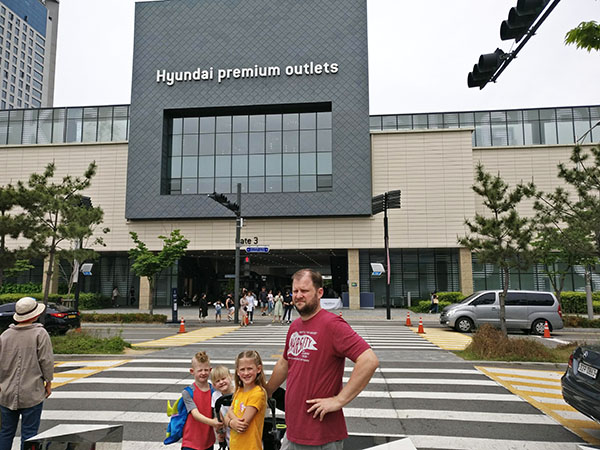 The outlets offer a larger range and larger size of shops. From clothing boutiques, to Kids Cafes, to department stores.
There is a fantastic food court with our favorite dumplings, a Burger King if you are missing the USA, and even a carousel on the top level.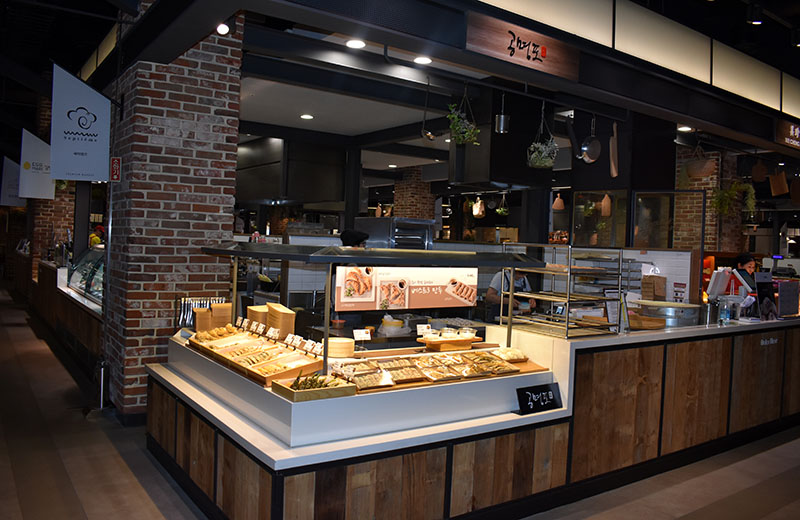 Between Triple Street and Hyundai Premium Outlets you can find just about anything you are looking for.
While Gangnam, Triple Street and Hyundai Premium Outlets are polished and more modern shopping areas, Bupyeong Underground Market is a traditional South Korea shopping venue.
Located underground, like many South Korean markets, Bupyeong feels more like an undisclosed treasure. Except everyone knows about it, and it's located directly on the main subway line. It's a well organized maze of interconnected aisles that weave back and forth this way and that with vendors filling every single nook and cranny.
They sell wares from shoes to jewelry to clothing to food to ties to household goods. Mannequins are dressed in not just horse head masks, but rabbit masks and chicken heads.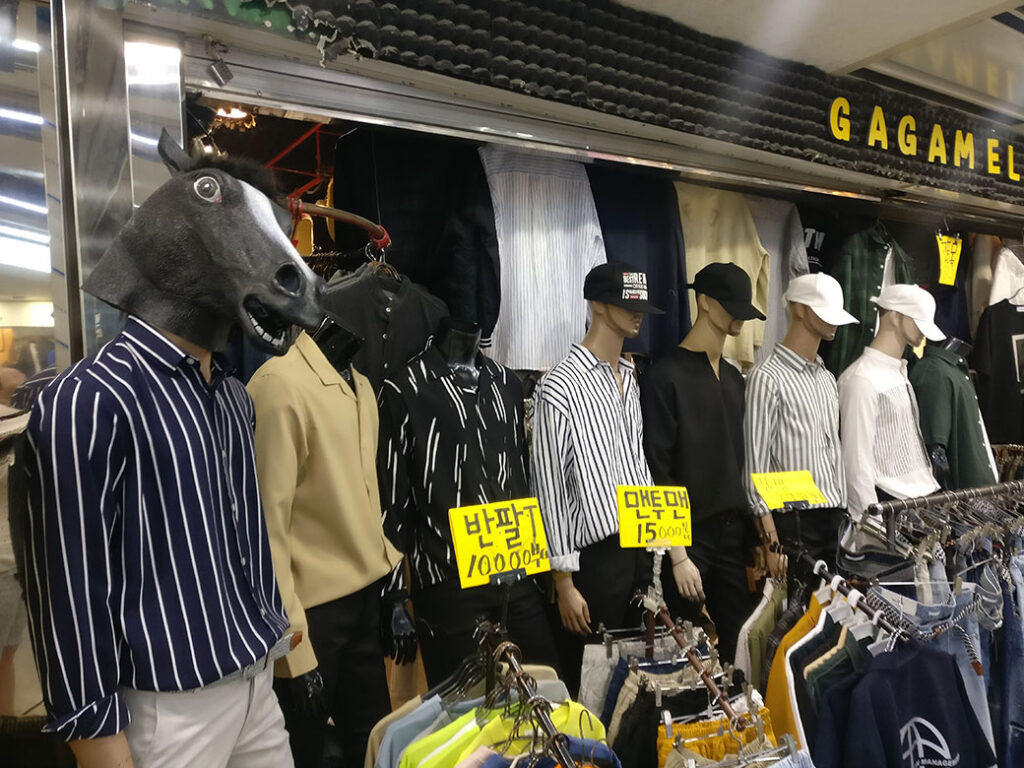 Bupyeong is a really neat cultural experience. Not only in relation to the type of goods sold, but the people who gather here as well. Be prepared for lots of attention.
Namdaemun is an outdoor flea market located in the busy neighborhood of Jung-gu. This permanent market is set up year round, with the exception of the 1st and 3rd Sundays of the month. There is no end to the tables, shops and goods crawling out of the seams, cracks and crevices in between curtains, vendors and breathable air.
There is a huge children's section with items under $5 for everything! Plus, accessory alley with thousands of matching hair bows sold in packs of 10 for $10.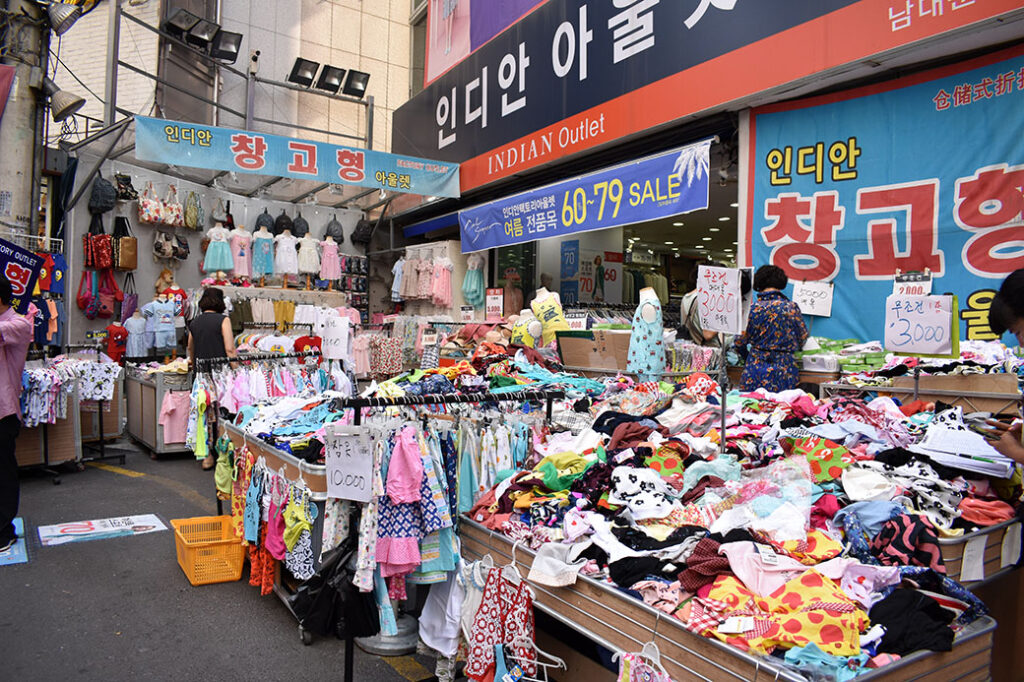 We found a new carry-on hardside roller bag for just $25 that has held up for over a year now with no signs of wear.
And then there is the street food.
Hotteok
Tteokbokki
Kalguksu
Boribap
Sundae
Eomuk, and everything in between
62. Hanbok
While you are at Namdaemun, why not get measured and select fabric to make a traditional Korean dress?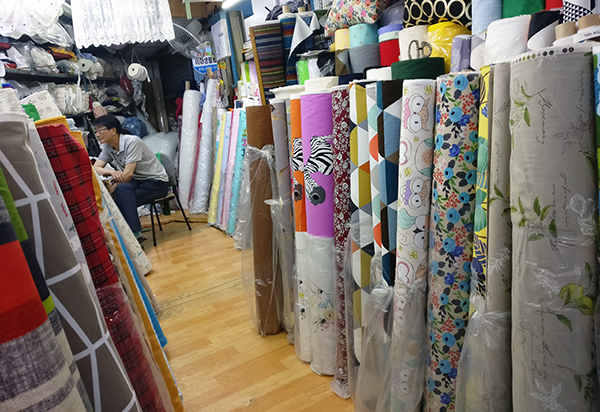 Or, have a specially made tailored suit.
This is one of our favorite places to go on a Friday or Saturday night in Seoul.
Dozens of food trucks offering appetizer sized dishes so you can try out several different Korean delicacies
A two foot deep water feature filled with children splashing, laughing and playing the night away
Vendors selling light up balloons, paraphernalia, cotton candy and popcorn
Handmade goods for sale
Live music and dancing
Gorgeous views
Family friendly and culturally welcoming atmosphere
It is no surprise that the largest underground shopping mall in the world is in South Korea. They have the largest wooden rollercoaster (Everland's T-Express), the largest indoor/outdoor themepark (Lotte World), the world's largest department store (Shinsegae), the world's busiest air route (Seoul to Jeju) – you get the picture.
Coex Mall has two food courts, hundreds of stores, a full size aquarium, a movie theater with 17 screens, the most beautiful book store I've ever seen, two event courts, plus more covering over a million square feet.
Plus, the Gangnam dancing stage and horse hands sculpture is just outside so you can cross two things off your 101 Unique and Fun Things to Do in Korea with Kids list at once!
Located on the island of Jeju, it makes sense that this market is very heavily centered around the sea. We found rows and rows and rows of fish. One vendor stopped our kids to let them touch, feel and squeeze some spoon fish, octopus and rockfish.
It was such a unique experience, and Eclair couldn't get enough! The spoon fish were like stress balls, and the octopus stuck to her fingers. You can hear her say in the video I just want to squeeze it!
The market is also heavily centered around the island's other main exports. Hallabongs (Korean sweet oranges) and aisles and aisles of candy; particularly the Dol Hareubang (volcanic guardian shaped chocolates) flavored with tangerine, cactus and green tea.
And the last thing you can't leave Jeju without trying is the coveted peanut ice cream the island is known for! The rest of the food court with street food is just as phenomenal as the other markets you'll find in Korea.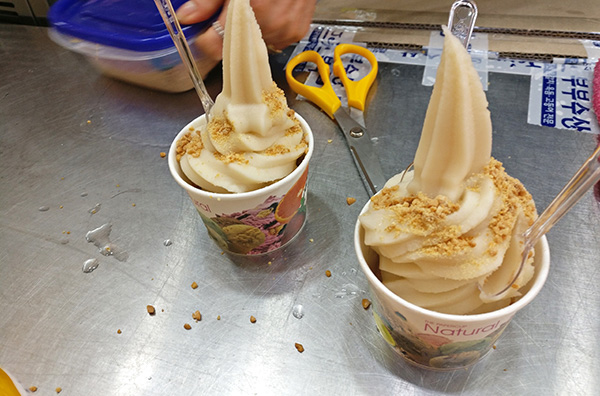 This market was our first venture away from the Global Campus and felt like we finally stepped into the real Korea.
We found fresh and live fish, including turtles for sale to eat. We found a second hand clothing store, barrels of spices, beans, grains and rice, giant aloe vera plants, clothing, and all sorts of unique wares.
There are multiple vendors selling international food and we feasted on as much as we could eat including Dakgangjeong (see below) dried fish, caramel covered crackers, and bao steamed buns filled with pork and vegetables.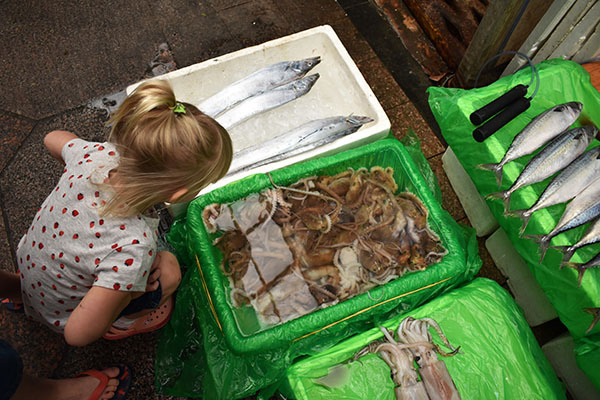 The best thing about the Sinpo International Market are the prices. It's worth it to visit for the prices alone, but the experience is just as culturally rewarding.
There is nothing remotely family friendly, food worthy, or interesting about Myeongdong Shopping Street. There is, however, alley after alley littered with "for a good time call…" cards and graphic pictures on the ground.
We had read nothing but great reviews about the food, the culture, and the shopping of Myeongdong, but despite our best efforts, we didn't find any of it.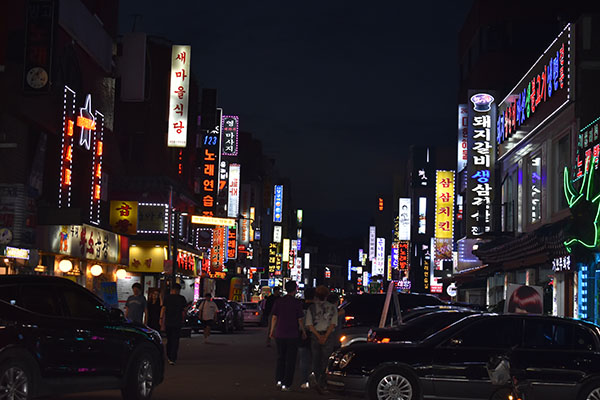 Search at your own risk.
► What We Learned: There is no limit to what you can find in Korea; what you can learn in Korea; what you can experience in Korea and of course, there is no limit to the amount of fun you can have in Korea!
Jjimjilbangs in Korea with Kids
No trip to South Korea is complete without experiencing a public bathhouse. Similar to the Onsen in Japan, the Korean Jjimjilbang is a sensory experience shared with other members of the same sex in an intimate setting that is neither sexual or provocative.
This is an ancient tradition where the body is not only cleansed but the spirit as well, and an important ritual between mothers and daughters and fathers and sons to reconnect meditatively.
Our family loved this experience. It was every bit refreshing as we initially thought it was eccentric. I've honestly, never seen so many nude people in my life and after the initial American shock of it, I didn't feel out of place at all.
Fully nude women came to play with Molasses. Fully nude women watched and laughed as Eclair swam through the pool and asked me all about her age, her talents and commented on how strong she was.
This was just a beautiful window into Korean culture and a bonding experience with another culture I never would have had if we'd been too uncomfortable to give it a try.
Spasis is the largest Jjimjilbang in Incheon with 5 different floors. It is located in a bustling and almost dirty part of Incheon, which is in sharp contrast to the oasis inside.
In addition to the separate dressing rooms and baths, the third floor has saunas, sleeping rooms and massage chairs. A cafe, billiards tables, exercise room, a library, computers and large screen TV which Korean's call a movie theater comprises the fourth floor. The fifth floor is an outdoor rooftop pool only open during the months of July and August, and this is the only place swimsuits are acceptable and required attire.
There are approximately eight different sauna rooms offering a different temperature and experience including a salt room with infrared lighting about 80°, and outdoor 107° sauna, a phytoncide room with trees and calming music and a cold room with literal ice on the walls.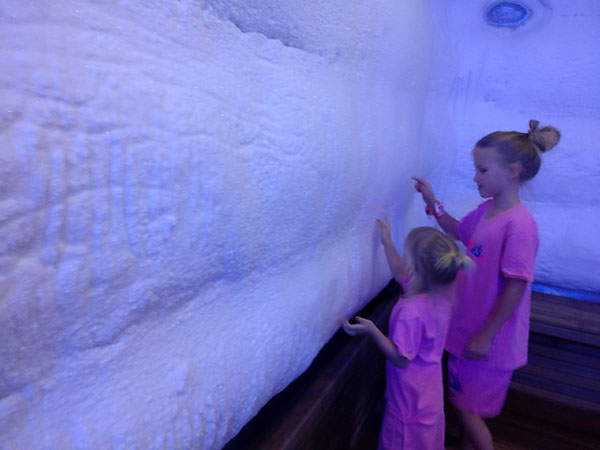 The baths have five pools. One for washing, rinsing and cooling off is room temperature. Two in the middle are set at 39°C/102°F; another to the side of the room that is three degrees warmer. The far wall has a four foot deep refreshing pool set to 20°C/68°F. And rows and rows of showers that are used interchangeably with the baths.
69. Blue Ocean Jjimjilbang
Blue Ocean is another jjimjilbang in Incheon, located in Dream City within the newer developing neighborhoods. We had a hard time finding this one; it's located on the 6th floor of the high rise buildings and by the time we finally found it, we didn't have time to try it out.
Set in blue mood lighting with calming ocean sounds, this jjimjilbang offers the same amenities as Spasis though it's not quite as large – it's definitely as beautiful.
It offers 5 baths of varying temperatures and several healing and restorative rooms.
The most well known Jjimjilbang in Seoul, Dragon Hill Spa is conveniently located right on the subway line.
Their website is offered in 4 fully translated languages.
This Jjimjilbang offers 7 levels of relaxation including aromatherapy and healing rooms, a year round swimming pool, fitness areas, an outdoor cinema, simulated horseback riding, and rooftop cafes.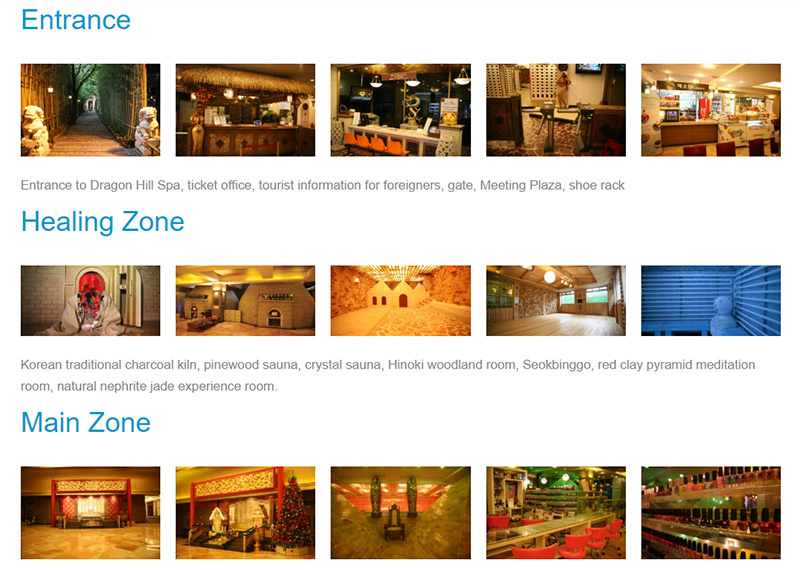 It has won several awards for therapy and comes highly recommended.
A different type of Jjimjilbang can be found in Busan, as Cimer Spa offers 12 outdoor hot spring baths as well as an ocean spa, an ocean spa pool, an indoor sauna, a fitness room including indoor golf, and a retreat spa.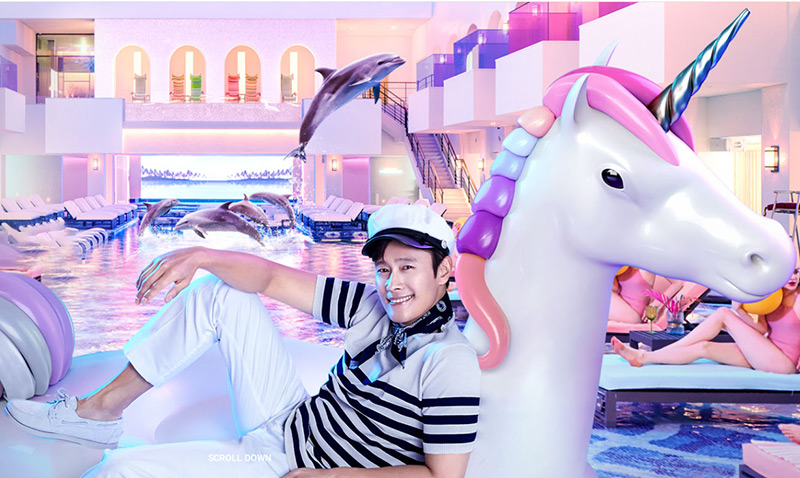 According to the advertisement photos, they've got dolphins, unicorns, and 1950's sunbathing models too.
The Cimer Spa is located inside a hotel and offers a sort of Kids Cafe as well for parents enjoying the Jjimjilbang. The kids station includes playstation games, kids lounge, book club and BMW driving lessons.
I'll take the kids station please.
72. Baby Angels (Baby Jjimjilbang)
Baby Angels is a cross between a baby kid cafe and a jjimjilbang. There is just nothing quite like it.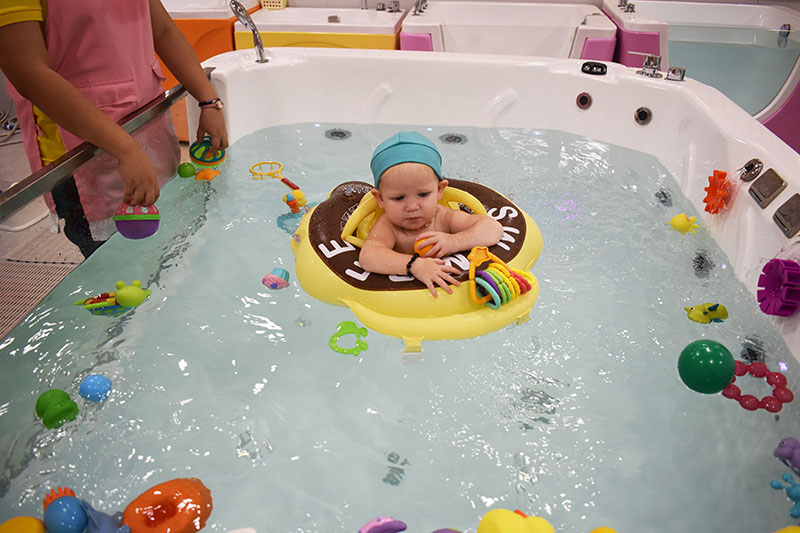 A baby jjimjilbang follows the same customs as a traditional Korean jjimjilbang bathhouse.
First, babies go into a changing room to remove all outside clothing.
Then, the babies take a pre-spa cleansing bath. The pool is also filled with gads of toys and two attendants coo and play with your baby the entire time.
After the cleansing bath, baby moves into the whirlpool tub. Babies can be held, or use a raft. The whirlpool bath is kept a constant perfect temperature of 98°F to match body temperature. It is jetted and a constant stream of water keeps the circulation moving.
After 45 minutes in the baby whirlpool tub, it's time for a second cleansing bath.
After completing 1 hour total of swimming, we moved to the play room. This is the ultimate play area with a floor piano, a music room, a Rolls Royce, a climbing structure, slides, a ball pit, stuffed animals, sensory walls, trampolines, mini couches, a private nursing room, etc. etc. etc.
This place is everything a tiny human could desire.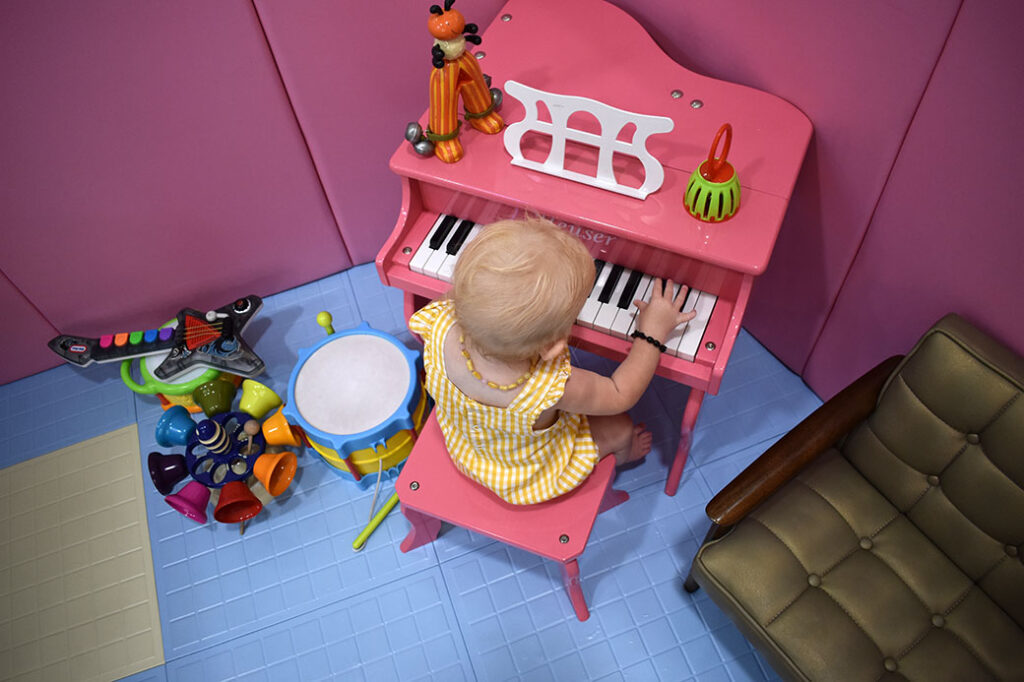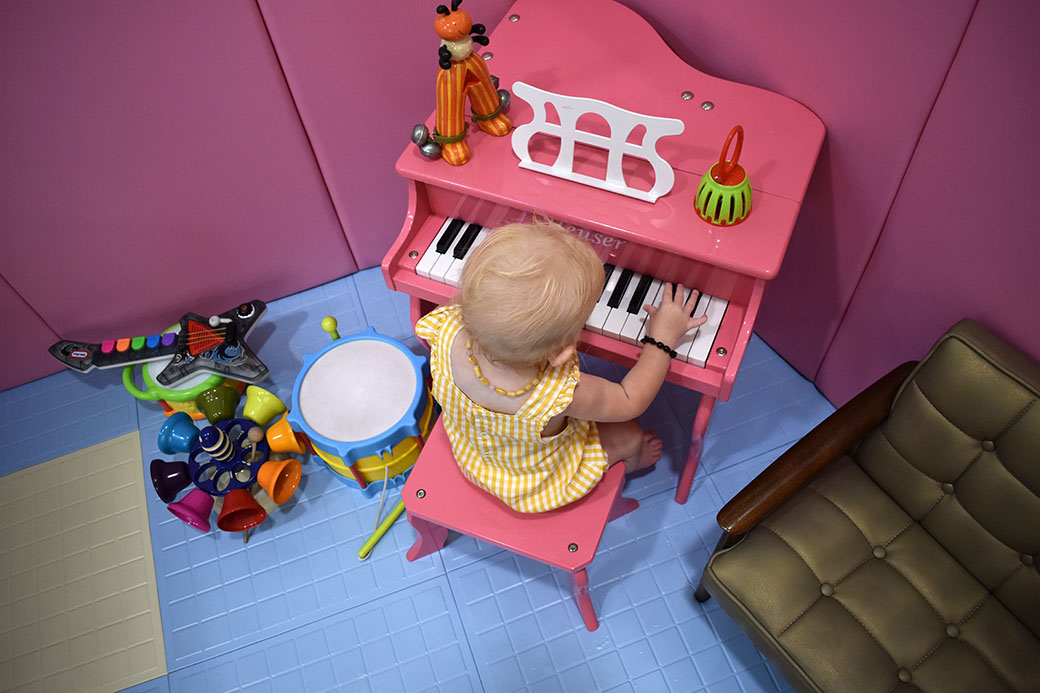 Although babies are welcome in a standard jjimjilbang, however, it can be a little awkward as jjimjilbangs are meant to be a place of cleaning rituals and swim diapers aren't even allowed for infants.
► What We Learned: Americans are far more sexualized while at the same time prude and body conscious than Koreans are.
Beaches & Hiking (Free or Mostly Free) in Korea with Kids
Korea is a truly beautiful country with a diversity of regions, and mountainous flora and fauna. This is no more telling then when we visited the border to North Korea and saw the empty forests and bare mountains where all the wood has been stripped compared side to side with South Korea.
We did most of our hiking on the island of Jeju, but the entire country offers beautiful places to enjoy nature and escape from the busy metropolis.
This mountainous island is near Incheon Airport and offers several hikes, beaches, and fresh seafood.
The bridge to the island itself is a site to see and offers panoramic views of the coast and the surrounding islands.
Once you reach the island, there are marked built in trails and you can traverse the entire island by foot! Not to mention two beautiful beaches that lead to more islands and hikes from there!
74. Silmi Beach
Silmi Beach is one of two beaches on Muuido Island. This beach is particularly unique in that during low tide you can walk directly out into the Yellow Sea to Silmido Island. Silmido is one of two small islands that anchor Muuido Island – the other is Somuuido Island.
A beach day in Korea is mostly spent on the actual beach in tents. Not in the water, and not in the sun. It is a day of relaxation and meditating.
For us, it was also looking for seashells. Silmi Beach is covered in huge, intact seashells that our kids loved sorting through and bringing home.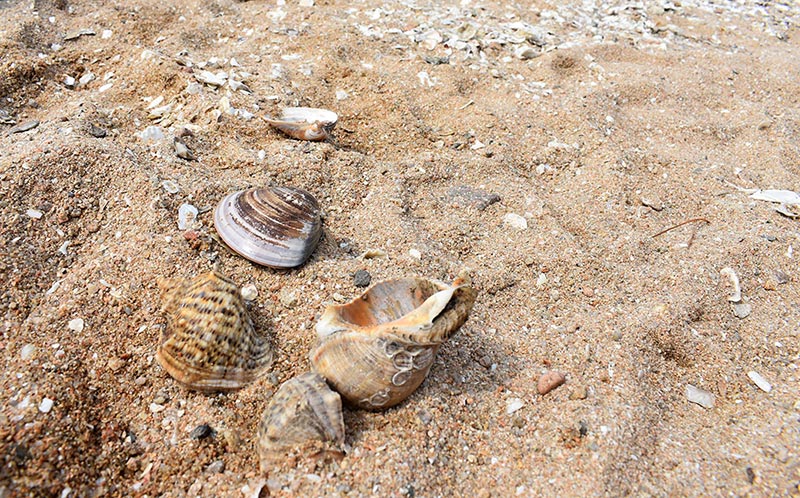 This doesn't mean that you can't enjoy the water! In fact, it means you'll have it all to yourself!
On Hanagae Beach there are two hikes that are breathtaking. Both are easy to traverse and both worth the effort!
Unlike Silmi Beach, Hanagae Beach has powdery sand and tidal pools over a 1 kilometer stretch during low tide. There are also bungalows that you can rent for the night to sleep under the stairs.
We definitely went to the wrong beach… and we lost our phone… and we went to the wrong subway station… Listen about our experience on Muuido Island as idiots traveling around the world.
This is a quaint little island located right next to Seogwipo Submarine, where you can go and bird watch, view the harbor while obtaining a closer view of the outlying islands and take scenic photos.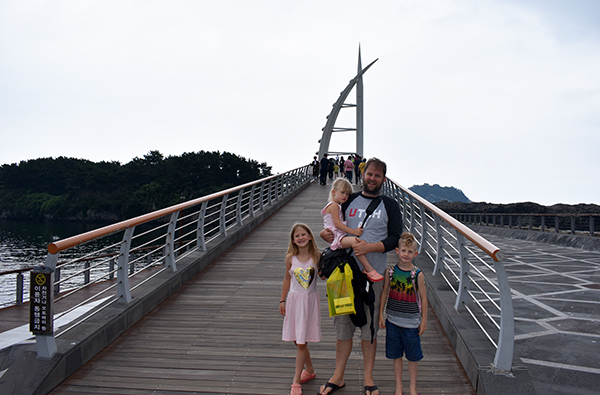 It is a short jaunt around the island, but gives you a chance to view the coast of Jeju from a different perspective, especially after taking the submarine out to the coral reef. It's fascinating to see how many islands within a stone's throw of the coast.
This waterfall is remarkable.
It is the only waterfall in Asia that empties into the ocean.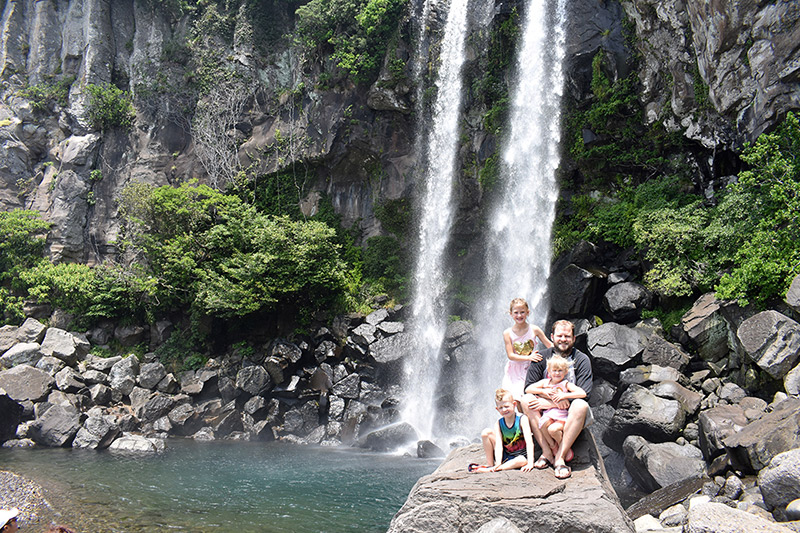 The waterfall is at the bottom of a tall staircase surrounded by a handful of vendors peddling famous Jeju hallabong treats. To get the best view of the waterfall and be sprayed with its mist, you have to crawl across giant rocks that sit directly in the ocean, to reach the rocky pond.
It's a gorgeous sight!
The Cheonjiyeon Waterfall is not quite as impressive as Jeongbang, but it is located in a beautiful forest and the path to see the waterfall is well paved and well marked.
You can easily visit both Cheonjiyeon and Jeongbang in the same day.
The park offers free strollers for children, and the walk is leisurely and short. It is covered in towering trees and foliage with insects and birds to see and listen to.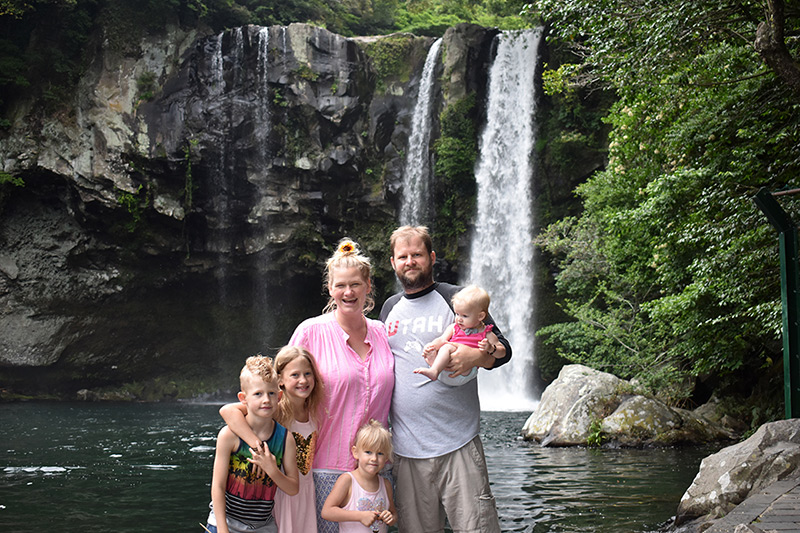 The falls empty into a large pond that is connected to a river, and the hardest part of the entire experience was that the children were not allowed to touch the water, let alone jump in.
Jungmun Saekdal Beach is paradise and makes for a perfect family day on Jeju Island.
Rising from the beach is a large cliff on the west side of the beach, where a restaurant and marketplace is perched on the outcropping. We ordered pizza, hamburgers and fish and chips and listened to the DJ before heading down to the water.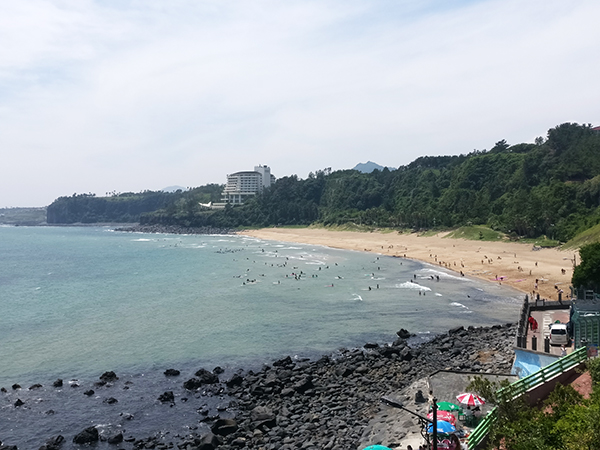 The water is freezing, but smooth and tame.
The sand granules are huge, but soft and warm!
We all got buried and escaped dramatically.
Molasses covered her legs and ate tons of sand.
We all cried when it was time to leave.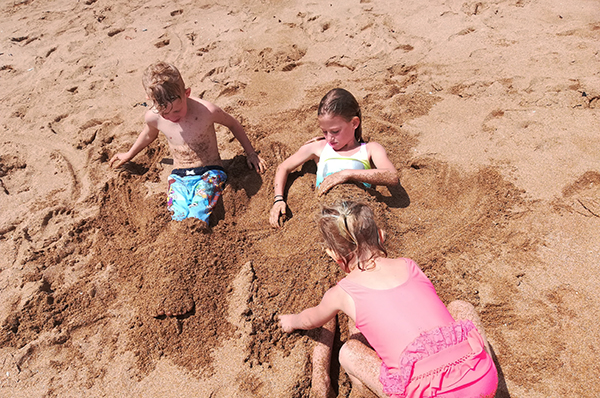 Jungmun Saekdal Beach is a great family beach with bathrooms, hoses to wash off the sand, and showers during July and August.
These waterfalls are within walking distance from Jungmun Saekdal Beach, located across a ravine with a visible red bridge covered in seven white nymphs.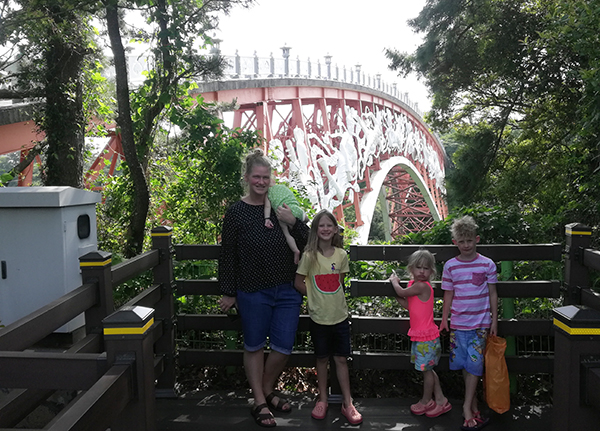 The Cheonjeyeon Waterfalls are made up of 3 distinct waterfalls. The hike to get to each waterfall covers approximately 1500 stairs (admittedly we lost count due to extreme fatigue), but they are shrouded in the majestic forest and offer an exquisite view of nature.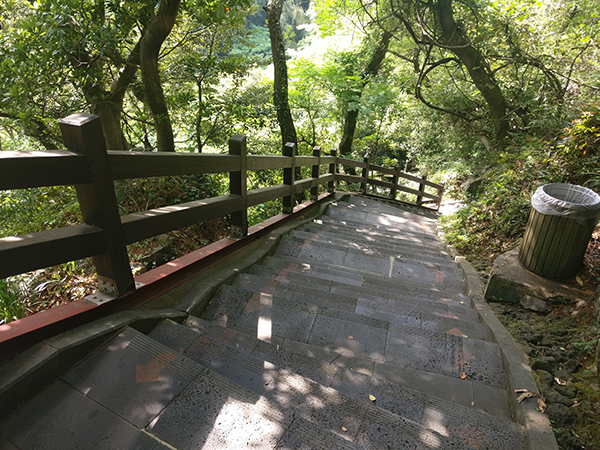 Hallasan is the volcanic mountain that created Jeju-do Island herself! She is the tallest mountain in all of Korea at 2,000 meters.
There are several hikes to reach the peak of Hallasan, with the shortest being 10 minutes and the longest being five hours – but the only hike that offers you a view of the caldera is the five hours long hike. Five hours one way.
If you want to brave this adventure, you'll want to take either the Gwaneumsa trail or the Seongpanak trail. Fork + Foot has great information on what you need to know!
Nami Island is a swath of land created by the construction of Cheongpyeong Dam. It is located inside the north Han River and can only be reached by a ferry boat.
The island is known for it's beautiful tree lined pathways, spring cherry blossoms, towering redwood trees, tulips, magnolia gardens and lover's woods.
► What We Learned: Korea is a phenomenally gorgeous country and offers a plethora of activities to get into nature!
Food in Korea with Kids
And last, but not least, when it comes to the most unique and fun things to do in Korea there is the food. Korea is a gastronomical paradise that ranges from old world blood sausage to everything dipped and fried and then coated with sugar.
83. Mukbang
The #1 Korean food experience is the Mukbang.
Technically not a food, but an experience of eating food. Koreans started this craze of filming yourself eating whilst making truly obnoxious noises and talking about seemingly nothing to a camera.
It caught on like you wouldn't believe. People make real money eating copious amounts of food while crying or gossiping about nothing relative to the watcher.
It's AMSR defined.
Nikocado Avocado went from vegan to multi millionaire. So whip out your cell phone and try it out. It's awkward sure, but it's as Korean as it gets.
This is ice cream like you've never had before. This is shaved ice like you've never had before. This is the only way to survive the dog days of summer in Korea, and in winter you'll wish it was 100% humidity outside, just so you could relish in the most perfect dessert ever created.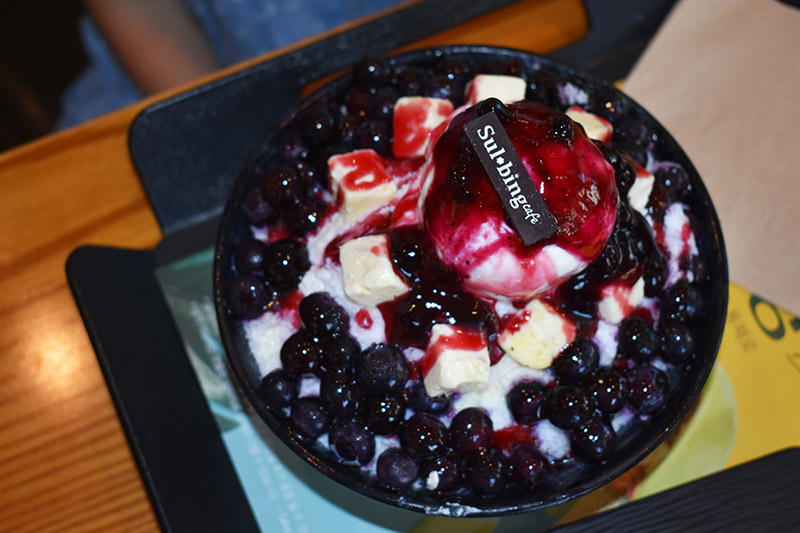 Our favorite place to indulge in Bingsu is Sulbing.
This dessert starts with shaved milk piled high. Then it's topped with ice cream, fruit, cookies or brownies, whipped cream and why stop there? The final pièce de résistance is soaking everything in sweetened condensed milk.
85. Hotteok
Hard to find in summer (check Namdaemun Market), but served in abundance in the winter, Hotteok is a deep fried pancake filled with cinnamon and sugar.
You can also get this treat made with a green soy batter, or filled with more savory items, but the traditional version is filled with cinnamon.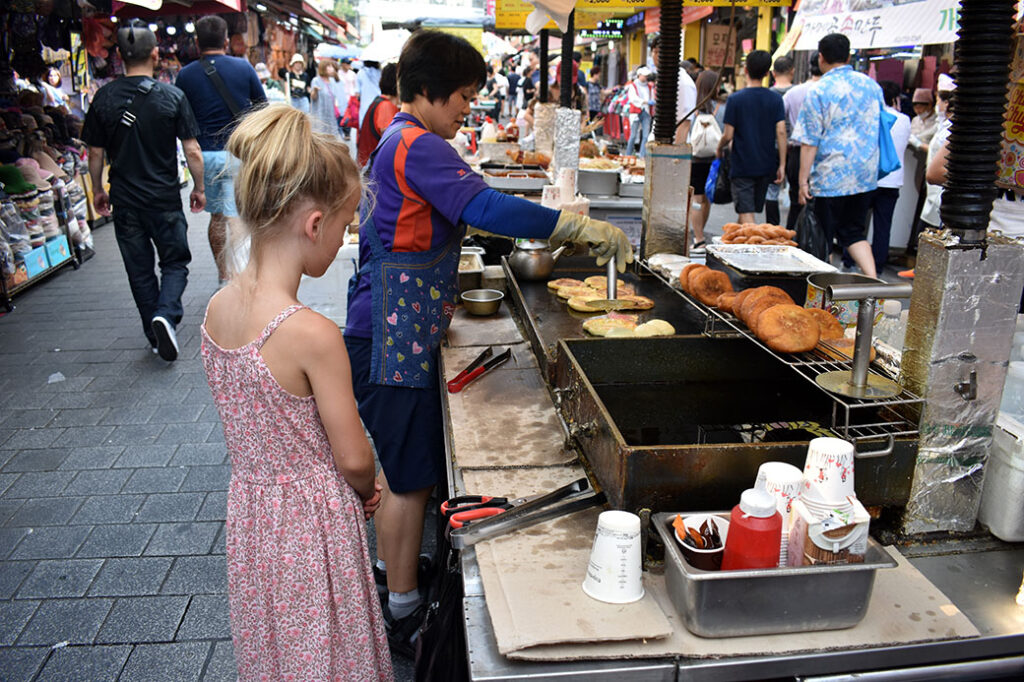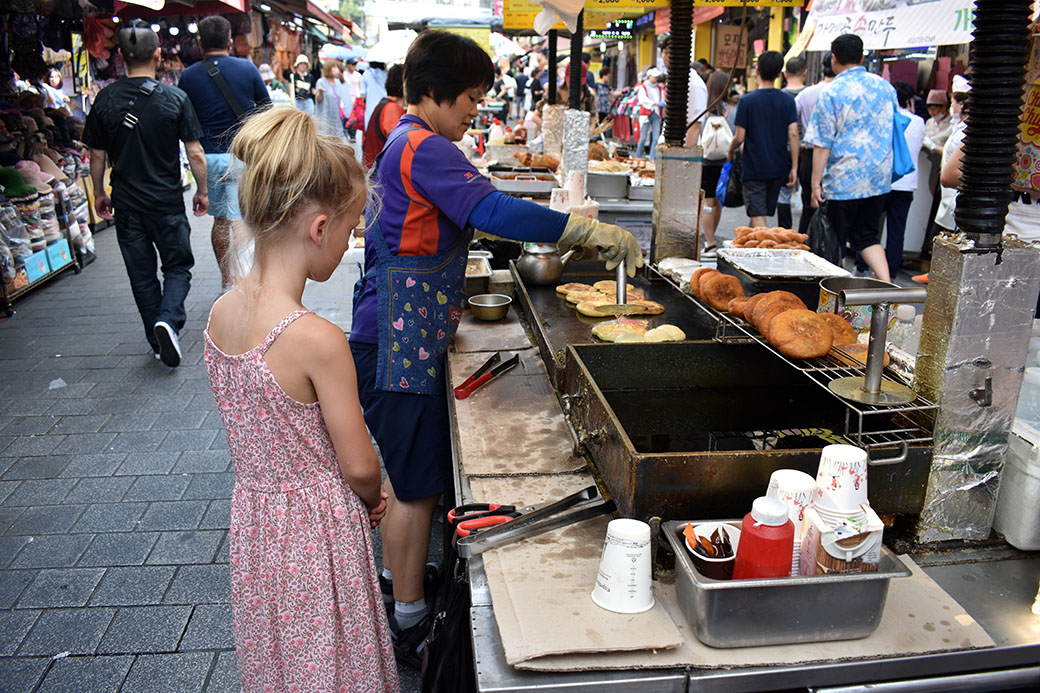 There are no words to describe how wonderful this popular delicacy is. Best eaten and served warm, the closest thing we can find to compare it to would be an Elephant Ear.
86. Popsicle Store
This store is literally translated to the 50% Ice Cream store. It may be 50% popsicles and 50% ice cream, but it's a store 100% devoted to frozen treats.
Chest freezers upon chest freezers upon chest freezers loaded with every single type of imaginable frozen treat. From corn, to tomato, to something a little more appetizing like biscoff and mille feuille.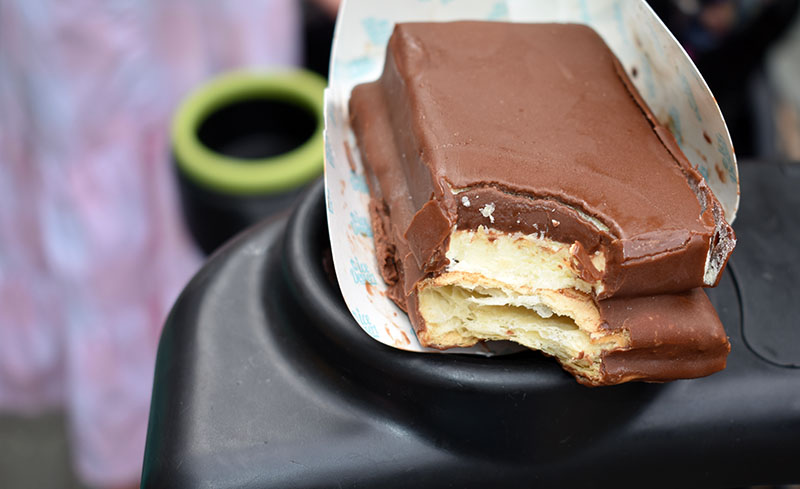 Yummy in my tummy.
87. Food Fried in Donuts
Like everything.
Hot Dogs, Churros, Tuna Fish, Squid, Beans, etc. They even put sugar on their garlic bread.
88. Korean Cotton Candy
It tastes the same, but it's soooo cute!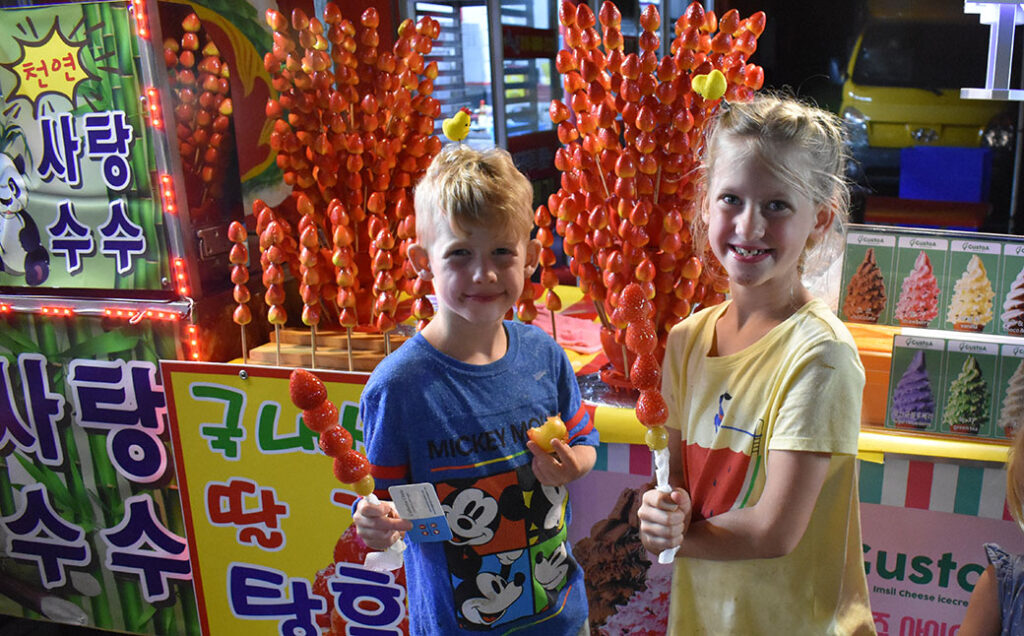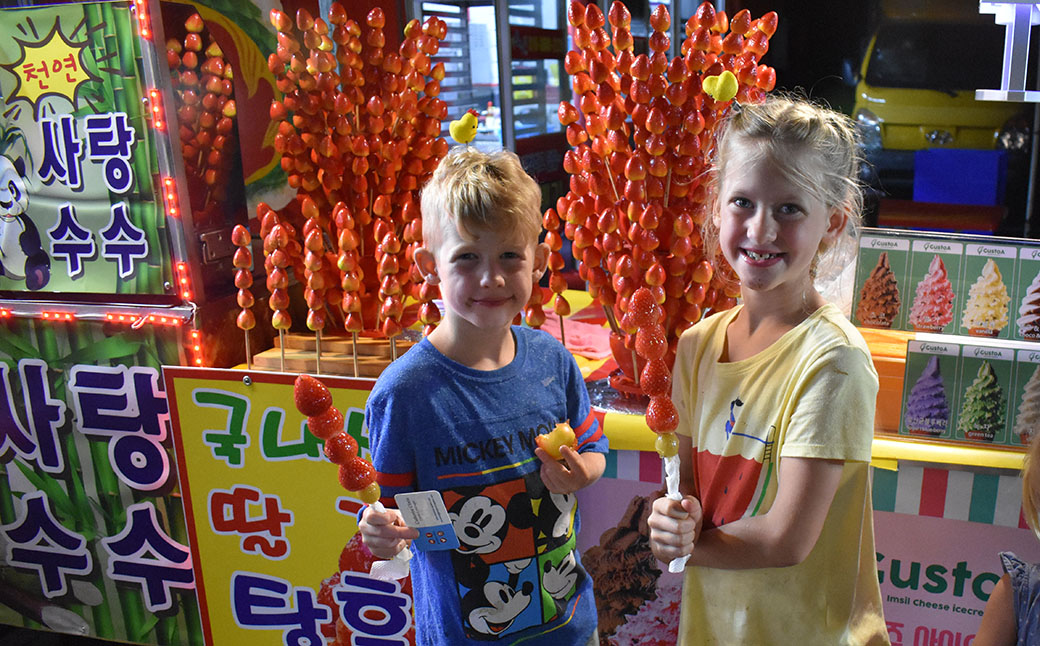 Here we are back in Chinatown!
A lot of our favorite Korean foods can be found in Korean Chinatown, especially these skewered candied strawberries.
They are dipped in a sugary syrup and then frozen on a stick.
The beauty is in the simplicity!
Dakgangjeong is sweet and spicy fried chicken, and is the solitary reason Sinpo International Market was made famous. You'll recognize it immediately by the sticky orange filled woks filled with battered chicken and littered with spicy green and red peppers and covered in sesame seeds.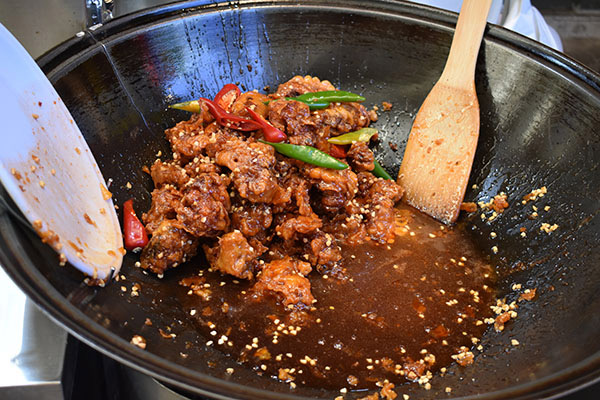 It is the reason you never want to leave Korea.
It is the reason that you will cry and long to come back to Korea once you've left.
It's everything.
No! We aren't talking about Kentucky Fried Chicken, though you can get this American Fast Food in Korea.
We are revering Korean Fried Chicken. The real KFC. Once you taste it, you'll never step foot in another Kentucky Fried Chicken again for the rest of your life.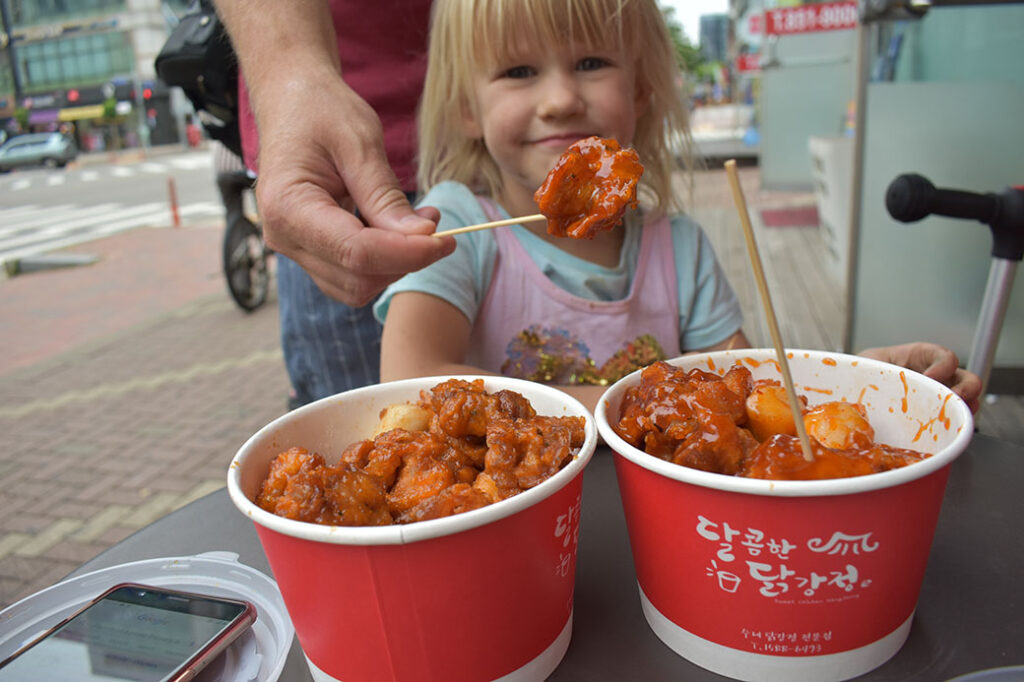 There are a lot of variations of fried chicken in Korea, from Dakgangjeong to Tongdak to Yangnyeom. Each one has a slightly different unique take on the dish, but none disappoint.
92. Sweet & Sour Pork
Sweet & Sour Pork takes us back to Chinatown, and why yes, we have a post just about how wonderful Chinatown is in Korea; but the food in Chinatown – that's something else.
Korean Chinese food is next level.
The pork is covered in batter and deep fried, and then it is coated in a clear lightly tinged purple sauce with slivered vegetables. It tastes clean and pure and magical.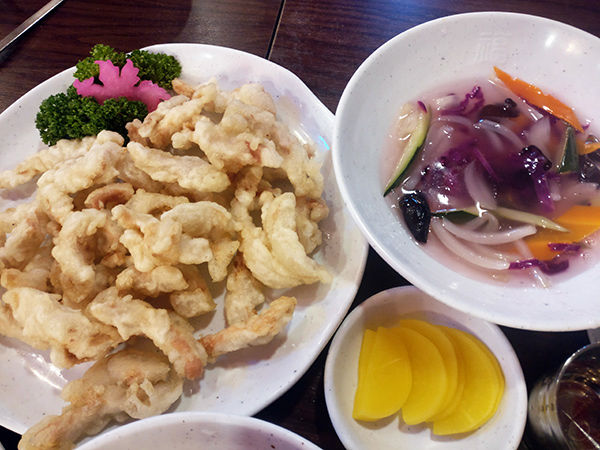 Technically, you don't have to go to Chinatown to get the Korean version of Sweet and Sour Pork, but as it originated here in Chinatown this is the very best place to get it.
93. Jajangmyeon
This is now the third time that Jajangmyeon has appeared on this list in one way or another. And why? In Korea, 7 million bowls of this incredible Korean Chinese food dish are consumed daily!
This very popular and famous dish is made using udon noodles covered in a black bean sauce. Variations include adding seafood or pork, but always sliced vegetables.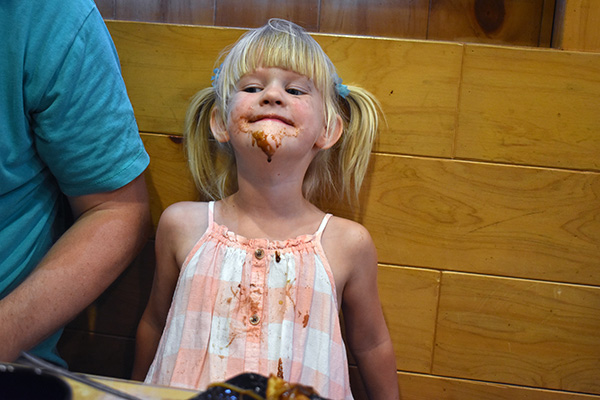 94. Dak Galbi/Chicken Galbi
Technically, Dak Galbi is a from of Korean BBQ because you cook it at your table and like all good Korean food you are in charge of cooking it to perfection.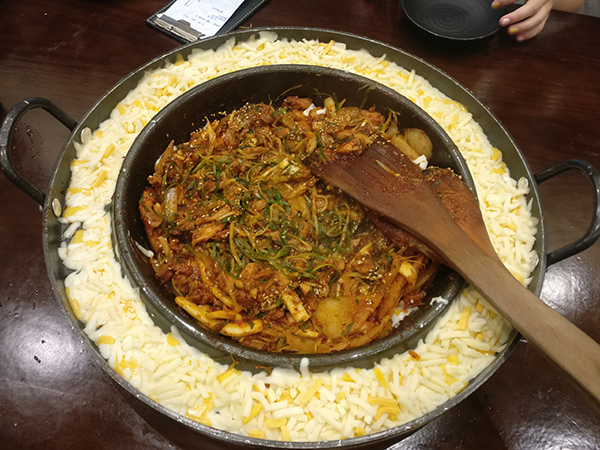 Arriving in a large wok and placed over ahot plate in the middle of the table is marinated chicken in a chili paste sauce with cabbage, sweet potato, perilla leaves, scallions, tteok (rice cake) and various other ingredients.
It's super confusing because galbi means rib in Korean, but this dish is always made with chicken.
These are adorable little Korean rice sandwiches, and instead of being sandwiched in-between two slices of white bread, they are wrapped in seaweed.
You can find them in every convenience store, and in every flavor from chicken teriyaki, kimchi, spicy pork and tuna to name a few.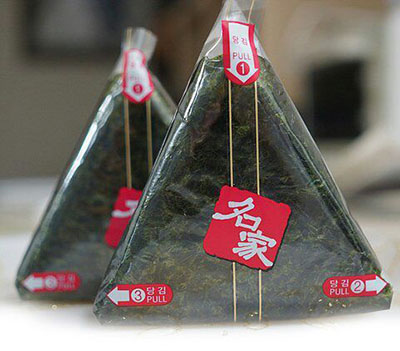 96. Bulgogi
Bulgogi is all over the land of the morning calm! They even sell it at the Costco food court, prepackaged in the meat section, and you can buy the marinade separately – so you know it's gotta be good.
And it's so simple! It's marinated strips of beef served over rice with scallions and egg.
97. Korean BBQ
Korean BBQ is like nothing else. You go to a restaurant to pay someone else to bring you food so you can cook it yourself.

Wait? Isn't that the definition of a grocery store?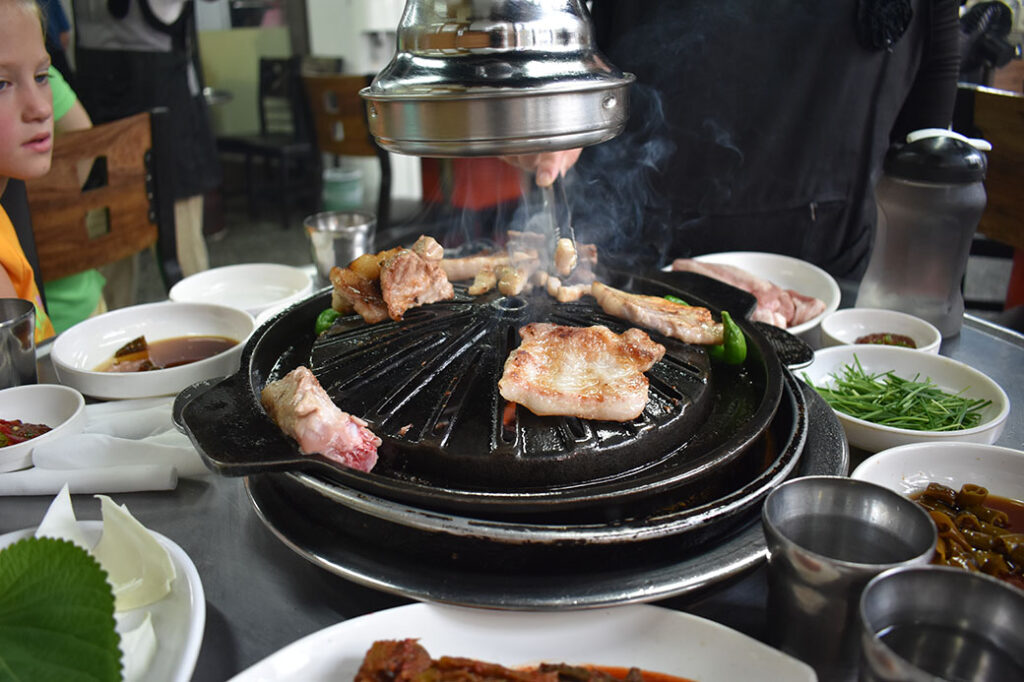 Alright, but seriously, even though that is a completely accurate description Korean BBQ is phenomenal.
The meat is prepared, sliced, marinated and served before being brought to your table. The hot plate is sizzling and the juices run together to embellish the flavor further.
It is cut with scissors into perfectly bite sized pieces and plated up hot and ready to eat.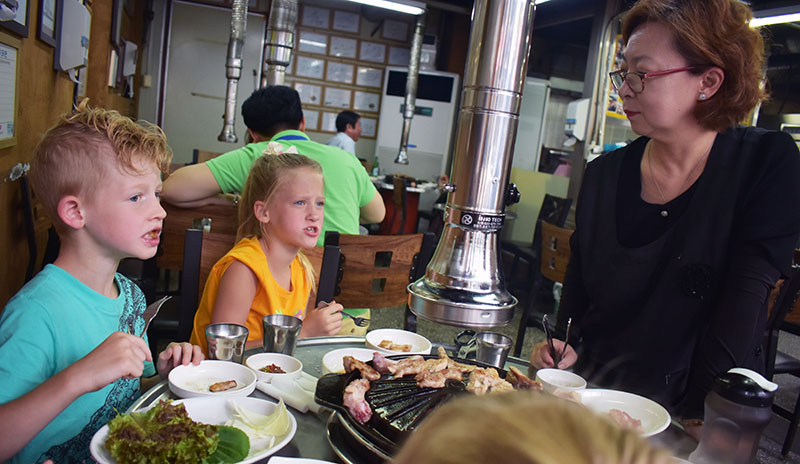 Add kimchi, onions, hot peppers, daikon, chive sangchae, and ssamjang and you have everything you need in life.
98. Kimchi
Like jajangmyeon, Kimchi this has appeared a few times on this list.
One does not simply go to Korea and not eat Kimchi. It's an accompaniment to all meals, but many enjoy it as a dish all on it's own.
99. Eating Live Food (Octopus)
Yes, real people do this.
Though, it doesn't typically turn out this way.
Yeah, we are totally wrapping this list up with recommending that you eat a literal cup of bugs.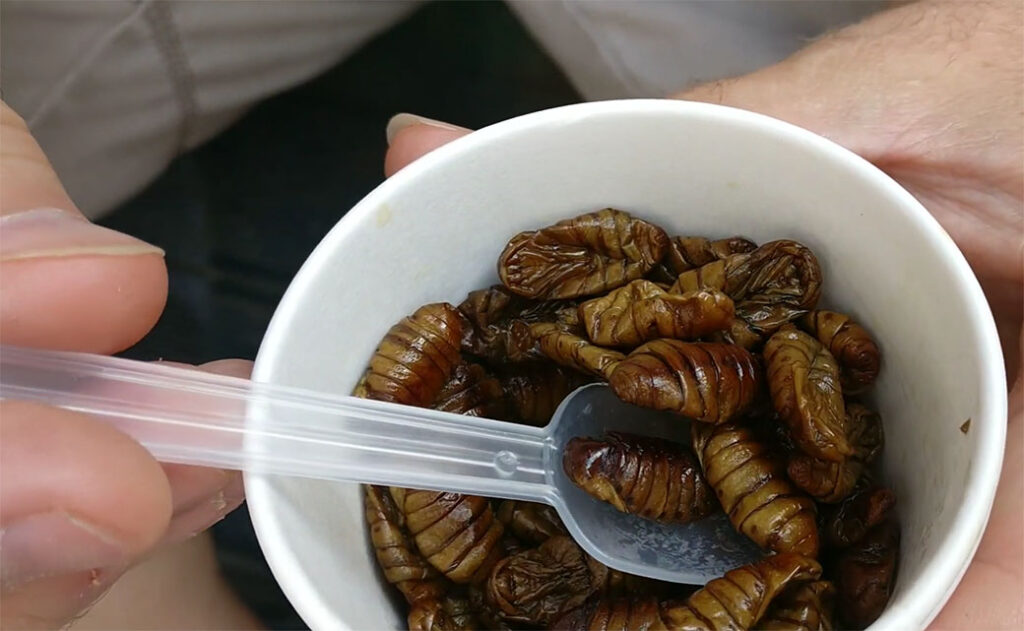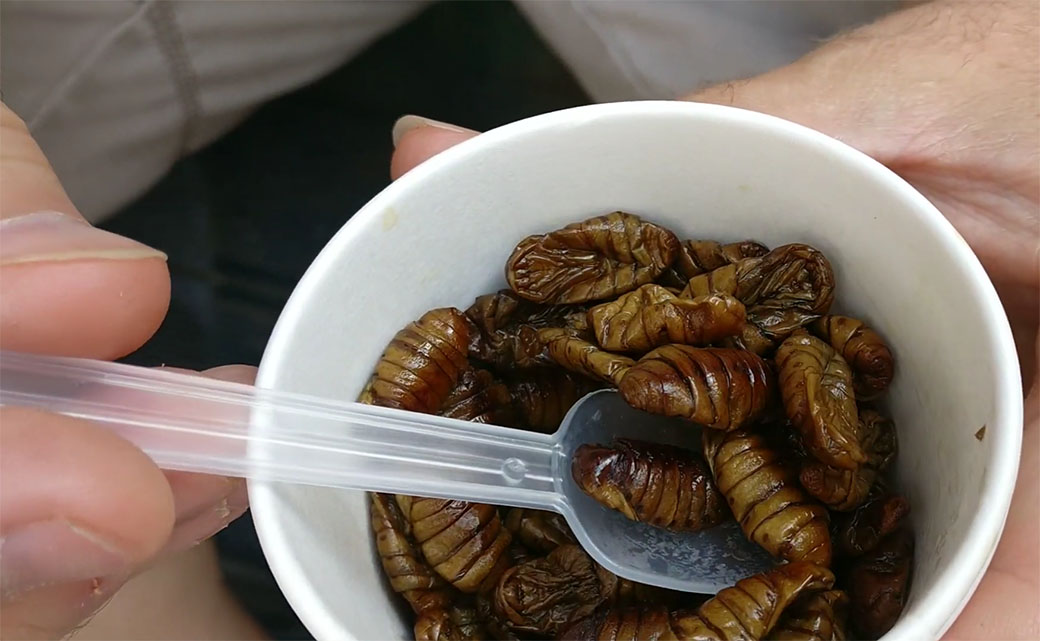 Beondegi 4,000 year history in this culture. The silkworm is treated as a sacred creature who provides material for clothing, medicine, vitality and strength.
Not to mention, has many nutritional properties like protecting against alzheimer's disease and it is high in fiber.
Eating Beondegi is both a historical and cultural snack and provides a great opportunity for worldschooling!
► What We Learned: Korea has some of the best food in the world!
Studying is a way of life in Korea. In fact, there are cram schools called Hagwon that provide instruction and learning up to 18 hours a day.
You don't have to go that far, but you'll do far better if you study the language even a little bit.
It's hard, and you may need a Hagwon to learn anything I'll be the first to admit, but it's a great challenge and will help you in so many ways as you navigate this beautiful country.
That's it! 101 Unique & Actually Fun Things To Do in Korea With Kids! What are you most excited to do and see?
Be sure to check out the Top 11 Best Korean Snacks to Buy, and what it was like attending church in a Buddhist country!