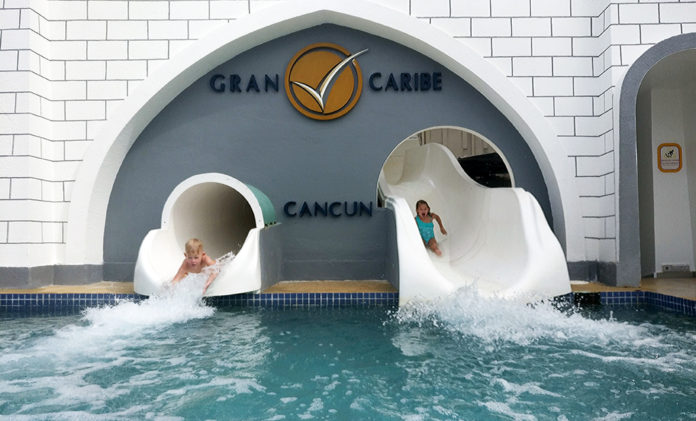 Cancun has never been at the top of our list for places we were even remotely interested in going. Cancun is synonymous with spring break bikinis and extremely poor judgement involving copious amounts of alcohol. When we found Panama Jack's in Cancun we decided to risk it and we took a break from the bitter Utah winter to travel to Mexico and stay at this incredible All-Inclusive Family Resort (formerly Gran Caribe Resort).
Cancun surprised me. We found gorgeous pristine beaches, incredible food, crystal clear water, historical ruins, family entertainment and all right here at Panama Jack Cancun Resort. Plus, this resort does not allow student groups! These reasons are just the start of why this fabulous resort should be your next vacation destination.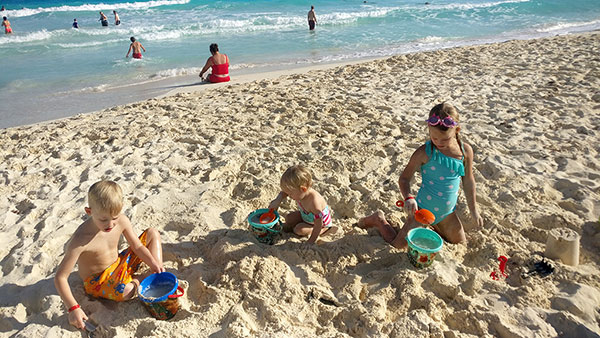 Panama Jack Cancun All-Inclusive Family Resort (formerly Gran Caribe)
Blvd. Kukulcan KM. 11.5
Zona Hotelera
77500 Cancún, Q.R., Mexico
Phone: +52 998 881 7300
Where is the Resort?
Panama Jack Cancun All-Inclusive Family Resort is a great choice for your next trip to Central America! It has everything you are looking for in a hotel, plus it's All-Inclusive! It is located at the north end of the hotel zone about a half hour away from the CUN international airport by taxi.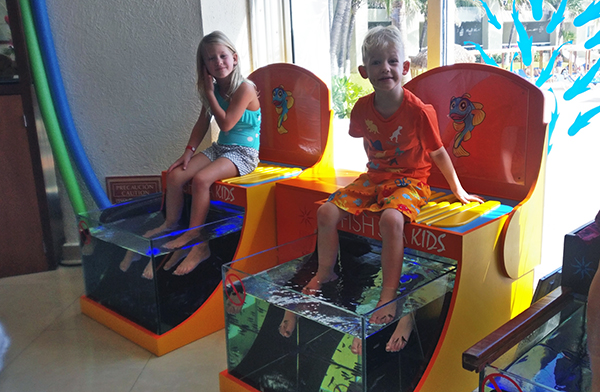 Included with your Stay at Panama Jack's Cancun
This awesome resort is located on a bus route and near several shopping areas. It backs up to an illustrious beach with sand for miles and water that is clear blue and crisp. Panama Jack's is near Tulum and mulitple cenotes! There are multiple restaurants to choose from with award winning food. The resort offers entertainment every single night of the week. Locals vendors appear nightly to showcase jewelry and handmade clothes and goods.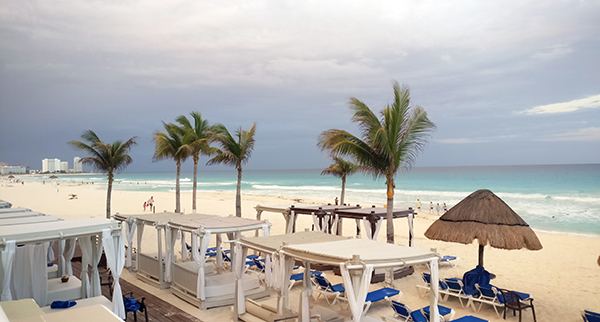 Rooms at Panama Jack's Cancun
The largest rooms at the resort can accommodate up to five guests. Each room offers either a king or queen bed, a bunk bed plus a trundle bed.
Our room was a great size with one queen bed, and a bunk bed in the sunken living room. Outside on the balcony, there was a large hammock and because our view faced an outside walkway it was fairly quiet after dark. It was perfect to just lie on the hammock and relax, maybe indulge in some mobile games like the classic Big Buck Hunter or Candy Crush, once we were done with the energetic activities of the day. We were very comfortable.
Activities at the All-Inclusive Resort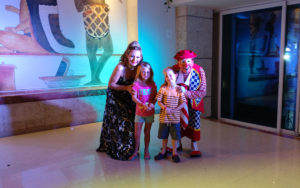 The resort is large, with constant activities going on.
Vendors selling local goods

Fiesta Night

Puppet Shows

Clowns

Kids Club

Themed Dinners

Mini Golf

Three Pools

Private Beaches

Soccer Fields

Volleyball Courts

Health Classes

Spa
Traveling into Town
Located at the far end of the hotel zone, Panama Jack's Cancun is located in close proximity to the little town at the far end of the inlet. The local bus stop is just outside the main resort doors, and is a convenient ride into town.
We found a few local stores and picked up some boogie boards, sand toys, and pool noodles, plus a few snacks and souvenirs. Even though there isn't much located here, you can find just about anything you are looking for.
Kids Club at Panama Jack Cancun
The kids club was tons of fun with awesome counselors that worked hard to provide a fun experience for all ages. Throughout the day, kids can easily find something fun to do including:
Games

Parties

Planned activities

Face painting

Movies

Videogames

Dancing

Stage productions

Water balloon fights, and more.
The Kids Club check in check out procedure was fairly simple and the workers are all certified. They appeared genuine and seemed to really enjoy their jobs. They loved seeing the kids around the resort and always said hello and invited them to come play.
Three Swimming Pools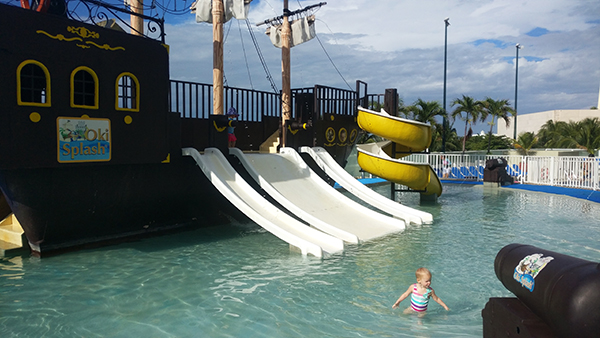 The resort offers two pools on either side of the east and west sides of the resort, plus a pirate themed kids club pool with a water slide open to all guests. There is one additional baby pool that is exclusive for the kids club.

The pool facing the ocean was the largest pool. It has a shallow lounging area, with an sunken sun deck, while the rest of the pool is deep and relaxing.
The other pool is near the kids pirate pool and is a bit smaller. It is sandwiched between the main building and a restaurant. It is shaded fairly early in the day which makes it less desirable to swim in, however, it was definitely the more rowdy of the two pools.
Restaurants at Panama Jack Cancun
This family resort in Cancun offers three restaurants, plus a buffet which is always open but never very good. You can always count on a full selection of fruit, so we came here often to grab snacks for the kids.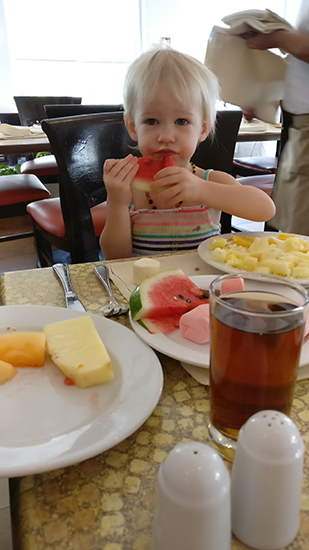 Seating in the restaurant is on a first come first serve basis. We much preferred this over reservations as we've found it nearly impossible to get reservations after you arrive at other All-Inclusive resorts we've stayed at!
One of the restaurants was poolside. It serves lunch daily, plus offers a steak night on Thursday. The Mexican restaurant is our absolute favorite, and offers some of the best Mexican food we've ever had! Wondering what traditional Mexican food to order? Check out Swedish Nomad's Guide!
A second buffet type restaurant offers specific meals each night that change based on the menu. The night we dined, the menu was noodle teppanyaki night. You select the type of noodles, sauce, and vegetables to accompany your meal and it is cooked fresh in front of you.
The last restaurant is an Italian restaurant that was also very good. After trying all the restaurants, we decidedly favored the Mexican Restaurant. We wish we had eaten at the Mexican restaurant every single night.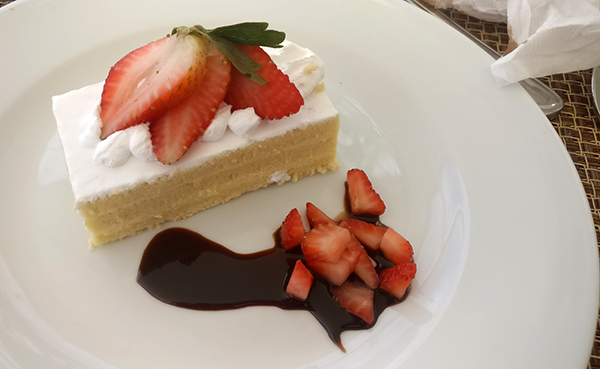 ►
For Kids
: Panama Jack Cancun is a fun family resort, with great access to the beach and lots of fun time in the sun. We really enjoyed this resort, and the kids liked going in and out of the kids club. It wasn't quite as secure as I would have preferred, but the workers seemed to have a really good handle on things and we always stayed close by. All three of the kids loved the freezing cold water slide, and play fighting with their boogie boards on the sun deck while the other guests cheered them on.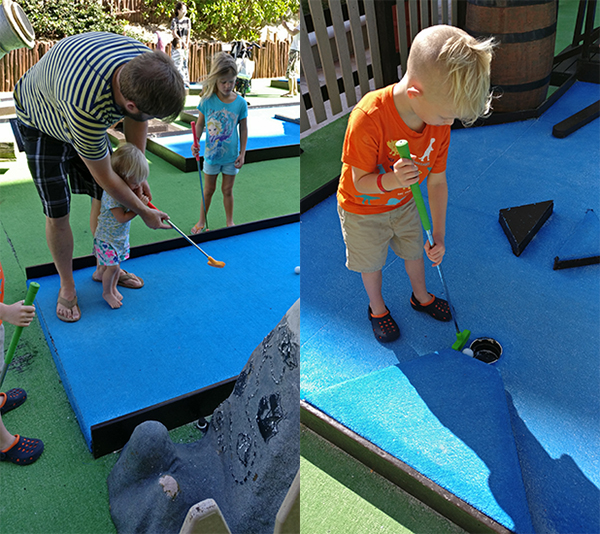 Have you ever stayed in the Hotel Zone in Cancun? Which resort did you stay at? Would you stay again? On our next trip to the Riviera Maya we decided to stay at an airbnb in Playa del Carmen and visited Ek Balam and Chichen Itza.

►
Nap-Time Version
: Panama Jack's Cancun All Inclusive Family Resort is the perfect beach vacation. It's nice and relaxing, offers private beach access with miles of pristine beaches plus additional swimming pools, and great food!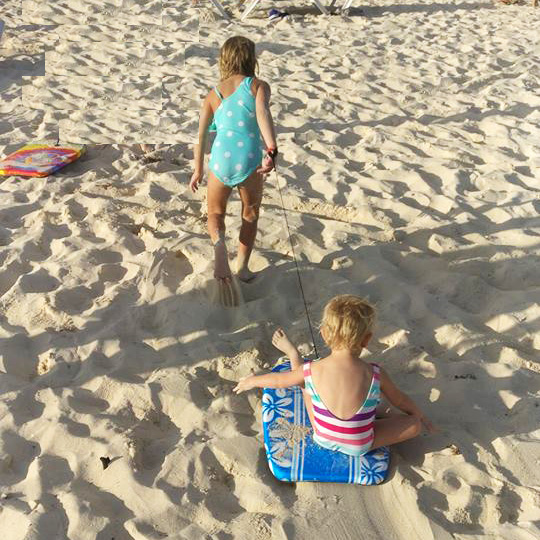 Staying at a family resort in Cancun, particularly an all inclusive, doesn't give you much opportunity to see the country that you are traveling in. You don't get to meet the locals, or see what day to day life is like driving through town, grocery shopping, and mingling. We missed out on seeing a lot of ruins because we didn't want to leave the resort.
Read all about our next experience traveling to Mexico driving through the Mexican countryside visiting the Dos Ojos cenote with three kids and seeing Tulum up close and personal!