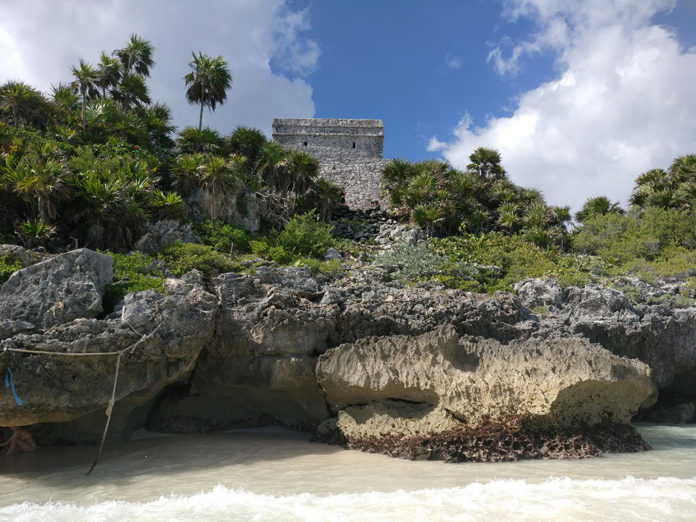 After spending five days solely at the Gran Caribe All-Inclusive Family Resort, we were ready for something other than virgin margaritas in every possible flavor and swimming 18 hours a day. We decided to rent a car, which was delivered to us at the resort, and travel through the Mexican Riviera. At least as far as we could reasonably with just one day to do so. We wanted to drive to Chichen Itza but couldn't factor the long drive in with three kids and only so much daylight, so instead we decided to head to Tulum. This is not to say that Tulum was a consolation prize, it was simply the smarter choice with the time afforded. We were just as excited to see Tulum as we were Chichen Itza, and it was remarkable!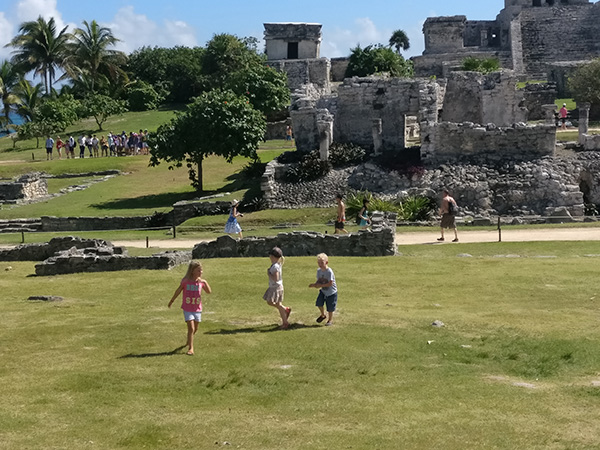 ►
Ranking
: #cleandiaper
Tulum
Yucatan Peninsula
Mexico
Hours: Monday thru Sunday 8am – 5pm
Price: $40 pesos ($2 USD)
The 1.5 hour drive is nothing short of unqualified breathtaking beauty. The Mexican Riviera is untouched. Trees span as far as you can see with rolling hills that beckon you to explore what's on the other side. It made us want to come back and take a long leisurely road trip through the Mexican countryside. In fact, we just came across an awesome post on the fantastic ruins you can visit throughout the country at Find World's Beauty, including Edzna, Palenque and Mayapan!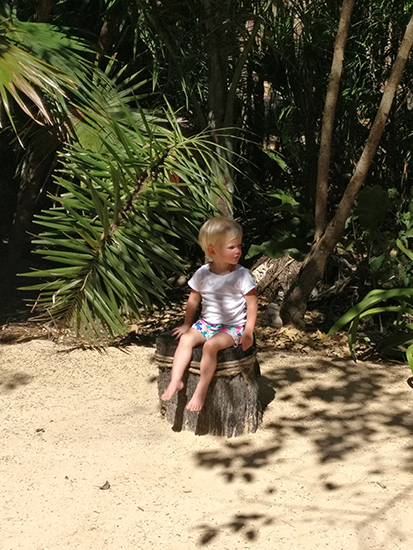 We found our way to Tulum without any difficulty. The road there is well marked with signs all along the way to guide you. We parked across the street from the entrance at a designated marked place for visitors. The parking fee was just a dollar or two and we decided to pick up a few waters before heading in at the marketplace adjacent to the parking area. A few minutes and hours later and we were so glad we did.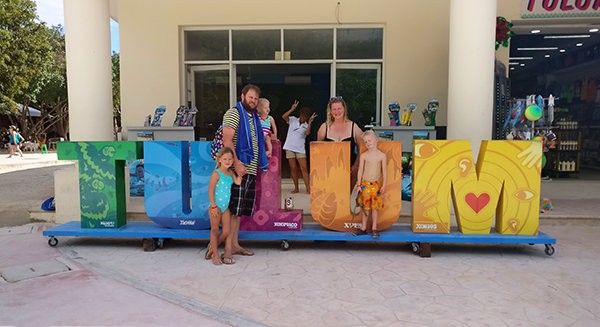 After walking down a half mile long tree lined corridor, we reached the entrance lines at Tulum. To say they were ridiculously long would be an understatement. We visited in low season, it was January, but we were worried we wouldn't even get into the ruins by the time we made it through that line! Fortunately, we happened upon a man holding a sign for a private tour at the entrance. For $10 additional pesos we could join his tour group, skip the lines and head straight in. That was not a hard decision to make.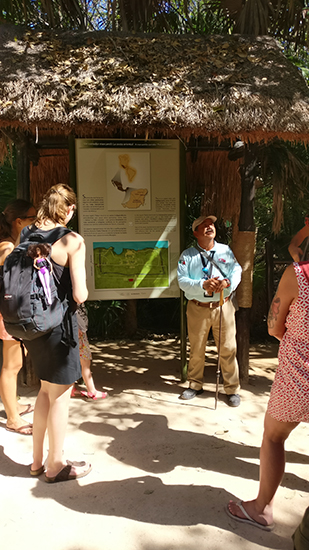 The entrance to Tulum leads you through a cement wall with a rounded opening. This wall is the original wall that protected Tulum when it was originally built. Tulum was one of only a few Mayan cities that were walled in for protection and stepping through this porthole was like stepping from the outside world back in time.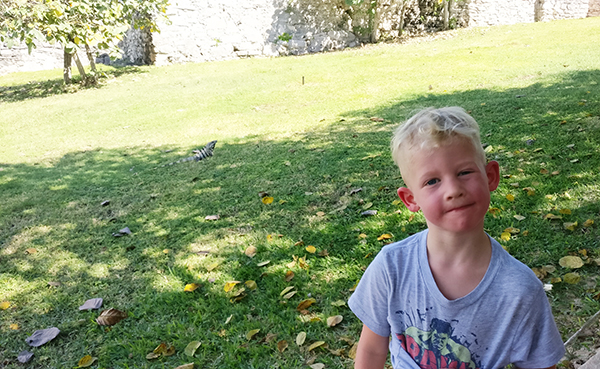 The ruins are remarkably well preserved at Tulum, with the sun temple being the most beautiful and stunning structure. The grounds are large with many buildings of varying sizes, but never housed more than 1600 inhabitants at any one time. The city was originally named Zamá, place of the dawning sun, as it was the first Mayan city to receive the light of the sun each morning. El Castillo, the sun temple, knowingly faces east. Even knowing the Mayans were purveyors and experts of the sun this is remarkable to me. The expertise of not only architecture, but geography and planetary alignment in these ancient cultures is phenomenal.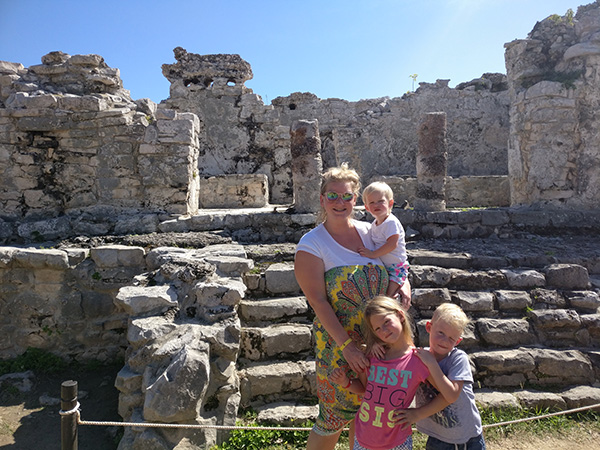 All of the buildings were roped off, but we could peer into them from the pathways. They were painted with hieroglyphs and accompanying script. Temples, residential homes, buildings, and storehouses all make up the grounds.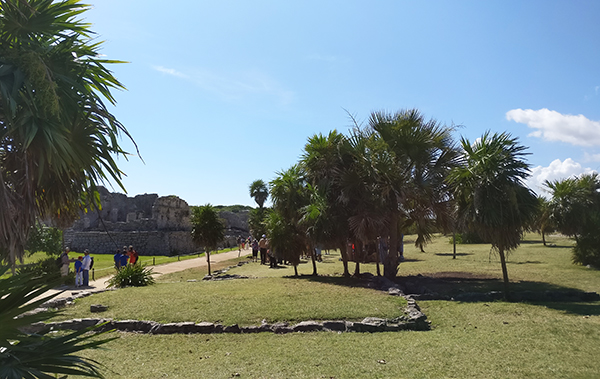 The city of Zamá, or Tulum, was originally constructed in the 500's but it wasn't until the next century that it came into full swing. From approximately 1200 to 1521 Tulum ruled as the epicenter of trade in the Yucatán Peninsula sourcing cacao, salt, copper, food, materials, cotton, turquoise, jade and more. El Castillo, the sun temple and lighthouse, was built during this period. Perched on the edge of the Caribbean cliff, it protected all incoming trade ships from the ragged rocks on the shore and a served as watchhouse for invaders.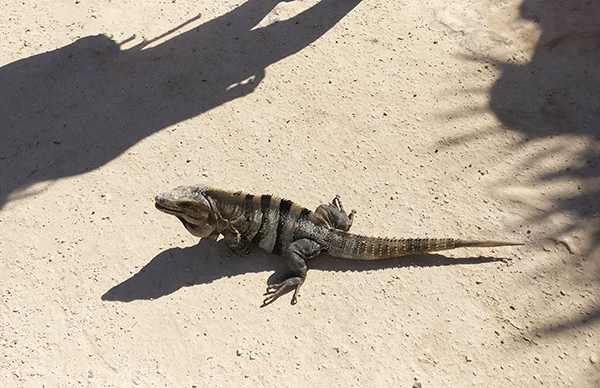 All of the things we learned about Tulum came after our visit, sadly. Our guide didn't end up speaking very good English, and we had a hard time understanding what he was saying. If we asked any questions, he would rudely answer that he just told us about that. His english happened to be very good if he was chastising us. Consequently, we didn't get a lot of the history of Tulum, up close and personal, but it was still a remarkable setting.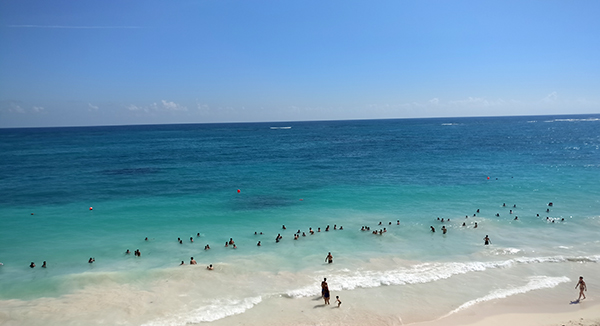 After viewing the grounds and walking around the temple we took the long, steep, and quite wobbly staircase down to the beach below the temple where El Castillo watched over our activities. As you can imagine, this is a very popular site for swimming, snorkeling, and participating in age old historical sport.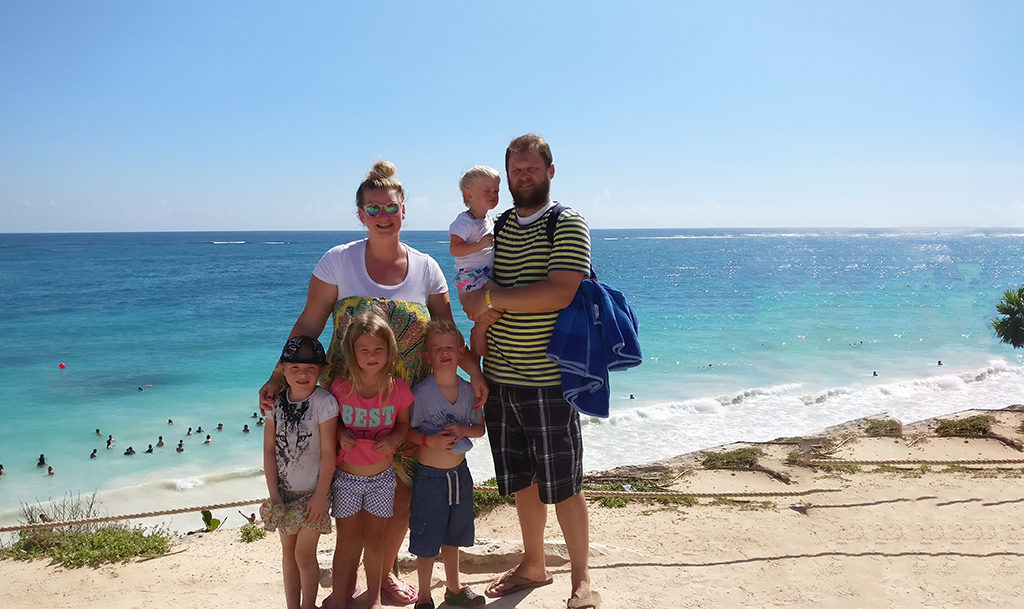 There is no where to change your clothes. Many wore swimsuits under their clothing for the day, or changed on the beach. It was not awkward, nor out of place for either.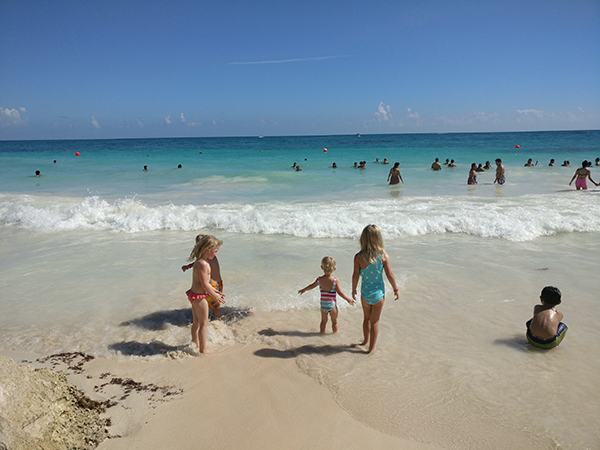 From the water you could see the temple looming over the cliff. It's very presence was dominating and we could imagine how daunting it might have been for invaders trying to conquer this fortified city. The ocean waves were forceful and knocked us over with every pulse. The water was clear turquoise and stretched for miles, while the beach was littered with outcroppings of coral and rocks intertwined with the cliffs that had exploratory caves inside them.
►
For Kids
: We joined with another young family in our tour group and our children made fast friends with a little girl named Frieda from Austria. They spent all day playing on the grounds of Tulum and chasing each other through the ruins. It was fun to watch. We continued the day on the beach swimming and playing and the kids were so sad to say goodbye.

World Schooling Lesson Guide and Worksheet on the Tulum Ruins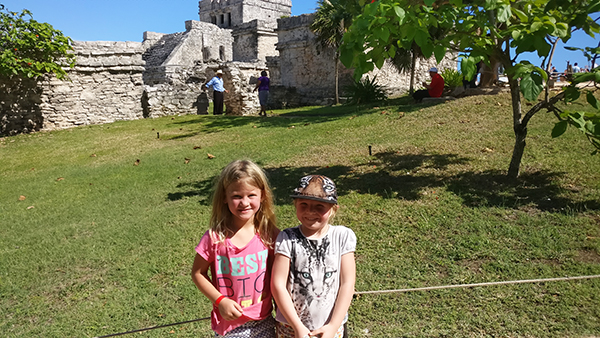 Trying to decide between Tulum, Coba or Chichen Itza? Natalie at Bliss Immersion offers a great Mayan Ruins guide to weigh out the pros and cons of each. 
►
Nap-Time Version
: Our incredible day spent in Tulum, plus a few tips and tricks along the way.
When we do Cancun again, we want to stay closer to the sites, and farther away from the Hotel Zone so we can appreciate the historical and cultural richness that Mexico has to offer. Most importantly, when we go back, we'd prefer not spending 36 hours in the Cancun Airport.