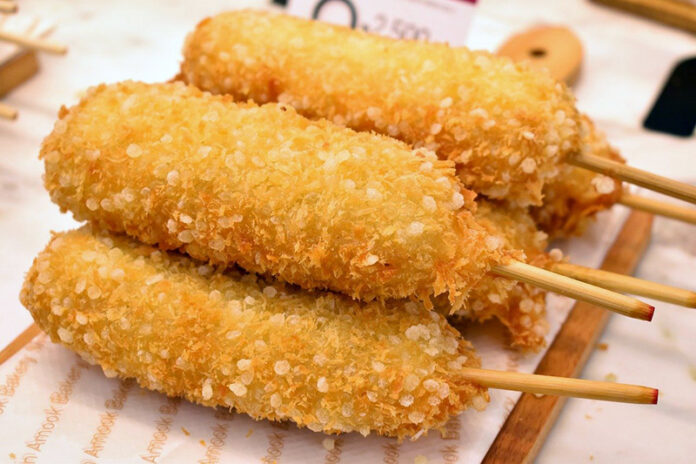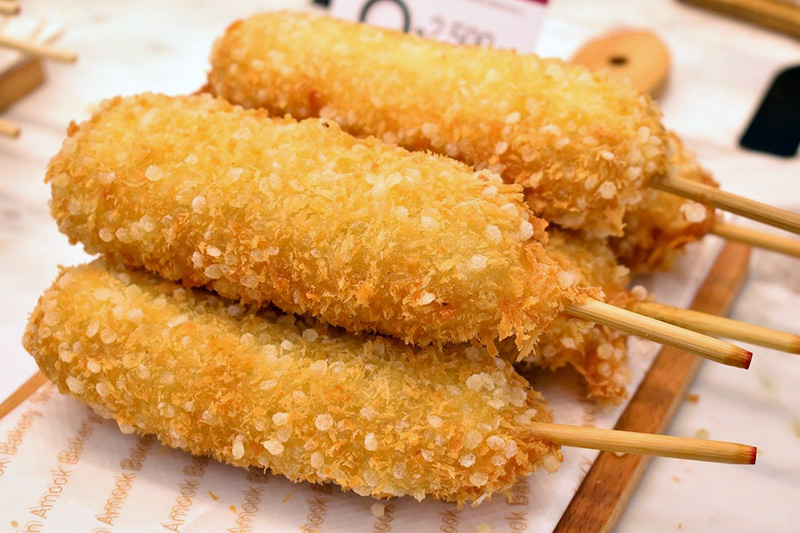 Korea is famous for quite a few things like eating bugs, the greatest dessert ever created, and the world's most feared dictator, but they've also got some of the best Korean candy and best Korean snacks to buy.
The Top 11 Best Korean Snacks to Buy or You'll Regret It
These Korean goodies are sure to please everyone and provide a unique glimpse into Korean way of life. If you aren't planning a visit to the country with the scariest border on Earth anytime soon, we've got you covered.
Check out our Amazon affiliate links throughout and you can indulge in some of these treats yourself. No need to live life with any regrets!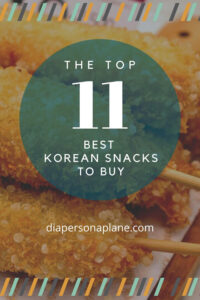 1. Banana Milk | 바나나 우유
There are only two places in the world you can get banana milk. One is South Korea, and one is Iran.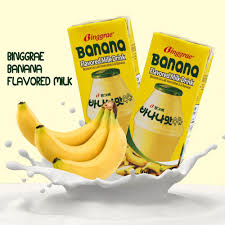 It's vegan and it's supposedly super healthy containing a whopping .32% banana concentrate mixed in with all that sugar. K-Pop superstars drink it all the time on TV so you know you should too!
Costco offers a Chocolate Banana Almond Milk that is fairly tasty, but don't fool yourself into thinking it's the same. It's most definitely not.
You can find it locally in Korea at every major grocery and convenience store!


2. No Brand Chocolate Bars
When it comes to the best Korean snacks to buy, you have to try the local chocolate.
No Brand Chocolate is not going to be the most fancy chocolate you've ever consumed, but at $0.85 it tastes pretty darn good. No one ever regretted buying anything for less than a dollar.
Except it's better than pretty darn good. It's super delicious Korean candy.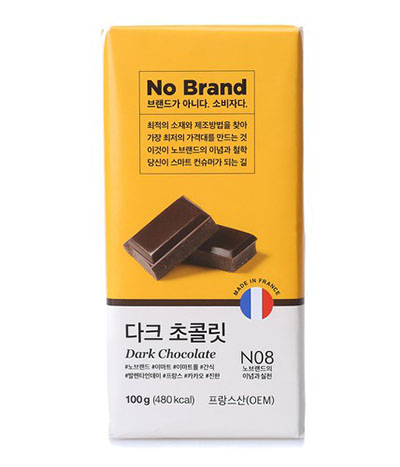 No Brand refers to the brand of the store. Their brand is no brand. They sell a milk chocolate and a dark chocolate version and our pantry is always stocked because when you can buy four chocolate bars for $3, your hands begin to act impulsively.
It'd be great if No Brand would start selling their delicious Korean goodies on Amazon already.
3. Gimbap | 김밥
Don't call this Korean snack, Korean sushi, or you might witness the famous Korean 'kimchi temper'.
Gimbap is not only one of the best Korean snacks to buy, it's one of the easiest to grab on the go. It's like a little Korean sandwich. Instead of bread, it is wrapped in seaweed. Instead of pb&j or ham and cheese, it has rice with tuna, rice with teriyaki chicken, or rice with kimchi!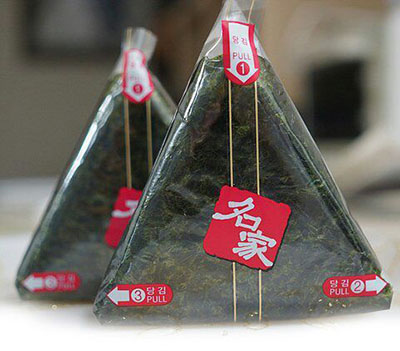 It never has raw fish though, which is one of the primary reasons you can't call it sushi. The other major difference is while sushi uses vinegar, gimbap uses sesame oil.
It's a self consolidated mini meal and it's super tasty! We never got tired of these little Korean goodies and enjoy them all the time while out and about exploring.


4. Peanut Butter Squid
Fish is a huge part of the food culture in Korea. The country is a peninsula covered on three sides with water after all, so this should come as no surprise.
Squid is a popular movie snack, theme park snack, and everywhere snack that you can also enjoy at home! It tastes like rubbery chicken with a buttery flavor. As unappetizing as that may sound, it's actually quite delicious.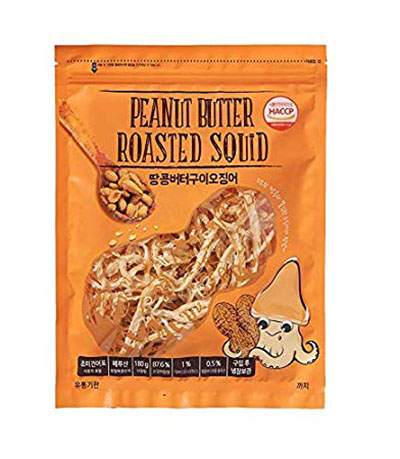 It's like Paula Deen always says, "Butter or life," or something like that. Don't quote me.


5. Banana Chocolate Peeps
You'll find banana flavored treats all over this country, from milk to popsicles, but for some reason never banana flavored hi-chews. That not only doesn't make any sense, but is also super irritating because they are my personal favorite.
These Banana Cheeps are not the official name, but are the best way to describe this Korean candy.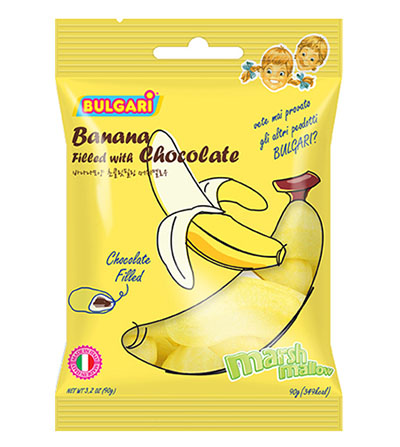 They are pillowy soft marshmallows shaped like bananas, covered in a layer of sugar, and filled with chocolate cream. The chocolate is a bit lacking as we were only able to detect a few dots. Either way, these are super tasty!

6. Korean Fried Street Food
If there is one thing that Koreans love, it's deep frying everything.
Even better? Deep frying it and adding sugar.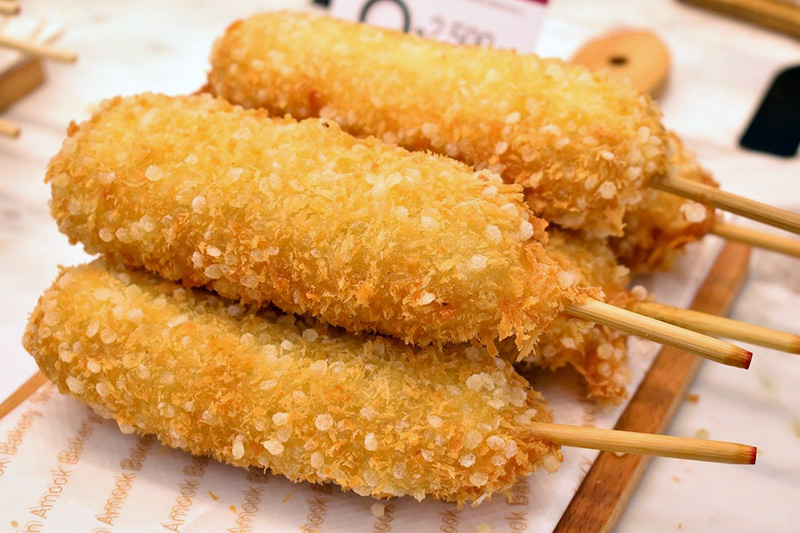 Corn dogs are a huge street food in Korea. You can find them dipped in sugar, coated with potatoes, or fried inside a churro.
Yeah, dang.
7. Tropicana Sparkling Peach Soda
Tropicana Sparkling Korean sodas are made by none other than Mr. Lotte himself; yes the same Mr. Lotte that owns everything in Korea including the largest indoor amusement park in the world!
There are six available sparking Korean sodas available: green grape, purple grape, apple, mango, orange and my beloved peach.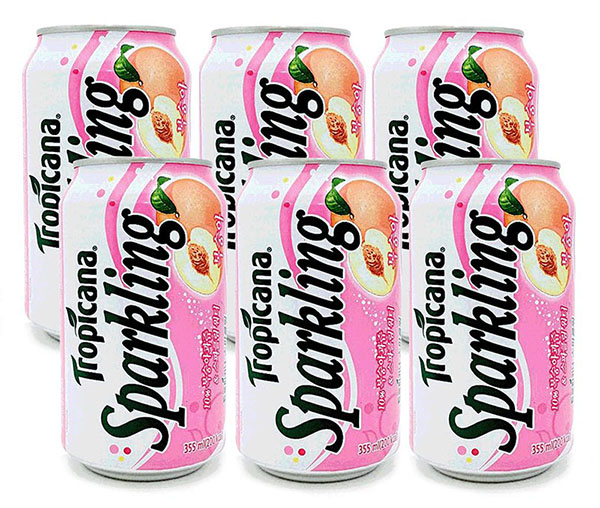 I have to warn you, none of the other flavors are good. But the Tropicana Sparking Peach Soda is so good, it doesn't matter. It is by far the best drink in Korea, edging out our prized banana milk, just ever so slightly.
It's sweet and tangy with a bite of carbonation and a perfect balance.
Plus, they come alongside these fantastic commercials.
8. Binch Cookies | 적극추천합니다
One of our favorite Japanese snacks are similarly chocolate covered biscuits, so it's no surprise that we loved these Binch Cookies as well. They are a wafer shortbread cookie covered in a top layer of chocolate.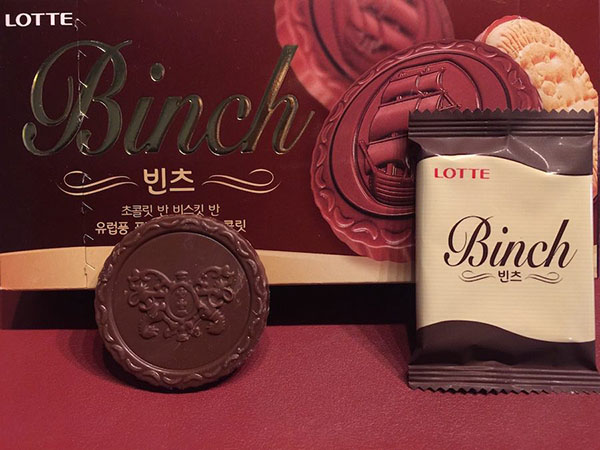 Did you read that description? Chocolate + Shortbread. Obviously, they're good.

9. Choco Pies aka Moon Pies | 초코파이
Moon Pies earn the best Korean snacks to buy solely by their popularity.
After the great Korean war, the beloved Choco Pies were banned in North Korea. To show their solidarity with their brothers and sisters across the border, South Koreans drop shipped Moon Pies to North Korea and attached parachutes to them so they would land softly for the residents who were forbidden to have them.
Korea loves moon pies, and they have always been the best Korean snacks to buy.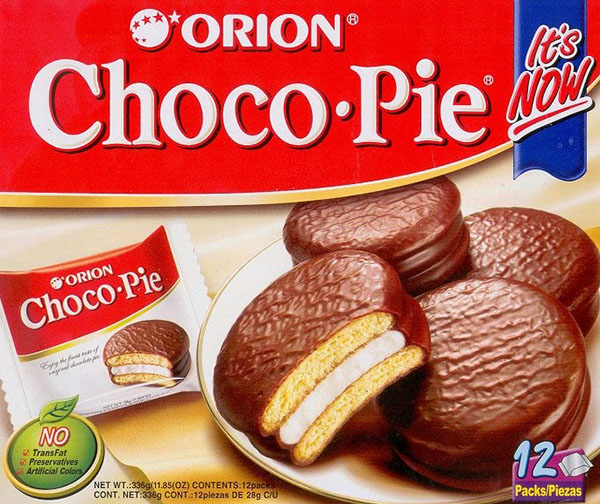 Orion, the most popular choco pies maker in the country even gifted a man who defected from North Korea choco pies for life when he arrived in South Korea.


10. Honey Butter Chips | 허니버터칩
In the year 2014, stores couldn't order enough of these famous chips to keep these in stock. Even though a convenience store would get a shipment once every two weeks with hundreds of bags, they would be sold out within hours.
The craze began when none other than one of their famed K-Pop idols posted on Twitter that they loved these Korean goodies. The damage was instant.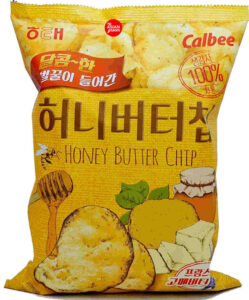 If you ask me, these are gross. They are a true mix of sweet and salty, but the powder mix flavoring is nothing like true honey butter. Instead, the result is a deformed flavor that  instead tastes like a sweet version of sour cream and onion Pringles.

11. Popsicles
There is a popsicle store at nearly every single Subway stop in Korea. We aren't talking stores that sell popsicles, we are talking stores dedicated to only selling popsicles.
Freezers upon freezers full of every type of popsicle imaginable. We had so much fun stopping at every popsicle store we came across and trying different types of popsicles.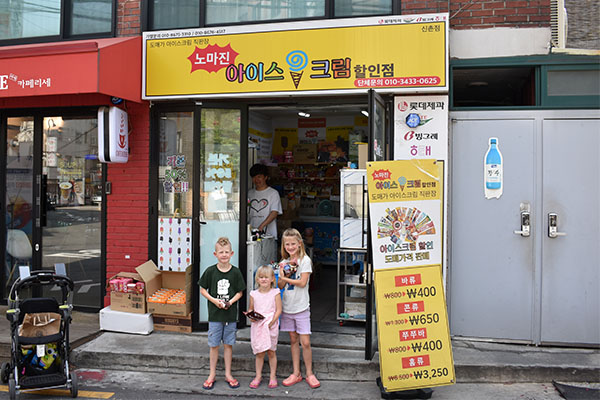 It definitely was a welcome challenge as we suffered through the hot Sambok days of summer!
► For Kids: Nothing can introduce you to a new culture quite like food can. The best Korean snacks you can buy, not only gives kids a chance to try something unique and new, but also teaches them fascinating history about the country.
Do you have a favorite Korean snack? What makes it your favorite?
► What We Learned: North Korea has not only banned soap operas, but choco pies too!
Check these treats out for yourself with some good ol' Prime shipping from Amazon and let us know know what you think! While you're at it, check out our favorite diaper bag items too!
► Nap-Time Version: The Top 11 Best Korean Snacks to Buy or You'll Regret It.
Be sure to check out our compilation of our favorite Japanese snacks and the best Norwegian candy too!