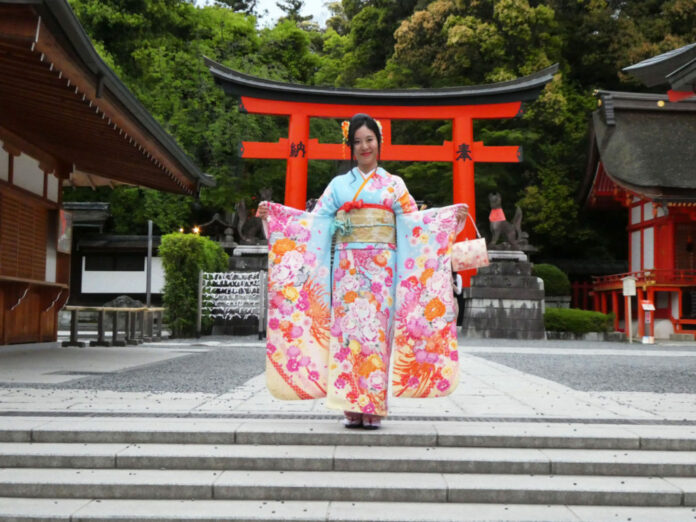 There are over 1600 shrines scattered across the ancient city of Kyoto, and we've compiled a list of the 11 must see Buddhist and Shinto shrines, torii gates, and temples for your Kyoto Itinerary.
Plus we've added in some extra special attractions, the best airbnb in the area, and some secrets we discovered along the way.
This is your ultimate Kyoto Itinerary and Guide to the Ancient city of Japan.
11 Jaw-Dropping Attractions That Will Make the Ultimate Kyoto Itinerary
During our 1 week long visit we visited over 50 of these shrines, temples, and monasteries.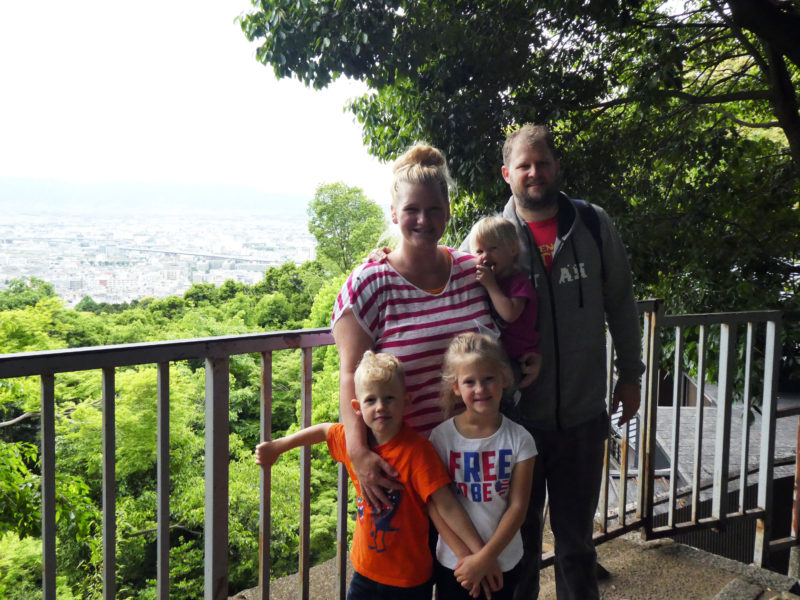 Some are small and are tucked into a corner, a side street, the edge of a parking lot, or the back of a shopping mall. Some are huge and rest on top of a mountain, offer a journey from the city up through the woods, or are hidden behind great gates.
Many of the shrines and temples start to blend together, but each one holds something unique, and offers a chance for self-reflection and yearning for spiritual guidance.
No matter what you choose to carve time out for your Kyoto itinerary, you can't go wrong. The list of attractions we've included will take 3-4 days to visit them all without any additional stops along the way. A full week will afford you additional time to explore and go a bit slower.
We suggest going a bit slower, if you can. Kyoto is a remarkable city, frozen in time. A city of reverence and faith to the religions of Buddhism and Shinto.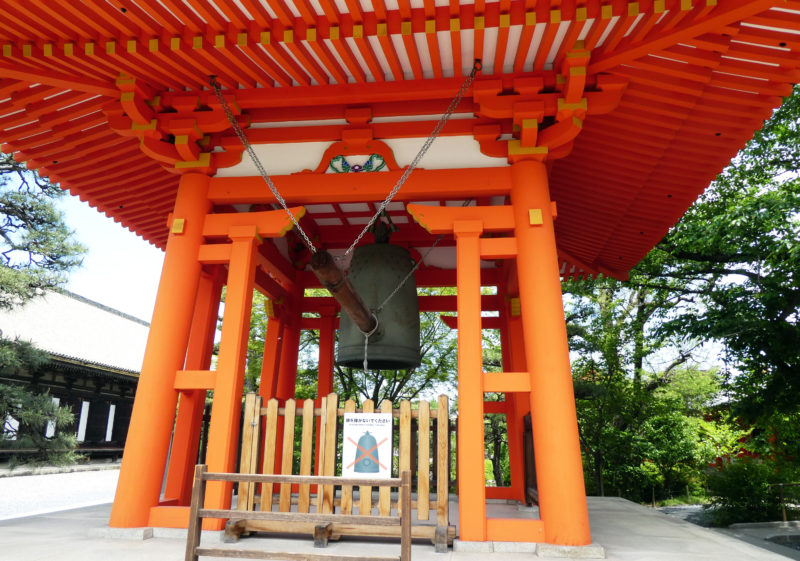 ► Ranking: #cleandiaper
Kyoto Itinerary
Fushimi Inari-Taisha
Kiyomizu-dera Temple
Rengeoin Sanjusangendo Buddhist Temple
Toyokuni Shrine
Otani Mausoleum
Yasaka (Gion) Shrine
Heian Shrine
Ryozen Gokoku Shrine
Nishiki Market
Kyoto Imperial Palace
Philosopher's Path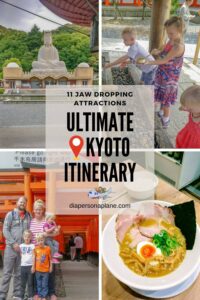 Japan Extras
Nintendo Fans
Best Airbnb in Kyoto
Japanese Snacks
How to Shower in Japan
5 Must Use Phrases in the Japanese Language
Riding the Bullet Train in Japan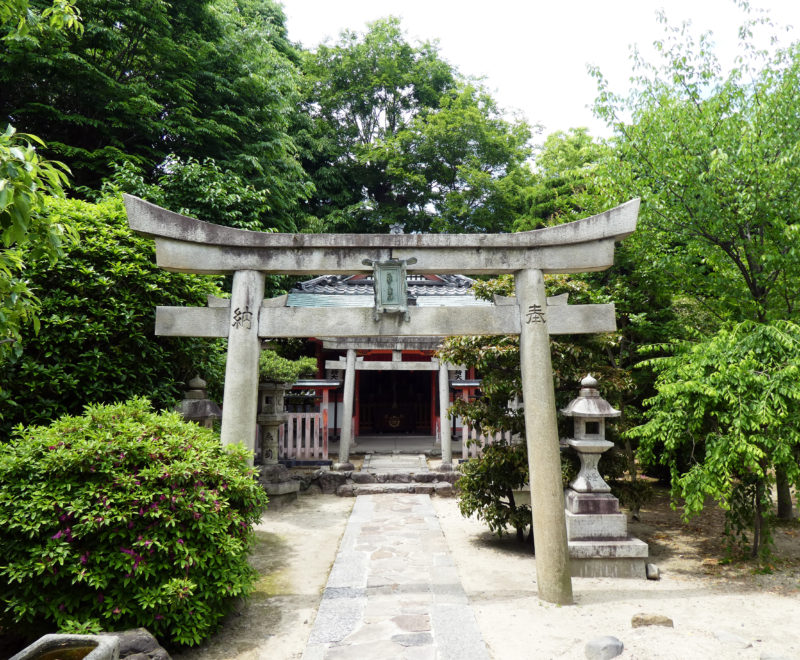 You'll find that many of the attractions on this Kyoto Itinerary are located close together. Others serve as a gateway to finding a different temple or shrine, such as the Otani Mausoleum, which offers a scenic route to Kiyomizu. You'll also find hundreds of shrines and temples along your way, not listed here, that you can stop by and visit during your travels as well.

This circuit will offer you a glimpse into Japanese history and way of life, but don't feel limited by this Kyoto Itinerary. Everything you do in this city will create a profound experience.
Kyoto Itinerary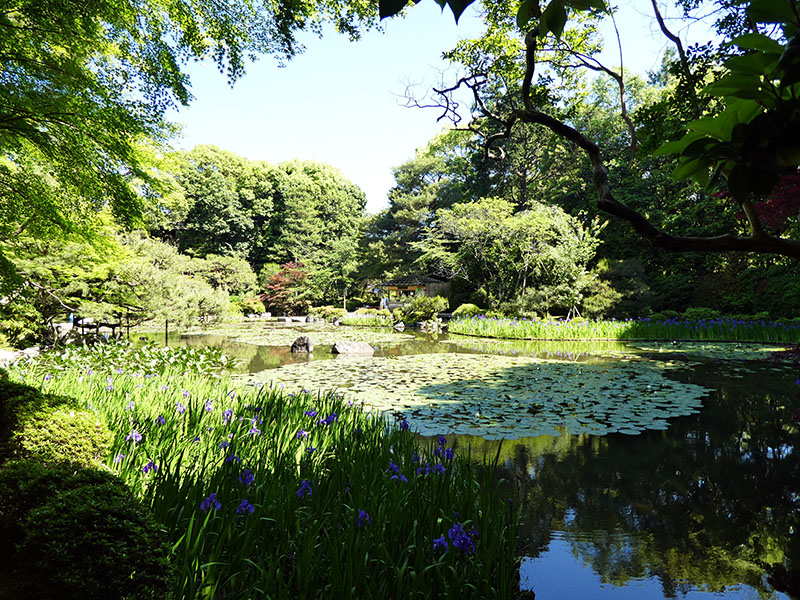 Fushimi Inari-Taisha, Shrine of the 10,000 Torii Gates
Fushimi Inari-Taisa Shrine
〒612-0882 Kyoto Prefecture, Kyoto, Fushimi Ward, Fukakusa Yabunouchicho, 68
+81 75-641-7331
No opening or closing hours
Entrance Fee: Free
The Fushimi Inari-Taisha is the most famous shrine in all of Japan, and is the original shrine to which all other shrines, across the whole of Japan, are affiliated.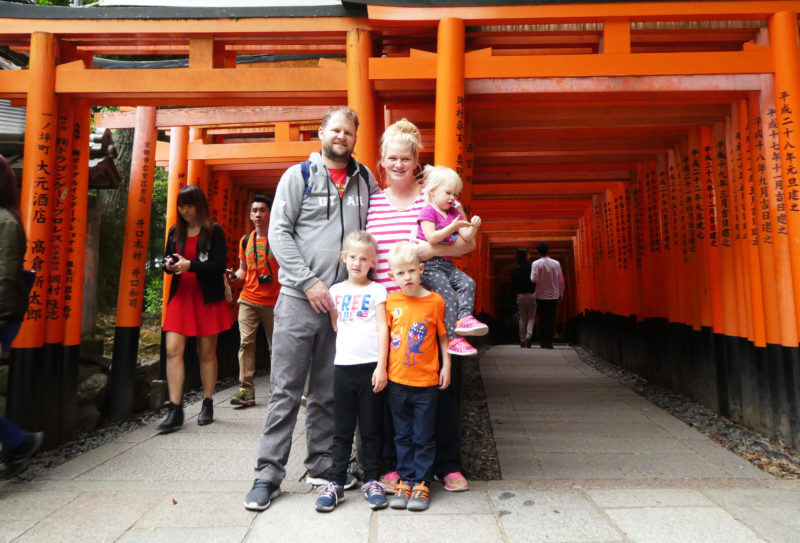 10,000 torii gates effortlessly crescendo the side of the mountain, while an additional 32,000 sub shrines, or bunsha, are located at various points along the path. Each torii gate represents a wish of faith and a physical offering from those who believe in something greater than themselves.
As man passes through each Torii gate he leaves the physical world more and more behind him, and comes closer to entering the spiritual world. Each gate represents an entrance into the next level of transcendentalism.
The first gate at Fushimi Inari-Taisha was built in the year 711.
In the words of the Head Priest, it's purpose is to "promote the harmonious co-existence of the deities, human beings, and nature that it represents."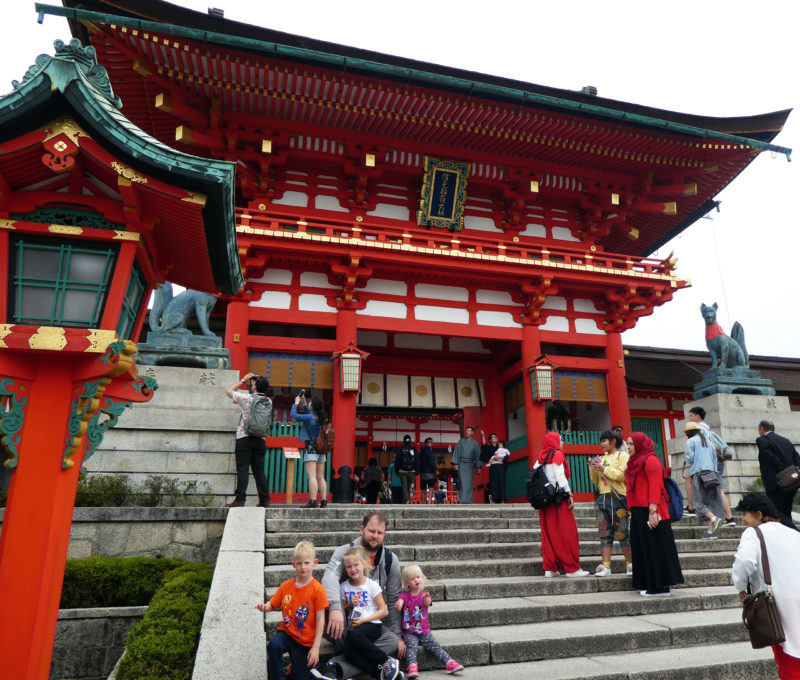 This is the best way I can describe the majestic beauty that is the Fushimi Inari-Taisha. It is mesmerizing to behold the sheer magnitude of what is witnessed here: 1300 years of dedication. This is a glorious shrine and a wonderful place for children to experience Japanese history and culture.
Fushimi Inari-Taisha will be the best hike of your lifetime.
Belief: Shinto
Time to Explore: All Day
Nearby Attractions: Hotoji Temple, Sekihoji Temple
Kiyomizu-dera Temple, Pure Water Temple in the Mountain
Kiyomizu-dera
294 Kiyomizu 1-chome, Higashiyama Ward, Kyoto, Kyoto Prefecture 605-0862
+81 75-551-1234
Hours: 6am – 6pm (6:30 on weekends, holidays, and throughout summer)
No closing days
The magnificence of the Kiyomizu-dera Temple is hidden in the elegance of the mountain. The exterior shrine is magnificent and beautiful and worth a trip, but do not miss hiking up to the Otowa waterfall and paying the additional fee to drink from the Pure Water Temple.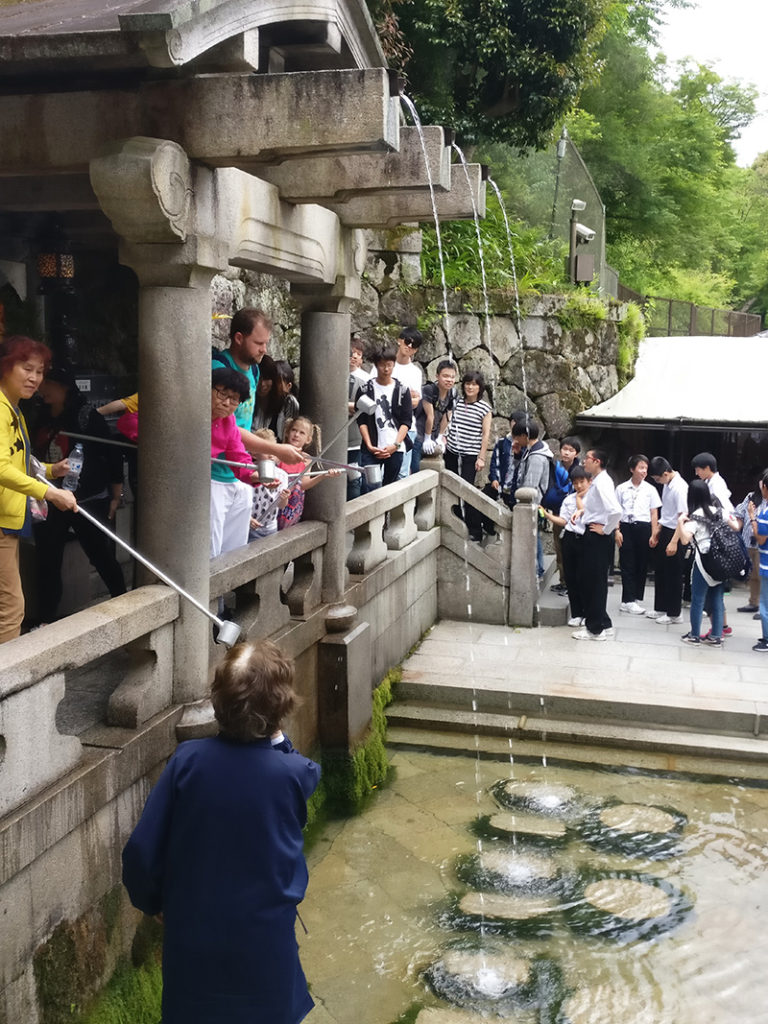 The Otowa waterfall has been made into a shrine where the water has been forked into three streams. These streams pour from the mountain side into a small pond to offer love, success and health to those who partake.
Translated, Kiyomizu-dera means Pure Water Temple. Some customs suggest drinking from all three streams to receive full benefits, while others say to only choose one or two to avoid appearing greedy.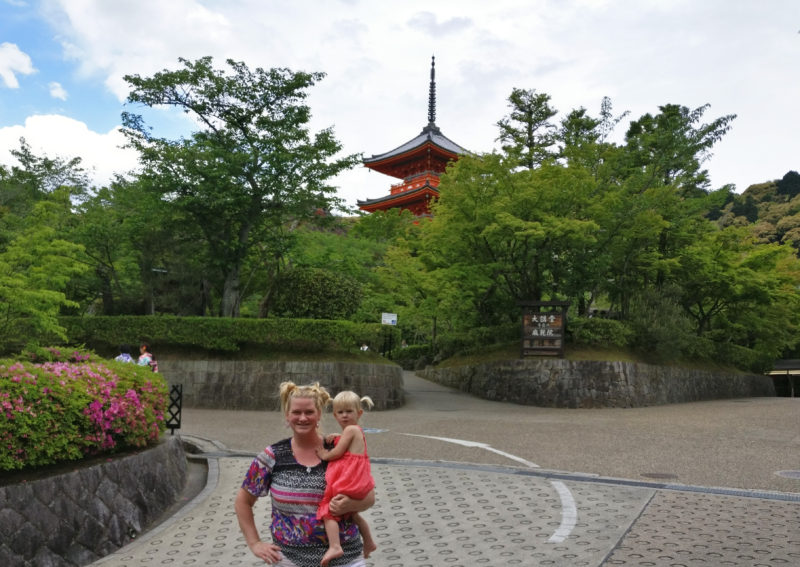 Oh yeah, we totally chose all three (which by the way, so did everyone else we saw there).

Belief: Buddhist
Time to Explore: Half Day
Nearby Attractions: Yasui Konpiragu, Rokuharamitsuji Temple, Chishakuin Temple
Rengeoin Sanjusangendo Buddhist Temple, Kannon Bodhisattva
Regeoin Sanjusangendo
〒605-0941 Kyōto-fu, Kyōto-shi, Higashiyama-ku, Sanjūsangendōmawari, 657
+81 75-561-0467
8am – 5pm (Summer Hours
9am – 4pm (Winter Hours)
Entrance fee: ¥600, children under 6 are free
We visited more than 50 temples, shrines, and monasteries during our trip to Kyoto, yet Rengeoin Sanjusangendo stood out to us as the most compelling and spiritual. There is an unparalleled serenity contained here.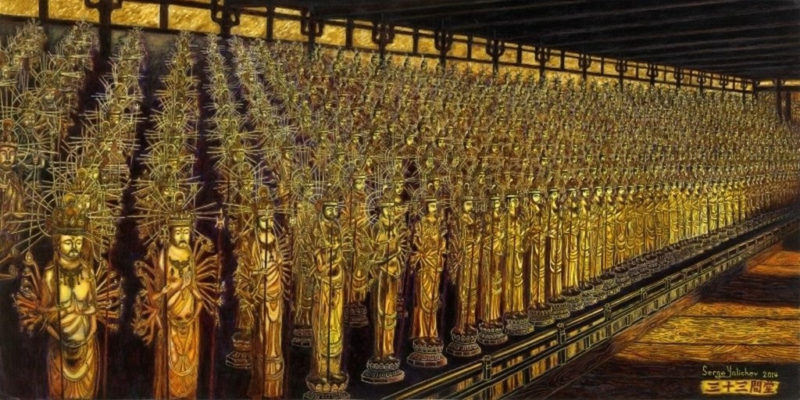 From start to finish, the entire temple and grounds are breathtaking; an incredible sight of devotion and dedication. For our family, the temple represented lost morality in our current culture.
The Rengeoin Sanjusandgendo Temple in Kyoto is the famous temple of 1001 life sized statues of the Buddhist Goddess Kannon Bodhisattva.
Kannon resides in the center of the temple flanked on each side by 500 bodhisattvas in 10 columns of 50. She has the ability to transform into 33 different shapes of mercy and alongside her soldiers, they can create 33,033 possible forms of compassion.
Belief: Buddhist
Time to Explore: 2-3 Hours
Nearby Attractions: Yogenin Temple, Hōjū-ji Temple
Toyokuni Shrine, First Location of the Tamaya Altar
Toyokuni Shrine
〒605-0931 Kyoto Prefecture, Kyoto, Higashiyama Ward, Chayacho, 530
+81 75-561-3802
Hours: 6am to 4pm
The Toyokuni Shrine is dedicated to the famous samurai lord, Hideyoshi Toyotomi. He was one of the three heroes of Japan who served the royal family. It is believed to have been built as early as the 8th century.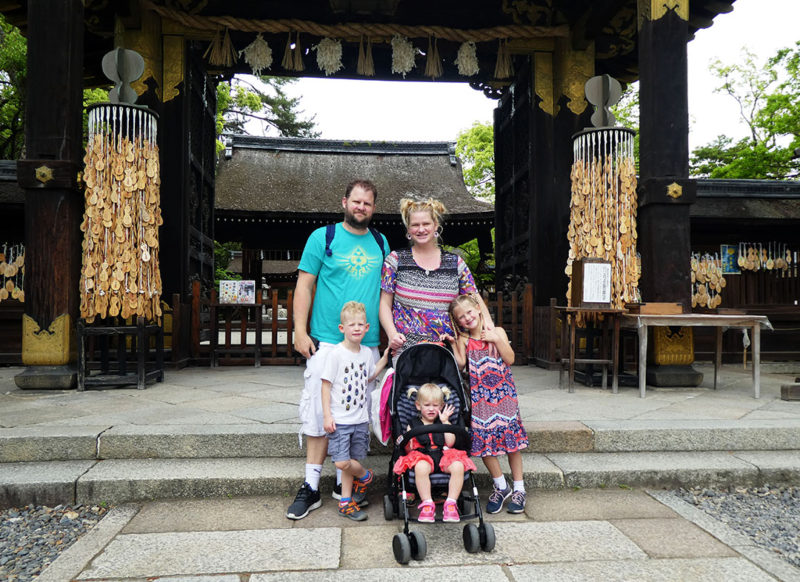 The deities here provide good luck in games and competitions. This shrine, like many other others, is associated with a specific type of amulet that wards off bad luck (you can purchase it here). It is said that Toyotomi wore this specific type of amulet when he fought.
The most interesting aspect of this shrine is that it is the first location that a Shinto altar (tamaya) was constructed here. This is also known as a purifying station and is a ritual for praying to ancestors or deities before entering the shrine.
After washing hands at the purifying station, the customary practice is to first throw a coin into the altar, then ring the bell (if there is one available). After that, you are to bow and clap your hands twice, express gratitude in your mind and finish by bowing once more.
Belief: Shinto
Time to Explore: 1 Hour
Nearby Attractions: Mimizuka, Hōkōji Temple
Otani Mausoleum, Resting Place for Monks Dedicated to the Primal Vow
Otani Mausoleum
Japan, 〒605-0846 Kyoto Prefecture, Kyoto, Higashiyama Ward, 五条橋東 6 丁目 514
+81 75-531-4171
You would be remiss to skip this incredible Buddhist sanctuary on your Kyoto itinerary. It connects directly with Chawanzaka street, and will lead you along the main path en-route to Kiyomizu-dera.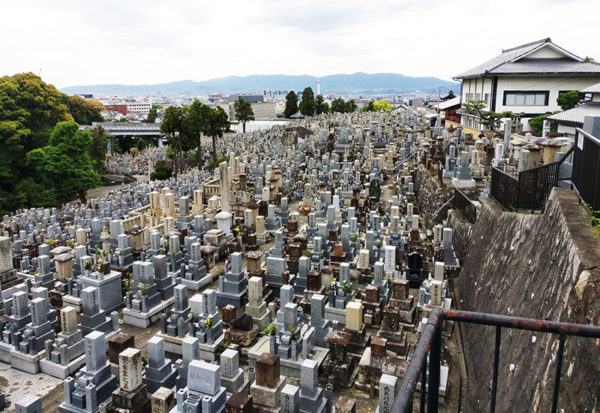 Monks buried here dedicated their lives "to care for and liberate the weak, fragile and suffering, regardless of moral or economic status, race, gender, belief, intellectual capacity or species". They devoted their lives to the promise to fulfill the immeasurable life ceaselessly working to liberate all from distress and delusions.
Ultimately, they devoted themselves to love.

Belief: Buddhist
Time to Explore: 2-3 Hours
Nearby Attractions: Anshoin Temple, Zenkōjidō Temple
Yasaka (Gion) Shrine with Kids, Lantern Lighting Ceremony
Yasaka Shrine
625 Gionmachi Kitagawa, Higashiyama Ward, Kyoto, Kyoto Prefecture 605-0073, Japan
+81 75-561-6155
Always Open
The Yasaka Shrine, or Gion Shrine, is bustling with people and vendors and is located just north of the major shopping district in Kyoto, Shijō Dōri. You can get lots of great merchandise here, including some yummy snow cones!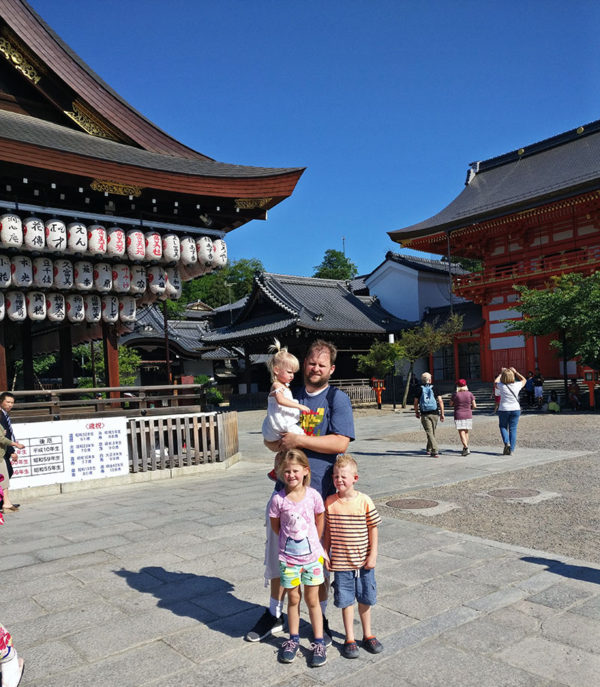 This shrine is one of the oldest shrines in Kyoto, dating back to 656! Imperial messengers would use this site to make important announcements to the city's inhabitants.
In 869 a great plague scoured the city and a divine entity, the mikoshi, was paraded through the town in a divine palanquin to deter the disease's aftermath.
In the late 1800's the Yasaka Shrine was officially designated as a government supported shrine, or kanpei-taisha.
Plan your visit towards evening if you can. There is a beautiful lantern lighting ceremony that is unique to this shrine. It's truly beautiful.
Belief: Shinto
Time to Explore: 1 Hour
Nearby Attractions: Chion-in, Maruyama Park
Heian Shrine with Kids, 1100 Anniversary Shinto Shrine
Heian Shrine
Okazaki Nishitennocho, Sakyo Ward, Kyoto, Kyoto Prefecture 606-8341
+81 75-761-0221
Hours: 6am – 5pm
Entrance Fee for the Garden only: ¥600 Adults/300 Children
The Heian Shrine is like stepping into a Monet painting that is still wet from the paintbrush. It has droplets of dew from the morning chill, rays of sunshine peeking through the cracks in the trees, and fish lapping at the surface of the water upon your arrival.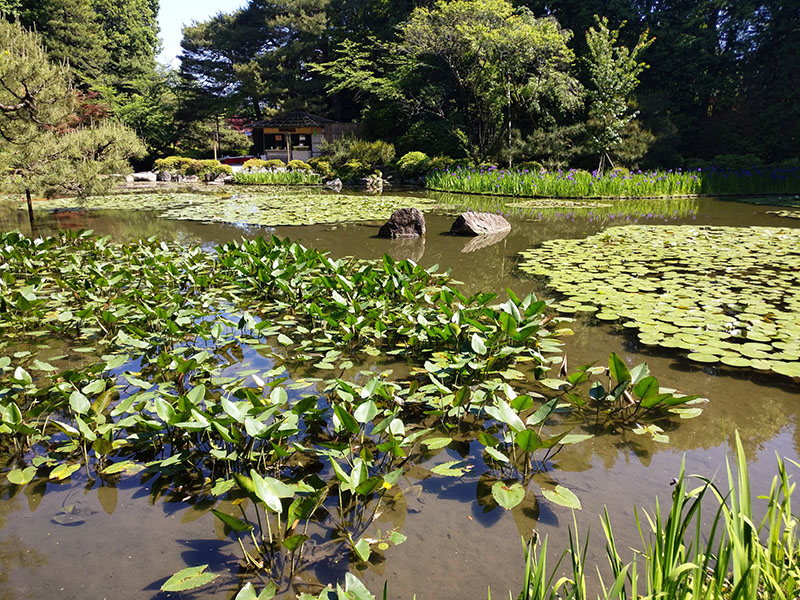 This shrine was built in 1895 for the city of Kyoto's 1100 anniversary. It is a palatial garden.
The trees are large and full hovering over the pathways, and walking paths are lined with blooming flowers.
The pond in the center of the garden (seiho-ike) is covered with wetland tall grasses, lilly pads, and dragon stepping stones for connecting the larger and smaller ponds together. A beautiful bridge crosses a broad lake, and you can stop to feed fish, turtles and ducks.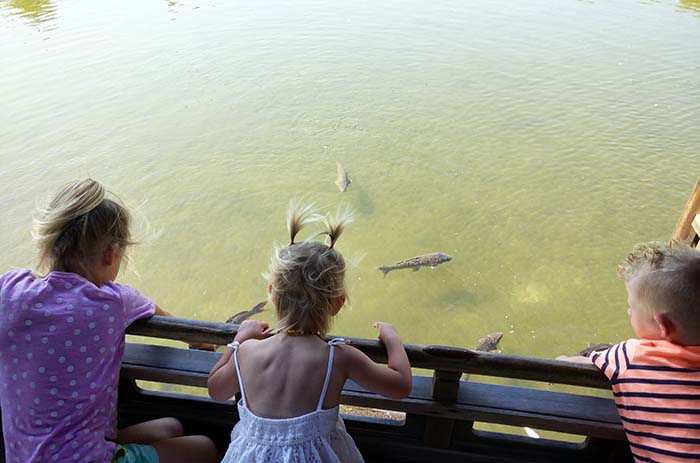 During the Shinto Shichi-Go-San festivities this shrine is the starting place for the Jidai Matsuri festival which takes place in October.
Belief: Shinto
Time to Explore: 2-3 Hours
Nearby Attractions: Okazaki Park, Hosomi Museum
Ryozen Gokoku Shrine, Heroes Graveyard
Ryozen Gokoku Shrine
1 Seikanji Ryozancho, Higashiyama Ward, Kyoto, 605-0861
+81 75-561-7124
Hours: 10am – 6pm
Ryozen Gokoku is a shrine and graveyard dedicated to the heroes who fought for peace in the late 1800's. The graveyard winds up the mountain and exemplifies the peaceful revolution of Japanese history. It offers incredible historical perspective with physical remnants to grab your attention.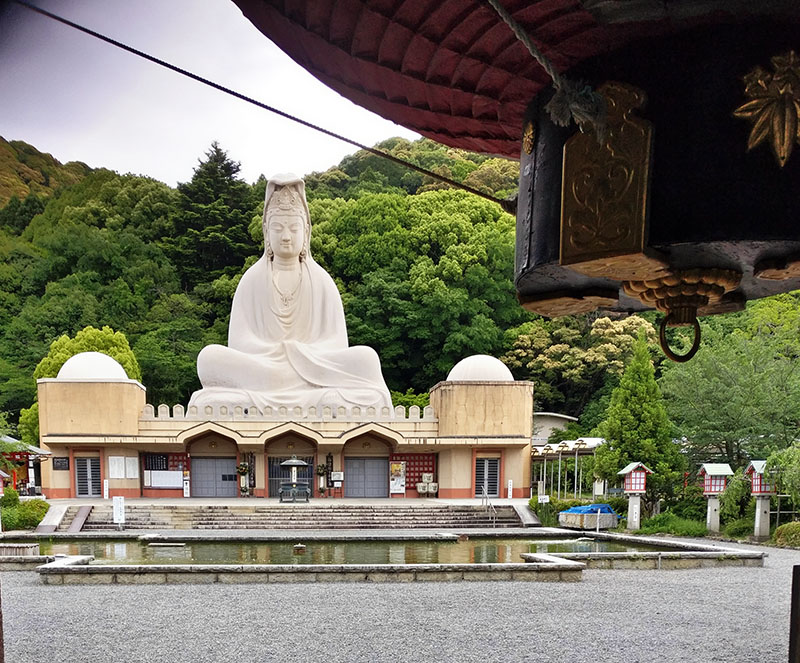 1,356 heroes who fought during the Meiji Restoration in an effort to unify Japan towards peace, including many royalists are buried here. You can also find the Ryozen Museum of History and additional shrines, statues, and monuments.

Belief: Shinto
Time to Explore: 2-3 Hours
Nearby Attractions: Kodaiji Temple, Hōkan-ji Temple – Yasaka-no-Tou
Nishiki Market, Kyoto's Kitchen
Nishiki Market
〒604-8054 Kyoto Prefecture, Kyoto, Nakagyo Ward, 富小路通四条上る西大文字町609番地
+81 75-211-3882
Hours: 10am – 6pm
Nishiki Market is known by locals as Kyoto's Kitchen. Legend of Zelda anyone?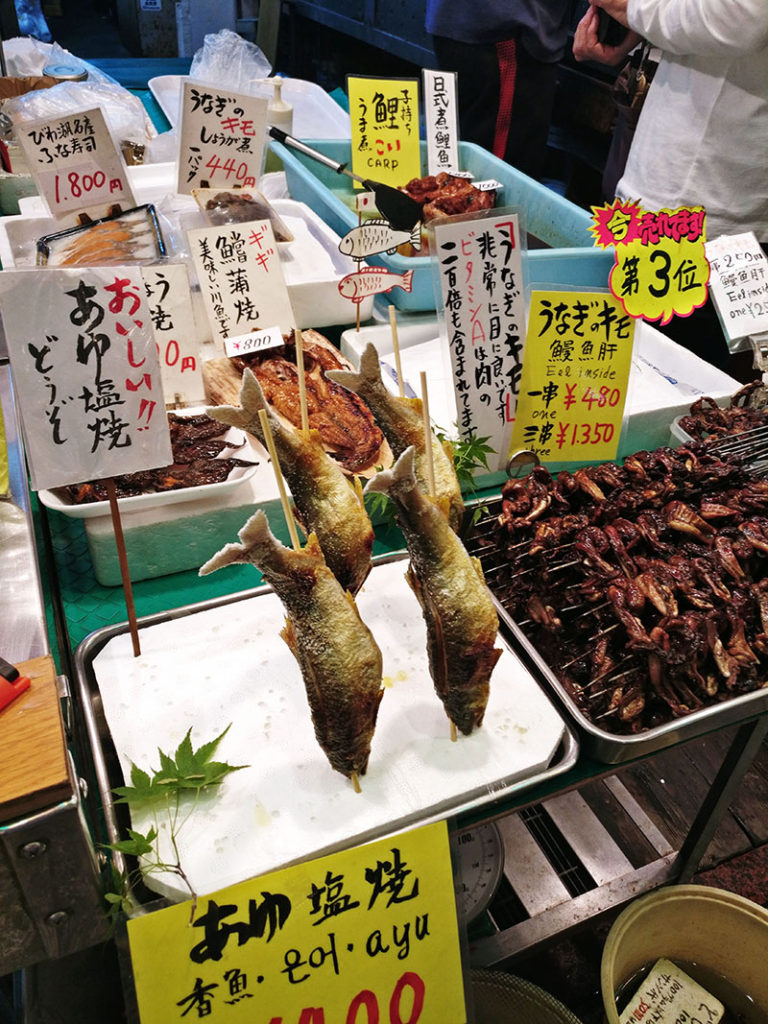 This is a long, indoor marketplace that extends several blocks full of every type of food that you can imagine, from beans to fish to candy and sushi, plus cookware, knives, and everything else. There are even a few restaurants. Nearly everything here is locally produced or obtained.
800 years ago, Nishiki Market began as a fish wholesale district. Some of the same families even operate the same stores now, generations later. It's a must do for your Kyoto itinerary.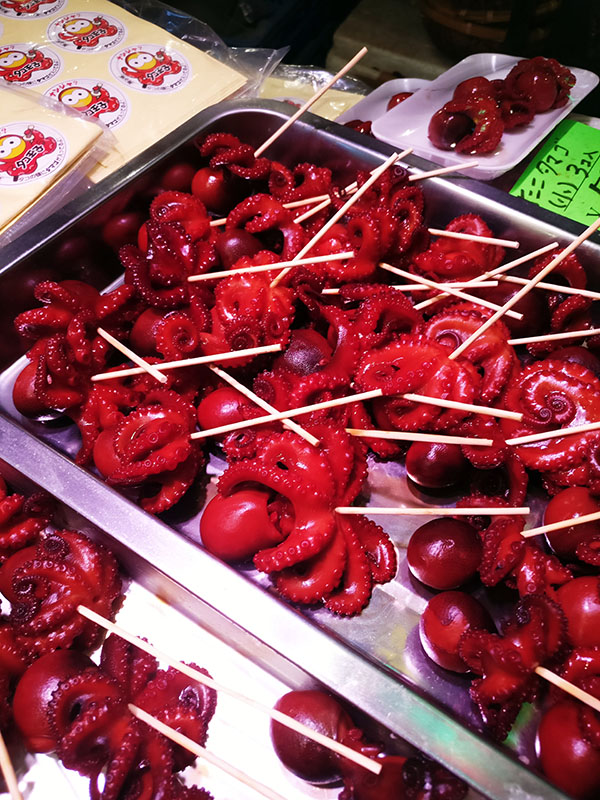 True to Japanese tradition, there is even a shrine located at the end of the corridor.
Belief: N/A
Time to Explore: 2-3 Hours
Nearby Attractions: Chohoji Temple, The Museum of Kyoto
Kyoto Imperial Palace, Former Ruling Mansion for Japan's Emperor
Kyoto Imperial Palace
3 Kyotogyoen, Kamigyo Ward, Kyoto, Kyoto Prefecture 602-0881, Japan
+81 75-211-1215
Hours: 9am to 4-5pm depending on the time of year
Closed Mondays and Holidays
Until the year 1868, the Kyoto Imperial Palace was the home of Japan's ruling elite. The Imperial Family has since moved to the capital city of Tokyo.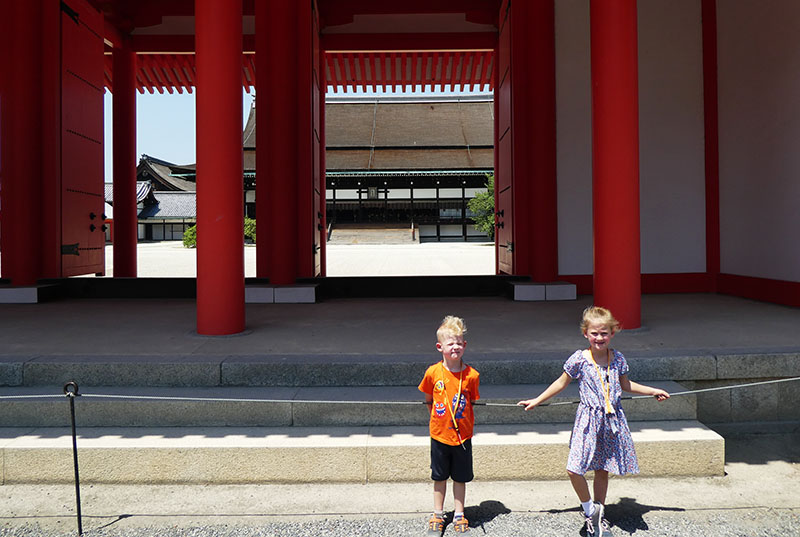 Though you can't actually enter any of the buildings, and they are no longer used, the grounds are open for visitors without reservation. The grounds are part of a larger park network including the Kaninnomiya Mansion, and Itsukushima Shrine.
A walking tour of the palace offers perspective to an ancient way of living, architectural styles and design, and history of Japan.
Belief: N/A
Time to Explore: 1 Hour
Nearby Attractions: Gyoganji (Kodo) Temple, Shiramine Jingu Shrine
Philosopher's Path, Tetsugaku-no-Michi
Philosopher's Path
Sakyo-ku Ward (between Ginkaku-ji and Nyakuoji-jinja) Kyoto, Kyoto Prefecture
Always Open
The Philosopher's Path, or Tetsugaku-no-Michi, is a pedestrian trail that runs parallel along a canal. It is covered in cherry blossoms in the spring, green flowering petals in the summer, and yellow, orange and red leaves in autumn.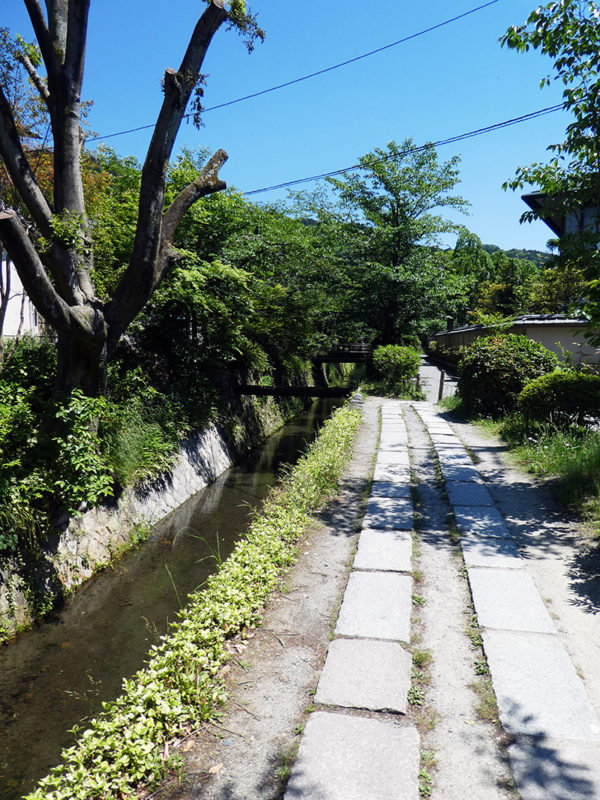 Along the path are many shrines and temples to stop and admire, or pray at. It is picturesque, calming, and peaceful. Japanese Philosopher, Nishida Kitaro, walked this path daily, under the umbrella of the beautiful blue sky and flowering trees, hands clasped behind his back formulating his theories regarding existentialism.
The full Philosopher's Path is just over a mile long, but you don't have to walk the full path to enjoy the beauty or gain perspective of this history.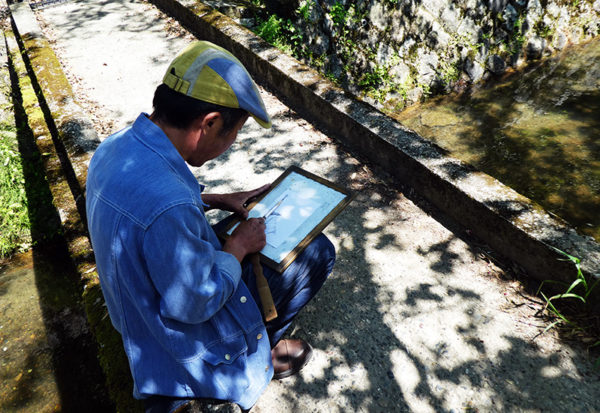 Belief: Existentialism
Time to Explore: 1 Hour
Nearby Attractions: Kankotsudo, Saiunin Temple, Konkai-Komyoji Temple
Kyoto 2 Day Itinerary
If you only have time for a Kyoto 2 day itinerary we recommend making sure you have time for the following stops.
Day 1:
Fushimi Inari-Taisha
Yasaka (Gion) Shrine
You need a full day at Fushimi Inari-Taisha to take in everything there is to experience. From the vendors at the entrance to the multiple shrines and buildings, and then hiking the mountain.
As the Yasaka Shrine is the only shrine open in the evening, as you head down from the mountain you can still allow time to view the lanterns to round out the first day of your Kyoto 2 day itinerary.
Day 2:
Rengeoin Sanjusangendo Buddhist Temple
Otani Mausoleum
Kiyomizu-dera Temple
Heian Shrine
Begin day 2 of your Kyoto itinerary at the Rengeoin Sanjusangendo Buddhist Temple. It is within 10 minutes walking distance from the Otani Mausoleum. From here, you are primed to walk the 10 minute scenic mountain path directly to the Kiyomizu-dera Temple.  These three attractions combined will take up approximately half the day.
We recommend spending the latter part of the day at the Heian Shrine. From Kiyomizu, bus 100 will take you directly there with limited walking.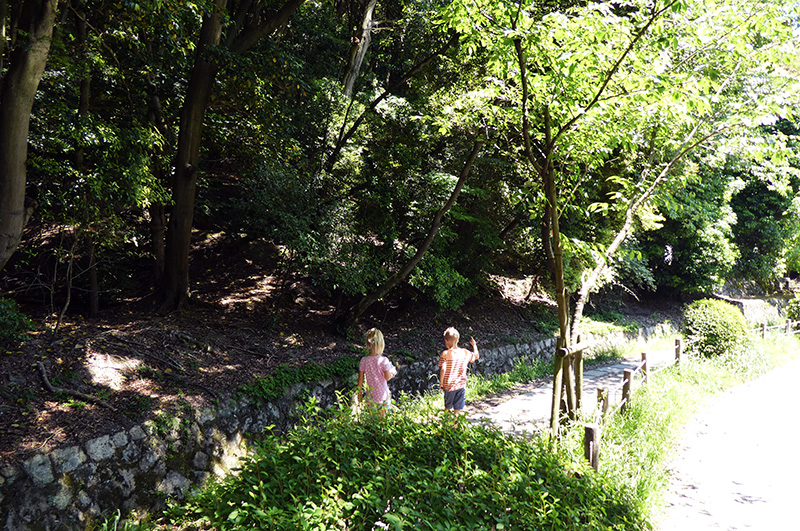 Kyoto 3 Day Itinerary
If you are able to spend enough time in the city for a Kyoto 3 day itinerary, you'll have time to visit the rest of the attractions on our list.
Toyokuni Shrine
Ryozen Gokoku Shrine
Philosopher's Path
Kyoto Imperial Palace
Nishiki Market
If you follow the Kyoto 3 day itinerary in the order above, the attractions are listed in a circular order to save time going back and forth.
Be sure to save Nishiki Market for last so you have time to explore, and so you don't have to carry bags around with you all day.
Japan Extras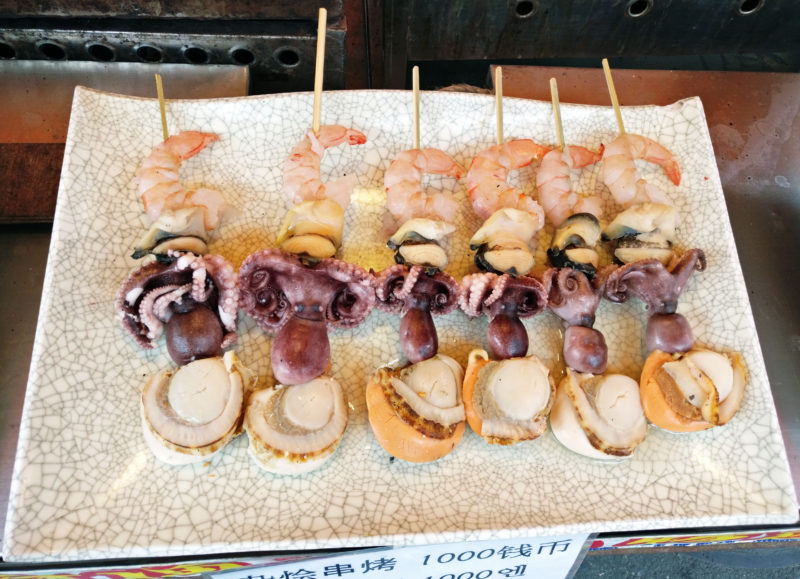 The Heart of Legend of Zelda: Breath of the Wild
The game The Legend of Zelda: Breath of the Wild is inspired by the city of Kyoto.
In fact, the Nintendo headquarters are located here!

We saw so many remarkable features, architectural design and identical replicas to the game. We saw them in light posts, lanterns, Korok statues, prayer statues, Korok seed puzzles and more. We even saw darners and butterflies everywhere. I legitimately tried to reach out and grab them a couple of times.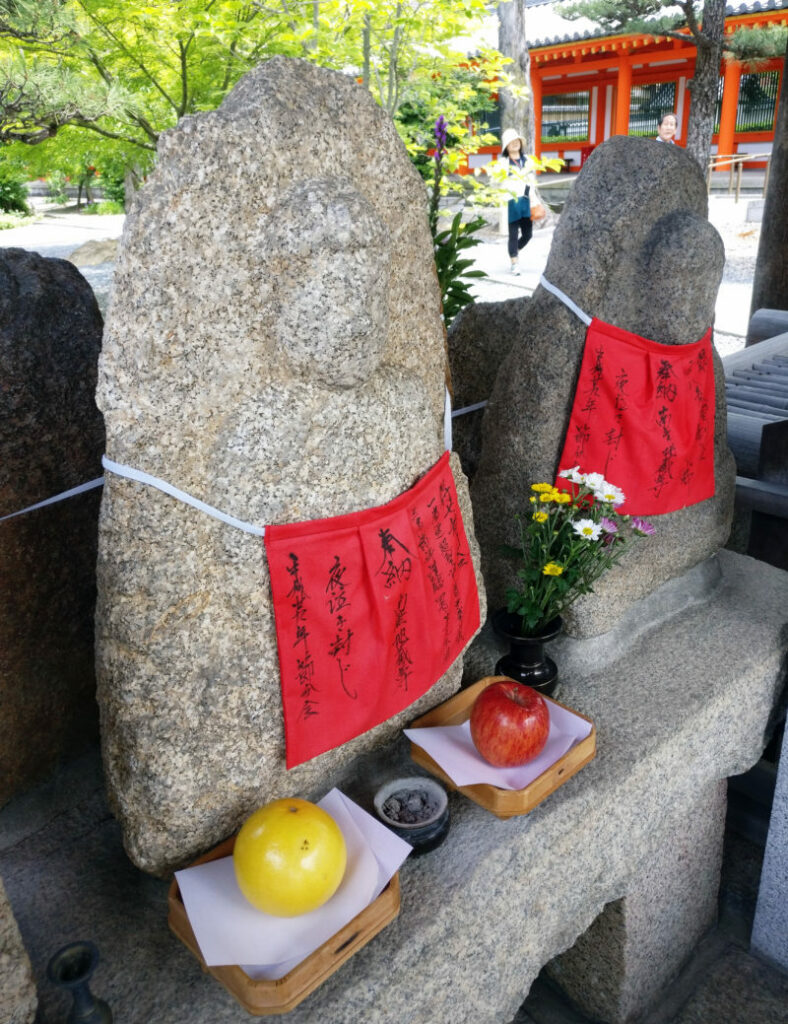 You can even find Chu Chu Jellies, otherwise known as konpeitō!
Best Airbnb in Kyoto
We found the absolute best airbnb in Kyoto for a family, or a group. It's walking distance to restaurants, groceries, and public transportation.
But, best of all? This airbnb in Kyoto is right next to the most famous Torii gate shrine in all of Japan.
Fushimi-Inari Taisha!
Plus, it's big! It's two stories with three bedrooms, plus a bathroom with separate shower area, an atrium and a kitchen! It's perfect!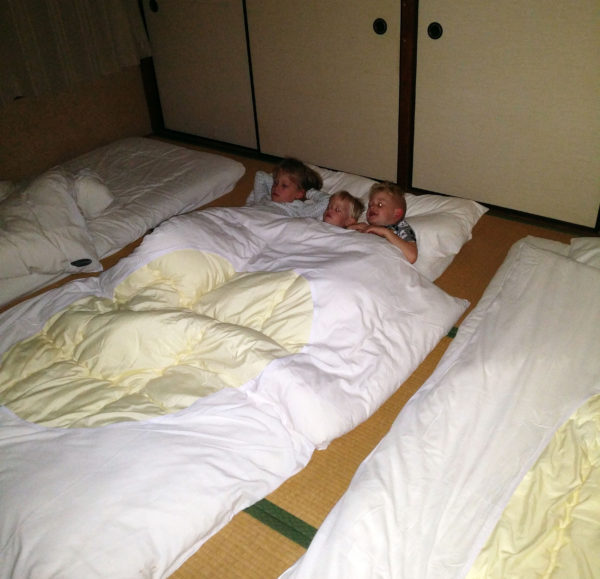 Japanese Snacks
When it comes to candy in Japan we found the best cookies, the best chewy candies and the best grape drink that you can find!
But there's more! We've compiled a list of the best 8 Japanese Snacks that you have to try when you visit Japan – or… just order them on Amazon.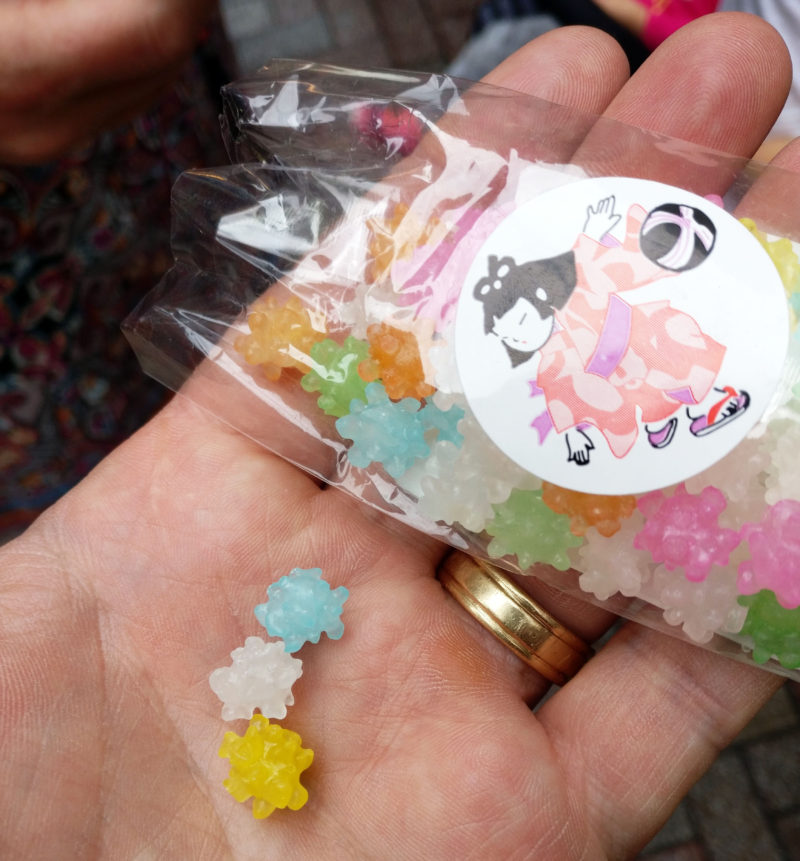 How to Shower in Japan
It's no small task to shower in Japan.
Bathing in Japan is about more than just cleaning the body, it's a ritual. So a Japanese shower is more than just a box with a shower nozzle.
Tubs are not for cleaning the body, they are for meditating and relaxing the body. This is an age old practice dating back to the golden era of public bathing at an onsen.
Find out all the fascinating details about a Japanese shower and everything else you need to know.
5 Must Use Phrases in the Japanese Language
The truth is you can get by in Japan knowing virtually none of the Japanese language, but there are a few words that will make things a little easier. Words like okay in Japanese, and toilet of course.
Check out our list of the top 5 Japanese language words you need for conversing and behaving politely. These are words that you and your kids can easily remember and the Japanese will appreciate your pathetic efforts.


Riding the Bullet Train in Japan 
We do not recommend riding the JR train in the city of Kyoto because of all the things you'll miss out on by walking. Not to mention, you'll only hit the most popular tourist attractions and you'll lose a lot of time walking back and forth to stations.
However, if you are planning to travel from Kyoto to Osaka, Toyko, or another major city, we absolutely recommend taking the Bullet Train.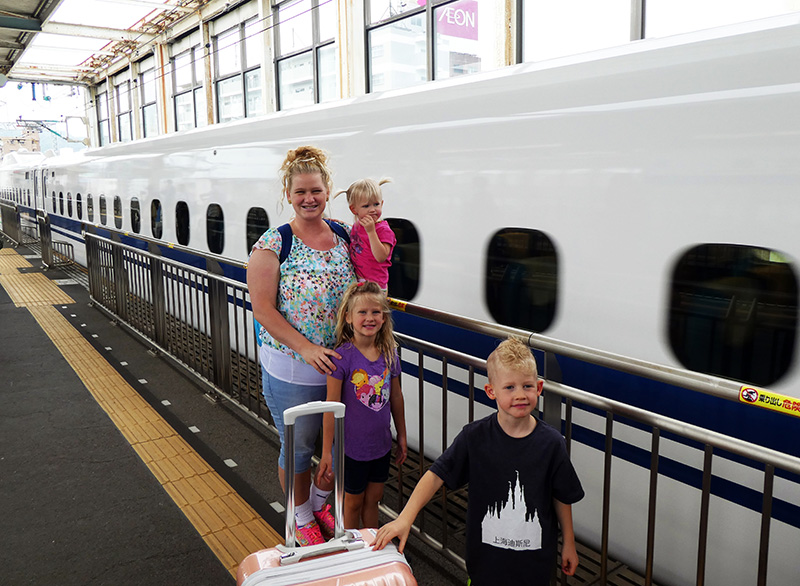 Check out our guide for riding the Shinkansen Extraordinaire.
► For Kids: Kyoto is a strenuous city for adults, let alone children. Some days we spent upwards of 8 hours a day walking. With so much to see around every corner, it's hard to ever quit roaming about. Definitely bring a stroller, but also plan to leave it at the entrance of the shrine because of stairs.
Be sure to stop at the local mini-marts in between stops to check for super fun selections of ice cream and popsicles!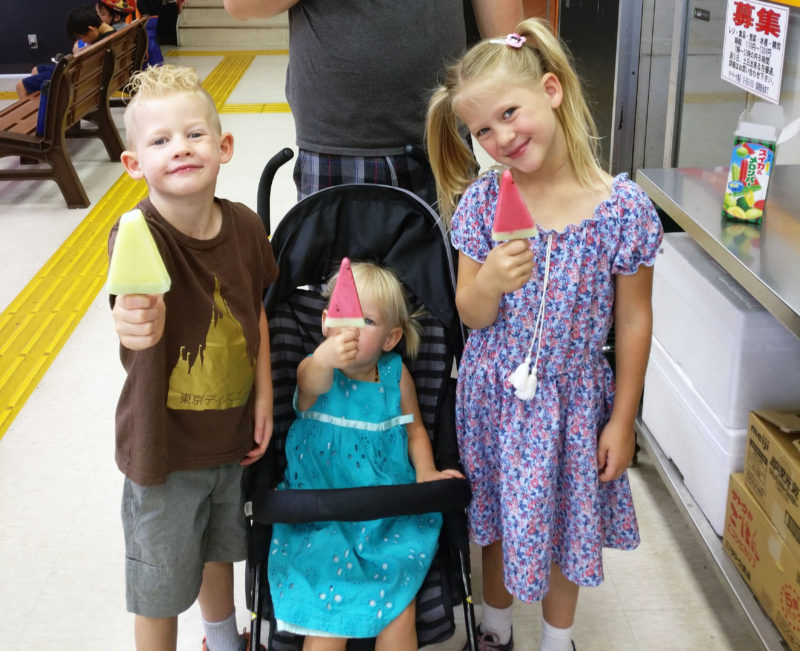 ► What We Learned: About the history and beliefs of the amazing Japanese culture from Buddhism to Shintoism and so much more!
We love traveling through Asia. Don't miss our post on traveling to the DMZ on the border of North Korea!
► Nap-Time Version: The Must Do 11 Attractions for your Kyoto Itinerary plus some insider secrets!
We loved our time in Japan! Be sure to watch our YouTube Video about our time there and please like and subscribe for all our travel content!!!