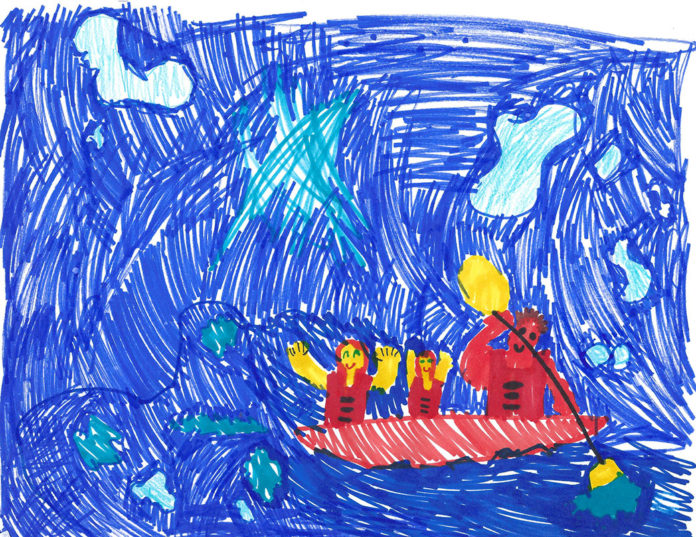 Experiencing a Bioluminescent Bay is a like witnessing a fairy tale come to life. Magic flows straight from your fingertips and metamorphoses into a million twinkling stars submerged underwater. Our Vieques Bio Bay Tour was the night we saw the stars turn upside down.
Luminary creatures, called dinoflagellates, are contained by the high protein natural barrier of the mangrove trees. They create a unique and self contained singular habitat full of awe and mischief in Mosquito Bay. The experience of a Vieques Bio Bay Tour transcends earthly explanation; it is an ethereal encounter where man and algae create a brief, yet symbiotic relationship – one that is profoundly extraordinary.
Vieques Bio Bay is the most concentrated Bioluminescent Bay in the world, and is one of the natural wonders of the world. This is all about our family field trip experiencing this phenomenal experience, and everything you need to know to make your best trip ever!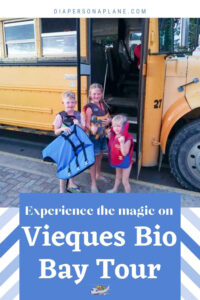 Abe's Snorkeling and Vieques Bio Bay Tour 
Mosquito Bay
Vieques, Puerto Rico
Facebook
Phone: 787-741-2134
Hours: 9am – 6pm
Price: $50 per Adult | $25 Children 5 – 11 | Free 4 and under
What Happens When you Witness Magic
on a Vieques Bio Bay Tour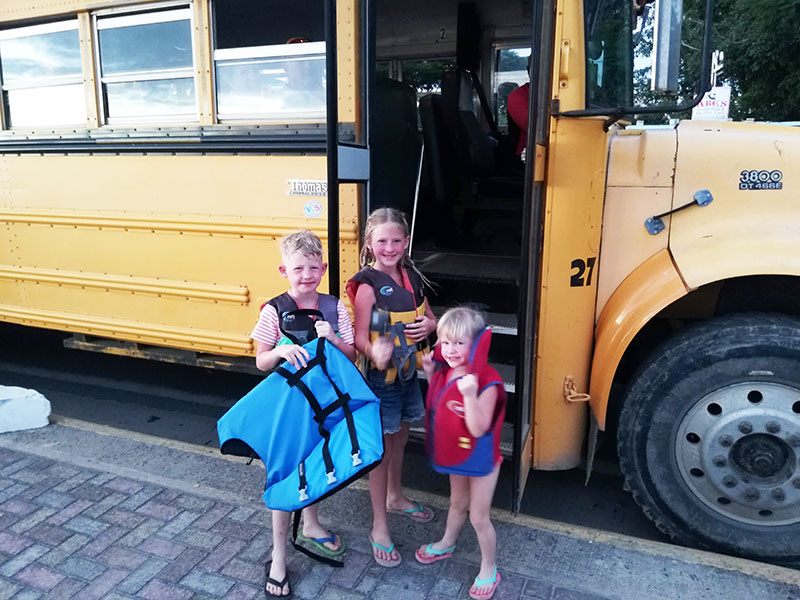 Vieques at Mosquito Bay
Bioluminescent Bay on the island of Vieques at Mosquito Bay (named after a pirate) is one of those places that comes up again and again and again in the airline industry.
When you work for an airline you hear a lot about other people's trips and the best places to go and explore. When our family was trying to decide on a place to go for Miss Molasses first adventure, Puerto Rico came up again on our radar.
We'd gone to San Juan once before – before we had kids, and we got stuck in NYC for half our trip due to standby loads. By the time we got there, we had less than a day to play on the beach. 
If we were headed back I was determined to kayak at Bioluminescent Bay. The problem was finding a guide that would allow kids, much less an infant. I had nearly given up when I came across Abe's Snorkeling and Bio Bay Tours. As long as we brought our own infant life vest for Molasses we could join the tour!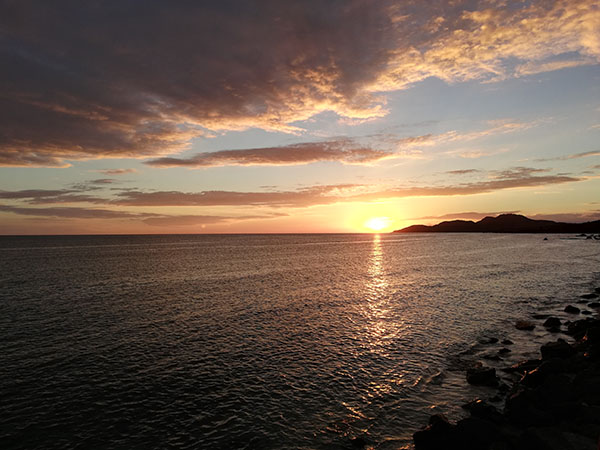 Abe's Snorkeling and Vieques Bio Bay Tour
Abe's Snorkeling and Bio Bay Tours has been a staple on the island for the past twenty years, serving locals and tourists alike. But when Hurricane Maria tore through the Caribbean in September of 2017 she didn't discriminate.
Abe's home and business were completely obliterated and he lost everything. Hurricane Maria destroyed the bay as well.
Mosquito Bay that was once the brightest bio bay in the world was nothing more than a black hole.
Rebuilding and Flourish 
It took more than seven months for the algae to fully regrow and the balance of the ecosystem in the bay to equalize back to what it once was prior to Hurricane Maria.
But the Vieques Bio Bay did more than that. Even more remarkable is that there are now a million more dinoflagellates in the bay then there were before. As of 2019, two million dinoflagellates per gallon reside in the bay filled with a volume of water that totals 1,182,200 cubic meters.
That's 624,603,548,000,000 if my calculations are correct.
Dinoflagellates
What is a dinoflagellate? They are what makes Bioluminescent Bay light up like the night sky. More on that in a bit.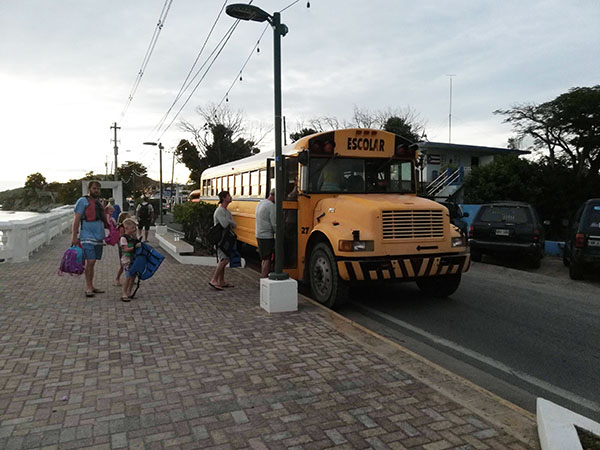 Vieques Bio Bay Tour

We met our tour group in Esperanza on Vieques island outside one of our favorite places to eat in Puerto Rico.
We were fitted with our life jackets, paid our admission, and our tour guide Steve gave a brief explanation regarding what to expect and what to do once we reached Mosquito Bay.
We separated into groups of two and three with myself, the baby and Widmore traveling with our guide Steve as I wouldn't be able to control the oar and hold our three month infant. Gabriel, Pie and Eclair operated their own kayak. 

Then we boarded a school bus, giddy as school kids for our field trip, and began the journey out to Mosquito Bay. We traveled across a sandy beach before turning down a gravel road where the overbush and trees scraped the sides of our vehicle, and we slowly made our way to the hidden Vieques Bio Bay tour.
Planning the Perfect Time for Your Trip
The sun set as we made our way out to the bay, and when we arrived it was mere moments before we were enveloped in complete darkness. We planned our trip around the lunar cycle, seeking as dark a night as possible.
The new moon on February 5, offered just 1% visibility, or in other words, it was pitch black and provided the perfect settings for the viewing the illumination of the dinoflagellates.
Mom, Dad, Steve, baby and kids hopped into our kayaks and set across the water. We glided all the way across the bay and stopped at the mangroves for bio bay school before spending the next hour enjoying the water and the phenomenon found therein.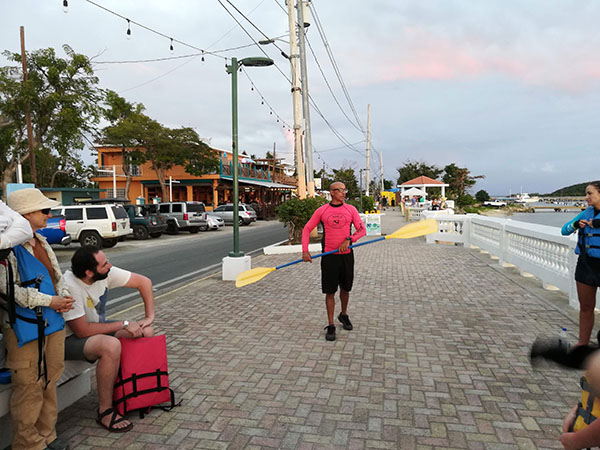 Bio Bay School
It's the unique ecology of Mosquito Bay that drives visitors to its shores from all over the world.
The completely enclosed bay is covered entirely by mangrove trees with water slowly trickling in from the ocean by way of just one small inlet.

We learned during our excursion that one leaf of a mangrove tree possesses more protein than a 6 oz steak! The mangrove leaves fall into the water and are broken down through a biological cycle that includes highly concentrated amounts of Vitamin B-12, salt and a whole host of nutrient dense vitamins.
As they decompose, the microscopic organisms feed on them and this diet creates the bioluminescent plankton in the water.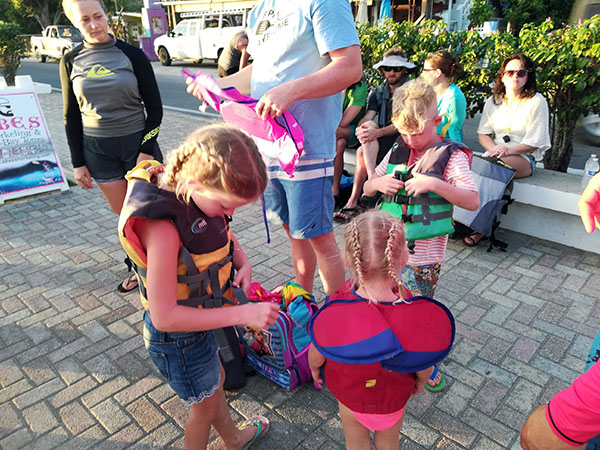 Dinoflagellate Snow Globe
The dinoflagellates actually don't light up without provocation. It is only when the water is disturbed that the microorganisms measuring 1/500th of an inch create a burst of blue light.
The light is a defense mechanism to shock predators.
What Makes the Algae Light Up?
Movement of the oar

A hand in the water

A wave cresting on the surface of the bay

Droplets of rain from the sky

Children splashing in delight

Fish swimming through the depths of the water
All these actions, and more, will make these amazing creatures shine so intensely it is like looking at a snow globe under the surface.
We witnessed the snook, a fish four feet long, cruising through the water at a depth of 10 feet illuminate the dinoflagellates. As the fish swam, a stream of light trailed behind it.
Even our kayaks were filled with the microorganisms, creating the effect of twinkling stars at our feet.

We could actually hold them in our hands, albeit briefly, as we scooped up handfuls of water. The entire experience of our Vieques Bio Bay Tour, from start to finish, was absolutely tantalizing, breathtaking and exhilarating.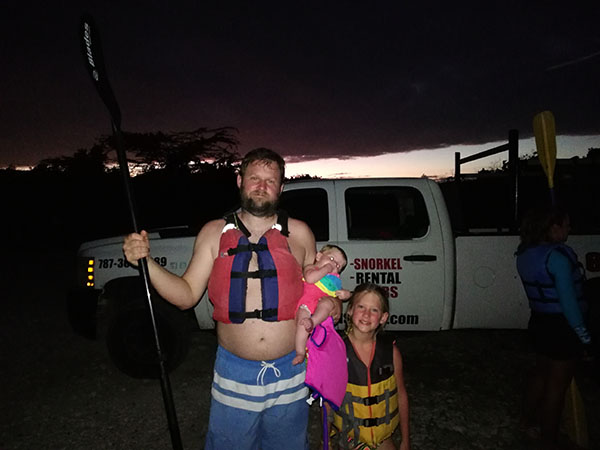 The Little Mermaid
Our kids were fascinated! It was straight out of the scene in Disney's The Little Mermaid when Ariel and Eric are on a boat in the water being serenaded by Sebastian as he urges Eric to simply kiss the girl.
At first, there is nothing to suggest a beautiful and expressive secret lay underneath the water. But then, as the night sky darkens and your pupils begin to adjust to the darkness, a stark contrast of black water reveals itself to the magic and wonderment that is Bioluminescent Bay.
Each algae can light up seven times in one minute and then they go back to the bottom of the bay to be recharged by the sun the next morning.  
Photos of Vieques Bio Bay Tour
Taking photos of Bioluminescent Bay is pretty tricky. And when I say tricky, I mean impossible.
We have about 20,000 photos of complete darkness, and one super awesome drawing of our experience by sweet Pie!
It's okay though, because we will never, ever forget our incredible memories made on our Vieques Bio Bay Tour.
Instead, check out this awesome video from Mike Corey where he utilizes a special camera to capture this phenomenon. 
More on the Phenomenon of Bio Bay
Dinoflagellates are located throughout many bodies of water, especially the ocean, however it is only when the balance of vitamins and organisms is so perfect that this phenomenon exists.

For this reason, swimming is no longer allowed in the bay as the pollution from the body disrupts this perfect balance. This is also the reason that Hurricane Maria destroyed the ability to witness the dinoflagellates as the balance of water to nutrients was disrupted.
Now that the bay is restored, Mosquito Bay holds the world record for being the brightest in the world.
Help Abe's Snorkeling and Vieques Bio Bay Tour 
As mentioned above, Abe's business and home were destroyed as a result of the devastation of Hurricane Maria.
His family is working to rebuild now that the bay is shining once again and they have a worthy Go Fund Me account in the event you are interested.
In addition, we have posted a short video on our Facebook page showing some of devastation we witnessed on Vieques that gives you a glimpse of what the locals went through. Devastation occurred not only during the Hurricane but the months that followed without power, exceeding half a year in some cases.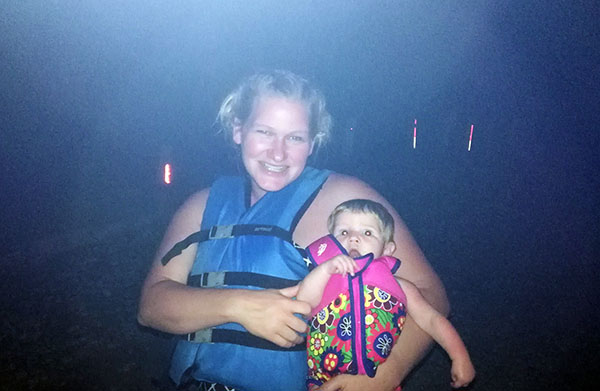 ►

For Kids

:

Our kids were awestruck as they ran their hands through the water and threw up handfuls of dinoflagellates into the air.  Little ones will never tire of being out on the water as they watch the microorganisms dance before their eyes. They were devastated when it was over.
This is a riveting and exciting experience along with being affordable and appreciated by all ages.
Our Vieques Bio Bay tour is one of the coolest adventures we have been able to participate in as a family during our travels, and one we cannot recommend enough.
► What We Learned:
World schooling topics are boundless on a Vieques Bio Bay tour including biology, ecology, hydrology, nutrition, ecosystems, and more.  
As mentioned, we had to bring our own infant life vest. The smallest sizes our tour guide  had were for a typical four year old kid.
After trying several stores on the main island, we finally found a Scallywags in Vieques. Even though they didn't have an infant life vest for sale, the incredible woman working there offered to loan us her infant life vest for the evening so we could take Miss Molasses!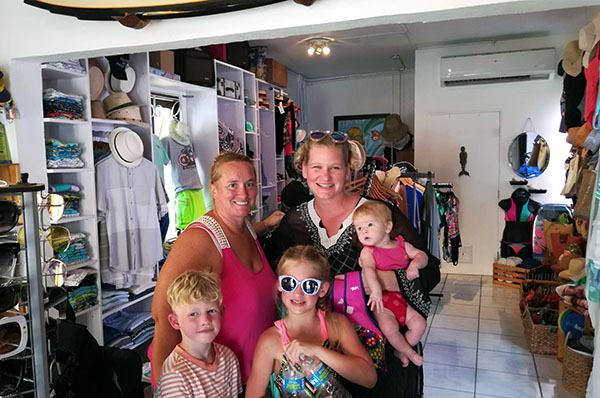 If you can plan ahead, Amazon sells a quality infant life vest for around $20. Don't wait too long though because Amazon does not offer prime shipping to the island.

►
Nap-Time Version
: Our night at Bioluminescent Bay, in Vieques, Puerto Rico when the stars turned upside down and fell beneath the surface of the black water of Mosquito Bay.
Check out all our fun family adventures in Puerto Rico including Black Sand Beach Puerto Rico, and taking the $2 ferry from the main island to Vieques.