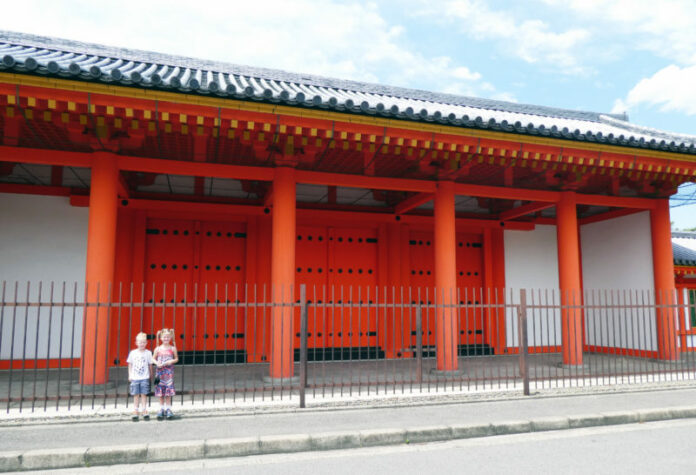 The Rengeoin Sanjusandgendo Temple in Kyoto is the famous temple of 1001 life sized statues of the Buddhist Goddess Kannon Bodhisattva. Kannon resides in the center of the temple flanked on each side by 500 bodhisattvas in 10 columns of 50.
Translated, the name has a very specific meaning. Rengeoin means Temple of the Lotus while Sanjusangendo literally means hall with 33 spaces between columns. This is not a coincidence. It is significant both architecturally and spiritually.
Kannon has the ability to transform into 33 different shapes of mercy. Together with her statues, or arms, they can create 33,033 possible forms of compassion.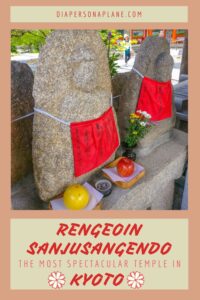 Rengeoin Sanjusangendo is the
Most Spectacular Temple in Kyoto
[5 REASONS]
This temple was our favorite place to visit in Kyoto, out of all the shrines, temples and monasteries we visited during our trip. We are going to share with you the top 5 reasons why Rengeoin Sanjusandgendo is the most spectacular temple in Kyoto.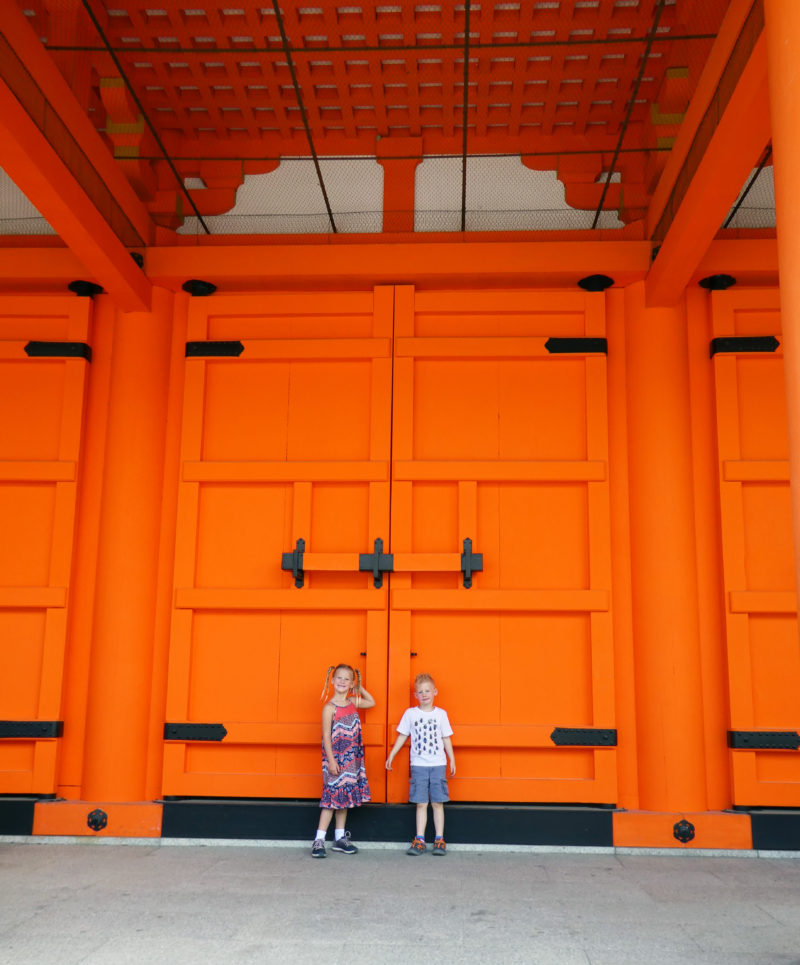 Regeoin Sanjusangendo
Japan, 〒605-0941 Kyōto-fu, Kyōto-shi, Higashiyama-ku, Sanjūsangendōmawari, 657
+81 75-561-0467
8am – 5pm (Summer Hours
9am – 4pm (Winter Hours)
Entrance fee: ¥600, children under 6 are free
How to Get to the Rengeoin Sanjusangendo Temple
The entrance to Rengeoin Sanjusangendo is off Nishinomoncho street, across from the Kyoto National Museum.

Take the Keihan Line towards Higashiyama Ward and get off at the Keihan Shichijo Station. It is a 5 minute walk from here.
Alternatively, take bus route #100, #206 or #208 and get off at City Bus Stop Hakubutsukan-Sanjusangendo-Mae.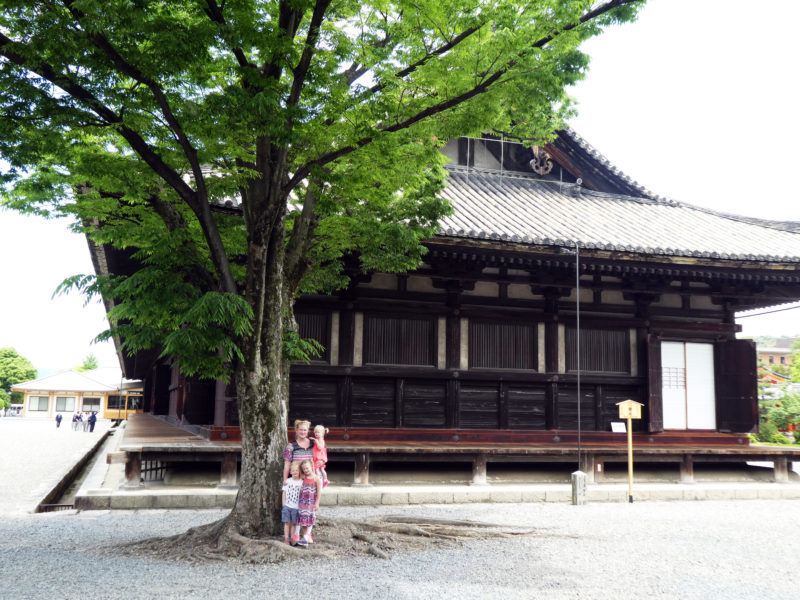 Serenity Now
We visited more than 50 temples, shrines, and monasteries during our trip to Kyoto, yet Rengeoin Sanjusangendo stood out to us as the most compelling and spiritual. There is an unparalleled serenity contained here.
From start to finish, the entire temple and grounds are breathtaking; an incredible sight of devotion and dedication.
For our family, it represented lost characteristics in our current culture. A homage to quiet reverence and reflection. It was a great teaching moment to be able to share the experience of the Rengeoin Sanjusangendo with our children, further impressing upon them that there is a time and place for everything.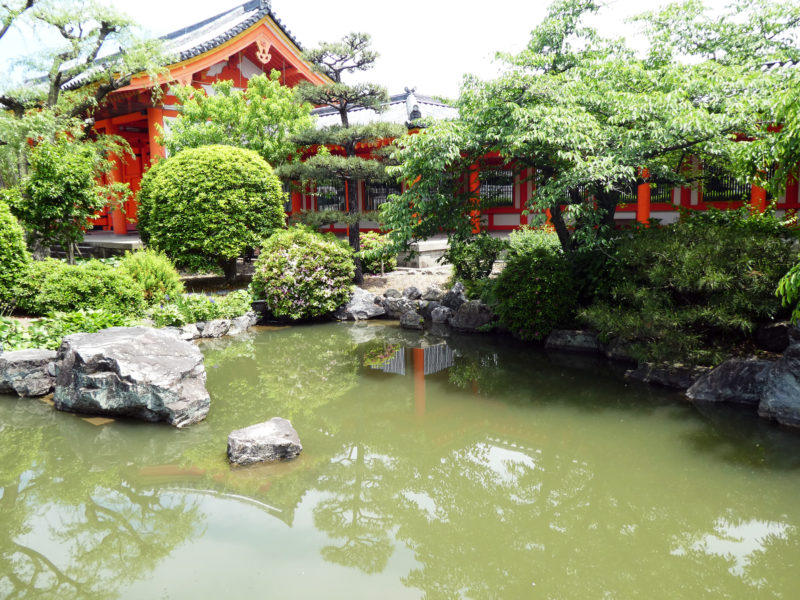 Grounds of the Rengeoin Sanjusangendo Temple
The grounds are quiet, and beautiful, offer a place of contemplation before and after entering the temple. 
They include a chozuya (purifying station), a pond, and historical markers. You can bypass all this and enter the temple directly, but there is something to taking in the ambiance and the sacred nature and grandeur of what this place is, and imagining what it once was.

By reading the marker signs and descriptions we were able to teach our children about what each building signified and was used for. The Monks who walk the grounds regularly at Rengeoin Sanjusangendo completed the experience.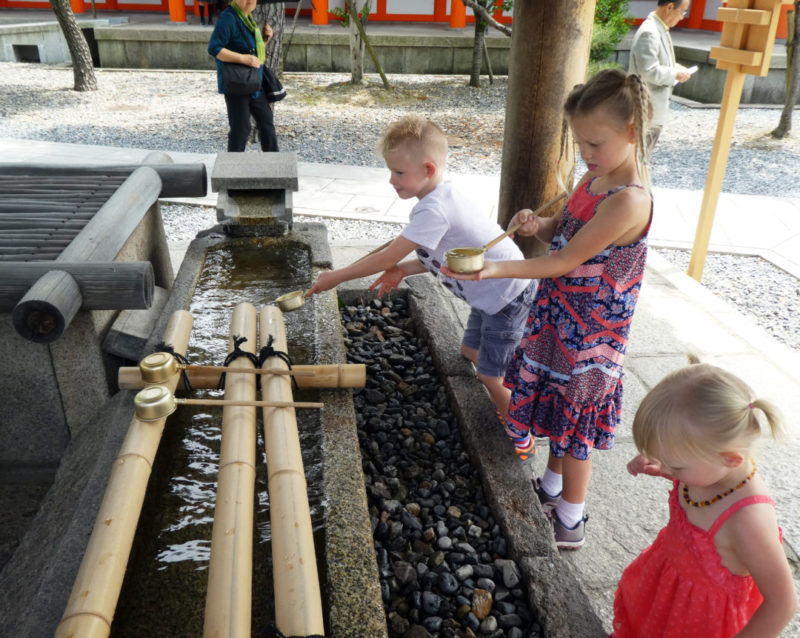 Destruction and Fire
The temple and grounds were completed in 1266, reconstructed after a fire burned all but 124 of the statues in 1249.
Originally Emperor Goshirakawa founded the temple in 1164. In 1249 a fire nearly destroyed everything. 
The temple was rebuilt and completed in 1266. 124 of the original wooden statues were saved and are in the existing building. The remaining statues are from the 1300's. They are made from cypress wood and covered in gold leaf, and remarkably preserved.
Inside the Temple
You must remove your shoes and stow all belongings. You are not allowed to take any pictures whatsoever, and if you are caught with a camera, you have to surrender it.
The hall is astonishing.
There are a mere 33 pillars in the 394 foot hall, (hence the name) which not only makes it incredibly grand, but an architectural wonder. It is the largest wooden structure in all of Japan.
Each life-sized statue is identical to the next except for minor facial expressions and folds of the robes. Despite looking the same, guests come to the hall to find the face of a loved one. They are poised on raised platforms so every single one is visible from the floor below.
At either end of the great hall are two temple guardians standing on a cloud: Raijin, the god of thunder, and Fujin, the god of wind.
In front of the statues are 28 deities that represent virtues such as beauty, wisdom, prosperity, charity, justice and strength and bring goodwill to those they encounter.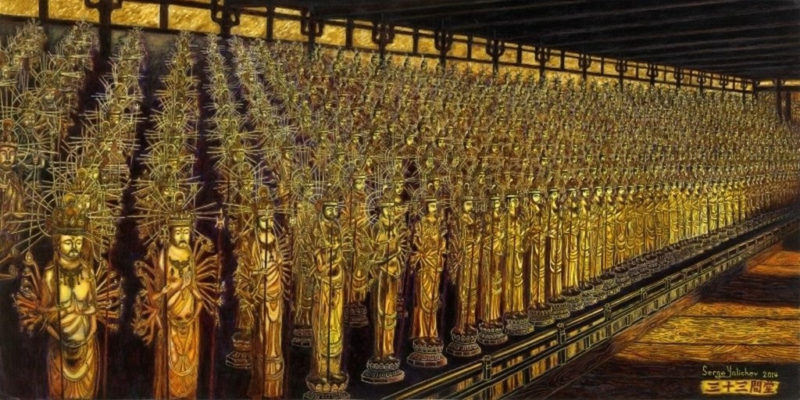 Kannon Bodhisattva at Rengeoin Sanjusangendo
Halfway through the hall, after the 500 statues, you come to the spectacular Buddha. This is Kannon Bodhisattva.
She sits on a lotus flower towering at 11 feet tall. She is 100 meters/328 feet tall (one of the top 5 largest Buddha's in the world) and has 11 faces; one normal face, and an additional 8 representing each direction (north, south, east, west, northwest, northeast, southwest, southeast) and 2 more for heaven and earth.
Her eyes are made from crystals. Kannon has 20 arms, each hand holding an object of spiritual significance. Like Kannon, each of the statues also posses 20 arms. The arms are extensions of the Goddess' compassion and enable her to offer mercy to every spirit. 
Visiting guests can offer prayers and light incense. If you time it right, your family may be able to watch a candle lighting ceremony.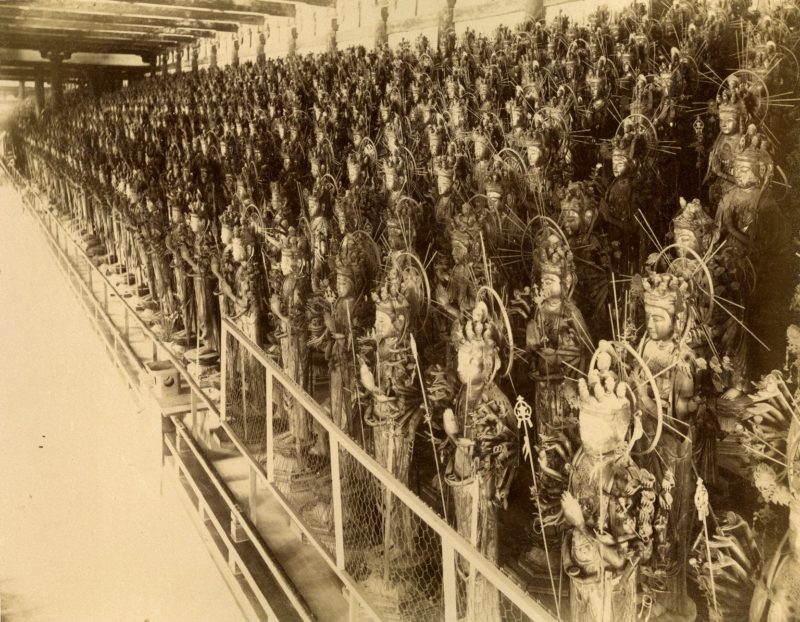 Buddhist Beliefs
Like all temples and torii gates in Japan, the exterior of this temple is surrounded by large gates painted in the bright color orange to ward off evil spirits and magical powers. It is believed to protect against destruction and calamity. 
The Bodhisattva is the divine feminine. She is dedicated to witnessing and listening to the prayers and tears of those suffering on earth. She has put off becoming a Buddha until all mankind can achieve salvation.

5 Reasons Why Rengeoin Sanjusangendo is the Most Spectacular Temple in Kyoto
The immensity of the great hall is truly astonishing. We consider modern architecture to be the pinnacle of achievement, but throughout history we are reminded of what mankind has accomplished from the colosseum to the pyramids to the

Rengeoin Sanjusangendo.

Kannon Bodhisattva and her 1000 soldiers all dedicated their lives to relieving the suffering of men and women on earth. From the unborn to those fighting in war, all people are significant enough for her divine benevolence. She created over 33,000 different forms of compassion to ease the pain of all.
The grounds are a garden of serenity. You'd never know this oasis is located in the middle of the city once walking through the gates. The grounds are covered in gorgeous flowering plants with ponds throughout. There is a peace and quietude that is exemplified here.
Visiting Rengeoin Sanjusangendo is witnessing history. This temple was imagined nearly 900 years ago, and completed 700 years ago. The statues therein were carved from ancient trees by hand and have been preserved for nearly a millennium.
The majority of the people we saw visiting the temple were not tourists. The citizens of Kyoto come here daily to revere and honor the Goddess who in turn extends her compassion to the entire world. This is the culture of Japan; to bow, respect and honor.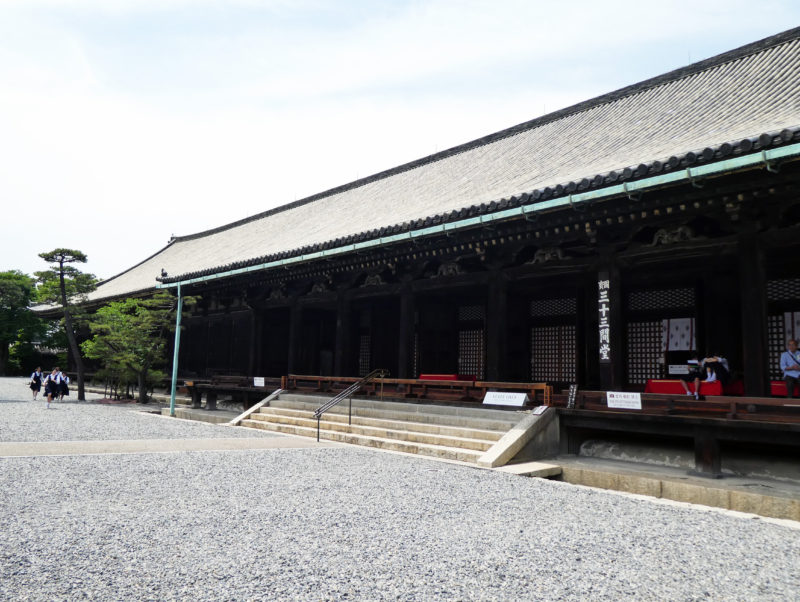 Kyudo Tournament: Toshiya
Since the 17th century the great hall of the Rengeoin Sanjusangendo is home to the Kyudo tournament. This tournament is Toshiya: an archery contest.
The contest has evolved over the years, but originated as an archery marathon. Each contestant was required to make their own bow and arrows and shoot consecutive arrows for 24 hours straight.
The winner in the year 1686 hit the target with 8,133 of 13,053 arrows he shot. The contestants arrow must travel the entire distance of the hall to hit the target, 394 feet in length.
Updated Rules
In our current culture, the contest has evolved to allow archers to shoot two arrows in two minutes at a distance of 150 feet. If archers hit targets with both arrows, they proceed to the next round.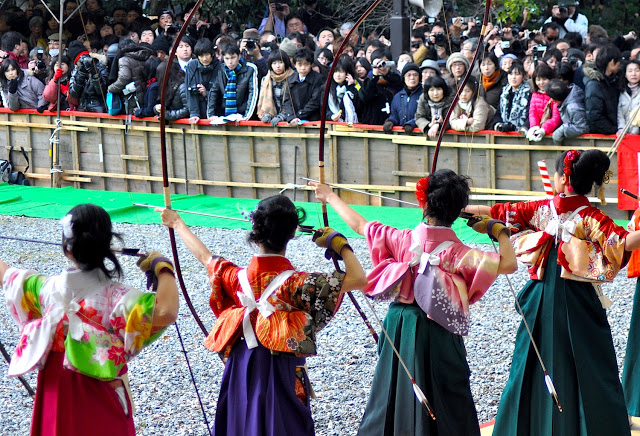 We found ourselves wondering if we have found the balance between pushing our children to their potential, or if we are allowing them to skate by. Fortunately they are young and we still have some time to try and figure that out. 
► For Kids:
Rengeoin Sanjusangendo
is a beautiful place of solemnity and reverence that teaches cultural significance and history. Children are expected to be quieter.
Our kids did have a slightly difficult time being as quiet as they were expected to be in the hall, especially our 2 year old. The hall is large, and to take it all in, it's not a quick visit.
Each deity is accompanied by a plaque that explains what they represent and Kannon is a sight to behold. Our older twins enjoyed reading which virtue each deity possessed, but in turn that also made it harder for the baby.
It's almost important to note that it's very warm in the great hall. We had to remind her over and over if she was quiet we'd go get an ice cream – it mostly worked.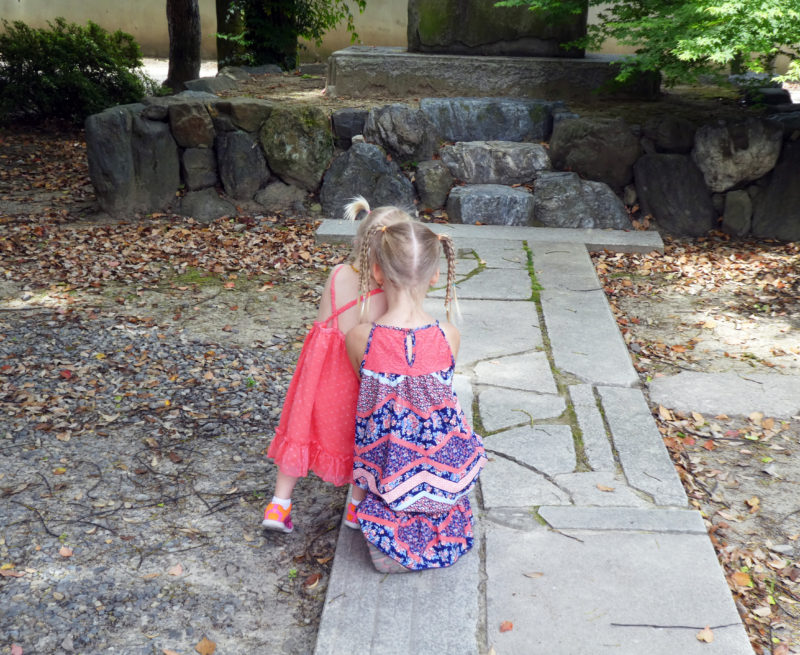 ► What We Learned: What it means to be truly selfless and compassionate, giving up everything for yourself to serve others.
Check out our Diapers On A Plane Japan Vlog, and our Ultimate Kyoto Itinerary to plan your visit!
► Nap-time Version:
 The Rengeoin Sanjusangendo is a Buddhist temple housing 1001 statues, including Kannon Bodhisattva. It is stunning, beautiful and inspiring. It must not be missed.
Other temples nearby: Chishaku-in Temple and Myoho-in Temple. What is your favorite temple or shine in Japan?