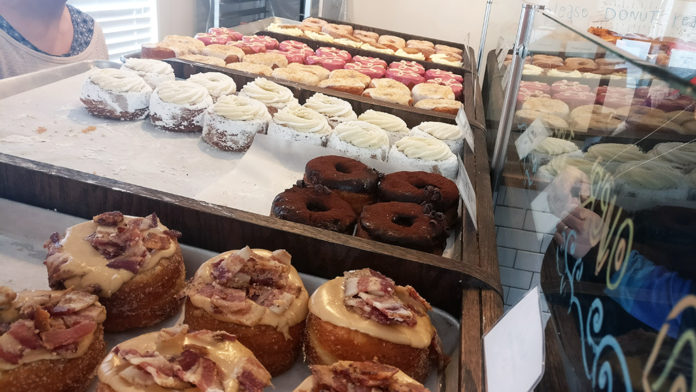 I'm going to tell you right now that every doughnut you've ever had in your life was terrible. I know this because Five Daughters Bakery in Nashville, Tennessee has 100 layer doughnuts. 100 layers of ooey gooey, buttery sweet, thick and luscious doughnuts that vanish with a glance. Doughnuts that make me forget anything else in the world exists outside that pastel pink and turquoise brick building with picturesque picnic benches out front.
►

Ranking

: #cleandiaper
Five Daughters Bakery
1110 Caruthers Ave
Nashville, Tennessee 37204
Phone: (615) 490-6554
Hours: Monday thru Friday 7am – 6pm | Saturday and Sunday 8am – 6pm
Facebook
Instagram
Twitter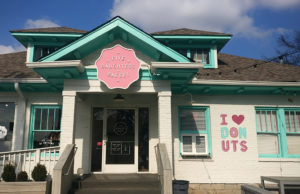 A 100 layer doughnut is a doughnut and a croissant, colloquially known as a cronut. But these aren't ordinary cronuts. These aren't simply deep fried croissants. They are termed hybrids that are made through a process that takes over three days. Once the 100 layer doughnuts have undergone this intense conversion, they are rolled in sugar, dipped in chocolate or frosting or fruit or any other number of delicacies, and then filled with cream, curd, custard or jam.
That's not all Five Daughters Bakery offers. They also offer vegan doughnuts, paleo doughnuts, caramelized cake butter doughnuts, filled, stuffed and decadent doughnuts, and cupcakes and cookies.
During my excursion to this little slice of heaven I ordered the Salted Caramel and the Lemon. We were headed to Edley's BBQ for lunch so we ordered these to go. They came in a perfectly fitted plastic container that kept them safe until their special moment came.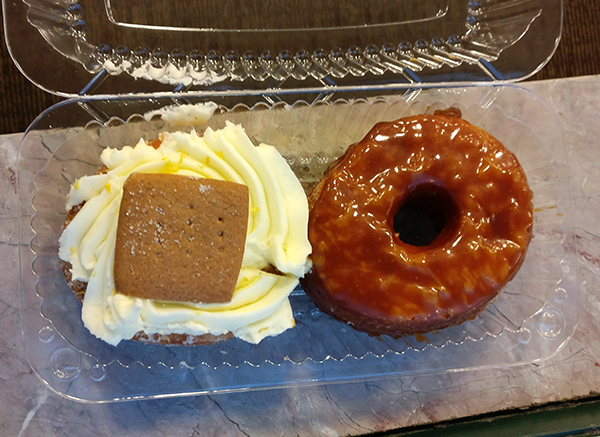 The Salted Caramel Doughnut was almost savory. The doughnut itself is indeed 100 layers, thick, soft, chewy, doughy pockets of butter and sugar and dough that create endless gratification. Every nibble opens up a new pocket of flavor with an accompanying sensory experience that flowed all the way down to the pit of my stomach. The salted caramel glaze draped over the top of the doughnut and dribbled down the sides lending a bit of sweetness to every bite.

The Lemon Doughnut at Five Daughters Bakery is just as brilliant. It is topped with a lemon buttercream frosting and a flat gingerbread cookie which I discarded most of. Instead reveling in the pure unadulterated zest that is compacted in this little round concoction. The inside is brimming full with a smooth and tart lemon curd that oozes all over your hands and mouth. I couldn't resist licking every last morsel until I cried that it was done.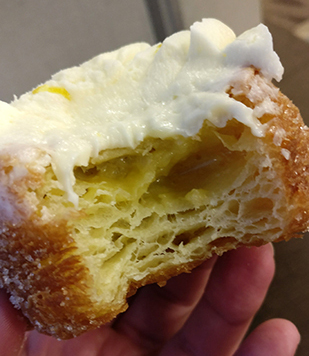 These doughnuts put all other doughnuts to shame.
If you weren't convinced at ooey gooey, at buttery sweet, or at thick and luscious, perhaps the fact that Five Daughters Bakery makes everything by scratch with no chemical preservatives, no genetically modified organisms, no hydrogenated oils, no soy, and no artificial colors or flavors will entice you. They are organic, made with grass fed butter, and fried in grape seed oil. Five Daughters Bakery flavors change daily based on what is local, in season, or available fresh.
►

For Kids

: If all this sweetness wasn't enough, they even have a fenced in playground for little ones to eat and play. This is a pricey place to buy doughnuts for little ones, especially if their favorite part is simply licking off the frosting like our little Eclair, but if you can keep them distracted by the playground, enjoy every bite to yourself.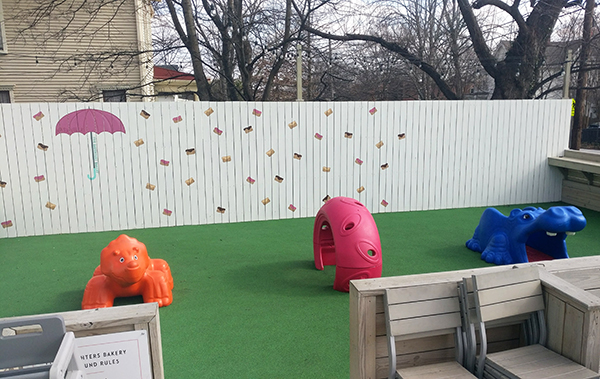 Five Daughters Bakery also caters, allows pre-orders and serves these delectable creations at weddings. Hurry though, because when they are sold out for the day, you're out of luck.
►

Nap-Time Version

: The greatest doughnut the world has ever known can be found at Five Daughters Bakery in Nashville, Tennessee.
Check out our brunch at Biscuit Love, dinner at Jack's BBQ, and our experience attending the Grand Ole Opry at the Ryman Auditorium (coming soon)!