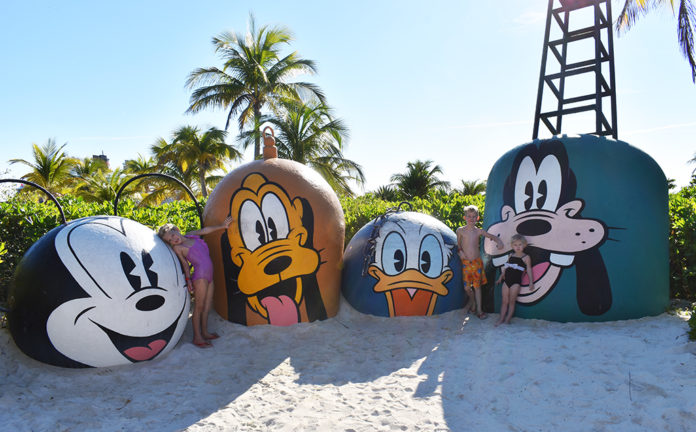 Let's just call Castaway Cay what it is. Castaway Cay is Treasure Island.
Disney Cruise Fantasy
Port Stop: Castaway Cay, Bahamas
Excursion: N/A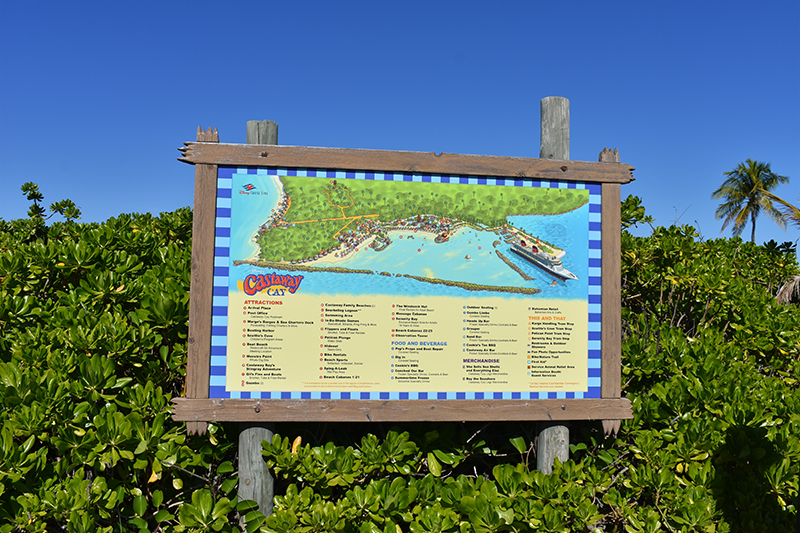 We anticipated visiting Castaway Cay from the moment we knew it existed. We have a long history of crossing Disney parks and experiences off our bucket list and Castaway Cay was no exception. We booked a cruise that specifically went to the Caribbean just so we could embrace Castaway Cay. We stepped off the boat and relished in Disney's ability to perfect something already so perfect!
But, we still did it all wrong. We did none of the right activities on Castaway Cay. We wasted time getting off the boat, we put the kids in Scuttle's Cove way too early, we somehow completely missed Pelican Plunge, we didn't reserve any time for Serenity Bay, and we booked a the worst excursion on Castaway Cay.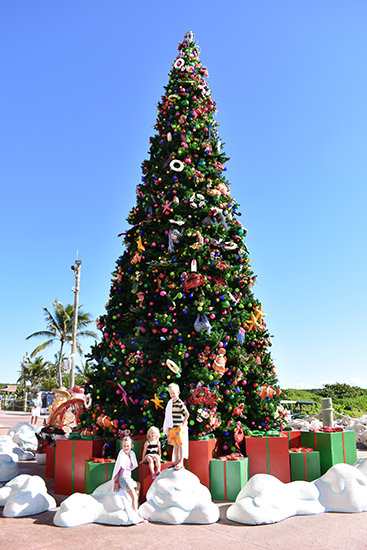 Our second time around we already knew what we'd done wrong, and consequently knew what not to do! We took advantage of every opportunity on our second visit and figured out exactly how to spend the day on the island and exactly which activities to do with our family. This is our family guide to a perfect day on Castaway Cay.
The Perfect Family Guide to
Spending the Day on Castaway Cay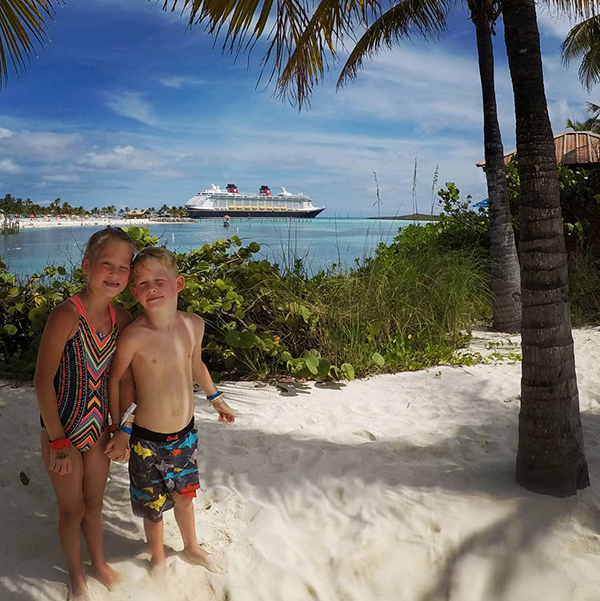 Getting off the Disney Cruise Boat to Spend the Day at Castaway Cay
Depending on your cruise itinerary, you can expect to have approximately 7-8 hours on the island to spend doing various activities on your perfect day on Castaway Cay. Many of the activities close earlier than this due to water levels, especially during certain times of the year, so it's better to get to the island earlier, rather than later to avoid missing anything.
We recommend getting off the boat as soon as you are able. The queues to exit the ship move quickly, so get in line once the gangways are open. Plan ahead so you are packed, have finished breakfast and are ready to go!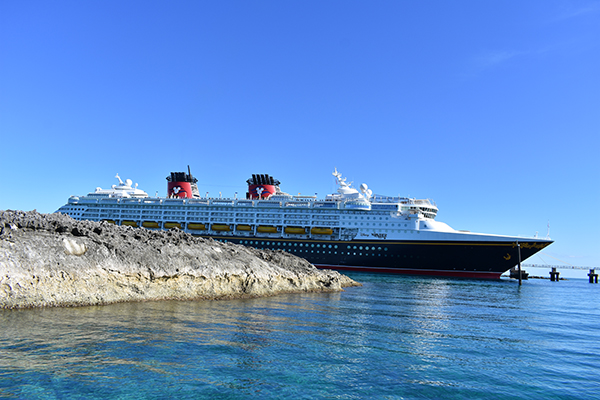 What to Bring to the Island
There are no customs or special requirements for exiting the boat, you'll simply need to bring your Key to the World Card and Disney will provide towels, sunscreen, sand chairs, lunch, drinks and a kids club on the island! So what is left? Just figuring out all the activities on the island, and that's where we've got you covered!

All you'll want to bring is a swimsuit and perhaps some sunglasses. Though if you forget, you can purchase them on the island. In fact, you can purchase anything on the island! Water, an insulated cooler bag, sand toys, waterproof cell phone pouch and more, but if you want to bring these items with you, go right ahead! Either way, your family will be ready to have a perfect day at Castaway Cay.
Getting to the Main Areas of Castaway Cay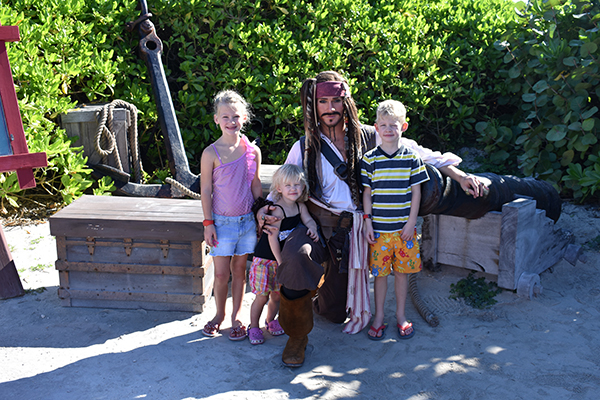 It is a long walk from the boat to the main beaches of the island, and there is nothing to do or see in between…, except for stretches of beautiful ocean views. This is a great activity all by itself. After passing through the arrival plaza including several great character stops, including Captain Jack Sparrow who naturally lives on Castaway Cay, you'll grab your complimentary beach towels for day use and make your way to the tram stop.
Hop on the tram to take you to either Scuttle's Cove and the first section of the Family Beach, or farther along the beach to Pelican Plunge.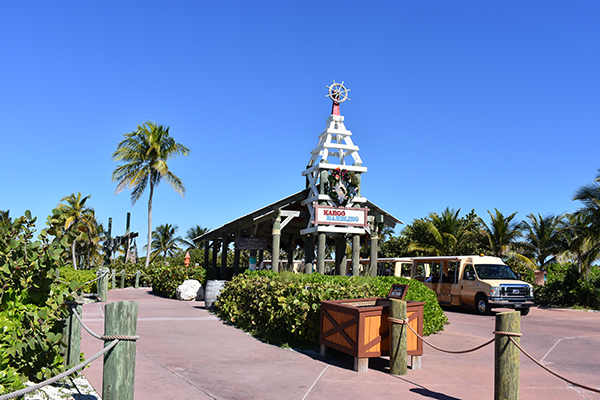 To have the best day on the island and participate in all the activities at Castaway Cay get off at the second stop for Pelican Plunge.
First Order of Business on the Island
Once getting off at Pelican Plunge, make your way to the Family Beach. Immediately stake out a few chaise lounge chairs in the sand. Stow your stuff and lay out your towels for your day on the island. Castaway Cay is a safe and exclusive Disney island and you can feel confident leaving your things here for the day.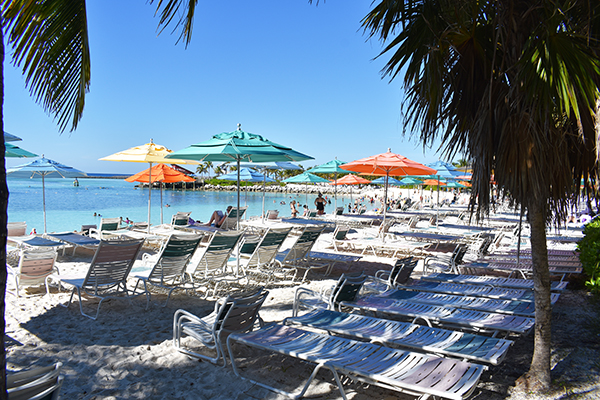 If you didn't bring a cooler and you want to order waters or an alcoholic package with an insulated bag to keep your drinks cool all day, you'll find Disney castmembers throughout the beach areas of the island who will assist with this. Keep in mind there is a self serve drink station on the island as well, but this is a great choice to avoid having to trek back and forth. Plus the bag is a handy souvenir and you can bring it back year after year! We take ours to the drive-in all summer long reminding us of our perfect day at Castaway Cay!
Partake in One of the Family Activities on Castaway Cay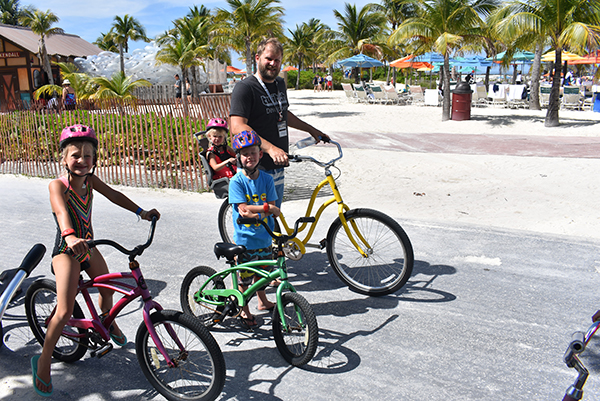 Once you've got your chairs and a place to stow all your things, we recommend spending the morning together as a family. There are a lot of activities at Castaway Cay to choose from to spend your time. Aside from the many excursions offered, there is snorkeling, bike riding, water activities and sports. The first part of the morning is the best time to accomplish these before the sun is too hot in the sky and your tummy is full from breakfast.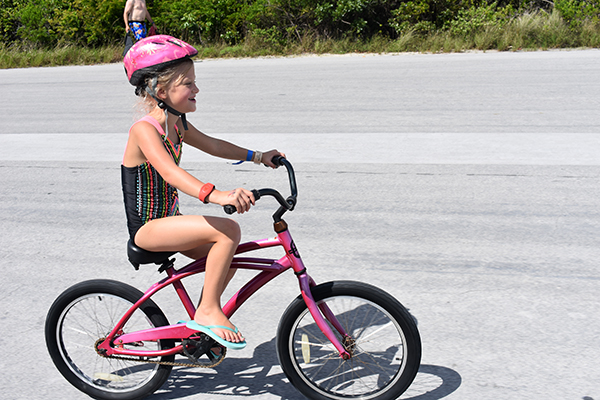 We loved riding bikes when we went to Key West, Florida so much that we decided to start our morning with a bike ride up to the top of the lookout point at Castaway Cay. It was an easy leisurely ride that all ages in our family could enjoy. We loved seeing the different areas and views of the island, and to be able to see everything from a bird's eye view. Bikes are rented by the hour for $11 each.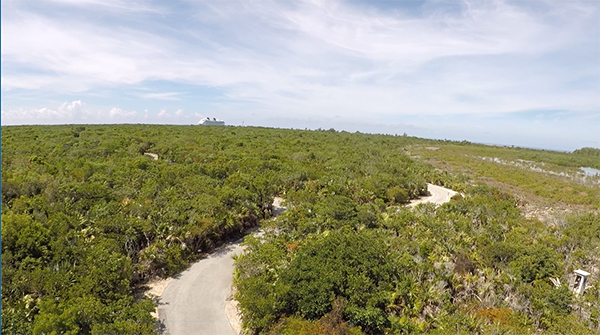 Be selective of the bike you choose. In fact, take a few laps with it before committing. Many of the bikes have tilted seats which are very uncomfortable and make it very difficult to ride due to a hunched back and a seat protruding in places where it shouldn't be protruding. I ended up with a bike like this, and we had to head back halfway because it was so painful. You don't want the wrong bike to spoil your perfect day at Castaway Cay.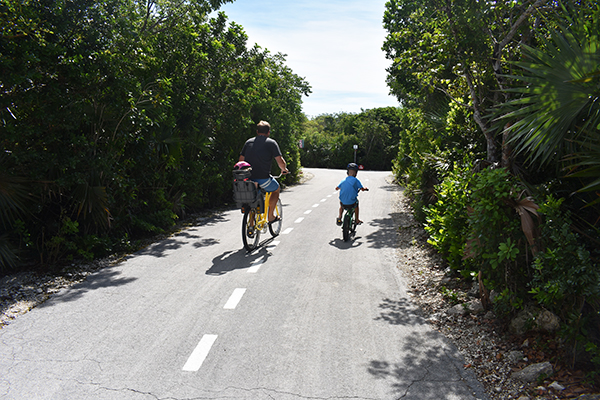 Other family activities at Castaway Cay include snorkeling in the 22 acre lagoon. You can rent gear on the island, or bring your own. Not only can you view sea life while snorkeling, but the lagoon is covered in sunken treasure and hidden Mickeys! The 5k Fun Run is also a great option for families with older kids. This run starts prior to regular debarking, and you aren't even required to run. You can walk the whole way and kids are invited to the 5k run with Mom and Dad too!
Alternatively, the island has a splash pad called Spring-A-Leak, or a sports deck for ping pong, billiards, basketball and more called In-Da-Shade. These are also great options for family activities at Castaway Cay.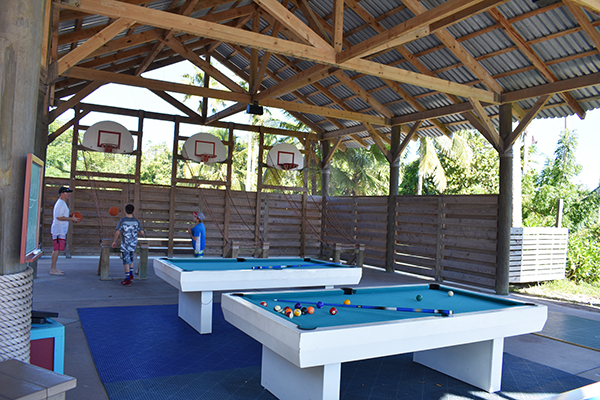 Play at Pelican Plunge on the Family Beach at Castaway Cay
After you've finished your family activity, it's time to head to Pelican Plunge! Not only is this the name of this stretch of beach, but it's also the name of the water slide on Castaway Cay. There are two slides at Pelican Plunge, one tube and one open slide, that both filter through one main line.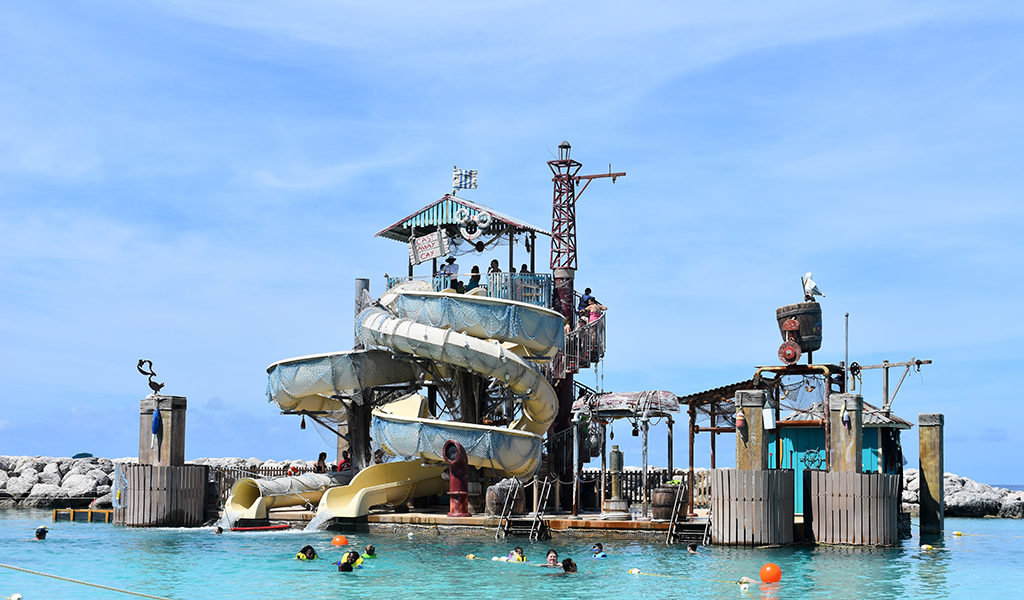 The ocean water is quite deep to get to the Pelican Plunge platform, and requires a bit of a swim to get to. Both slides are really fun, but the tube slide is quite a bit faster. The platform has additional water features to play with during the wait.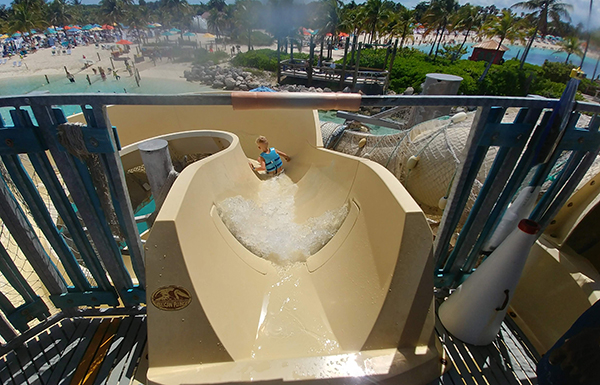 Although you aren't required to know how to swim, you do have to be taller than 38″ to go down the slide. Children between 38″ – 48″ inches are also required to wear a life jacket. This was really frustrating for our toddler baby, who wasn't tall enough to ride but who does know how to swim, especially when she saw other kids going down the slide that had to be caught by their parents at the bottom.
If your toddlers aren't tall enough to ride the slides, you can make your way to the other half of the family beach. You can resume your perfect day at Castaway Cay here with activities for all ages. Here you'll find a second platform for kids that want to test their strength across monkey ropes over the water. There are three areas with three different types of ropes to cross. Lines are short and move quickly with endless fun.
Both of these play areas close prior to end of day, depending on the tide and water levels. This is one reason it's extremely important to play here early in the day to utilize the fun these platforms have to offer. If your kids enjoy this, then you could think of water slide rentals in miami or elsewhere and have fun back home (assuming you have adequate space to set up the slides) as well.

Play on the Beach Until Lunch
There are two beaches on Castaway Cay. The Family Beach that occupies two stretches of beach and the Adult Beach: Serenity Bay. In addition to the platforms for fun play time on the Family Beach, there are also tube and float rentals, wild fish swimming in the water, and plenty of space to swim and dive and splash and play.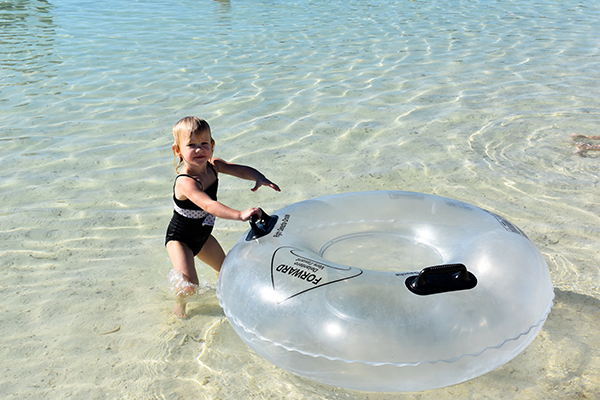 The Adult Beach on Castaway Cay, named Serenity Bay is kind of awful. You can either walk down the air strip to access this beach, or take a separate tram. The water is super shallow and covered in seaweed. There is very little area or depth to swim, and most people were just standing knee deep in the water staring at the horizon before heading back to the sand after a few minutes. It is quiet, and you won't hear any crying babies or toddlers, but it's definitely not the nicest beach.
Technically there is also a Teen Beach, albeit it's not on the water. It's since been named to the Hideout.
The Family Beach has activities on Castaway Cay for everyone and will keep everyone happy until lunch!
Eat Lunch on Castaway Cay at Cookie's BBQ & Cookie's Too BBQ
Lunch is served buffet style and is open from 11:30am – 2:30pm at no additional charge. You can eat as often and as much as you like during that time frame. Alcoholic drinks are also available for purchase.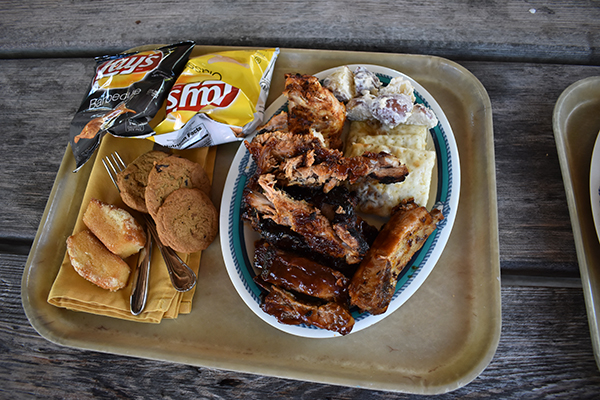 Cookies BBQ and Cookie's Too BBQ both serve the same food. A buffet of bbq ribs, hamburgers, cheeseburgers, hot dogs, chicken, potato salad, a variety of potato chips, fresh fruit, banana or coconut bread and cookies. If you eat on the Adult Beach, you'll find all the same options, plus a steak.
There is also a self serve drink station and a self serve ice cream station, just like on the ship.
Don't miss lunch. Stop all activities at Castaway Cay and make a bee line for the buffet. It's as delicious as the options on the ship and you don't have to leave paradise.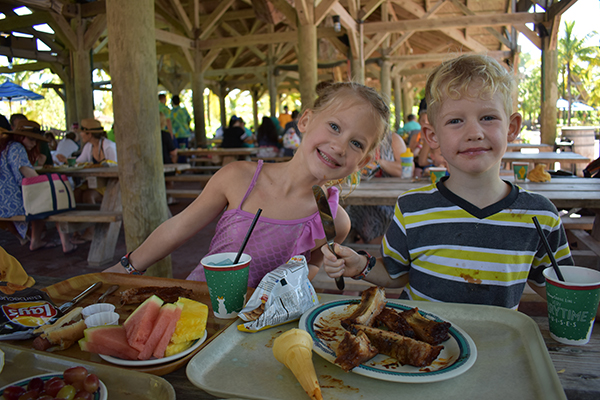 Send the Kids to Scuttle's Cove on Castaway Cay
After lunch, we recommend spending the rest of the day siesta style. While the kids are at Scuttle's Cove you have the rest of the afternoon to repeat some of your favorite activities at Castaway Cay sans kids. Like taking a nap on the beach, go shopping, or battle your significant other at ping pong.
Scuttle's Cove is the Kids Club on Castaway Cay. It's almost puts the Oceaneer Club and Lab on the ship to shame. Here you'll find a the most epic of sand castle building paraphernalia. There is a water station to get the sand just the right consistency, and there is every possible type of building tool and mold for your castle needs.
The Kids Club counselors will encourage water fights. There is a whale bones dig site at Monstro Point. There are sports, scavenger hunts, and all their favorite characters!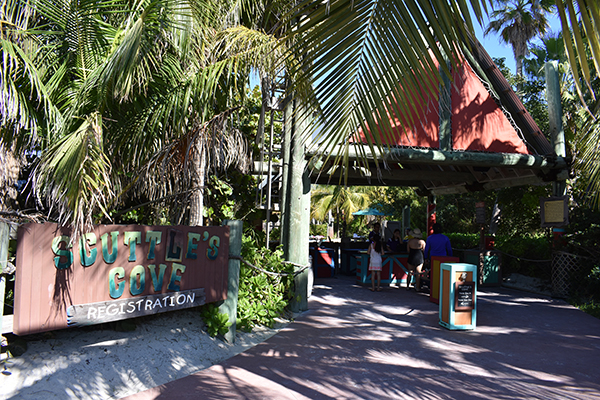 Cabanas, Characters, Shopping, and Everything Else
Of course, this isn't an exclusive list of everything there is to do on the island, but it does cover what we think are the most fun aspects of the island to give your family the perfect day at Castaway Cay. And, all activities on this list keep you on the island! With only a few hours to play you don't want to waste time off track.
While the kids are at Scuttle's Cove you can explore the rest of the activities at Castaway Cay! There are numerous excursions to partake in, Cabanas to lounge in, characters to visit, stores to shop at, sports to play, massages to melt into, and more.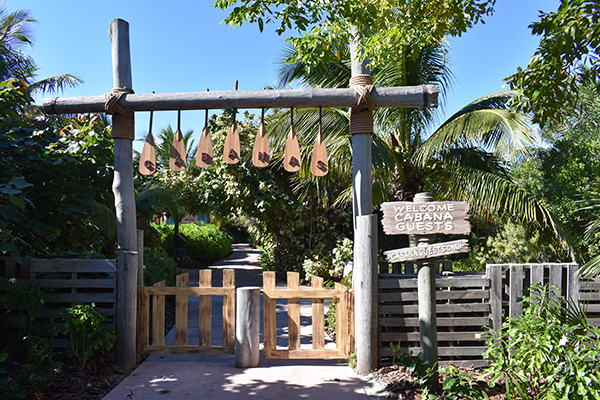 If there is anything to take away, it's this: Go early, the rest is easy.
►
For Kids
: No matter their age, everyone will love all the activities there are to do on Castaway Cay. It's the perfect idyllic Caribbean setting where everything is pristine, and nothing goes wrong. Scuttle's Cove is the ultimate in beach play areas, and Mickey, Goofy and friends are soaking up the sun right there along with you!
Have you participated in any excursions at Castaway Cay? We made the mistake of booking a glass bottom boat excursion and wanted to jump overboard. Now when we visit the island we simply opt to spend the day enjoying all the activities at Castaway Cay on this perfect island! We'd love to hear what we might be missing!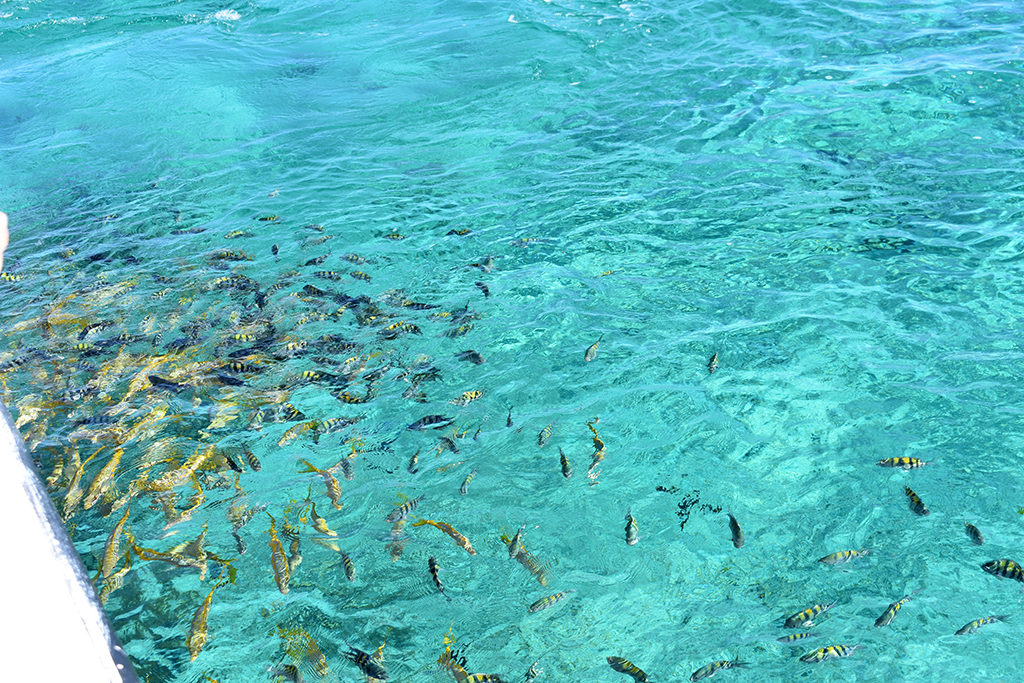 ►
Nap-Time Version
: The perfect family guide for spending the day at Castaway Cay, Bahamas: Disney's Private Island.
Looking for what else there is to do during your Disney Cruise either on or off the ship? We've sailed on three of Disney's Cruise Liners and we've got you covered with the Disney Magic, the Disney Wonder and the Disney Fantasy.