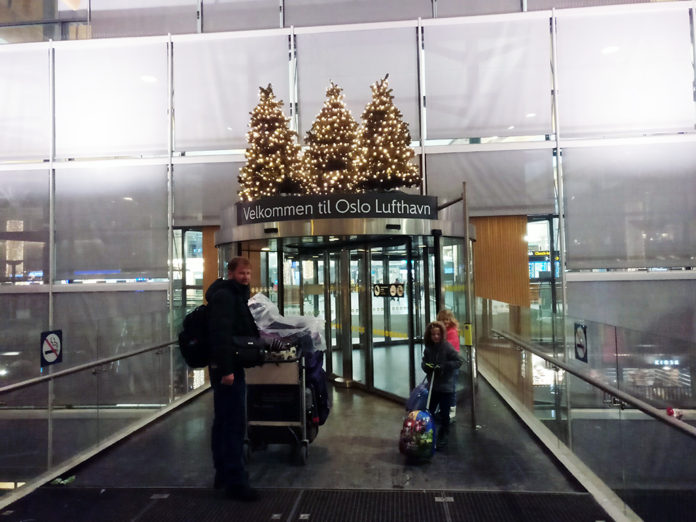 Our family trip to Norway was one of those standby adventures gone wrong, but one we probably should have known better to anticipate. I was stressed for weeks leading up to this vacation. We had three flights to take after disembarking the Disney Wonder cruise ship, and making our way to our Christmas destination in Norway. That meant three potential opportunities for missing a flight. We had just Plan A and Plan B to make it to Oslo Airport, OSL, in time for the one flight that would get us to Tromsø in time for Christmas, before everything shut down for three days including the airports. And once we made it to Oslo, our two plans dwindled down to one as there was just one flight from Oslo Airport, OSL, to Tromsø Airport, TOS, after our arrival time. Of course, the first rule of standby travel is having plans that cover every letter of the alphabet, and if you can't make 26 alternate plans then don't book your hotel and car rental in advance. We made both mistakes, and we knew better.
►

Ranking

: #stinkydiaper
Oslo Airport, Gardermoen
Edvard Munchs veg, 2061 Gardermoen, Norway
Phone: +47 64 81 20 00
Curfew: None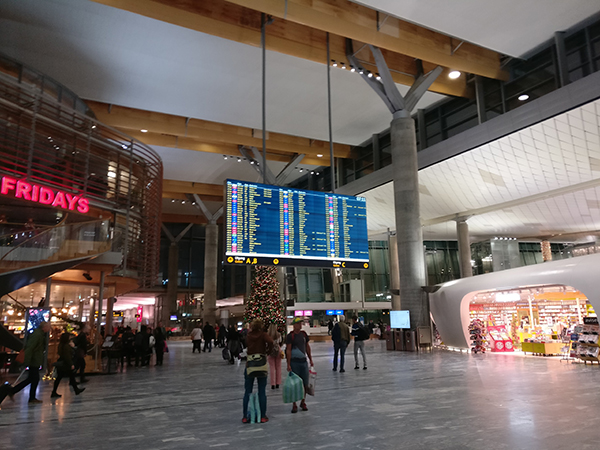 See we figured not very many people would be traveling to a cold weather destination, much less the tip of Norway for Christmas. Most people want to travel to the beach, or home, and it turns out we were mostly right. We had no trouble getting on a flight from Texas to Frankfurt, and from Frankfurt to Oslo. That is we didn't, but our baggage did. Not all our baggage, just our one suitcase that was full of all our Christmas presents for our children! Cue the emotional, not at all dramatic, tears.
Fortunately, the airline was sending it on the next available flight – but unfortunately, that flight didn't get in until after our flight left for Tromsø. They could send the bags on the morning flight to Tromsø, (the flight that we didn't have an airline agreement with) but there was no guarantee. We didn't know if we'd make the flight to Tromsø, let alone our bags. What if we made it, but the bags didn't? What if the bags made it and we didn't? What if Christmas morning came and we had nothing but our boots to leave out for Father Christmas?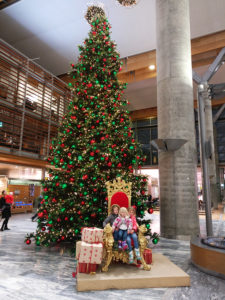 Turns out nothing and no one made it to Tromsø and we spent all afternoon, and a good portion of the early evening, at OSL. We were waiting to make a baggage claim, then we were waiting to see if we made it on a flight to Tromsø, and then we were waiting for our bags to come back to baggage claim after not making it onto the flight to Tromsø.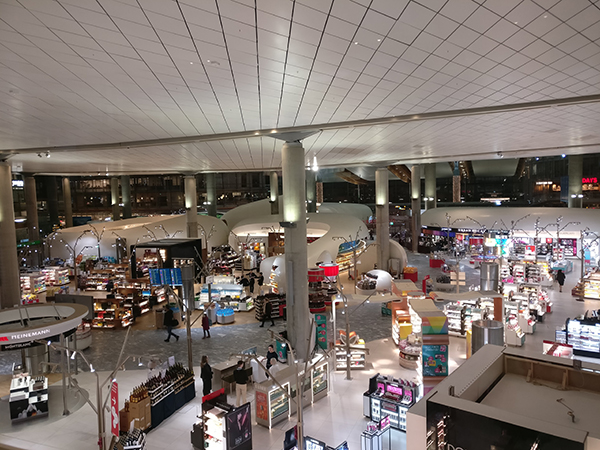 The Oslo Airport, OSL, is the second busiest airport in Scandinavia, second only to Denmark's Copenhagen Airport, CPH. The airport terminals are all interconnected and has a large centrally located duty free store. A large physical map of Norway is located on the ground floor with bright lights to mark each destination throughout the countryside, and there is a beautiful Christmas tree with a seat for Santa (though we never saw him). There is free wi-fi, a lot of places to eat, and Narvesen's galore (Norway's 7/11).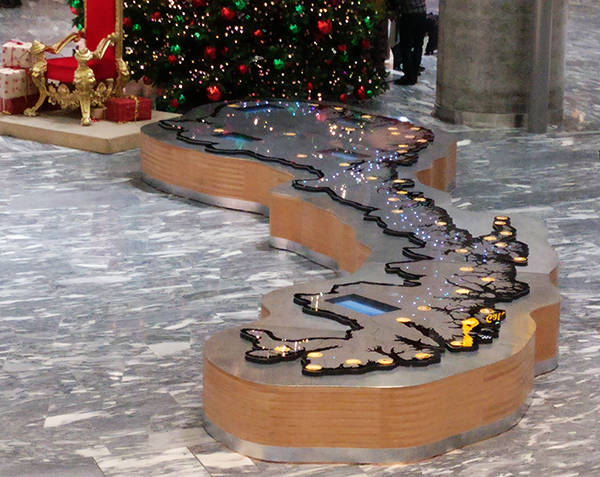 Once you exit the main hall, each departure hall looks like the next. Covered from ceiling to floor in the same light wood paneling. After a while it starts to play tricks on your eyes. The perimeter of the halls are constructed with large windows, particularly at the end of the corridor – for plane watching. Minimal seats occupy the main waiting areas in main Scandinavian fashion – high on utility, low on comfort. The airport all but shuts down for Scandinavian holidays, and don't expect to catch a flight anywhere in Norway from December 23-26.  
One of the most fascinating things we saw at OSL was how they operated amidst a snow storm. When we arrived back at the airport on December 26 to attempt to fly to Tromsø a second time, the snow was cascading down in sheets. Our aircraft was covered in at least two inches of snow, and like the rest of Norway the asphalt surface had transformed into a brilliant white. We watched as snowplows drove up and down the runways five plows deep in perfect synchronization. Aircraft were cleaned, deiced and sent on their way as part of a normal operation without any delays or hiccups.
►

For Kids

: There are beautiful lights throughout the airport and lots of pretty things to see and touch. Outside security, just past the baggage claim, you'll find a miniature aircraft play area for the kids. If you get bored, or are just interested, the duty free store has plenty of items for kids to beg their parents to buy them. There are plenty of places to eat including a pizzeria outside of security that will appease all hungry tummies.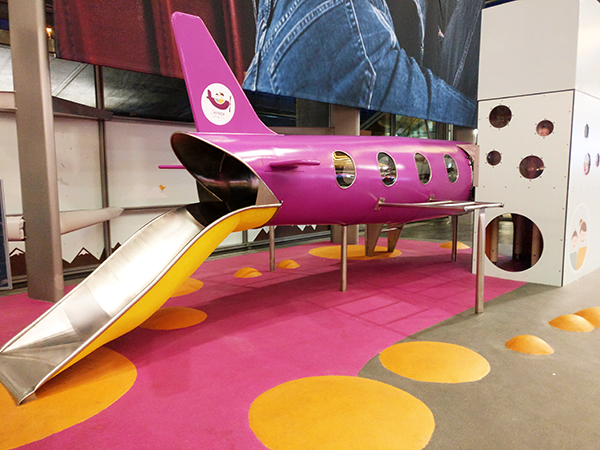 In hindsight, considering the money we lost on the airbnb we (previously) booked in Tromsø plus the advance car rental and then having to book a new airbnb in Oslo for Christmas, we should have just purchased revenue tickets on the flight to Tromsø. Before leaving Texas we found out there were three open seats on that flight. Knowing that most airlines oversell their flights, we could have easily bought five and saved ourselves the heartache. However, we still would have risked our Christmas presents being lost or stuck in Oslo until we returned over a week later! Considering we were hopping around from Oslo to Tromsø to Kirkenes, maybe things turned out just the way they should have.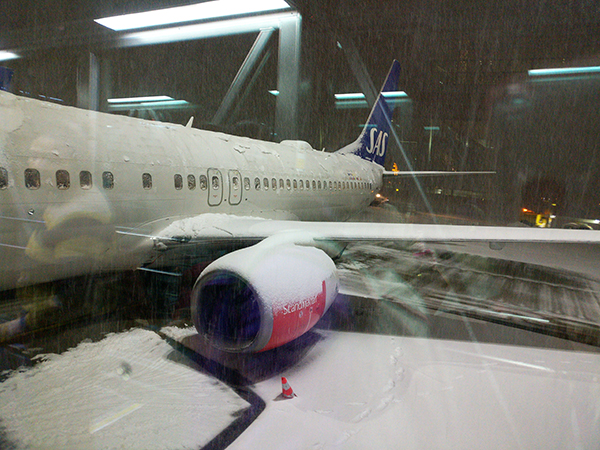 ►

Nap-Time Version

: That one time when the airline lost our luggage full of Christmas presents and we didn't get on a flight to Tromsø, Norway for our Christmas celebration and our family was stranded at the Oslo Airport, OSL, for the entire day.
The best part comes after we retrieved our luggage, thankfully, including our bag of Christmas presents with all our kids Christmas in it, and had to find a place to stay for Christmas at the last minute in a foreign city? Read next: Our Family Christmas in Norway Saga Part 2. Ultimately we were able to salvage Christmas. Read on to hear about how we celebrated a traditional Scandinavian Christmas in Norway last minute.