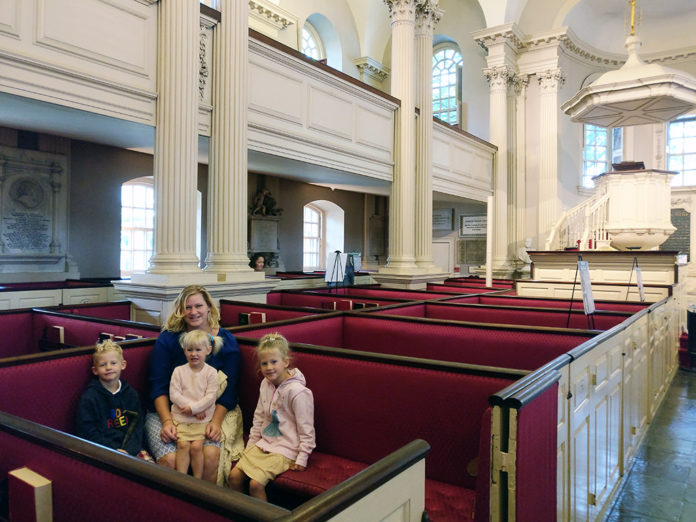 Going to church in the King's Chapel is like flying first class in a private suite on a fancy airplane. This is the way to do church. Rather than sitting in long rowed pews, you have a designated pew; and not just a pew but a square cushioned cubicle. We can just imagine how much more pleasant church would be in a private cubicle with cushioned seats where the kids could listen and play on the floor without losing crayons and markers three pews back, and bumping their heads as they try to escape and we try to pull them back by their toes. Of all the churches along the Freedom Trail, this was our favorite.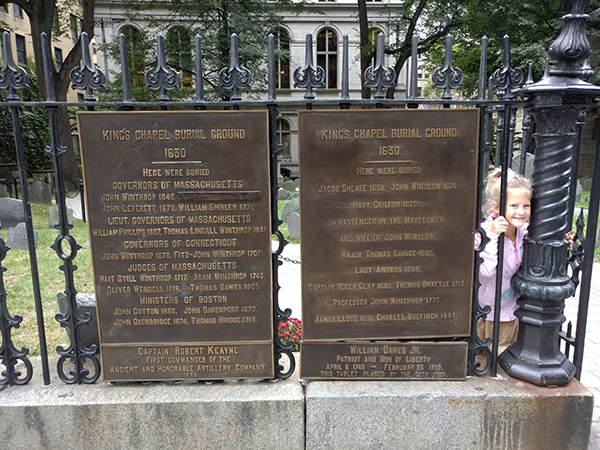 ► Ranking: #cleandiaper
King's Chapel and Burying Ground
58 Tremont St
Boston, MA 02108
Phone: (617) 523-1749
Hours: Monday – Saturday 10:00a – 4:30p | Sunday 1:30p – 12a
Price: Free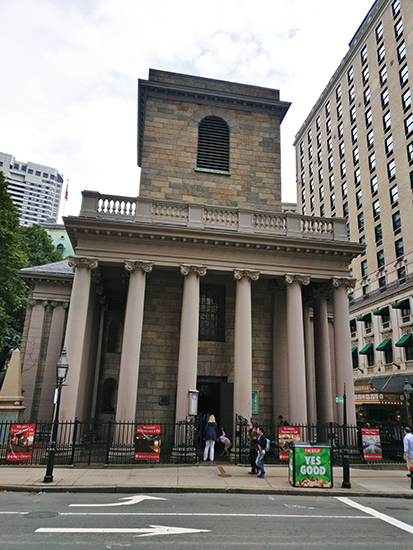 It's interesting to note the differences between Puritan churches and other denominational churches that we learned about along the Freedom Trail. Puritans were all business. Church wasn't a place to be enjoyed or comfortable. The pews in the puritan churches are cold, hard, and void of color or cushion. The Puritans came to learn about God, and that was that.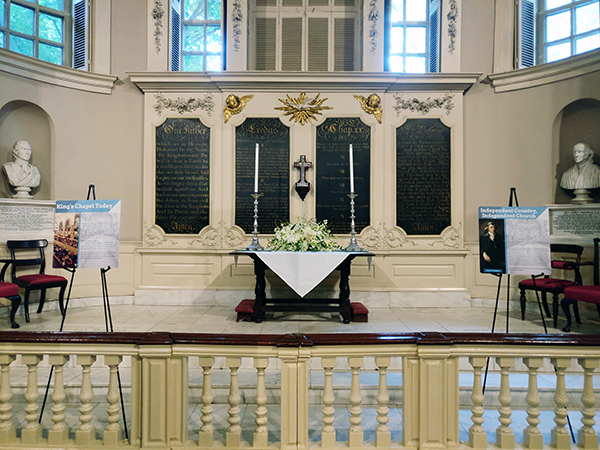 Churches like the King's Chapel are beautiful, warm and welcoming in contrast. The King's Chapel was built upon the adjacent burial ground because no one in the city would sell land to an owner wanting to build a non-puritan church. Though the congregation began as early as 1630 when Boston was founded, the church wasn't built until 1686. In less than 100 years the congregation grew to exceed the building and in 1754 the new granite church that stands now was completed.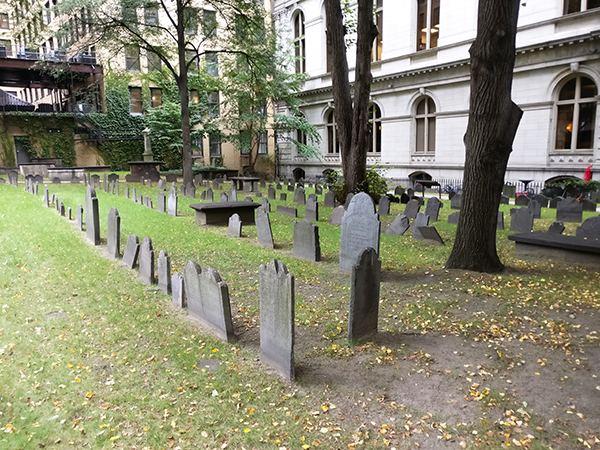 The accompanying burying ground contains the graves of the first governor of Massachusetts, John Winthrop, the first printer and publisher, Hezekiah Usher, and the first woman off the Mayflower, Mary Chilton. The grave is similar in layout and style to the Granary Burying Ground, though much smaller.
Some of the most interesting aspects of the King's Chapel Burying Ground include long air shafts for the subway system that resemble vertical tunnels. At first we thought they may have been dried up wells. Another point of note is that Paul Revere recast the chapel's original church bell in 1816, and he claimed it was the sweetest bell he ever made.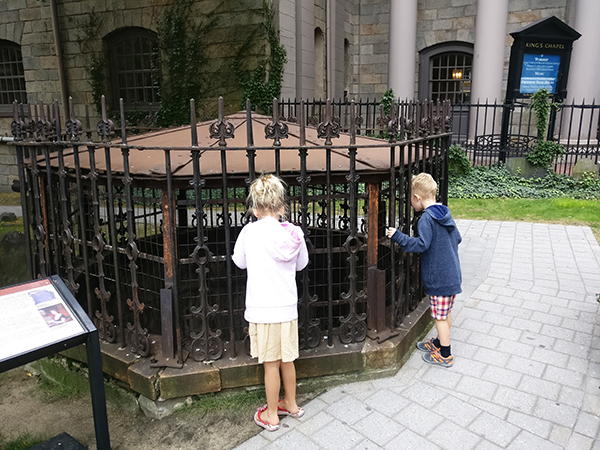 ► For Kids: The King's Chapel itself is the highlight of this stop along the Freedom Trail, but without the burying ground it wouldn't exist. This is a great world schooling opportunity to compare different faiths from as early as the founding of the United States, and for our children, to show them a different type of chapel where families own real estate as it were.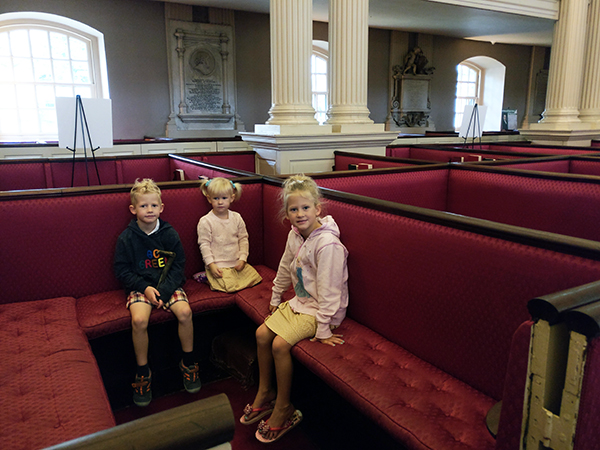 Are you an avid church goer? Does your church resemble the King's Chapel, or does it have a more Puritan type feel to it? We honestly want to replicate the King's Chapel at our home. We think it would entice our family to wake up earlier and more consistently on Sabbath morning singing joyfully. Seriously, who needs to sweat in church when you could lay down and take a nap?
► Nap-Time Version: Stop #5 & #6 on the Red Brick Freedom Trail: King's Chapel and Burying Ground.
Next Stop: Benjamin Franklin Statue & Boston Latin School