Hiroshima is a sobering city that amplifies the devastating effects of what it means to live in a war zone, and how that affects the human condition.
It is also a city that has risen from the ashes, not to forget its past, but to dedicate every day towards the promise of the future.
The city of Hiroshima is also in proximity to the island of Miyajima. Here you can walk along the beach with deer, touch the most famous Torii gate in all of Japan and hike to the top of Mt. Misen.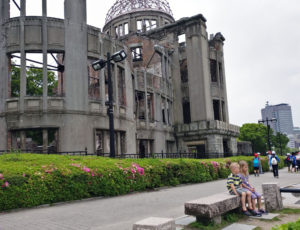 Sites and Attractions: 
Atomic Bomb Dome
Peace Memorial Park
Peace Memorial Museum
National Peace Memorial Hall
Miyajima Itsukushima Shrine
Gondola Ride to Mt. Misen
Okonomiyaki
Local Hiroshima airbnb
► For Kids:
An incredible place to teach them firsthand about the impact of war, and experience Japanese culture.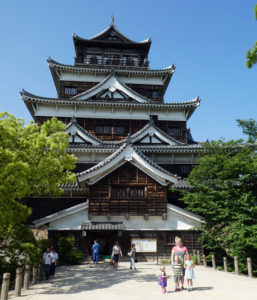 Check out all of our adventures including our Diapers On A Plane Japan Vlog, Tokyo and Kyoto.
► Nap-Time Version:
Find the remains of the Atomic Bomb Dome, the only remaining building standing after the US dropped a nuclear bomb on Hiroshima at the end of World War II. Learn about the rich history of this city, and head out to the island of Miyajima to see the most famous Torii gate and go for a great hike.