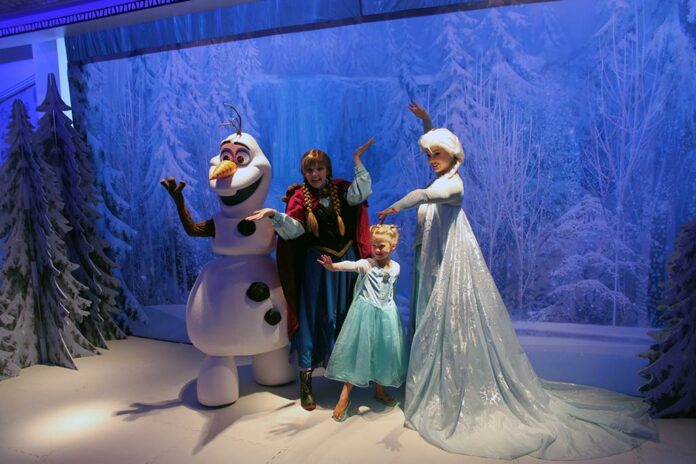 I've never in my life seen my five year old daughter so disappointed as the night we attended the Frozen Deck Party aboard the Disney Magic Cruise Ship. Disney was hoping the mere idea of Anna and Elsa standing in front of a crowd for a few seconds would have everyone peeing their pants with excitement.
That, at least, would have been mildly entertaining.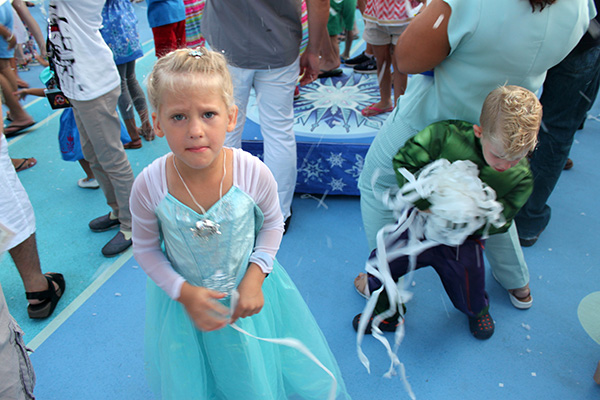 Frozen Deck Party
Freezing the Night Away with Elsa and Anna
Disney Cruise Ships
Disney Magic
Deck 10
The Night I Wish Never Happened:
Frozen Deck Party on the Disney Magic
Every Disney cruise has one hyped up event. This is the event they bill the entire cruise around. Sometimes it's a Marvel Day at Sea, sometimes it's a Star Wars Day at Sea; if you cruise at Christmas, Santa and Mrs. Claus come vacation in the Caribbean with you.
During our 12 night Mediterranean cruise, the hyped up event was our Frozen Day at Sea. Personally, I was most looking forward to fulling my life long dream of hiking Mt. Vesuvius. But my 5 year old daughter, who loves Elsa so much she's dressed like her every day for the last two years, was so excited for this special event. 
Who could blame her? It's Elsa!
Frozen Day at Sea Events
The Frozen Deck Party is a culmination of an entire day of fun frozen themed events that occur on the Disney Cruise Ship.
Frozen Ship

Chocolate Scavenger Hunt hosted by Anna

Meet and Greet with Elsa, Anna and Olaf in person

Complimentary Snowflake Necklaces

Festive Scandinavian Dinner
Frozen Ship
The entire ship is decked out with icicles and frozen paraphernalia. The transformation is really neat and offers a completely different experience from when you went to bed the night before.
Of course, by the next morning all the ice and snow have disappeared! It makes this special day feel much different than any other day!
Chocolate Scavenger Hunt
Anna has left clues with paper snowflakes all over the ship to lead you on a scavenger hunt. All you have to do is follow them and if you find them all, you can turn in your scavenger hunt answer sheet to redeem some chocolate.
The clues will be left in your room by your stateroom host the night before along with your Navigator of all the Frozen events to plan for the next day. You can complete the scavenger hunt at your leisure.
Meet and Greet with Elsa, Anna and Olaf
The tickets are free, of course, but you have to reserve a time slot online in advance of your sailing if you want to meet Elsa, Anna and Olaf in person on the ship.
Meeting the sisters is definitely the best part of the entire day.


At the meet and greet, kids can visit with, talk, take pictures, and use all the time they want to see the sisters. Elsa, Anna and Olaf were just as you would imagine. Kind, loving, fun, and they took the time to make this interaction with our kids really special.
Even for our son, who was dressed up like the Incredible Hulk.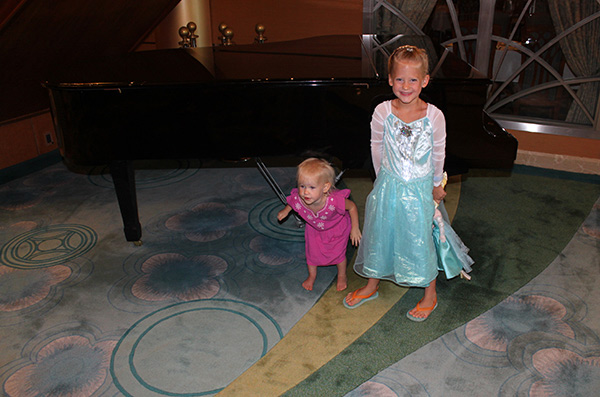 We've done a meet and greet with the sisters on two separate cruises now. Each time was just as special. On our second meet and greet, Elsa took one of my daughters by the hand, and Anna took the other, and walked them around the ship.
My daughters still talk about it to this day!
Family Hint: Try to get one of the last tickets for the day to see if you can recreate this memorable activity for your little ones!
Complimentary Snowflake Necklaces
At turn down service, your stateroom host will give your entire party complimentary snowflake necklaces that light up!
They are a great touch, and our kids loved playing with them!
Festive Scandinavian Dinner
Dinner is always themed on a Disney Cruise, but the night of the Frozen Deck Party is extra special.
The menu includes items found in Arendale's Norwegian Kingdom. Entrees and desserts the likes of arctic fish, cloudberries, cream cake, sausages and meatballs. Food on a Disney cruise is always phenomenal, and this is no exception.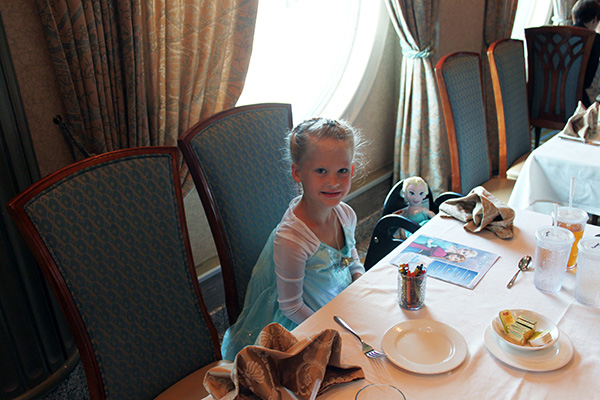 Then came time for the Frozen Deck Party. Party is definitely a bit of a stretch. Performance would be a highly inaccurate description as well. We'd call this phoning it in.
What should have been an exciting spectacle where Elsa dazzled the crowd with her white braided hair and infectious friendly smiles, and Anna told jokes and threw chocolate to the crowd, instead we got this:
Frozen Deck Party
The "show" if you can call it that, began with the crowd watching the Disney castmembers gyrate their elbows from side to side for a good 10 minutes.
Then Kristoff and Anna came out loudly exclaiming over and over that they had no idea where Elsa was! I guess this is the part of the show where they create a momentary feeling of despair, dashing every child's hope of seeing their favorite princess, only to mask how unimpressive it will be when she actually does show up.
Because of course, she did show up after a few Frozen songs. She only stuck around for as long as it took her to sing a shortened 3 sentence rendition of "Let it Go" and use her powers to create bubbles instead of snow.
That alone had my daughter asking us for weeks why she didn't just make real snow.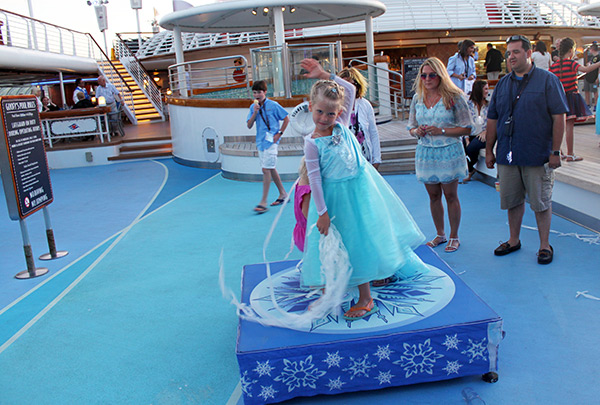 She exited before finishing the last note, and the rest of the cast followed her.
Everyone in the crowd stood looking at the stage dumbstruck at the lack of showmanship and production value. All we watched was a 10 minute condensed version of the movie, most of which involved guessing where Elsa was.
She's at the North Mountain, duh!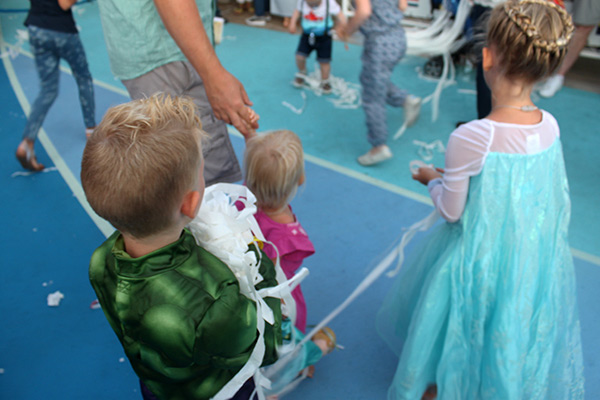 That was literally the entire show, and in fact, no one had wet their pants in excitement. 
Freezing the Night Away with Disappointment
I'm pretty sure the entire event was geared towards filling up all the empty appointments at the Bibbidi Bobbidi Boutique. 
…or…
Fulfilling a couple Disney castmembers dreams of dancing in unison on stage living out their fantasies of being an original Mouseketeer the likes of Justin Timberlake and Britney Spears.  
The one thing they did do was shoot out cannons of streamer confetti. Truth: my kids enjoyed playing with the confetti more than that pathetic and wretched party.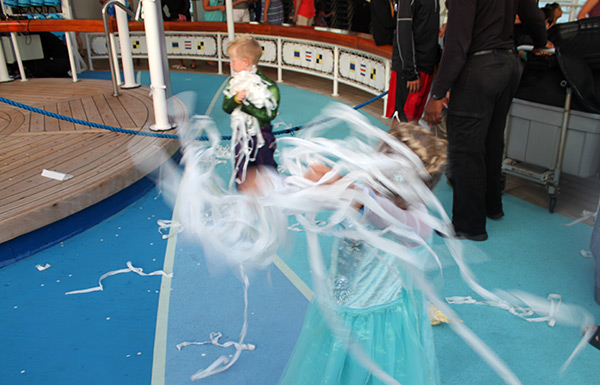 What Would Have Made it Better
Our kids weren't the only ones that ended the night in tears. The entire ship was full of disappointed toddlers, looking around confused and bewildered. 
First off, set aside a place for kids to get an exclusive chance to enjoy the magic. I understand there are plenty of adults who love Elsa, and want to be Elsa, but the children are the ones who still believe in the magic.
Block off some room up front for the kids to be able to watch the show without having to be hoisted up on their parents shoulders and peeking around the adult fan girls in the front row.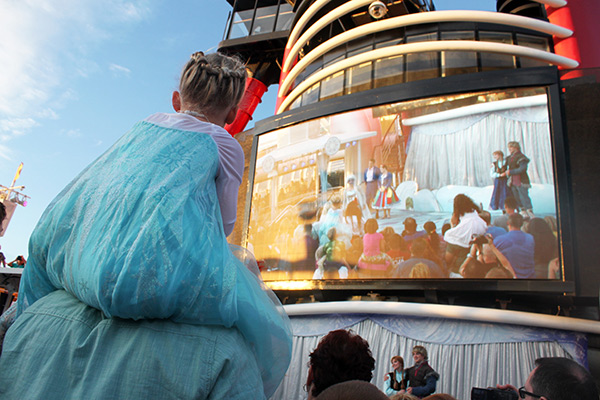 Secondly, party denotes some sort of interaction with the guests of honor.
Let the girls talk to the crowd
Have the sisters dance with the fans like during the meet and greet
Make things exciting by throwing some chocolate to the party goers, or scale down the scavenger hunt and have Anna lead it
Offer a Q&A
Tell us a new story about one of Elsa's new adventures (heaven knows there are plenty of books written about them)
Have the kids gather around the stage, like we do at story time with Uncle at Aulani!

So. Many. Wasted. Opportunities.
►
For Kids
: If I could take back anything we did on the Disney cruise ship, it would be attending this event. If my five year old twins couldn't enjoy it, it's time for Disney to up the ante as opposed to regurgitating the same movie scenes and songs and creating more hype for less production.
Have you attended Disney's Frozen Deck Party, Freezing the Night Away with Elsa and Anna? Did you freeze from excitement, boredom, or was your tongue just frozen speechless?
► What We Learned: Disney Magic doesn't appear out of thin air. Neither does snow in the middle of the Mediterranean.
We'd love to hear if you agree with Disney: This was the best day of your life!
…or…
You wish more than anything you could have that 30 minutes back to do something worthwhile. Let us know in the comments!  
►
Nap-Time Version
: That one time when Disney threw the world's worst event, and called it a Frozen Deck Party.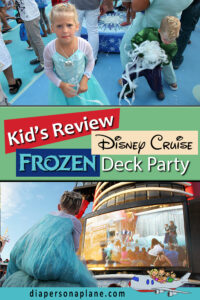 Check out the rest of the events on the ship we did love, like Pirate Night, eating tons of food, and awesome towel animals!