"Boy Howdy Howdy", is the one thing you'll have running through your head year after year when you think back on your stay at the Hotel Cheyenne at the Disneyland Paris Resort. It's like the song that never ends. Now, hear that in your head, and then add a french accent. It even sounds silly in your head. This is what we heard everywhere we went on this property.
Hotel Cheyenne
Disneyland Paris Resort
Rue du Bœuf Agile, 77700 Coupvray, France
+33 1 60 45 62 00
Reservations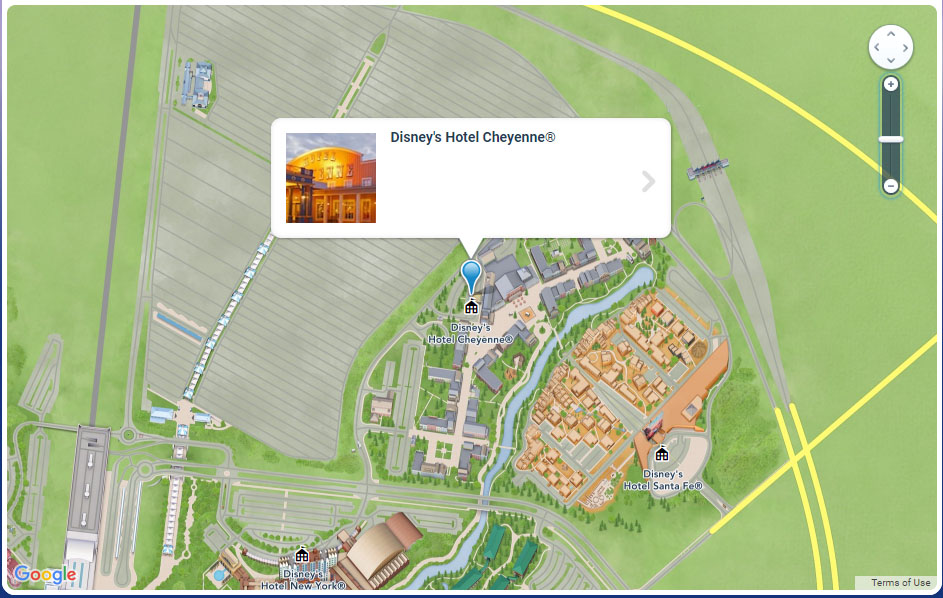 In a former life, Gabriel worked as a castmember for Disney at Avalanche Studios as a level designer. Disneyland Paris was one of the fun experiences we took advantage of during his tenure, including taking advantage of the hotel discount at Hotel Cheyenne.   
Disneyland Paris was also the first foreign Disney theme park we visited as a family and it definitely disappointed us! Womp, womp. Hotel Cheyenne was not much different. This wild west themed hotel is firmly planted in the value resort category.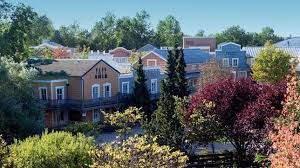 Paris was an unusual city in that the locals did not take kindly to our family. In our other travels we've been met with gracious welcoming, (except maybe Beijing, China) but here in Paris we were tossed around like wet lettuce leaves. It took us a full 4 hours to navigate the Parisian airport just to find the shuttle bus to take us and our kids from the airport to the hotel. That was a nightmare. We were exhausted, had twin 2 year olds to manage, and my four years of college level French did nothing for the gibberish that is the French language when spoken.
We finally made our way to the bus, after being led in a million different wrong directions by several people, only because we just happened to see someone else holding a sign that read "Disneyland". The bus was cheap, but most importantly it was accurate. Along the way we stopped at just about every other Disney property and most of them looked a lot nicer than the Hotel Cheyenne.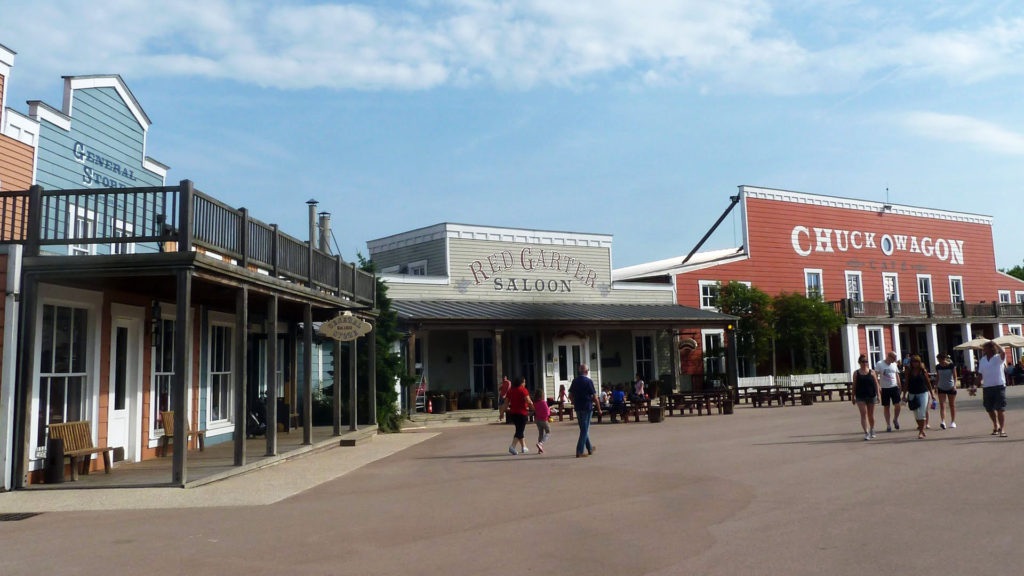 When we finally did arrive at this wild wild west locale, there were characters at the front entrance and they alternated every day from Chip and Dale to Jessie and Woody. The unfortunate part is that we were so exhausted, we forgot to take pictures, but it was a really fun experience for the kids. This hotel doesn't offer much, and what it does offer is on par with what you'd expect from an 1800's hotel in the wild, wild west.
The lobby of Hotel Cheyenne is the best part. It's got gold mining tools, old boxed crates and leather giant blocks for the kids to jump and play on. Gabriel spent a lot time trying to sort out his castmember discount with the hotel desk while the kids and I played, and since the hotel was over $200 a night with our 50% off discount, we were going to take as long as it took.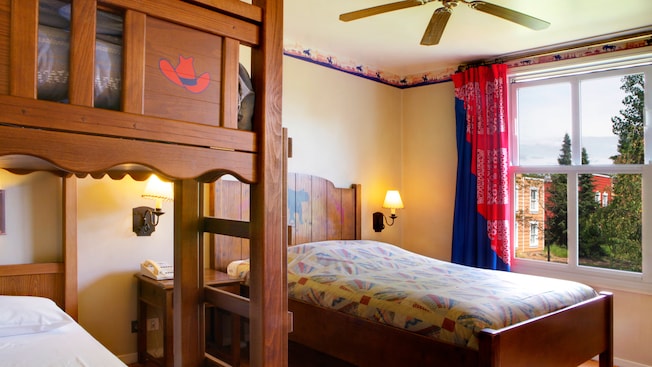 Our family stayed in a Rio Grande room which might have been the size of your closet. It held a miniature bunk bed, a full bed, and the tiniest shower you can imagine. The water in the shower sprayed everywhere, which I'm not even sure how that was possible as I distinctly remember there was zero water pressure. This was our first foray into European standards, and simply put, European hotels are not the same as US hotels. It's also important to note that infants in Europe do not stay in a room for free with a paying adult. They are considered a full fledged human being utilizing all the same resources. They also do not offer cribs.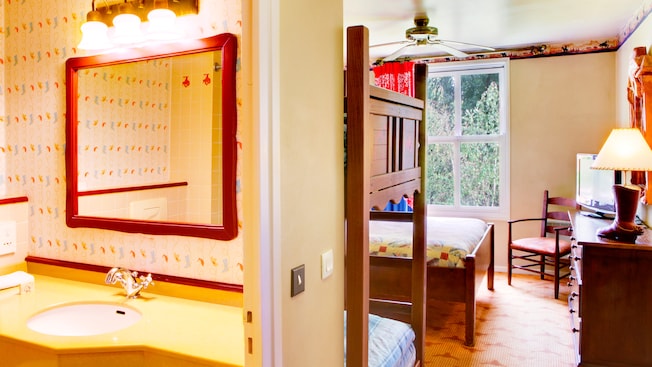 Granted, we don't ever choose luxurious hotels. We certainly don't choose hotels based on the comfort of the bed, or the thread count in the sheets. But this was something else entirely. I wouldn't mind it, but we don't spend much time in the hotel so it seems vastly unimportant compared to location.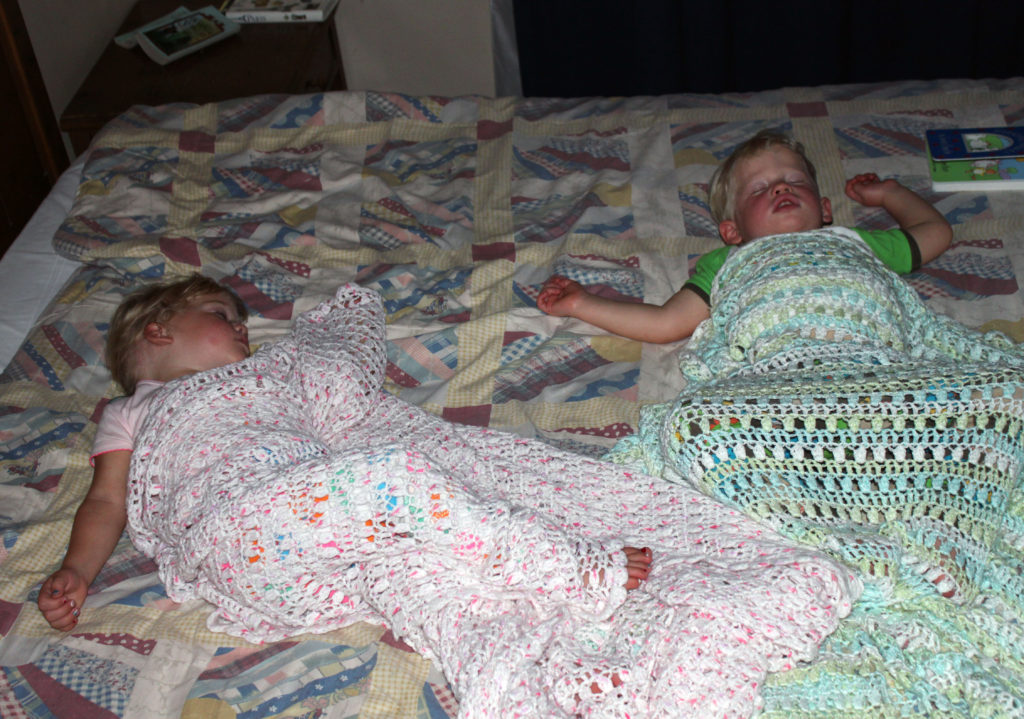 The exterior is a deserted waste land with a broken down wagon in the front. The backside of the property, along the dirt path to your room, is a canal of wasted space. There is literally no reason to go out there, other than it may be the only route to get to the exit. The façades of the buildings look like they are made out of wire mesh and paper mâché.
On the flip side, Hotel Cheyenne did offer a super yummy breakfast at the Chuck Wagon Café with a huge selection of fruit, pastries, cheeses and sliced meat, and juices. At one end of the restaurant was a huge stacked tray holder. You simply pile all your dirty dishes onto your tray and then slide it into an empty slot. It reminds me of grade school. To top it off, our breakfast was included! I'm not sure how that happened, but it was a great complimentary addition to our lackluster hotel.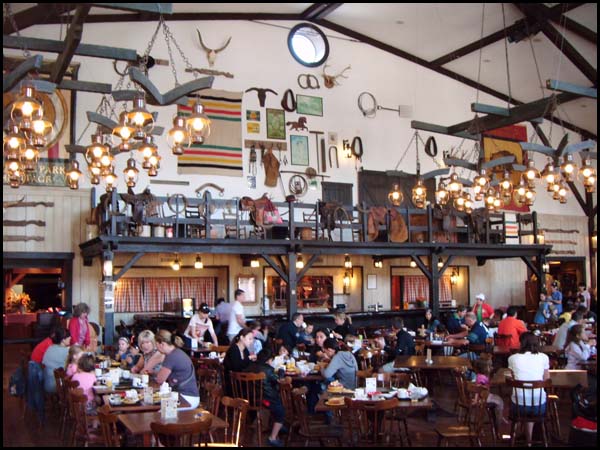 The hotel also offered a complimentary bus to/from the parks which was about a 15 minute ride from the hotel and dropped you off right in front of the Métro station. This was incredibly convenient. Every morning we would take the Disney bus to the Métro and take the Métro into Paris. After seeing the sites for the day our family would take the Métro back to the parks, visit the parks until closing and then take the free shuttle back to the hotel.
► For Kids:
 While I know our kids didn't mind, there are better choices.
Have you stayed at the Hotel Cheyenne, or maybe a different property at Disneyland Paris resort? Tell us all about it! We'd love to hear it. Check our our review for Disneyland Paris!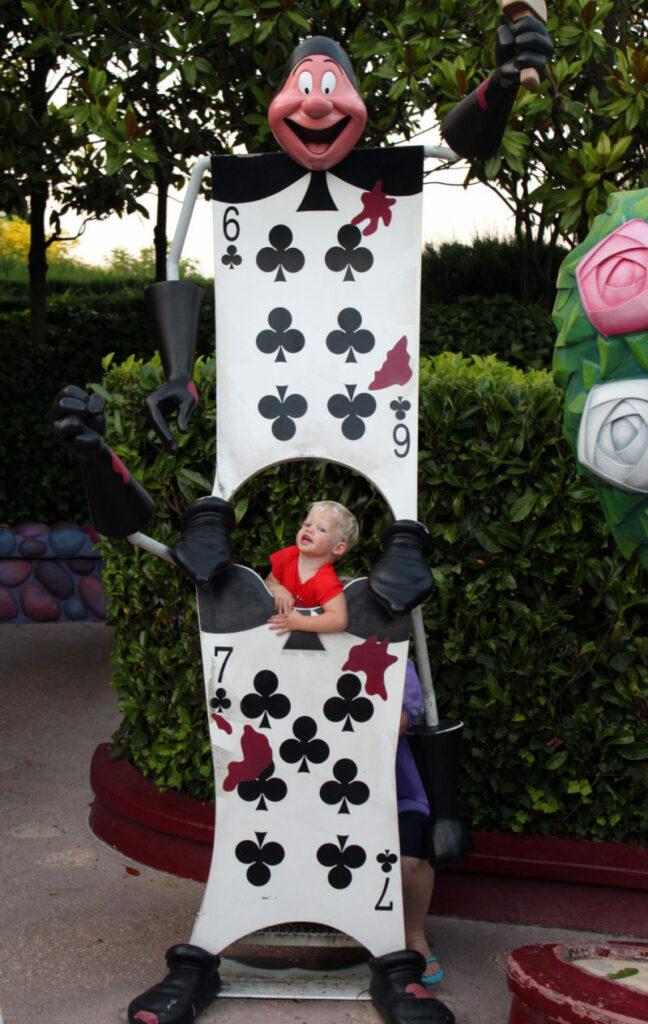 Also see which Disney park is the best, and how we rank them across the globe. 
► Nap-Time Version:
Dusty hotel with a wasted feel to match the old western theme. For $400 per night, I'd take my kids to stay elsewhere.
It looks like they've since made some major improvements to this property. It would be interesting to see how our previous experiences matches up now.