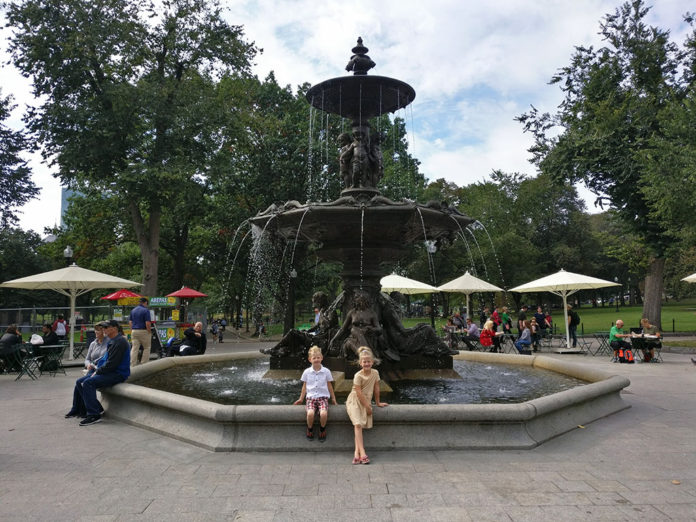 The first stop on the Freedom Trail is Boston Common. This 50 acre park in the center of the city has a playground, visitors center, restaurants and food trucks, frog pond and is adjacent to Boston Public Garden home of the famous swan boats and where Mr. and Mrs. Mallard make their new home with 8 baby ducklings. It is the first stop on the Freedom Trail because it was originally the place where Boston's first white settler, William Blackstone made his pasture in 1622.
► Ranking: #cleandiaper
Boston Common
139 Tremont St
Boston, MA 02111
Hours: 7a – 9p
Phone: (617) 635-4505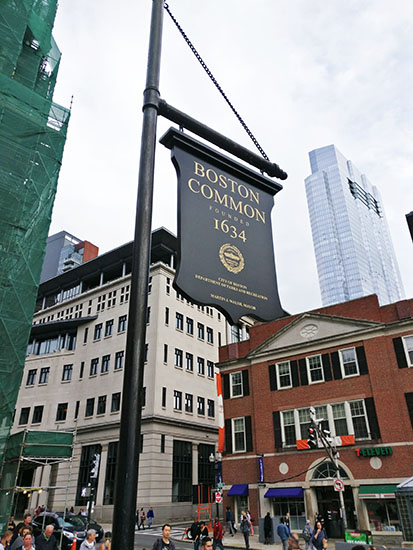 If there is one thing we learned during our stay in Boston, it's that the puritans aren't looked on too fondly by most. Eight years after Blackstone arrived, the Puritans came and set up their villages across the river in Charleston. But, they struggled. They couldn't supply their people with enough clean water, and so Blackstone stepped in to help. The Puritans immediately took over the land known as Boston Common and effectively seized it from him. Years later, they finally thanked him for saving their lives and gave him back his own land.
Perturbed, and for good reason, Blackstone donated the land as Common Land and said good riddance. He moved to Rhode Island and the land since has been used for a number of purposes including a training field for the militia, an army camp, burial ground, and the town gallows.
Since 1971, every Christmas Nova Scotia donates a large Christmas tree to Boston as a thank you for their help after a large explosion decimated Halifax in 1917. The tree is placed in Boston Common and lit during the season as part of the city's holiday traditions. Every Halloween Bostonian's gather together for a giant pumpkin lighting ceremony. In 2016, 30,128 pumpkins were lit simultaneously breaking the World Record for the most pumpkins lit in one place at the same time.
We found the Boston Common a beautiful gathering place. There is a fountain near the visitor center where people congregate and visit. This fountain is a replica of the fountain made for the World Fair in Paris is 1855. Food trucks like Cookie Monstah' have permanent standing, and children play in the nearby playground. During our visit, the grounds were still covered in a vibrant shade of green with the leaves just beginning to turn golden. 
►

For Kids

: This is a fun site. Most of the history here is hidden and told in story form only. The gallows are the one remaining visual site of historical, but ghastly importance. Before starting your journey, stop by the Tadpole Playground, a large fun outdoor playground for all ages. Be sure to take a potty break and start with a treat from the food trucks. There is something for everyone.
This is a site known for many famous visitors, and has promised to give everyone a voice. From Rev. Martin Luther King to Pope John Paul II, many boisterous and important speeches have been delivered and heard here, sure to catch the ear of government officials just up the hill at the New State House. What did you think of Boston Common?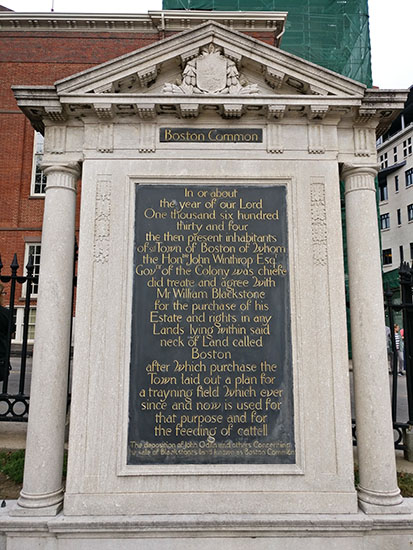 ►

Nap-Time Version

: Boston Common – the first stop on the Freedom Trail.