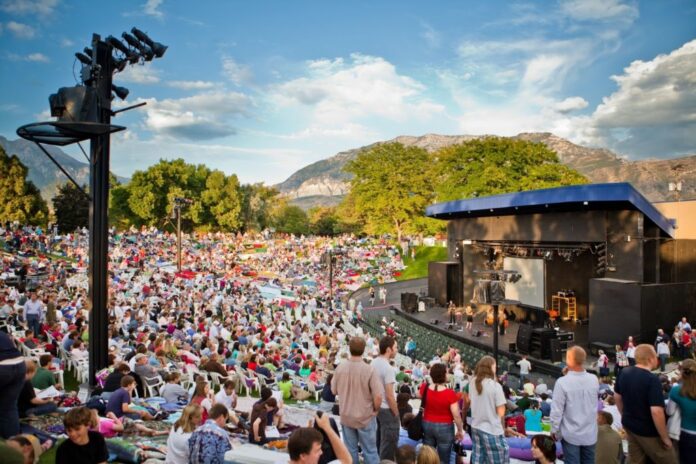 It was a bit chilly, as nights often get living in the desert valley enveloped by dignified mountains; the same kind of chill you often get when anticipating something extraordinary. The kind that even makes you shake a little bit from excitement. But…, by the time the crowd yelled in unison: "Are you Roger Moore?" we were fully warmed and kept so by bellied laughter and hysterical stories.
I'm talking about 'Laughin' Night' of course, part of the Timpanogos Storytelling Festival held annually in September in Utah.
► Ranking: #cleandiaper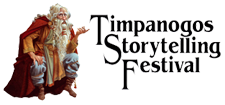 Timpanogos Storytelling Festival
Ashton Gardens at Thanksgiving Point
Facebook
I've never quite felt so at home, surrounded by those who love to tell stories and those who love to hear them. I was fortunate enough to attend the Timpanogos Storytelling Festival and truly loved and appreciated every aspect of this remarkable event. This event draws huge crowds through the three days, and one step inside one of the storytelling tents and it's obvious why. These are no ordinary storytellers. They are master weavers of intricate and detailed dramas, contortionists, comedians, and performers.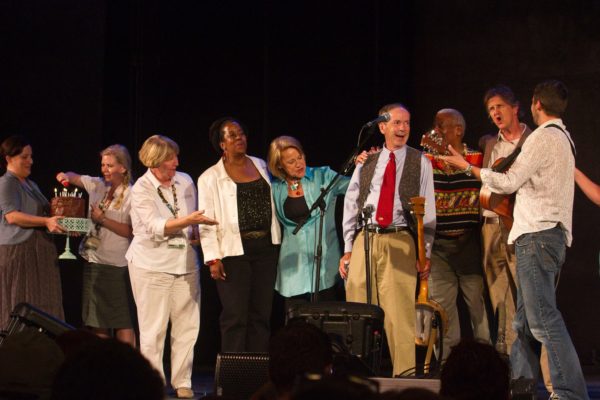 Some of my favorite highlights of the Timpanogos Storytelling Festival include John McCutcheon's moving folk song, "Streets of Sarajevo". His song never fails to bring to me to tears. This incredible tribute honors inspired cellist Vedran Smajlović, who sat on a folding chair for 22 days in the carcass of a bombed bread building, during the siege on Sarajevo in the 1990's. Every day he played Tomas Albinoni's Adagio on his cello to honor 22 men, women and children who were killed by a mortar shell while standing in line waiting for bread.

Remember there is beauty, no matter what they say.

The music midst the madness

The courage to be kind

The long forgotten beauty

We thought was blown away

In the streets of Sarajevo everyday."
The Cellist of Sarajevo is next on my reading list. 
Carmen Agra Deedy sharing her story of finding her first treasured book, and then simultaneously having to wrench it first from the trenches of the nosy and brainy Librarian and then, again from her own mother! Her mother actually expected her to choose sleep over reading! Carmen has been compared to Ricky Ricardo, and her stories are like no other – complete with Cuban accent, hyperactivity and adventure. She's not afraid to let it all out when she takes the stage and her enthusiasm is contagious.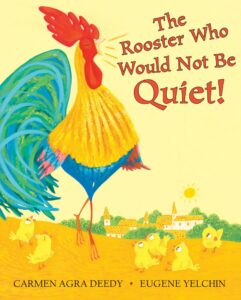 Syd Lieberman pretending to be Sean Connery, but disappointingly being mistook for Roger Moore! We were fortunate to hear Syd both during the days festivities, and in the evening at 'Laughin' Night'. Syd is a captivating storyteller and has a way of becoming his story, rather than simply telling it. He creates a remarkable experience for the audience, and leaves you grinning from ear to ear.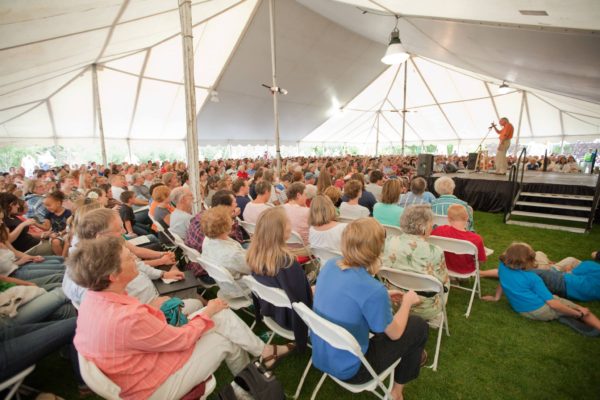 Bill Harley animating the crowd to whine in harmony. Bill is a crowd-pleaser! I don't think he could disappoint if he tried – I'm sure he would be entertaining even in failure! We loved whining all together, from all the children in the adults including all the adults. We didn't even mind one bit when he interrupted his song to tickle us with entertaining stories. So…, what are you a baby about?
► For Kids: Every story teller and every story is a delight for young and old alike. Stories range from poetry to puppetry and everything in between. This is a gathering place for folksy innocent fun where storytelling is the name of the game. The Timpanogos Storytelling Festival is the perfect outlet for creative energy and sharing with children exciting ways to enhance their imagination and share their passion for entertainment.
Who is your favorite storyteller? Our family likes to live by the idea that regardless of the outcome of any particular situation, in the end there will always be a good story to tell. As an adult I think we often forget that stories aren't just meant to be read in books or blogs, but they are meant to be told and listened to! They are meant to be heard, and shared and enjoyed as a community.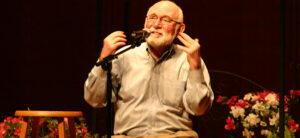 ► Nap-Time Version: We had a thrilling time at the Timpanogos Storytelling Festival and can't wait to go back next year!
Check out some of our other favorite things to do in Utah!