Nothing on the Disney Cruise ship is as ludicrous as the thing they call Shutters. Shutters is the Disney cruise's version of a photography gallery for all the guest photos taken on the ship. Yes, like at Walt Disney World you'll find photographers poised and ready to take your pictures all around the ship, with all the characters, and doing all the fun things you love. But unlike at Walt Disney World, there is no set price of $169 for every photo of your entire trip. These are all individually priced, and the sticker shock might send you overboard.
►

Ranking

: #stinkydiaper
Shutters
Disney Cruise
Disney Magic and Disney Wonder
Deck 4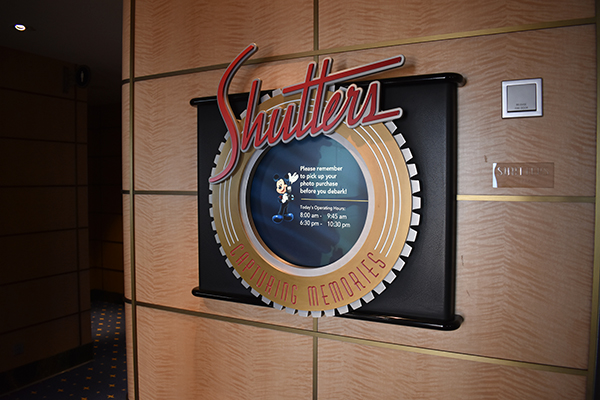 Disney is notorious for overcharging you for everything from entrance tickets to drinks, so this should come as no surprise. But the thing is, Shutters is outsourced. They aren't Disney, and that irritates me to no end. You will find Disney castmembers that stand alongside them, and they will gladly take your family photos for you with your own camera, but you'll also have to have a picture with the Shutters crew which isn't necessarily a bad thing. It works much the same way in the parks, but it still bothers me because it isn't Disney.
Shutters photographers aren't just poised around the ship taking your family photos with characters. In addition, they will place backgrounds strategically around the ship for pirate night, the captain's meet and greet, formal night and more, for you to take more formal studio like pictures to capture all your memories aboard the cruise. However unlike with characters, in those instances, you cannot take your own photos. They can also be found at the port stops – especially on Castaway Cay.
The most absurd part? They have an actual studio on the ship that you can book for family portrait sessions. And, it's only $500 for 30 minutes!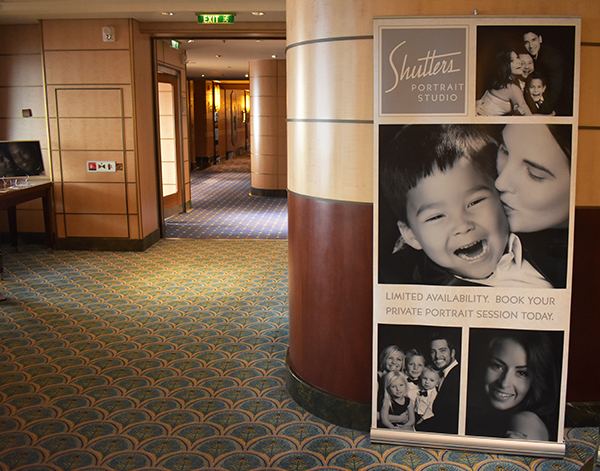 At any time on the ship you can view your photos in the gallery on Deck 4. Each time you have your photo taken the Shutters photographer will scan your Key to the World card, other times the photographers will find you at dinner, or on the pool deck. Photos are based off of facial recognition in connection to your Key to the World card and you can find them all at the digital kiosks. From here, you can connect staterooms, and delete photos that are seriously offensive based off of poor facial recognition.
Inside the Shutters gallery is where you can view all your photos and create the package you want to buy. If you simply want to view your photos, there is no obligation to buy. Photos are sold individually, or as a photo book that include up to 10 pages. Prices range from $15 per photo, to $200 for a bulk package of 20 photos. There are also opportunities to win a rare photo or two if you play Bingo, or attend a DVC presentation. Should you decide this is something you want you must make the purchase before disembarking on the cruise. Shockingly, the studio is packed the last night of the cruise. 
If are keen on getting a Shutters package, you can receive a small discount by pre-purchasing your photos in advance on the Shutters website. Purchases must be made no later than 24 hours prior to the first night date of sailing at My Cruise Photos.
►

For Kids

: We all love photos, but you've save a lot of money and take a lot more photos over several years if you just buy a nice camera yourself.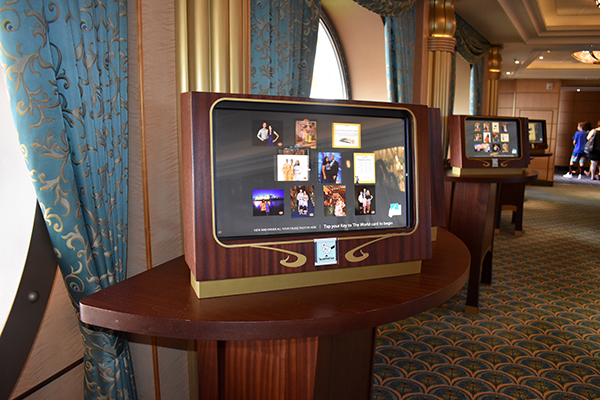 We always buy the Disney World photo package, but we walk away with hundreds of photos! We just can't stomach the cost of this extravagance. What are your thoughts on it?
►

Nap-Time Version

: Run-down of the process of buying absurdly priced photos on a Disney cruise ship.
What else is there to do on a Disney Cruise that won't cost you a fortune? Swimming is free, so are the Kids Clubs, and eating (thank goodness)!