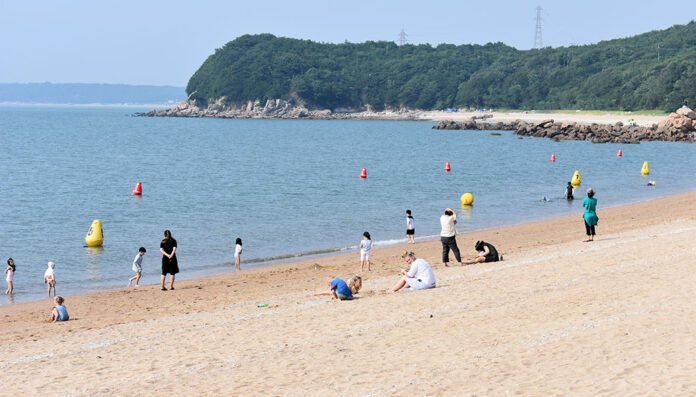 So far we've lost a phone at a restaurant at the Hyundai Premium Outlets, a backpack on the Subway, a scooter at a Subway station, and now a phone in a taxi cab. Korea is too good to us and every last item has been returned to us by day's end. Nevertheless, we've got to stop doing this and get our crap together; which we won't – let's not kid ourselves. Along with leaving my cell phone in a taxi cab, we went to the beach. Muuido Island, to be specific, which is a tiny island located off the western coast of South Korea. We'll call today: A Day of Mistakes on Muuido Island, because losing my phone isn't the only mistake we made today.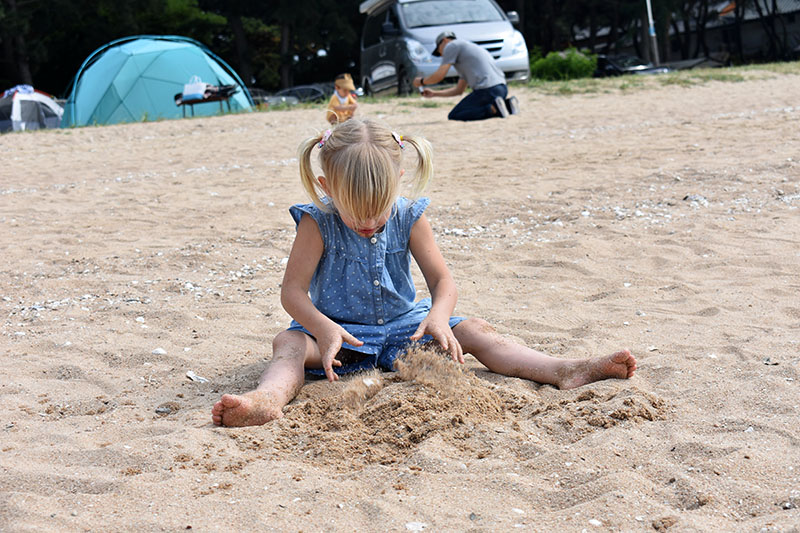 Day 52 South Korea Family Travel Journal
A Day of Mistakes on Muuido Island
무의도
► Ranking: #cleandiaper
Muuido Island
310-11, Daemuui-ro, Jung-gu, Incheon
인천광역시 중구 대무의로 310-11 (무의동)
Hours: 24/7
After a quick search we discovered that from Yeongjongdo Island (where the airport is) you can hop on a quick five minute ferry over to Muuido Island and spend the day frolicking in the sand, playing on the white sand beaches of Korea and soaking up the sun like a proper summer should be spent.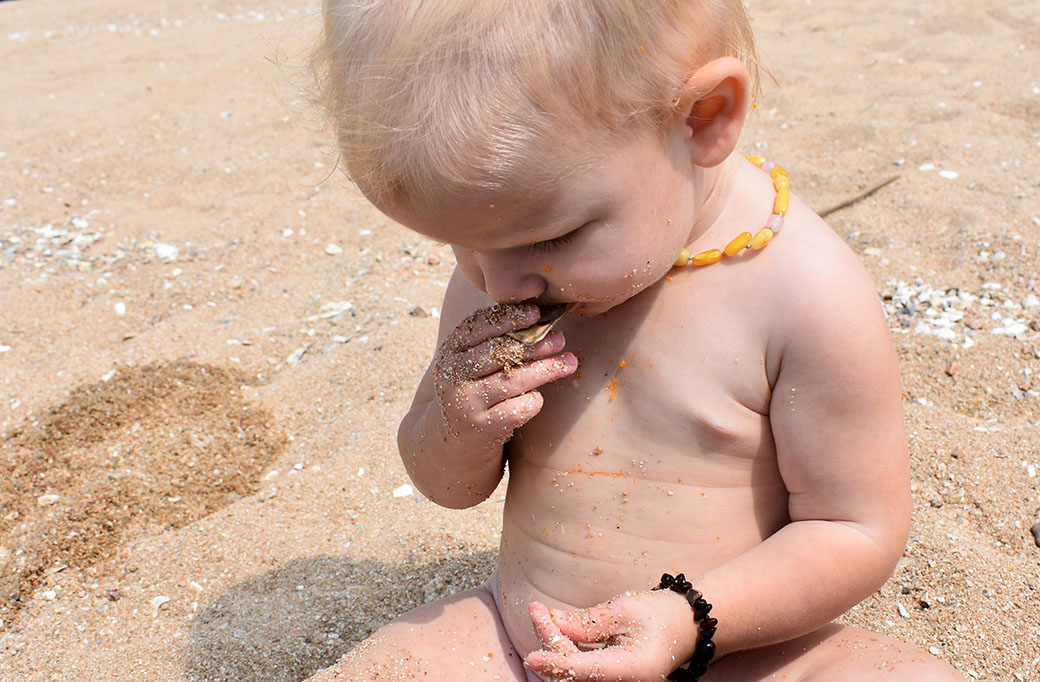 We called a taxi from the Incheon Global Campus and in a short 30 minutes, and crossing the 7 ½ mile bridge from Songdo, we were there.
The coast of South Korea is dotted with islands. Technically, Incheon is an island itself. Then of course there is Jeju Island where we spent a week in June, but closer to the mainland are small, lush and tropical paradises such as Muuido Island. It's famed for camping, horseback riding on the beach and hiking. Notice, none of these activities include swimming.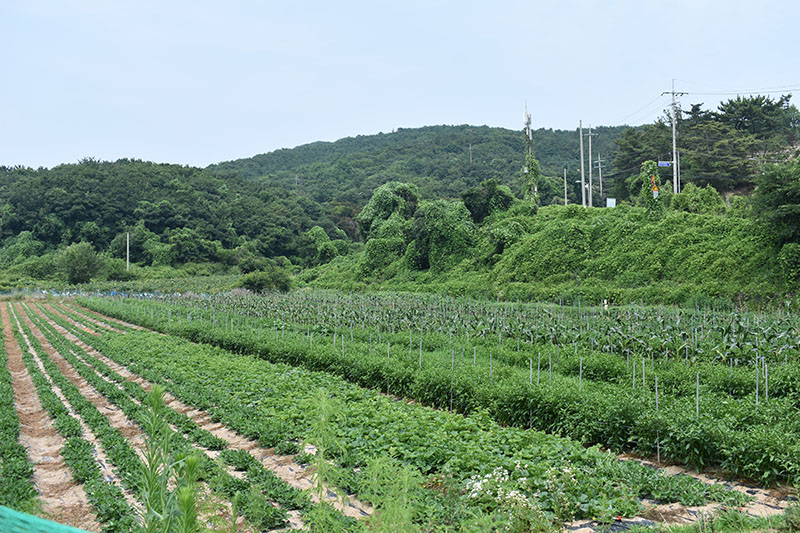 Swimming is considered a useless skill by Koreans, where the majority of the population does not know how to swim. When I say majority, I mean very, very, very few people know how to swim in South Korea. It is shocking actually. Pools are never more than 1.5 meters/5 feet deep, and children's pools are never more than .5 meters/1.5 feet deep. Adults wear life vests in water that doesn't even reach their knees.
Korea is a nation where studying and learning takes precedence above all else. The term hagwon means cram school. It's socially normal to spend 16 hours a day at an institution and then go home to study. From our observations, outside of the hagwon, any free time allowed is spent shopping.
Our family planned on swimming on Muuido Island, and with summers as hot as they are in Korea nothing sounded better than stripping off all my clothes and jumping in the water fully submerged. But here in Korea, not only is this a culture where they do not swim, they don't wear bathing suits either. They are either covered head to toe in a wetsuit or wearing hoodies in the water underneath a life vest.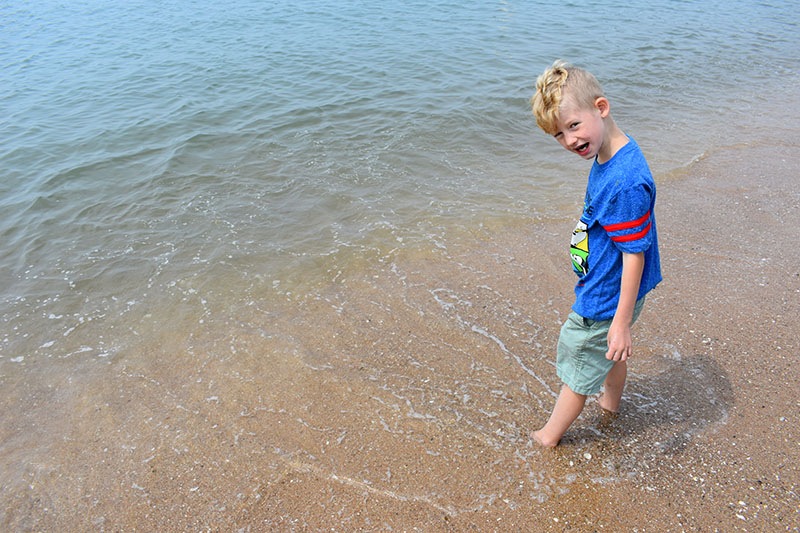 Of course, we had to get to Muuido Island first. We asked our taxi driver to take us to the ferry dock, but as it inched closer along the GPS map we were following on our phone,  the taxi driver was preparing to cross over a bridge taking us far from the ferry dock where we wanted to be. Gabriel kept telling the driver we wanted to go to the ferry dock, and the driver appeared confused. It turns out he wasn't confused because he didn't understand what we were trying to say, he was confused because there is no ferry dock.
This was our first mistake on Muuido Island.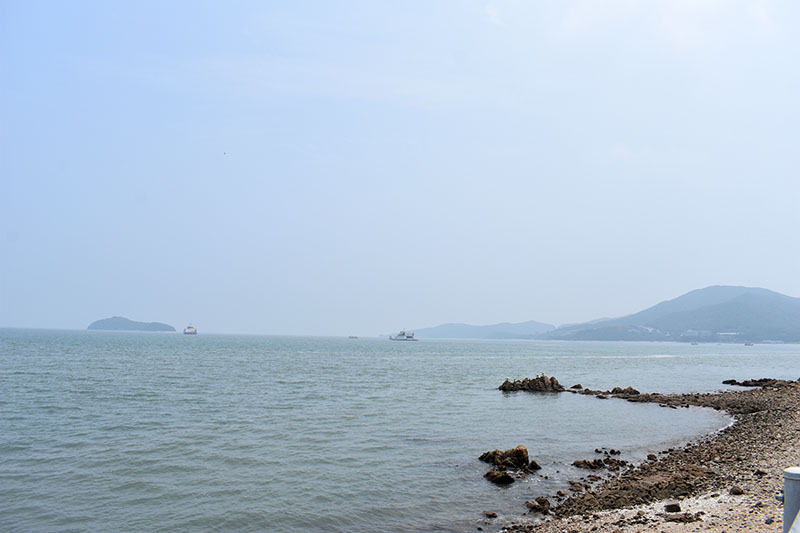 The internet has no updated information regarding how to get to Muuido Island, until now. You are reading it here: If you want to travel to Muuido Island from Seoul, or travel to Muuido Island from Incheon, there is now a bridge to get to Muuido Island from Yeongjongdo Island. It's straightforward, and there are even signs along the way.
2. The ferry no longer runs between the two islands, so if you are looking to travel from mainland Korea to Muuido Island, you take the bridge.
It's quick and easy, and there is even bus service to/from there. The bridge was just completed this year, 2019.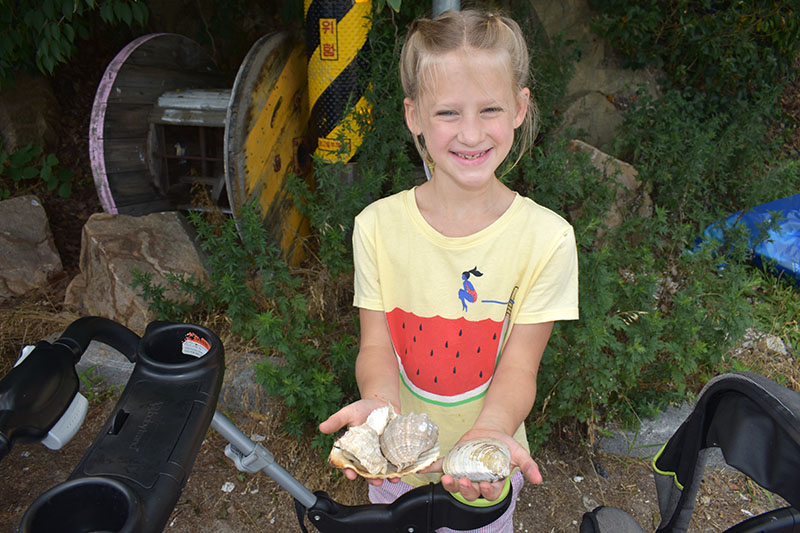 Not knowing this, we insisted that the taxi driver drop us off at the ferry dock. This is when not knowing the language becomes a huge barrier. Most of the time, we will tell you that it's not that huge of a barrier to speak a different language when traveling, but then there are times when not speaking the language is a huge impediment.
We got out of the taxi to see people standing on the dock fishing. A building, we presume was the ticket office with a large banner draped across the front doors. There were no tell tale signs of any boats coming or going, in fact there were no boats anywhere to be seen. There were no tires attached to the dock to buffer the gap between the concrete platform and the boat. There was just the sun, the sky, the clouds and the water.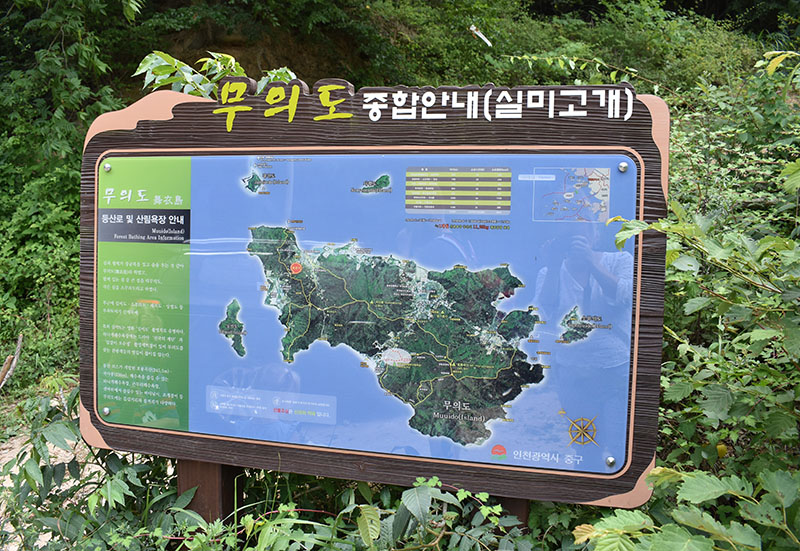 3. Then we realized I left my phone in the taxi.
I'm not even going to begin to attempt to answer the question of why this continually happens to us. Clearly, neither Gabriel nor I will ever be employed as a strategist. I'd like to think we are teaching the kids to learn from our mistakes though. This was our second mistake on Muuido Island.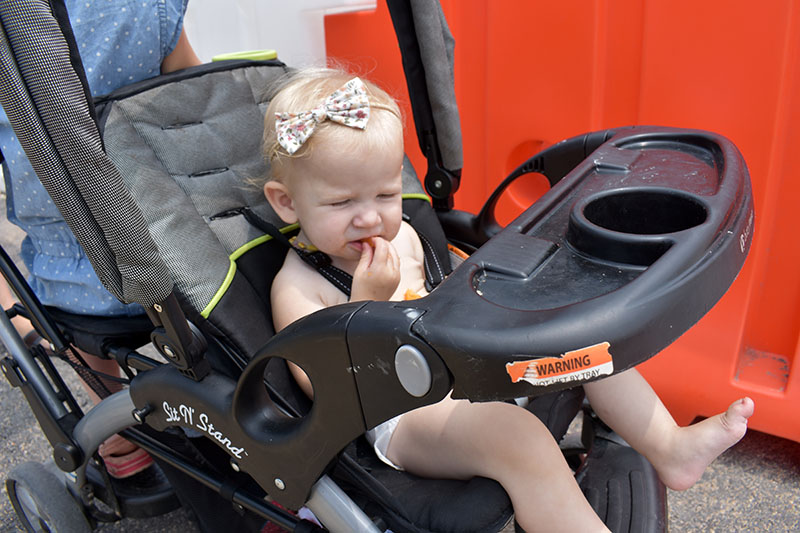 At the very least, we're teaching the kids how to attack problems head on. Even if they are problems we created for ourselves. The taxi service we used, Kakao Taxi, allows you to leave a review for your driver up to three days after your ride. We left a review with the notes that we left my phone in his car. With this service, you also have access to your driver's phone number – so we immediately called him.
The Korean language is considered one of the hardest languages to learn, and although we try and study a little bit of it every single day we haven't been able to get much to stick. However, one thing we have noticed is that nearly every sentence ends with nida, ayseo. So when we called him he added nida and ayseo to every word.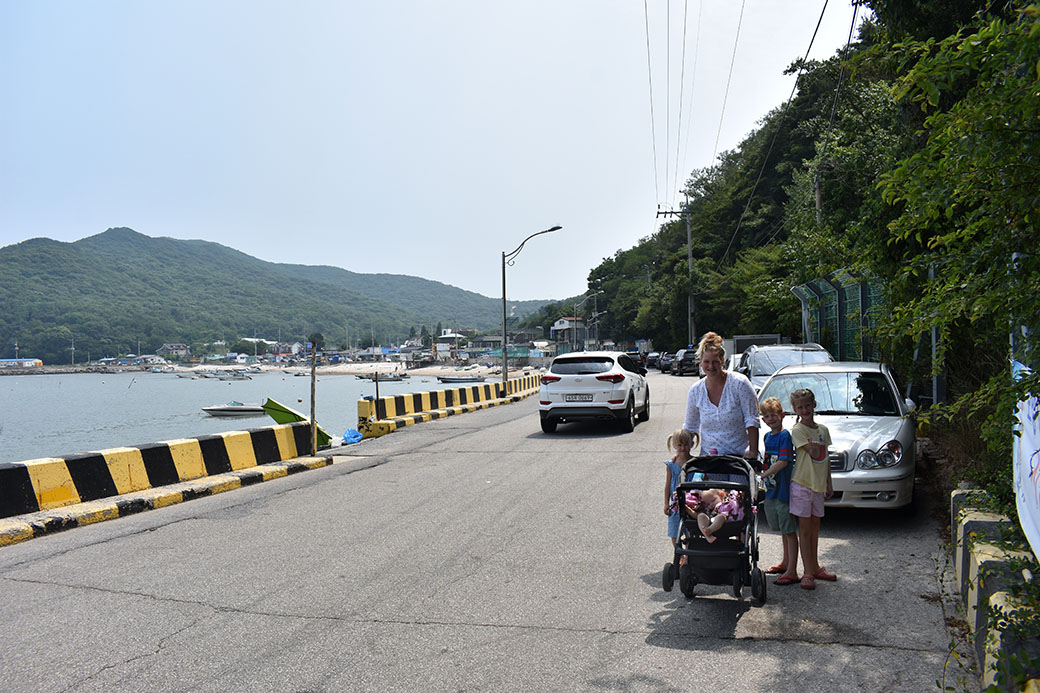 "Angyang ayseo."
"American ayseo."
"I left my phone in your car ayseo."
"Do you understand ayseo, nida?"
I think it helped.
The driver kept repeating, "Do not speak English." I definitely understood that.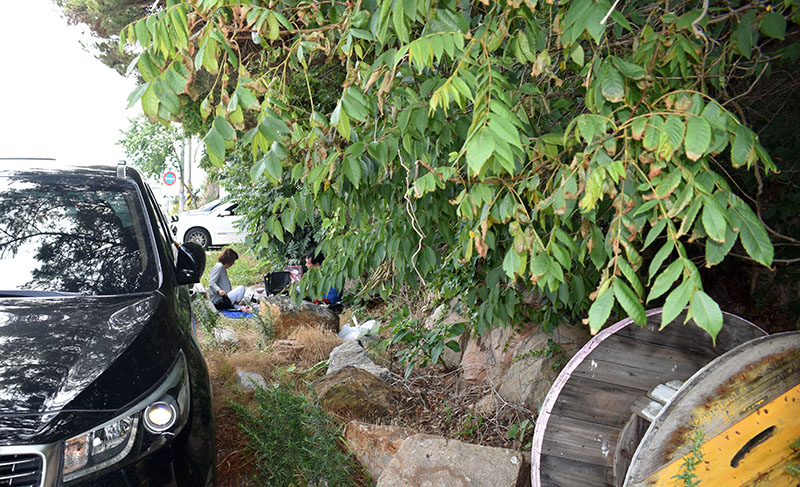 From here we used google translate to rely on the kindness of strangers. We found a couple picnicking on the side of the road and asked if they would use our phone to speak to our taxi driver and relay the message. They were willing, and we think the plan was to call the driver again when we returned back to Songdo and he would meet us where he picked us up originally.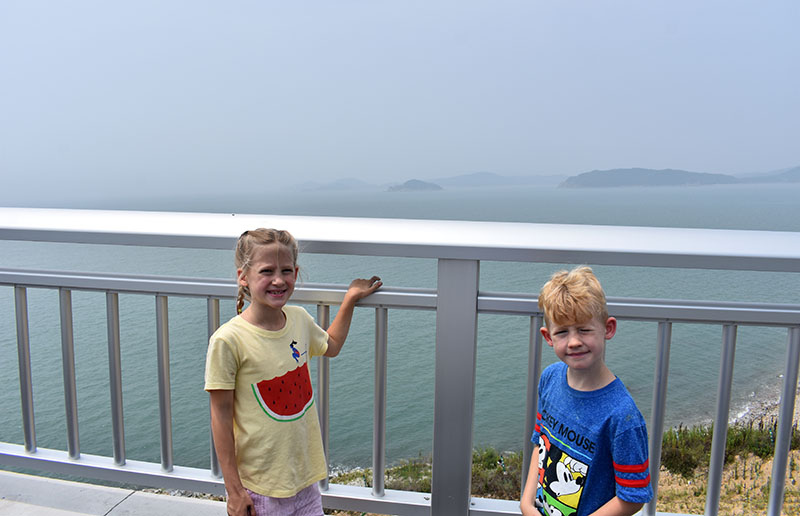 There was nothing else we could do, so we decided to try and figure out how to get to Muuido Island. Remember, we were still at the non existent ferry dock. We decided to walk across the bridge to the island.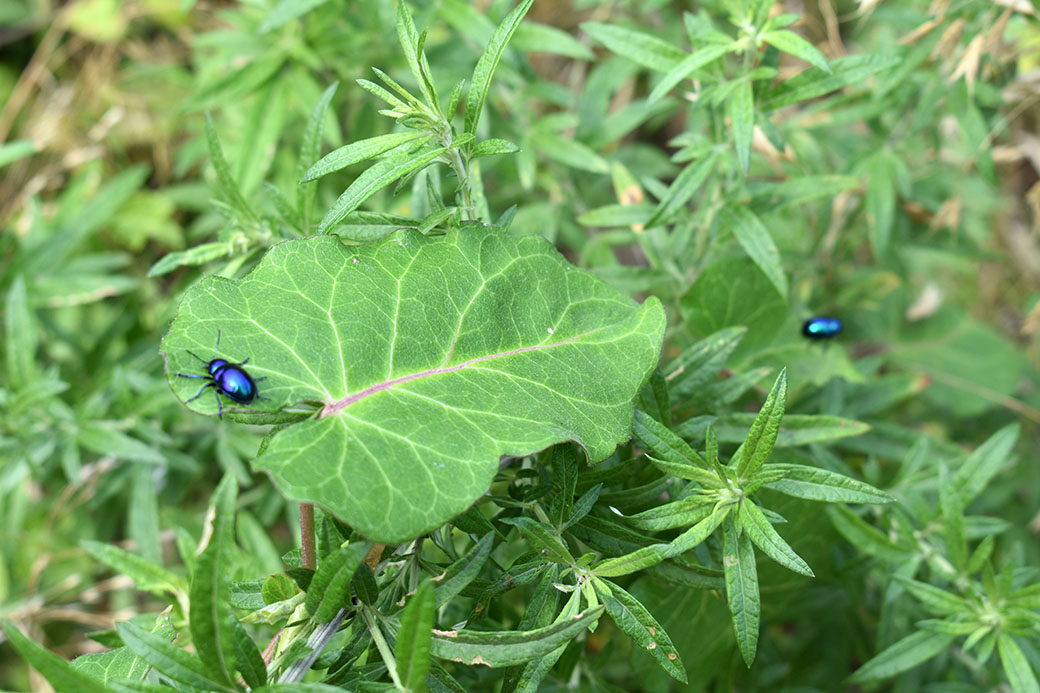 I can't even be mad about any of it. It was a gorgeous and absolutely thrilling view of the seascape, islands, and calm waters that drifted out to the horizon. As we approached the island we could hear it buzzing and teeming with life. It was calming and tranquil. Once we crossed the bridge we were immediately greeted by locals, and Gabriel decided he wanted to eat an entire bag of fresh snails.
Hot and sweaty we were ready to find a beach, and ready to get in the water. We found a trail through the forest that looked like an adventurous shortcut to the beach, but Molasses had just fallen asleep in the stroller so we decided to let her take a nap for a few minutes. Walking through the city we found a road with a sign indicating there was a resort and a beach just 700 meters away. This was a win-win; the baby could sleep and we could still go to the beach.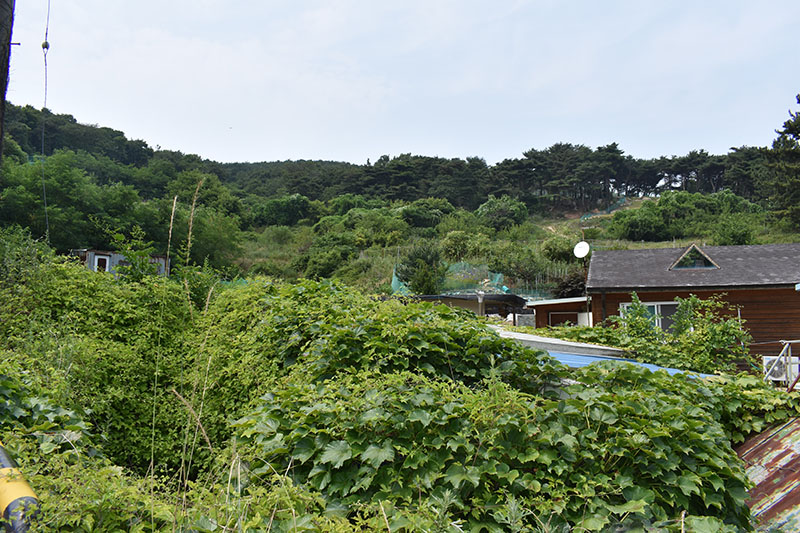 4. This short, less than half mile walk, felt like miles. The sun was beating down on us and we traversed up and down hill after hill after hill.
Finally we got to the resort and saw there was a gate and a guard checking in all visitors. After all that time and energy spent, we were devastated that we might not be able to get in because we weren't staying at the hotel.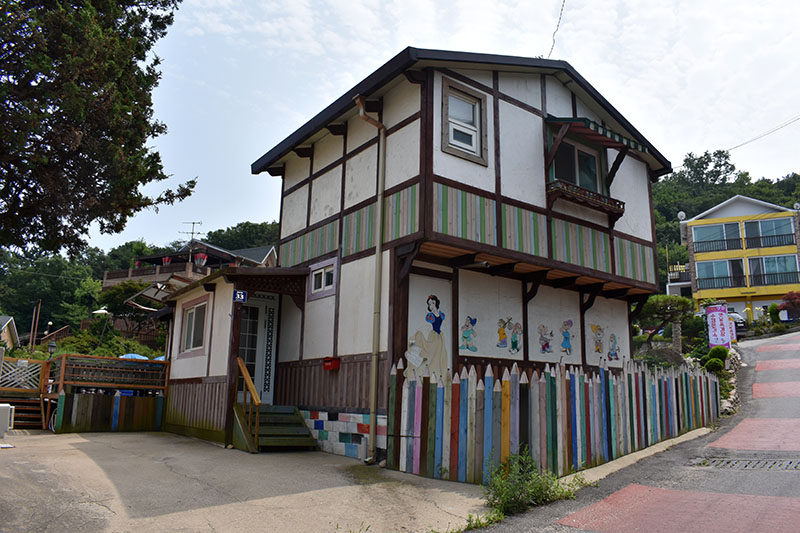 Fortunately, this was not one of our mistakes on Muuido Island. The trek was worth it! We just had to pay an entrance fee of ₩2,000 for adults and ₩1,000 for kids. Eclair and Molasses were free.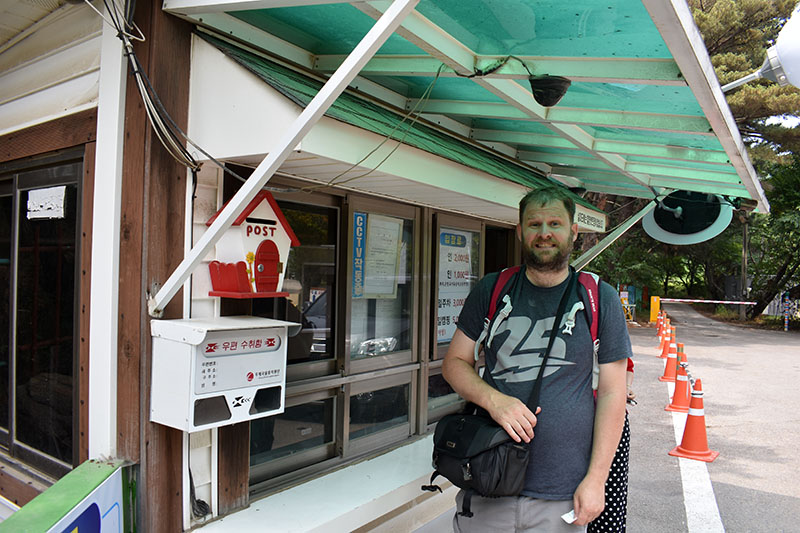 The resort is not particularly fancy, not at all what you envision when you hear the word resort, but there is beach access. There are only two beaches on the entire island, Hanagae Beach and Silmi Beach so you have to take what you can get. We found ourselves on Silmi Beach. Had we gone during low tide, we could have walked directly out into the Yellow Sea to Silmido Island.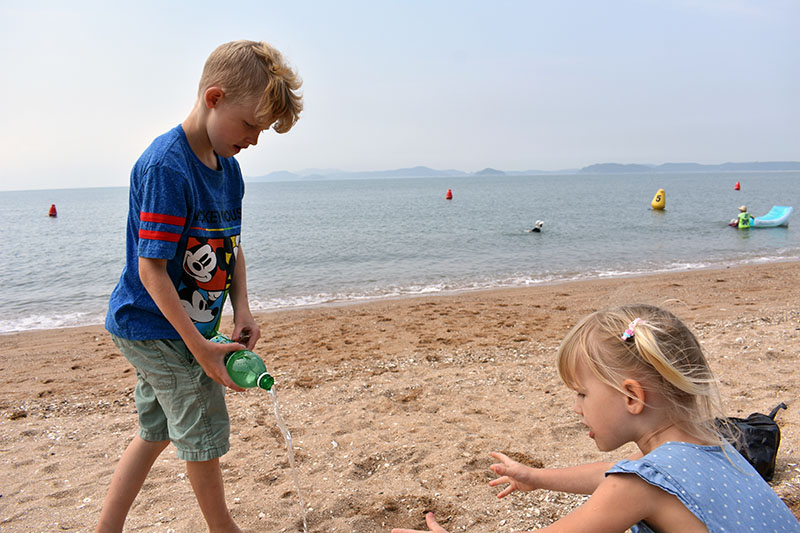 The Silmi Beach destination offers a couple of restaurants selling fresh fish at ₩120,000 a plate. There is also a convenience store. Obviously, we skipped the restaurants and picked up popsicles, crackers and water at the convenience store and headed out to the water.
As expected, there were very few people were swimming. Most were day camping in tents, and nearly everyone at the beach was under the shade of the trees. In the background we could hear karaoke and someone belting out Whitney's "I Will Always Love You."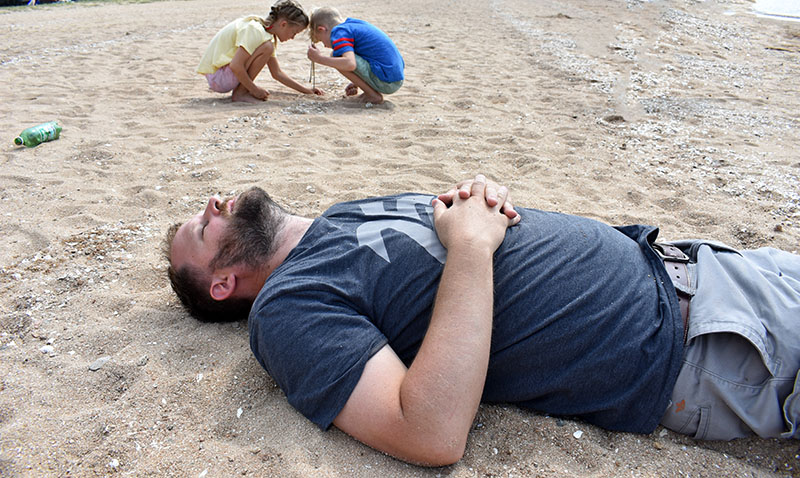 With great disappointment we must report that the water at Silmi beach is cold. Not so cold that kids can't have fun, but cold enough that searching for seashells was preferable. In our case, seashells are on par with the excitement of the water. We have jars of seashells at home labeled from our favorite places we've been!
The sand at Muuido Island is thick and grainy, similar to what we found on Jeju Island. All the better for seashells to stick on the shore! We found every type of seashell from clam shells the size of our palms, to teeny tiny augers. We collected more shells than we could possibly bring home! The girls have grand plans of making earrings and necklaces with them.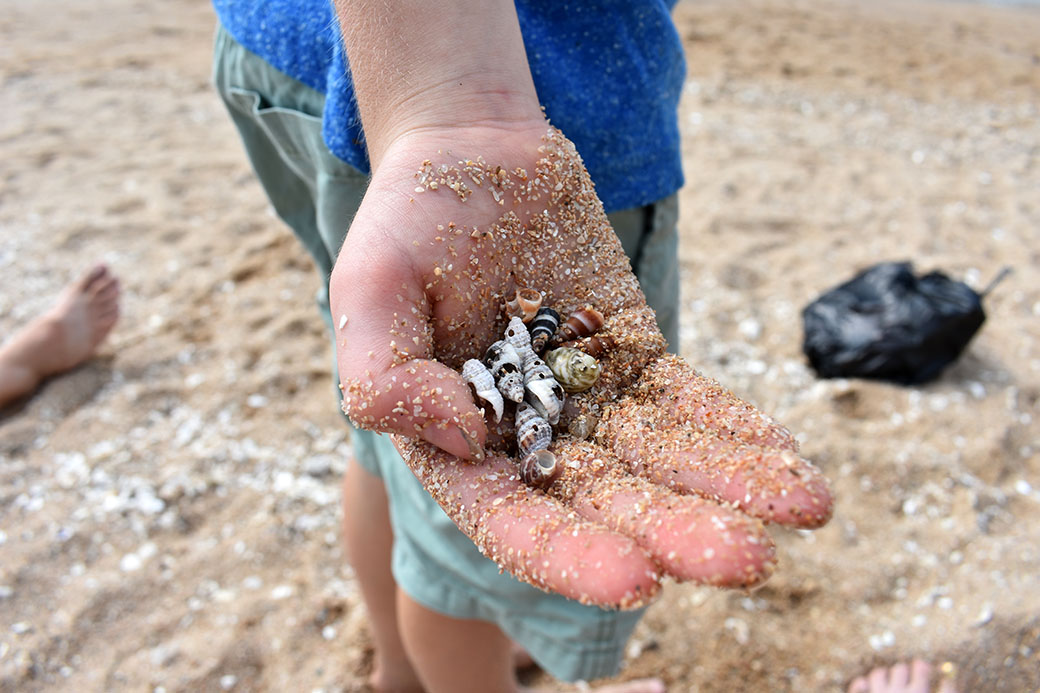 At this point, my phone had called Gabriel's phone at least three times and we were getting nervous that perhaps the translation from our earlier conversation with the taxi driver didn't go as smoothly as we originally thought.
We found out later that he was trying to send us a text, but since phone calls cost 25¢ a minute here, we wanted to do what we could to make sure nothing nefarious was going on. Gabriel texted the missionaries to ask if they could call the driver to double check on the phone., and they assured us the plan was still in motion to meet the driver tonight.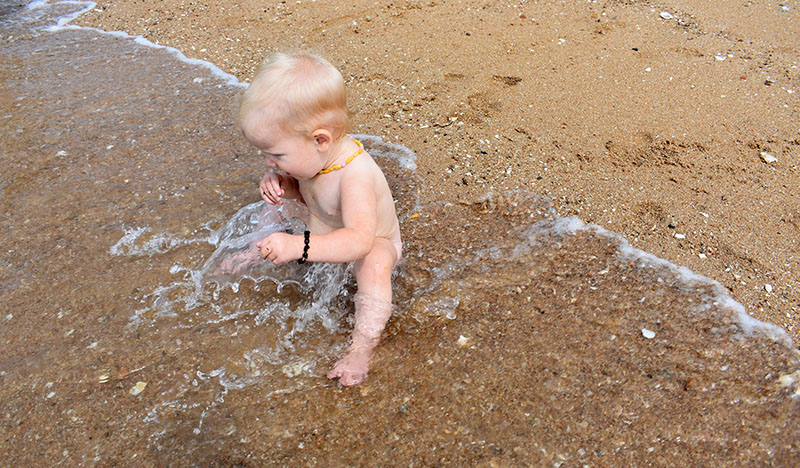 A few hours at the beach with only a few snacks to tide us over, and we were ready to head back for dinner. Both Gabriel and I agreed we were long overdue to go back to Chinatown and dine on the best Korean Chinese food in Incheon, South Korea.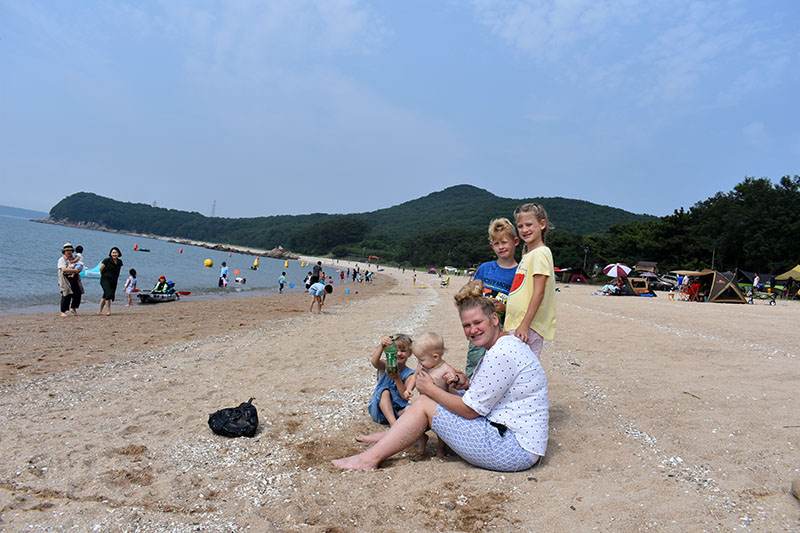 There is no bus to Silmi Beach, somehow, so we had to hoof it all the way back over the millions of hills back to the main stretch of land. We found the bus stop and waited for three different buses to pass by. After the third one passed by without picking us up, Gabriel called a taxi and made the next mistake on Muuido Island.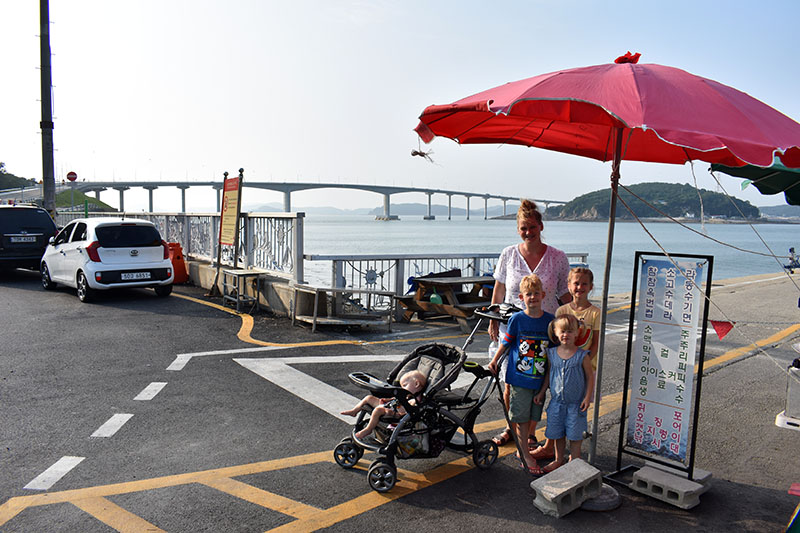 5. This time I didn't have a phone with me to leave in the car, but Gabriel accidentally put his pin at Incheon City Hall, instead of Incheon Station.
Only a difference of one hour by bus! On empty stomachs. At 7 o'clock pm. After a long day of playing in the sun. After we already made one huge mistake for the day. We are just a bunch of idiots traveling around the world.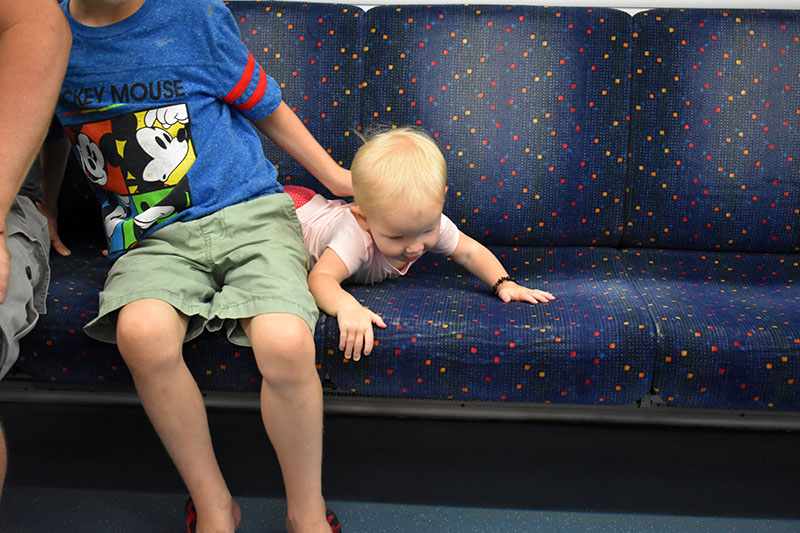 Incheon City Hall is our subway stop for church. In 8 stops we would be back home, and that's where I was going. Until the subway pulled up to Wonijae: the transfer point for Chinatown. Pie turned to me with the sweetest imploring face and reminded me that this is where we transfer to Chinatown. She was desperately looking forward to getting her favorite noodles, jajangmyeon. And after the day we had, and all the walking we had to do, we deserved it.
She melted my ice cold heart and we made the trek out to Chinatown after all.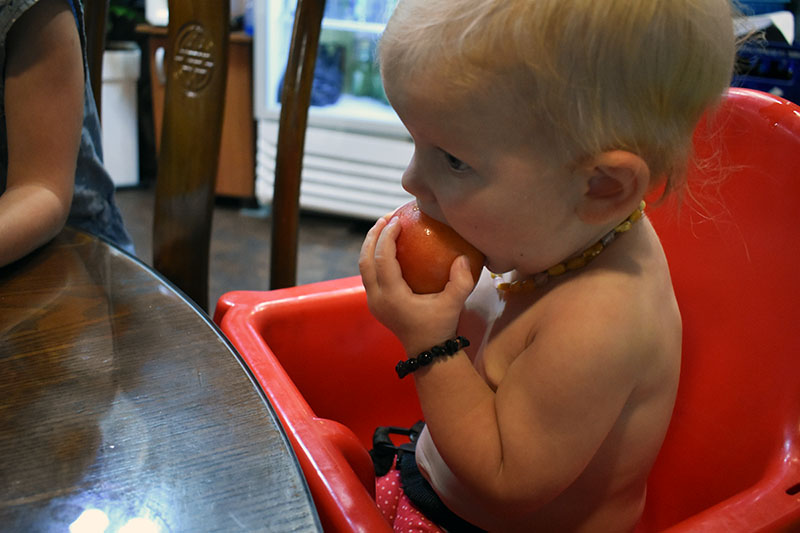 We chose the first restaurant we saw. The owners couldn't have been nicer and welcomed us graciously. They grabbed the baby, the fed our children free apricots, they gifted them chicken hair clips, and then they took selfies with each one of us individually and videos of us eating.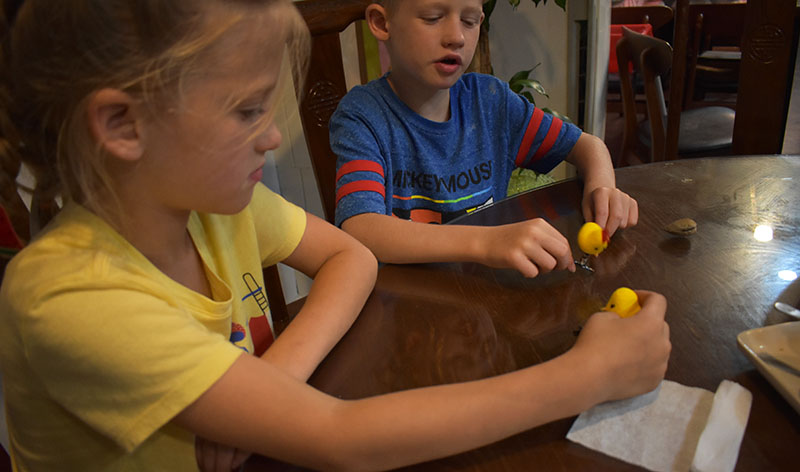 This was a new one for us in Korea. Apparently, there is a Korean yelp type website that restaurants use to prove they are foreigner friendly. Let us know if you see us on there!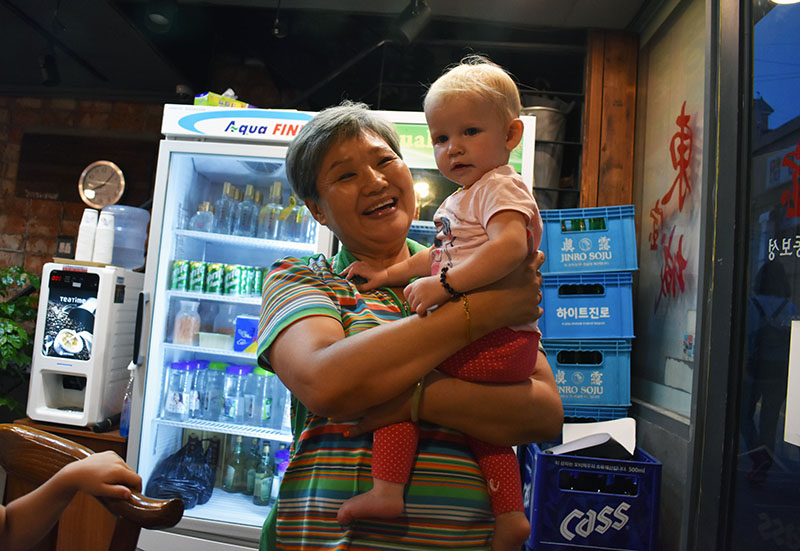 It wasn't the best Korean Chinese food we've ever had, but it was definitely the best restaurant! Of course we bought all the children a strawberry skewer for an end of the day treat and putting up with Mom and Dad's multiple mistakes on Muuido Island.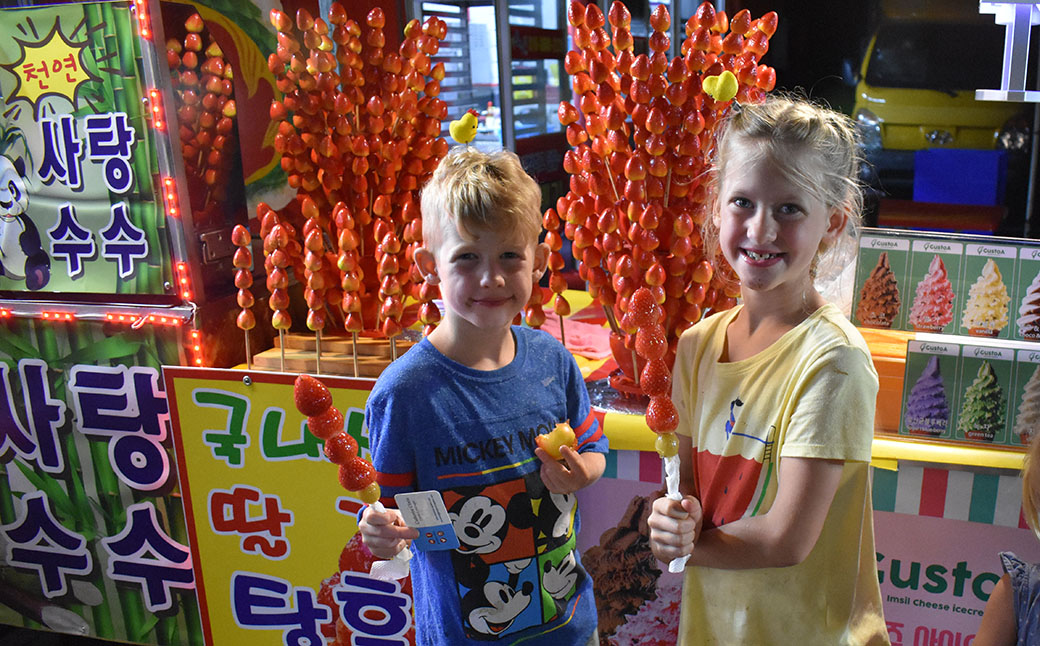 As soon as we got off the subway exit back home we contacted the missionaries to tell the taxi driver we were ready to pick up the phone. A few anxious minutes later we were informed that the taxi driver decided to drop my phone off at the police station back in Wonijae!
6. Not our mistake, but another mistake on Muuido Island nonetheless.
You have got to be kidding me! What a day!
At 10pm Gabriel took another taxi back out to Wonijae and I was stuck with four children who were sticky from sweat, salt water, sand and sugar and had to bathe them all, and get them in bed whilst 8 month old Molasses screamed her head off and couldn't understand why she wasn't being nursed to bed the second she demanded it.
7. At the police station the police wanted Gabriel's passport, which of course he didn't have.
Fortunately they made do with his name, phone number, id, a signed affidavit, home address, date of birth, his driver's license number and an inquisition about who he was and what he wanted. After all that they handed him a strangers iphone.
I don't have an iphone. 
I'll be just fine going the rest of the trip without losing anything else, taking the wrong train, or making any more mistakes in general.
At least we didn't drive our van onto the beach and get it permanently stuck in the sand.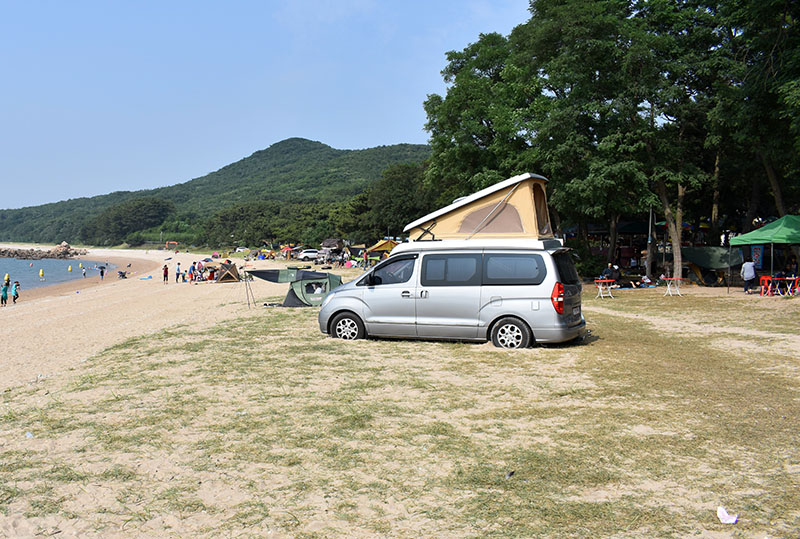 Update: Que Day 59 where we took the wrong train again.