Oh my heavens, I'm exhausted. We had such a fun day today exploring the Jung-gu district of Incheon. This area houses so many interesting places of interest, and like everywhere else we only scratched the surface. There is the Youth Mall Snowflake Village, Dapong Catholic Church, Sinpo International Market, Sinpo Fashion and Culture Street, Naeri Church, Incheon Art Platform and the Former Incheon Post Office, Centennial Park, Statue of Confucius, Western Style Gardens. How do I know these places are interesting? There were street signs pointing the direction to go to see all of them!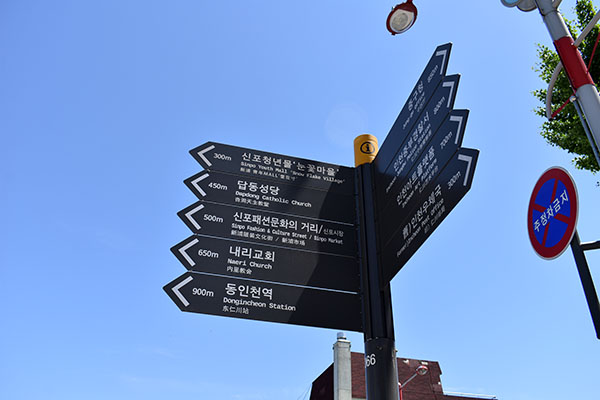 Day 6 South Korea Family Travel Journal
Sinpo International Market
We weren't able to check out everything today, but we did visit Chinatown, the Sinpo International Market, and Fairy Tale Village.
We had a really late start because like today, I was behind on our daily journal keeping. Not this far behind, but I couldn't keep my eyes open the night before so I wanted to take the time to do it in the morning. While I was writing, Gabriel wanted to Twitch stream while it was early evening in the states and he could chat with some people back home. Everyone wondered why I couldn't focus on the journal when they all were playing a few rounds of Tetris 99.
Then we took a few minutes to listen to our daily five minute Korean podcast: Learning with David. We learned I like, I don't like, and I hate or as we call it, I like, I don't prefer and I strongly don't prefer.
"I Like": Joa pronounced jo-wa-yo
"I Don't Like": Ahnjoa pronounced an-jo-wa-yo (ahn is no)
"I Hate": Shiruh pronounced she-ra-yo (just like the show She-Ra we've been watching!)
I have no idea how to spell these in English accurately, the web is all full of different information.
Then we set out to have an adventure!

한국관광공사
Sinpo International Market | Dakgangjeong | Bao Steamed Buns
11-5, Uhyeon-ro 49beon-gil, Jung-gu
Incheon, South Korea
Phone: +82 2 1330
Hours: Sunday thru Saturday 10:30am – 9pm
We took two different subways to get to the Sinpo International Market, but it quick and easy, and I see us coming back here often. For one, because it's a short walk from the station and we found local grocers with a variety of produce for half the price then we've been spending at Triple Street! We found a watermelon topping out at $7! Secondly, this is a diverse neighborhood that feels much more like real Korea than the polished version of the manicured campus where we are staying.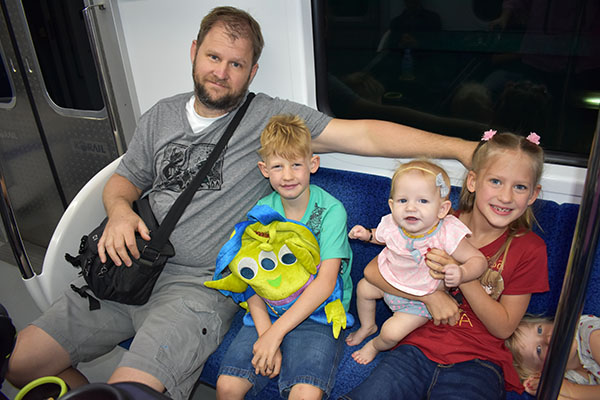 One thing Sinpo International Market is known for is Dakgangjeong. Dakgangjeong is sweet and spicy fried chicken, or as we call it hot lava. As soon as we found the entrance to the first section of the market we saw an older woman sitting outside with a wok full of dakgangjeong littered with spicy green and red peppers and covered in sesame seeds. We knew we'd found it.
We ordered half sweet and spicy dakgangjeong and half standard fried chicken for ₩ 21,000. This vendor had an inside eatery with a few tables and a TV playing Korean soap operas. Our family sat next to a group of three older woman who we saw donning plastic gloves and laughing as if they were sitting and playing Mahjong; don't judge me for mixing up cultures.  
Food is served on large platter and glistens under the lights. It is wet and gooey and smells incredible. Imagine orange chicken at Panda Express, except authentic and incredibly tasty. A pile of sauce pooled under the chicken.
Last year my friend Kari and I spent a girls weekend in Nashville and toured the city on a Food Tour. We tried some of Nashville's Hot Chicken and I couldn't help but compare that with dakgangjeong. They are not one and the same. Nashville's Hot Chicken is dry, whereas this is wet so the heat offers a different sensory experience as well as flavor. Plus, the dakgangjeong at Sinpo International Market is better.
After the first piece we buckled down, and by buckled down I mean ran to the refrigerator and grabbed a few sodas. The kids each tried a little bit, and Pie even managed to eat an entire piece of spicy dakgangjeong by herself! By the end of the meal we were all dripping snot and crying our eyes out. Gabriel is pretty versed in eating spicy food, so I may only be talking about me. It was every bit worth it. I have no doubt the locals will be laughing about our family eating dakgangjeong for years to come.
From here, we explored the rest of Sinpo International Market. We found fresh and live fish, including turtles for sale to eat. That was a bit disconcerting to our family who owns a pet turtle we named Christmas Tree. We found a second hand clothing store, barrels of spices, beans, grains and rice, a giant aloe vera plant, clothing, plants and all sorts of unique wares. There were multiple vendors selling international food and we also feasted on bao steamed buns filled with pork and vegetables. We got a pack of 12 for ₩ 5,000. It's worth the trek to come out to the Sinpo International Market just for the prices, if not the experience.
송월동 동화마을
Songwol-Dong Fairy Tale Village 
Jayugongwonseo-ro 45beon-gil, Songwol-dong 3(sam)-ga
Jung-gu, Incheon
동화마을 트릭아트스토리
Trick Art Story
Fairy Tale Village
Jung-gu, Incheon
Phone: 032-761-2631
Hours: Sunday thru Saturday 9am – 7pm
From here we got directions to Songwol-Dong Fairytale Village. Google maps doesn't work in Korea, or rather, doesn't work accurately. For directions throughout Korea including subway and bus schedules, we were told to use an app called Naver Maps. Gabriel asked me if I wanted to go the best way, or the fastest way, which of course I chose fastest. Five minutes into the journey he got really mad at me because fastest way was up a bunch of really steep hills.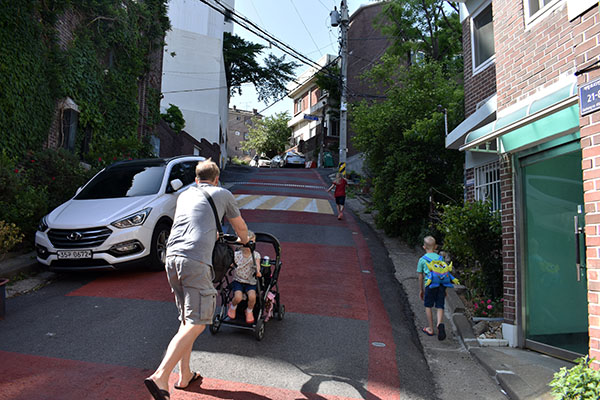 Once we trudged up to the top of the hill pushing two babies in a stroller we found a cobblestone walkway and an incredible 360° view of the city. There were so many additional sites to see on our way to Songwol-Dong Fairy Tale Village.
We found Centennial Park which commemorates the year 1882 when a blood oath was made between Korea and the United States to form an allied partnership that has only increased in strength over the past 150 years.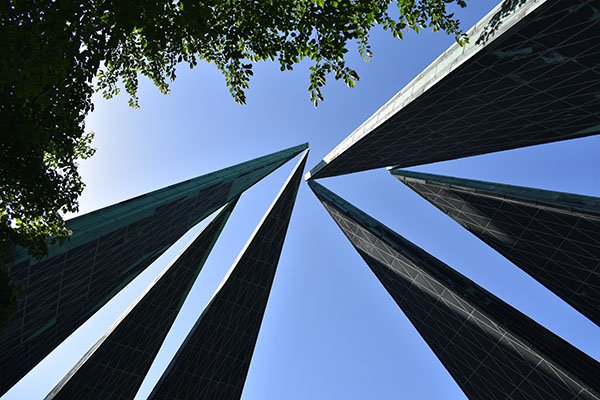 A western style Korean garden at Jayu Park with a giant statue of General McArthur that Gabriel recognized from his time living in Philippines.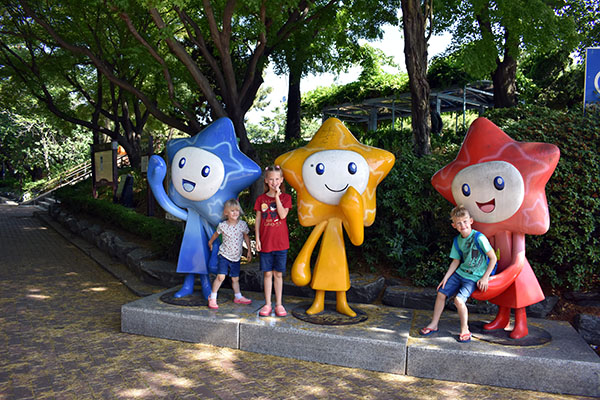 Exercise equipment located inside a park, which is the norm here in Korea.
And finally, the unmistakable, lollipop rainbow imagery of Songwol-Dong Fairy Tale Village. The neighborhood now known as Fairy Tale Village was suffering from low income and broken down homes and business. Instead of gentrification, Korea decided a different approach: turn everything into a fairy tale!
Buildings became castles, gardens became homes for mushroom stools and gnomes, doorways and windows became paintings and secret entrances, Princesses came to permanently sit on the curb to visit and meet with friends and travelers, staircases became works of art. Songwol-Dong Fairy Tale Village is as imaginative as it is beautiful; a children's playground where everything can be examined, touched, and played with.
At the Queen of Hearts Courtyard our family found a Trick Art Story. The Trick Art Story employs the use of Augmented Reality to showcase art and for ₩ 20,000 admission our entire family could continue our worldschooling imaginative play.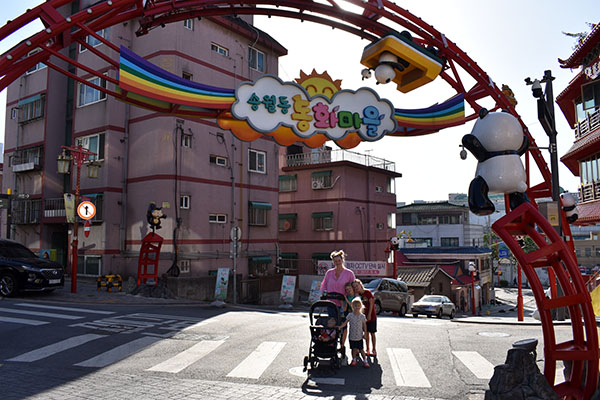 To fully immerse yourself in the museum you have to download an app. You cannot find it in English, you have to use the Korean name and alphabet. Our family used the google translate app and the museum curator drew the symbols on my phone into the app which the app then translated for me to copy into the play store: 트릭아트스토리. Voila!
The museum was two full floors with dozens of paintings. Each painting offered either an optical illusion through the app camera, or a version of an augmented reality. We journey into the water with Flynn Rider to watch the paper lanterns on Rapunzel's birthday. Our children got stuck in a demented wizard's vortex. Molasses went back in time to see the dinosaurs and we're just lucky she wasn't eaten! Eclair met a mermaid! Widmore was kicked in the face by Mowgli, and took on a tiger to reach for an iguana in the rainforest! The children precariously walked across hanging bridges teetering over the abyss and almost dropped Molasses, they fell through an upside down room, and ended the day by popping virtual popcorn!

When we finished here we planned to head home, but Songwol-Dong Fairy Tale Village is located perpendicular to Chinatown! So, we pushed onward!
인천 차이나타운
Chinatown
Gaho-dong
Jung-gu, Incheon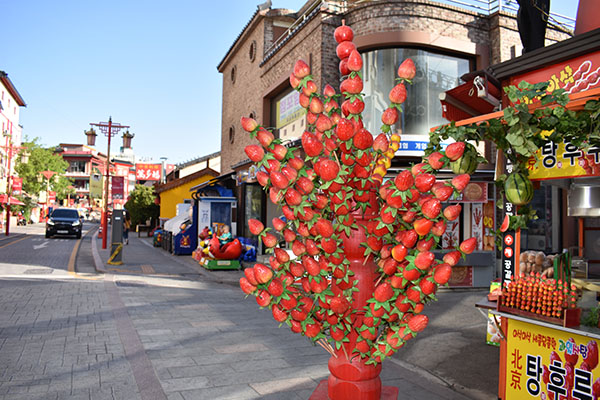 Incheon, Korea's Chinatown is famous, but we didn't feel like we got enough time to explore it to draw any definitive conclusions. We saw a lot of red and gold everything and strawberry skewers. There was a tall staircase we climbed, but when we couldn't see the end of it we came back down already feeling like we had jello for legs. Our family attempted to eat dinner at one of the restaurants, but it was ₩ 40,000 a plate!
The whole scene was beautiful and lively and we'll definitely come back to check out the Jjajangmyeon Museum (black bean noodle) if nothing else – but of course, it won't be nothing else.
Update: We came back to Chinatown in Korea on Day 34!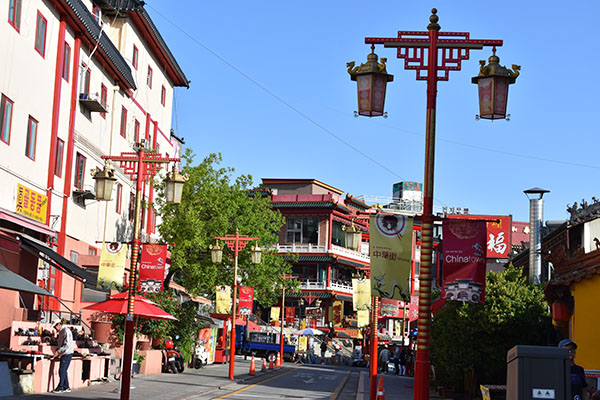 아이스크림
The Ice Cream Store
Yonsei University Campus
Incheon, Korea
On our way home from church last Sunday, the members told us about a special Popsicle store in Incheon at the Campus Town subway stop, just one stop away from our stop at Technopark. This is a store that just sells Popsicle! The walls are lined with freezer cases and the average price is just ₩400! We promised the kids after a full day of exploring we would come back here to the Popsicle store in Incheon on our way home.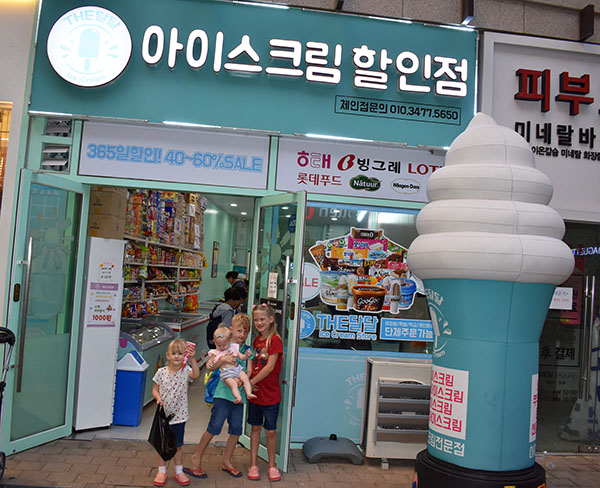 The only problem is they didn't tell us how to really get to the Popsicle store in Incheon. They said we'd get off the subway and it'd be right there. Right there where though? In the subway station? Or out which of the four exits that all led in a different direction? We had no idea so we ended up taking Exit 2. The exit in the direction we needed to walk back to our apartment. We ended up at Yonsei University.
It made sense for the Popsicle store in Incheon to be here, and our guesses were right! It was impossible to miss with just a little bit of deductive guessing! After crossing the street and entering the shopping area, the popsicle store is on the inside alley halfway down on the right side. Our family counted eight deep chest freezers filled to the brim with every type of imaginable flavor of Popsicle or ice cream. They even had a few macarons, and gummy treats on a separate shelf.
Eclair chose a cherry ice cream cone. Widmore and Gabriel chose a chocolate ice cream bar with chocolate chips. Pie chose a tube of dippin dots and I got a lemon slushie type popsicle tube. No one opted for the tomato flavor at the Popsicle store in Incheon, but me and the kids vowed to come back every Thursday – if not more often!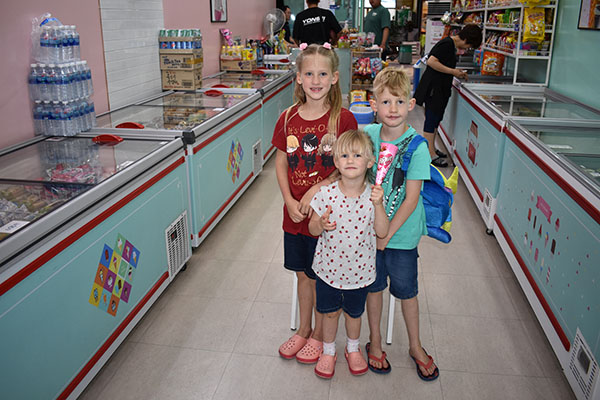 It was a fun day exploring, and our family was stopped more than 40 times by people who wanted to hold, talk and play with the kids. Actually I lost count. We found ourselves in the middle of groups of people, and something that is totally taboo in America it's just fine here. Strangers will touch babies and kiss them on the face! You know what, at this point, as long as you aren't grabbing her out of my arms while she's clutching onto me for dear life, go ahead. That is the precise reason we learned how to say "I don't like" this morning! But fortunately, no one tried to grab her today and it's actually kind of fun being the center of attention – plus Molasses is starting to get used to it.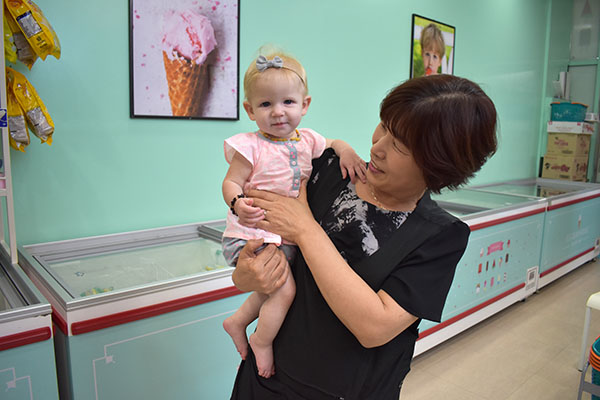 We were also able to borrow a bouncy activity play center for Molasses from Scott, and she is loving the change of scenery and having something to play with. We are so grateful! Tomorrow our family is spending the day tomorrow at the amusement park Everland Resort in Seoul!