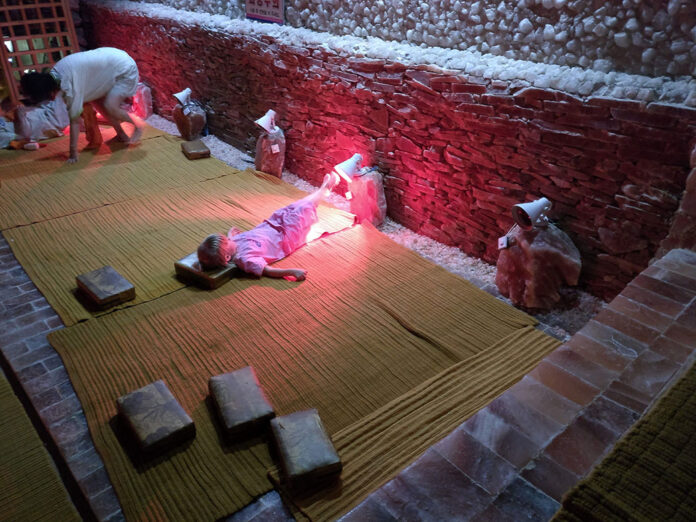 One of the things we love the most about summer is swimming. In fact, at the age of three last year Eclair won the cannonball contest at our local pool in the 6-10 age bracket! Summer just isn't summer without a picnic poolside, bronzed skin and teaching the babies new mermaid tricks. So, we are struggling a little bit with the fact that Korean culture doesn't love swimming as much as we do.
Day 9 South Korea Family Travel Journal
Spasis | A Korean Jjimjilbang Bathhouse
Turns out Koreans do love indoor public bath houses though. Totally nude public bath houses. I walked into the women's dressing room with my three little girls and wanted to walk immediately out. I felt completely out of place, uncomfortable, and culture shock pressing down on my typically outgoing and willing to try anything persona.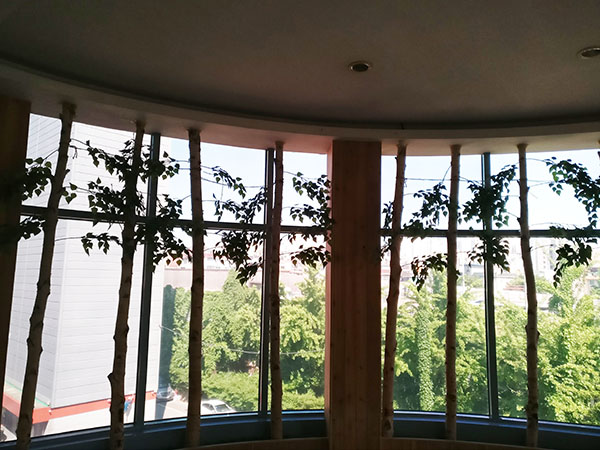 Spasis | A Korean Jjimjilbang
263 Gyeongin-ro, Dohwa 1-dong
Nam-gu, Incheon
Phone: 032-866-4545
Hours: Sunday thru Saturday 24/7
Price: ₩ 10,000 Adults |  ₩ 1,000 Children for each year of age up to 10 | Babies under 2 Free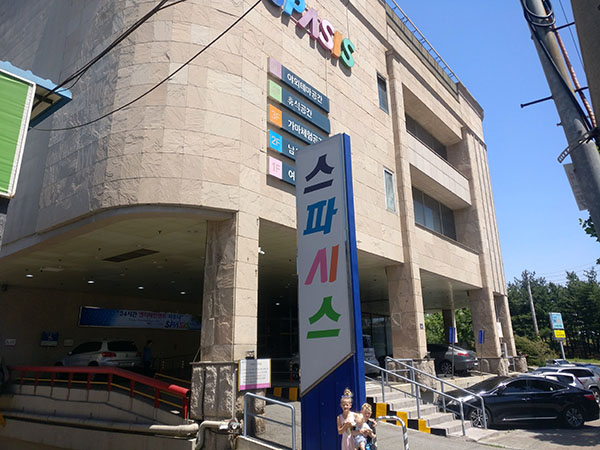 But we stayed, and the kids and I changed into our swimsuits while everyone else around us giggled. It took us a few minutes to figure out that you do not wear swimsuits in a Korean jjimjilbang. We conversed in unintelligible Korean and choppy English with lots of gestures to determine that we should take off our swimsuits and bathe naked; we should use the provided lounge clothing to use the upper floors, and that you do not exit to the main lobby until you are finished bathing.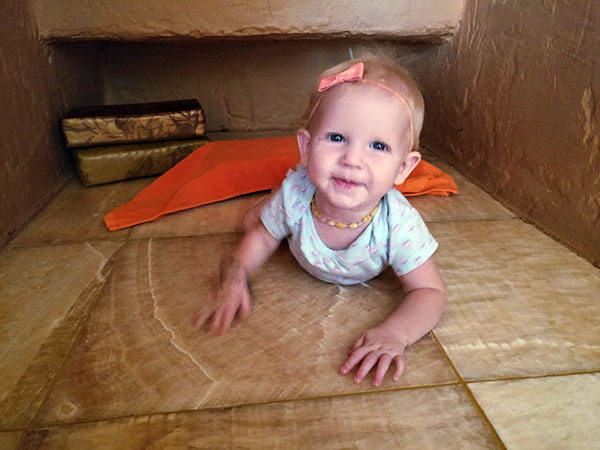 No one giggled at my family walking around completely exposed and totally nude, but somehow it was hilarious that we thought it was appropriate to wear swimming suits to a place that had swimming pools and hot tubs. I think this is by far the most interesting and culturally distinctive experience we've had on our travels.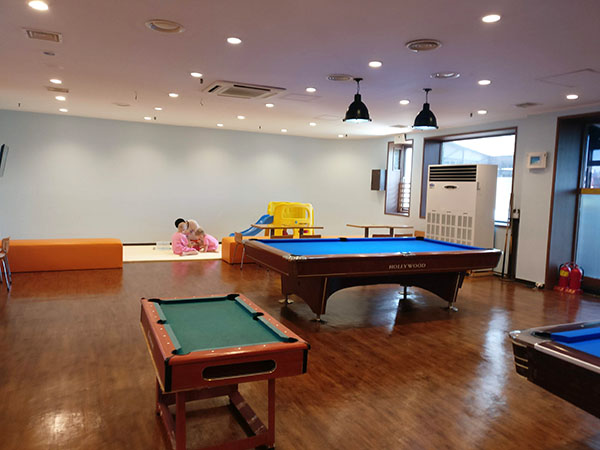 I also think it might be time to have a talk with the twins about the birds and the bees. They were very confused about why it was ok to bathe naked here in Korea, but in every other instance they should never show anyone their body parts covered by a swimsuit.
Once we were dressed appropriately, wearing the provided lounge wear, we headed up to the 3rd floor to meet the boys in our family.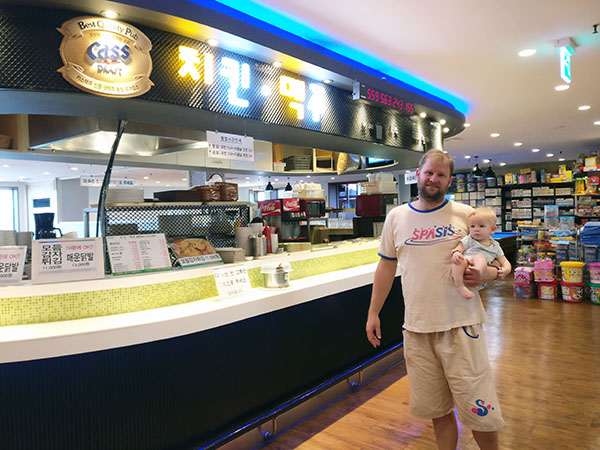 At Spasis in Incheon, this Korean Jjimjilbang with kids are welcome, and the kids are free to run around and use the facilities same as anyone else.
Update: We found a baby jjimjilbang in Incheon! Baby Angels is equally amazing as Spasis!
The jjimjilbang has five levels. The first floor level is the women's public bath and dressing room. The second floor is the main entrance lobby and the men's public bath and dressing room. The third floor has saunas, sleeping rooms and massage chairs. A cafe, billiards tables, exercise room, a library, computers and large screen TV which Korean's call a movie theater comprises the fourth floor. The fifth floor is an outdoor rooftop pool only open during the months of July and August, and here swimsuits are acceptable and required attire.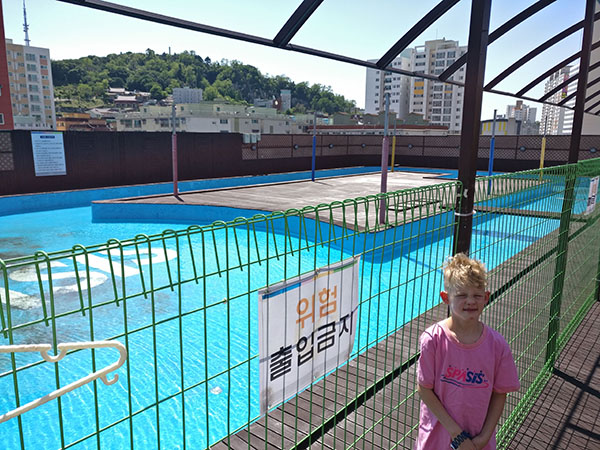 There are approximately eight different sauna rooms offering a different temperature and experience. I preferred the salt room with infrared lighting that settled in about 80°C (seen in the top photo with Eclair). Gabriel went outside for the 107°C sauna that he said was like walking on hot asphalt. That's Celsius oh my goodness!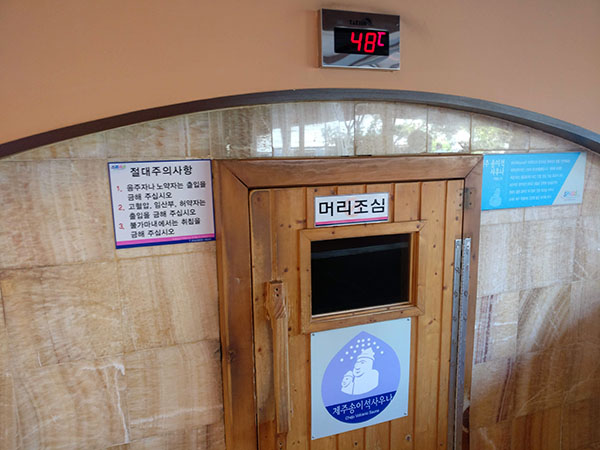 Some of the saunas are tiny caves and you crawl into them. The temperatures varied from 50° to Gabriel's asphalt sauna. There is also a phytoncide room with trees and calming music and a cold room with literal ice on the walls.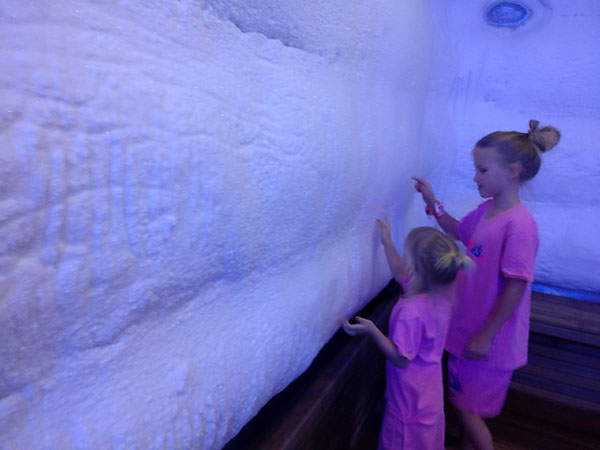 Massage chairs line the perimeter of the Korean jjimjilbang and for ₩ 1,500 the chair will operate on a 10 minute cycle. I did it twice. These chairs fully recline and give you an excellent tenderizing.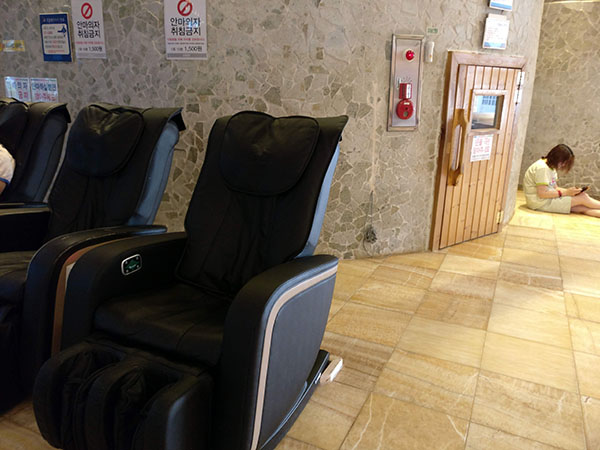 One of the most popular things to do at a Korean jjimjilbang is sleep. For ₩ 10,000 or less per person, it's not only comfortable and open 24 hours with a cafe, but it's much cheaper than a hotel. Apparently, this is a thing in Korea. Sleeping at a public bath house. It might sound kind of creepy, but it has all the amenities of a hotel and the pajamas are included.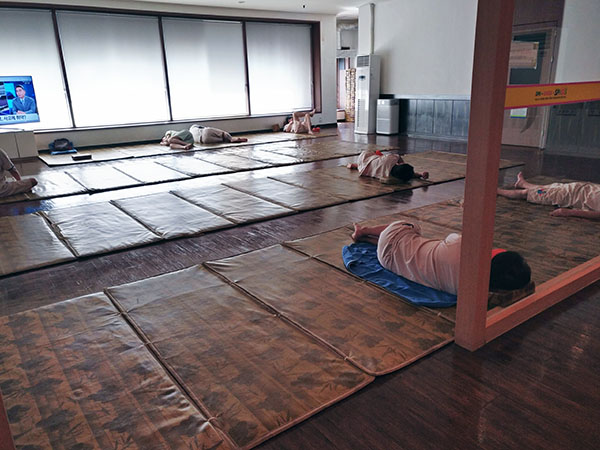 There are rounded bamboo type couches for soaking the sun from the windows, there are cave pods that block out the noise, there are padded floors in quieter rooms off from the main areas and it's super warm.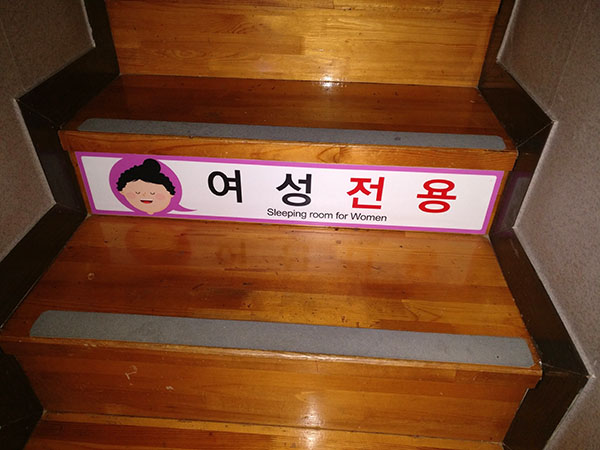 Molasses and I took a nap upstairs in the sleeping room for women. This is a loft area with 5 foot ceilings and sleeping pads reserved exclusively for women.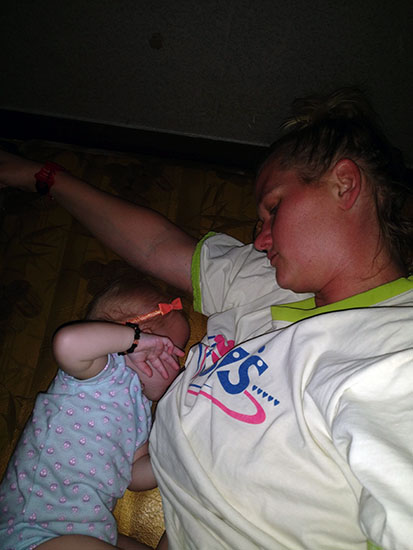 Something else exclusive for women at the Korean jjimjilbang is the elevator. Men must use the stairs.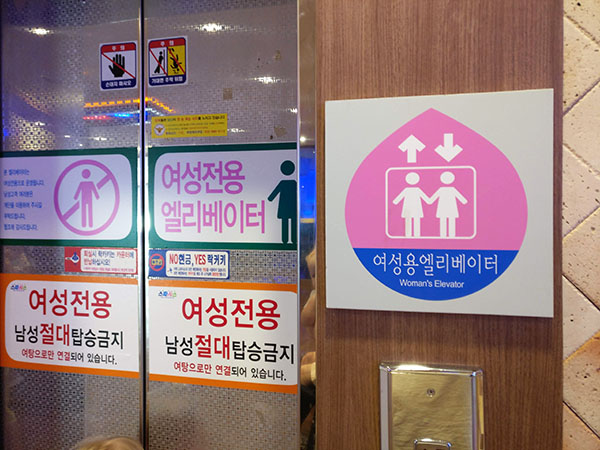 Nearly everything on the 4th floor comes at an additional cost. We ate lunch here during our 6 hour visit to Spasis, the Korean jjimjilbang with kids. We are pretty sure we ordered pork cutlets. It came with rice and was covered in a sweet gravy, a crab salad, cabbage with jello on top of it, and two types of kimchi, of course.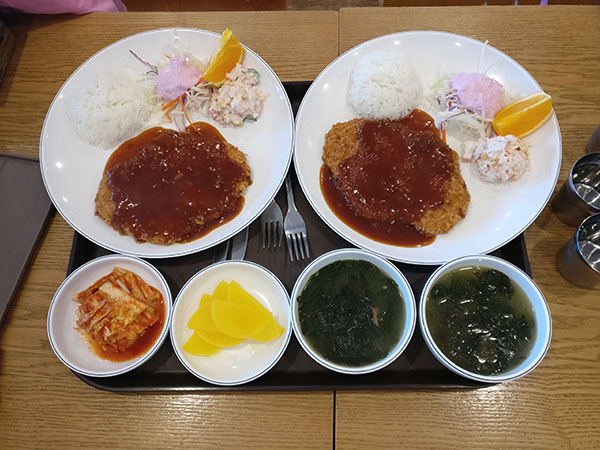 We ended the day in the bath house spa. The bath house has five pools. One for washing, rinsing and cooling off that is room temperature. Two in the middle are set at 39°C/102°F; another to the side of the room that is three degrees warmer. The far wall has a four foot deep refreshing pool set to 20°C/68°F. Eclair swam back and forth and back and forth all afternoon.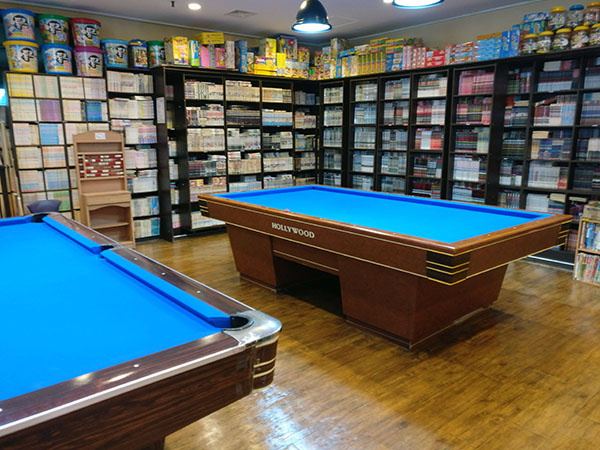 Of course, the rest of the room is filled with showers. Rows and rows of showers. It was captivating to watch the rituals among friends and mothers and daughters who saw nothing more than a loved one sitting near them. Their washing customs lasted hours from bath to shower to pool to shower again.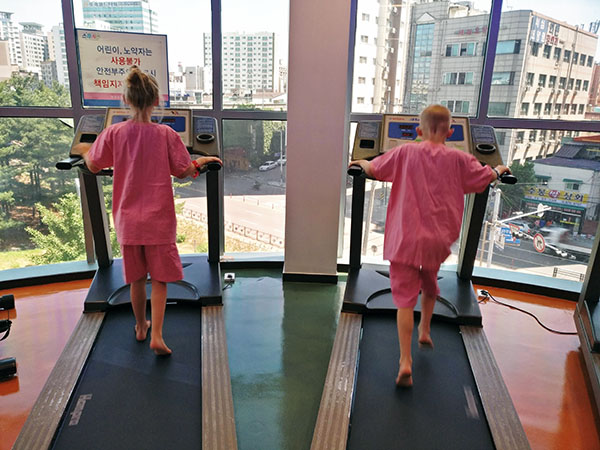 Our family loved this experience. It was every bit refreshing as we initially thought it was eccentric. I've honestly, never seen so many nude people in my life and after the initial American shock of it, I didn't feel out of place at all. It's true: bodies come in all different shapes and sizes and no one in Korea seems to care. Fully nude women came to play with Molasses. Fully nude women watched and laughed as Eclair swam through the pool and asked me all about her age, her talents and commented on how strong she was. This was just a beautiful window into Korean culture and a bonding experience with another culture I never would have had if we'd been too uncomfortable to give it a try. I cannot recommend visiting a Korean jjimjilbang with kids enough! Spasis is the largest in Incheon and welcomes children of all ages.

More info on the how-to of a Korean Jjimjilbang with kids at Lonely Planet.