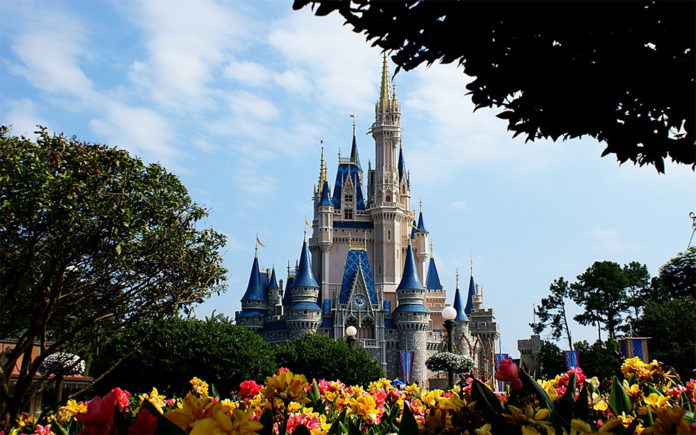 We've been visiting Walt Disney World annually since 2010, and in all those years we've never once stayed off property. When you stay on property, the magic begins the second you step off the plane into the Orlando airport. Mickey and his Magical Express picks you up and whisks you away to your resort. You stay on a magical property, visit magical parks and never forget where you are or why you are here until you head back home. But, for this spontaneous trip, we stayed off property because we couldn't find anything that suited our needs last minute. Read: We hate the All-Star Resorts. We went with our old favorite and standby Hyatt hotel and stayed at the Hyatt Place Orlando/Lake Buena Vista.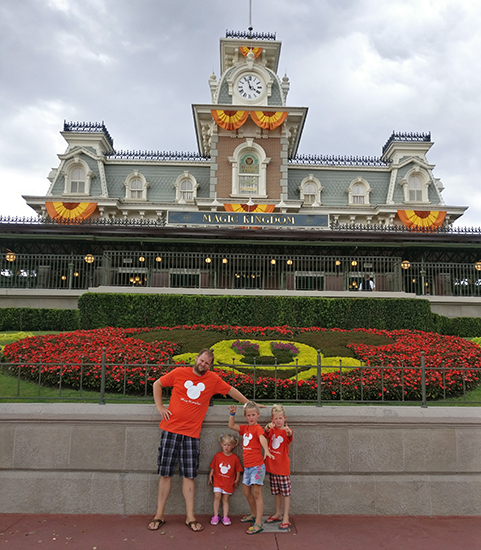 Hyatt Place Orlando/Lake Buena Vista
Facebook
Instagram
Twitter
8688 Palm Pkwy
Orlando, FL 32836
Phone: (407) 778-5500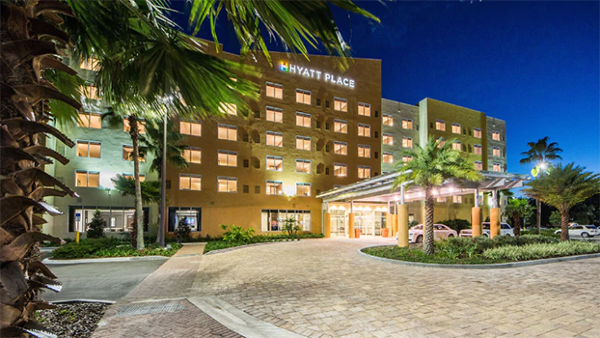 This Hyatt location is in the perfect location just minutes away from Disney Springs and both waterparks. It's also close to Animal Kingdom (our favorite park), and centrally located to all the action. It has a large swimming pool and jacuzzi, free parking, free breakfast buffet, large rooms with pull out sofa, Disney television stations and offers a free shuttle to both Disney and Universal Studios. This hotel leaves nothing to be desired, and in our opinion, the only con is that you can't sign up for the Disney Dining Plan when you stay here.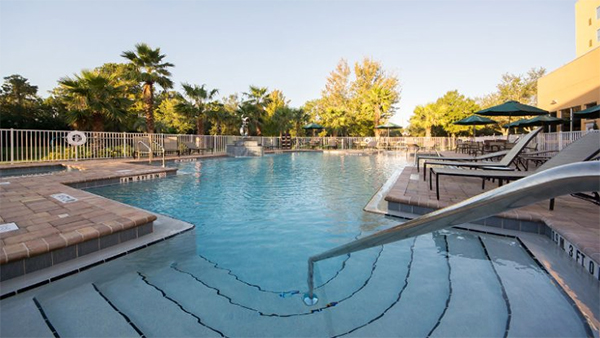 Plus, this hotel is right across the street from Sofrito Latin Cafe – our new absolutely favorite place to eat in Orlando!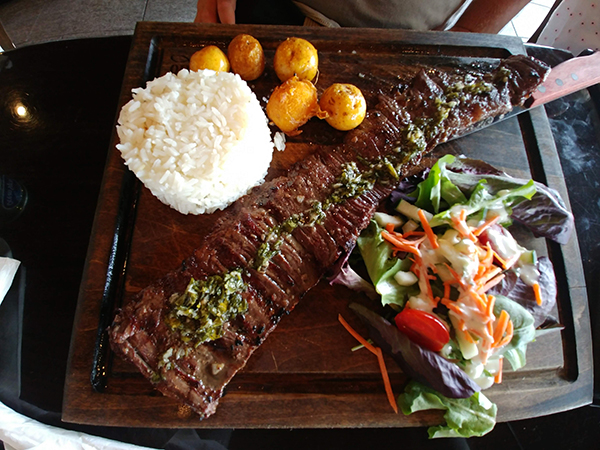 Which left us kind of left us scratching our heads. Walt Disney World is only about 20 minutes away from MCO, yet the Magical Express always takes more than 40 minutes. This hotel is far more conveniently located with free parking and a free park shuttle, but the Disney hotels are always sold out. Somehow Disney manages to take twice as long to travel between parks and resorts when everything is a stones throw away from each other. Disney World isn't quite as sprawled out as we've always thought it was.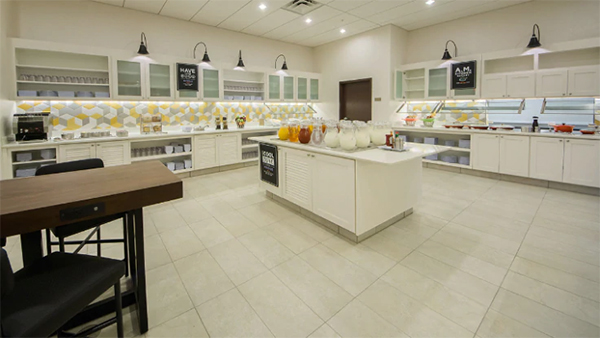 Now, don't get me wrong, I do love staying on property at Walt Disney World and this hasn't completely changed that. But, I'm starting to see both pros and cons to either choice, whereas before I was staunchly planted and never wavered in the on property category.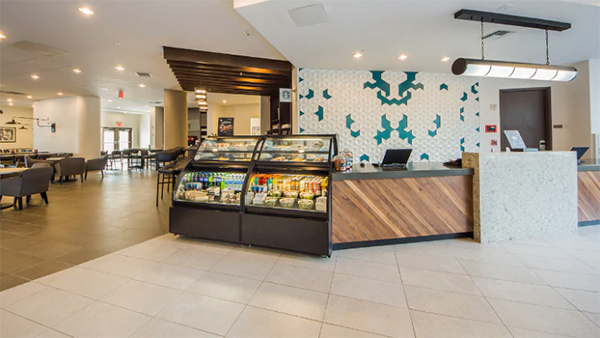 Pros to staying off property:
You have more freedom and you're close in

It doesn't take as long to navigate the parks and travel, and you aren't subject to the whims of a bus schedule

You can explore more of Orlando outside the Walt Disney World compound

You can prepare your own meals and eat off site/not park food

Still get Extra Magic Hours
Free breakfast
Free parking
Free shuttle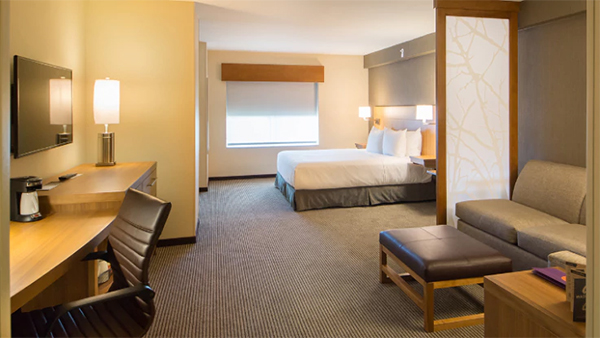 Cons to staying off property:
As mentioned, you can't participate in the Disney Dining Plan when you stay off property

This also means you can't make coveted Advance Dining Reservations

No early access to make Fast Pass+ selections (unless booking with WDW Travel Agency)

Magic ends when you leave the park

You have to bring a car seat and/or rent a car
►
For Kids
: The Hyatt Place Lake Buena Vista is an awesome choice! Our room offered a king bed plus a pull out sofa with extra room on the sectional for another kid. The pool was huge and we couldn't drag our kids away. Breakfast alternates everyday with waffles, pancakes or french toast, plus fruit, yogurt, eggs and other proteins. You can grab bananas, apples and a variety of breads. It's a win for kids and parents alike.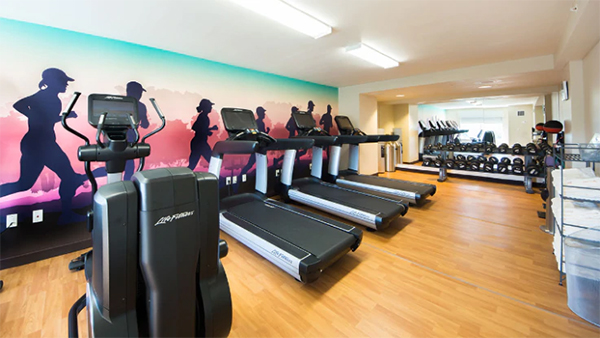 Do you prefer staying on or off property when you visit Walt Disney World? Where have you stayed during your trips to Orlando? We'd love to hear about it!
► Nap-Time Version: Our first family adventure visiting Walt Disney World and staying off property at the Hyatt Place Orlando/Lake Buena Vista.
We love Walt Disney World and there isn't much we haven't done. Check out our reviews of Disney Springs, the new Pandora World at Animal Kingdom, and our favorite restaurant at the Polynesian Resort Kona Cafe.