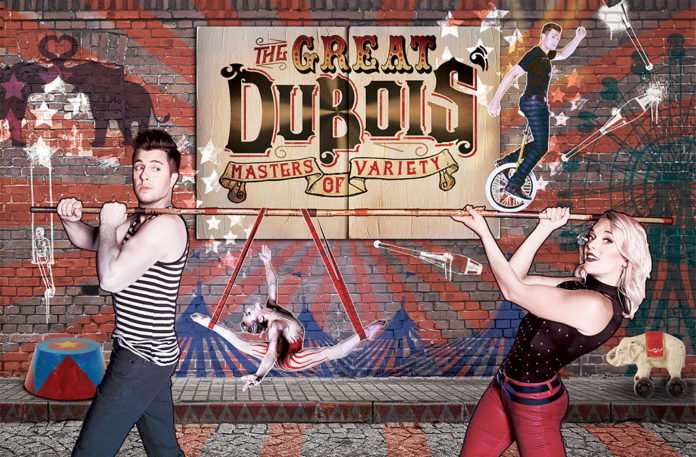 The Great Dubois is a throwback to the era of Great Variety Shows. An act that includes plate spinning, juggling, acrobatics and unicycling. Michael Dubois, along with Viktoria Grimmy, put on a dazzling display of showmanship that includes twisting, turning, flipping, throwing, twirling and even falling. We were captivated while watching the Great Dubois perform aboard the Disney Fantasy Cruise Ship sailing through the Caribbean.
► Ranking: #cleandiaper
The Great Dubois
Instagram
Disney Fantasy
Walt Disney Theater
Deck 4
What makes the The Great Dubois act so great? It's just fun! Michael and Viktoria both display good natured wit, personality and charm. They each possess talents they have mastered to the point where it doesn't even look like they are trying. They appear to be having as much fun on stage as we are having watching them.
Michael Dubois began his juggling career as a 12 year old child and remembers watching Variety shows with his grandma. He continued honing his skill in college at PennState, accrediting learning more from clubs and groups than university classes. This is a man after my own ideals! His act is fun, traditional, and ends with a sensational bit where he rides a unicycle while wearing a straight jacket and attempting to break free (check out the awesome video above).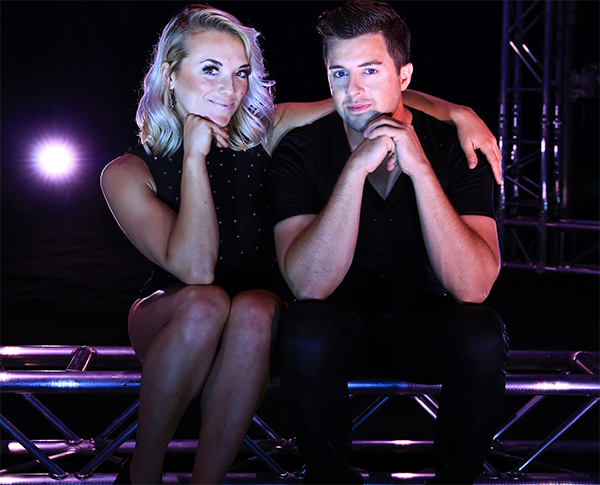 Viktoria Grimmy comes from a five generation family of acrobats and is considered one of the top acrobats in the country. Her family hails from Russia and she performed in her first circus at the age of three! She has an flirty and captivating smile that lends to her whimsical talents. She ends the show with a mesmerizing act where she climbs up and down the stage vertically! Utilizing only a large ribbon, she twirls up and down with only her superior arm and leg strength to support her as she hangs 50 feet off the ground.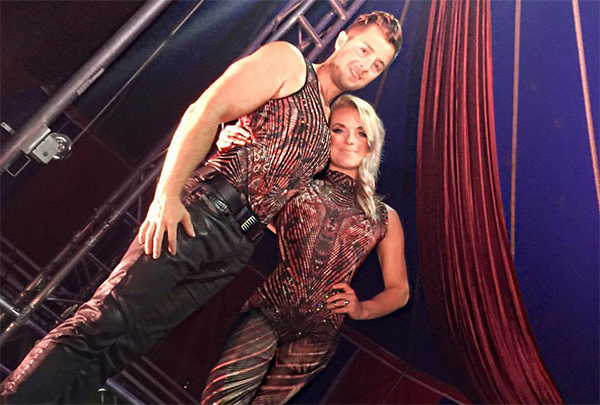 Both Michael and Viktoria have illustrious careers both before and after joining forces 10 years ago. They have been featured on Jay Leno, David Letterman, Broadway, Musical Tour Groups, Feature Films and most recently cast in The Greatest Showman.
Not only can you find the The Great Dubois on the Disney Cruise Line as the featured nightly entertainment, but throughout the cruise the two will also hold classes on the basics of learning how to juggle. His teaching goes through the way to throw the ball, starting with just one at a time, building all the way up to three. He provides the balls and the instruction. It was super fun for our kids to take an opportunity to learn from a master, and to see Michael and Viktoria on our level, as friends, and not just performers.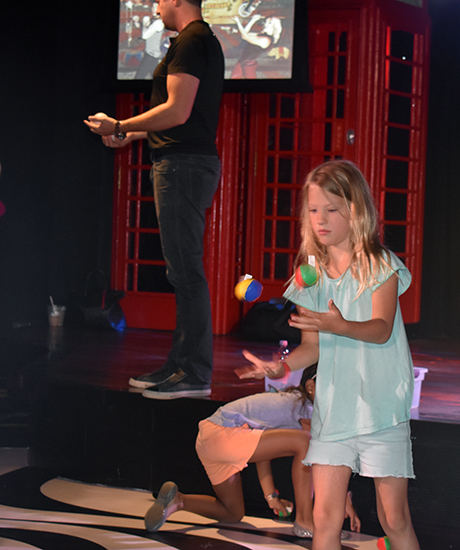 ► For Kids: One of my favorite things about Disney Nightly Entertainment is how often they include children from the audience to participate in the show. The Great Dubois was no exception and pulled three children from the audience to learn how to spin plates, hula hoop, and ribbon dance. Okay, the ribbon dance was done by a pretty awesome dad, but he surely was a kid at heart. Our kids were mesmerized by Viktoria and her ability to transform on stage in the air! They've been hanging in doorways and leaping across beds ever since to test their own strength.
We are headed to the Cirque Du Soleil in September, and I have never been so excited! After seeing The Great Dubois perform I am on pins and needles!
► Nap-Time Version: Watch The Great Dubois perform aboard the Disney Fantasy Cruise Ship performing feats of amazing strength, skill and passion!
Disney Cruises offer a plethora of entertainment options! We also loved Hector is Magic and the original Broadway show Twice Charmed, both found on the Disney Magic Cruise Ship!