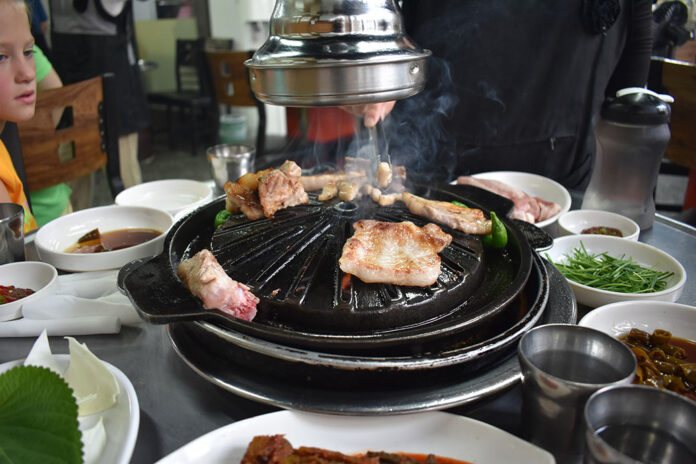 Forget everything I ever told you about grocery shopping in South Korea. It's all mute. We've been all over this city spending a fortune to feed these hungry kids healthy fruits and vegetables when all we needed was a few short subway stops away. No, not Costco. Forget Costco! Incheon Bus Terminal is just a few 5 stops from Techopark, and just outside this main subway transfer station is a public marketplace.
That's Korean for Farmer's Market! A Farmer's Market right under our noses with fresh, ripe and glorious fruits and vegetables to feed our hungry little minions for ⅓ of the price of the supermarket. The Incheon Farmer's Market is the best place to go grocery shopping in South Korea.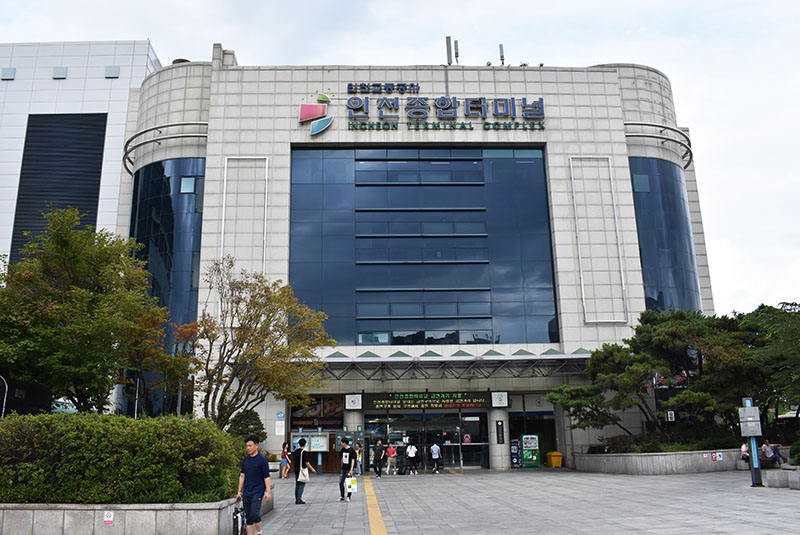 But not only that, we've got a double whammy for you today. We're also sharing the best Korean BBQ in Incheon.
Day 58 South Korean Summer School Journal
Best Korean BBQ in Incheon
&
Best Place to Go Grocery Shopping in South Korea
► Ranking: #cleandiaper
Public Marketplace Incheon Farmer's Market
Incheon Bus Terminal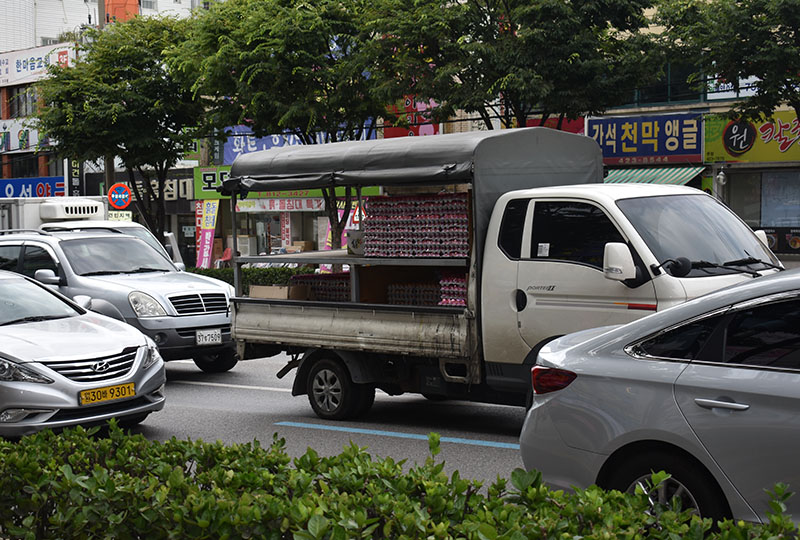 I'm actually kind of furious. We've spent so much money on food here to the point that I've been up at night thinking about it. It's unreal. It's not cool. I never felt like I could get enough to satisfy their growing needs and if I ever wanted an apple or an orange heaven forbid, I felt like I was stealing from my own kids.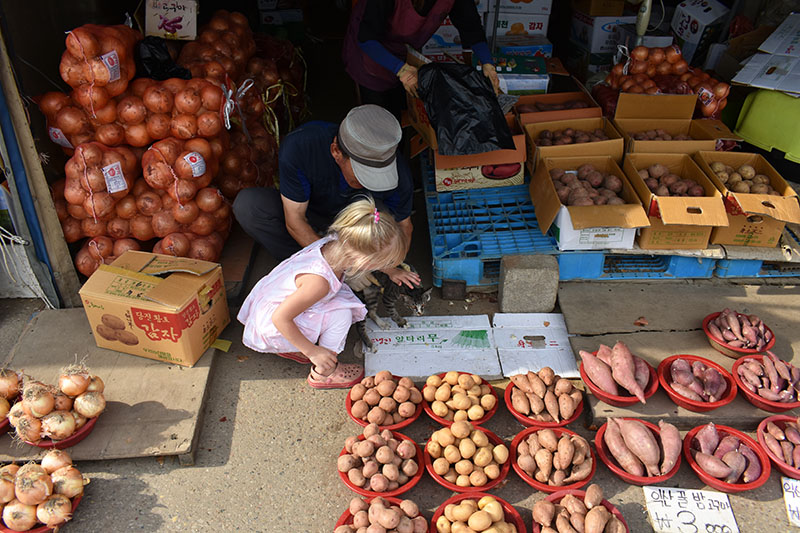 Last Sunday the Branch President brought it up in conversation. This is Korea, everyone is counting our kids. I know the American's are too. We are a rarity! Not just because of our blonde hair and blue eyes, but because of how many of us there are. And we all need to eat. I'm not blaming anyone, I just wish circumstances had been ripe for this information to come out sooner.
The Incheon Farmer's Market is the best place to go grocery shopping in South Korea. Sure you'll still need a few condiments or whatever, but the Incheon Farmer's Market has the bulk of what you need. At least we'll save a few bucks for the last two weeks of our time here in South Korea.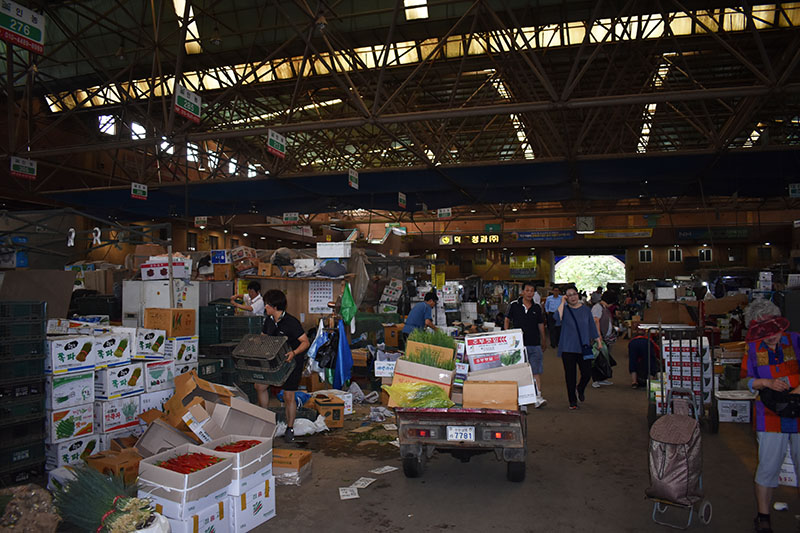 And to think, we almost didn't stop here!
Tomorrow we are going to North Korea and we didn't want to do so much today that we would be too exhausted to be ready for this incredible experience.
So we made plans to head to the heart of Incheon and dine at a little place called Buam Galbi, or Buam Ribs. Buam Ribs is touted all over the internet as the best place to eat in Incheon, South Korea. It's proclaimed to be the best little restaurant that even celebrities travel to this little obscure neighborhood to enjoy the food.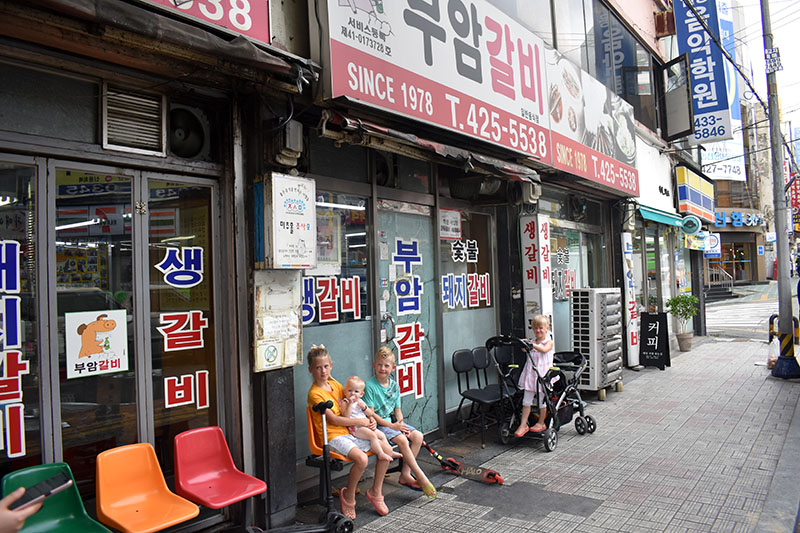 Up until now, our experience with galbi has always been with chicken. I'd read online that galbi is traditionally made with ribs, but we've never been able to find anything other than chicken. I was starting to think that either I read the wrong information, or everyone in Korea had transitioned from rib galbi to chicken galbi and no one bothered to tell us.
Galbi is the Korean word for ribs. So Buam Galbi is pork ribs, and Chicken Galbi is Chicken Ribs. It all makes sense now.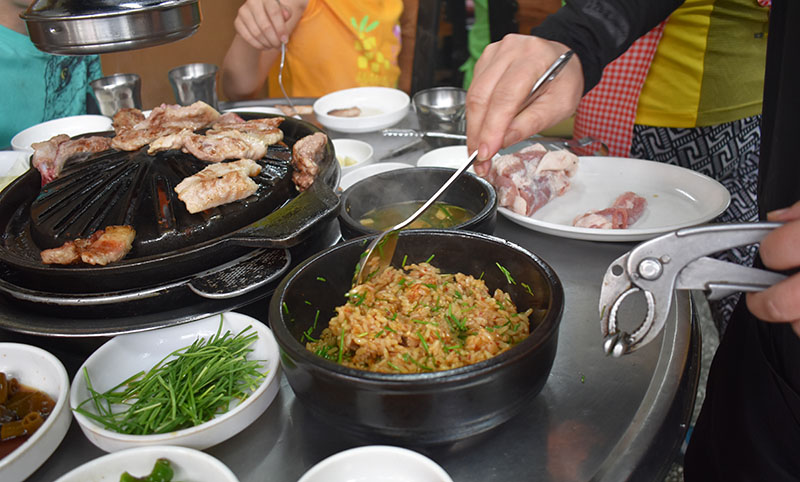 This little dive is located in the heart of Incheon, near a great selection of Korean popsicles and is the best Korean BBQ in Incheon. It's not that easy to find if you don't speak Korean, though. In fact, if you don't speak Korean nothing is that easy to find.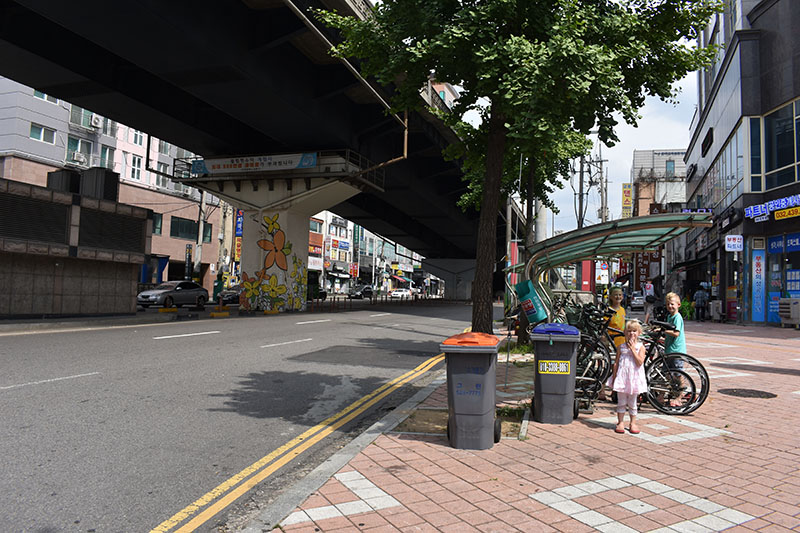 ► Ranking: #cleandiaper
Buam Ribs
149 Yongcheolro, Ganseok-dong, Namdong-gu, Incheon
Phone: 032-425-5538
Hours: Wednesday thru Monday Noon – Midnight | Closed Tuesdays
We made our way here on the subway and got off at the Ganseogogeori stop. Our maps told us to walk about seven minutes. It was hot. We are here in the middle of summer, during sambok which is the hottest part of the year. It's hot. Humidity is around 100%, the temperature is around 30°C/86°F, and the sun is beating down on us.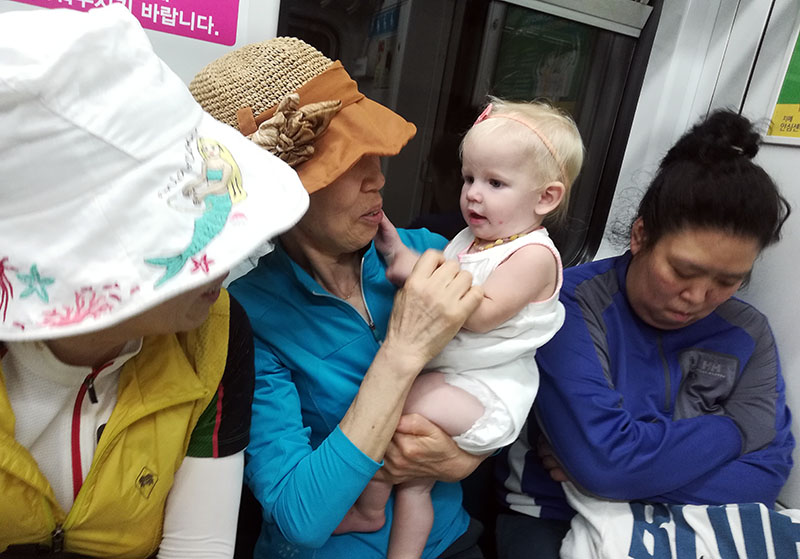 Maps told us we had arrived, but there was no tell tale sign of anything. This woman stopped us to play with Molasses while Gabriel took a loop around the block. I looked up the address again on my phone. We peeked into all the windows.
Everything looked closed. Trucks tried to squeeze through cars on side streets they didn't belong on. No one was happy with me.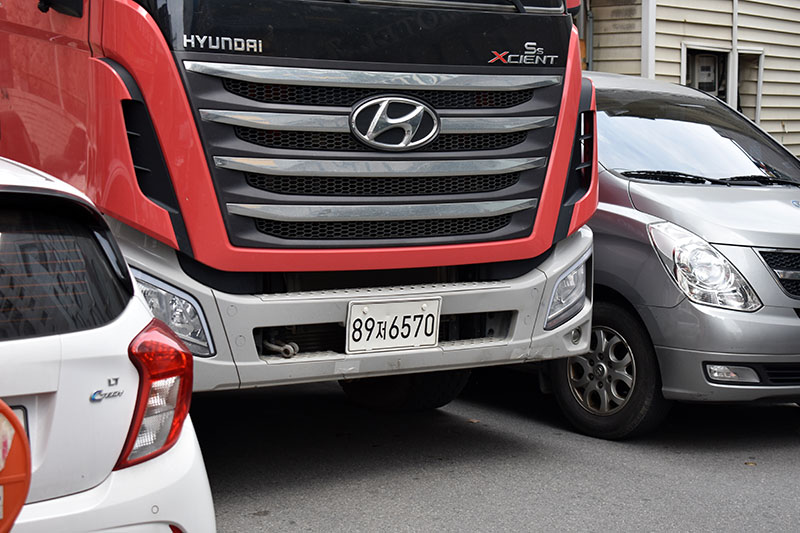 Finally we asked someone. Low and behold, we were standing right in front of it and the woman who stopped us to play with Molasses worked at the restaurant.
This just wasn't the type of restaurant we were expecting, or the type of galbi we were used to, so we overlooked it. Granted, we are no connoisseurs of Korean cuisine but we knew this was Korean BBQ. The galbi we'd had up to this point was always cooked for us in the backroom prior to being brought out in a large skillet. Again, granted, we'd only been to one other galbi place up until now. Or maybe not, I'm not sure half the time what we are eating.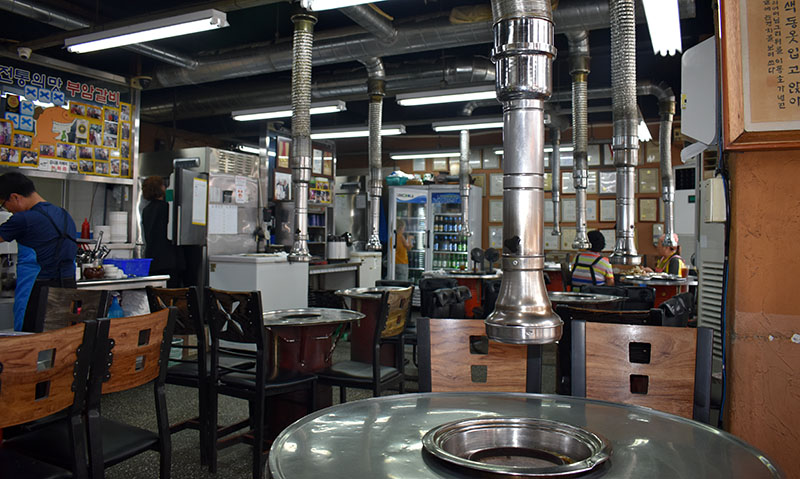 We sat down at a table with a charcoal pit in the center and a tube vent hanging vertically above the table and were brought a menu in English. It explained what we were eating and then we had to decide how many servings we wanted. First of meat, and then of rice.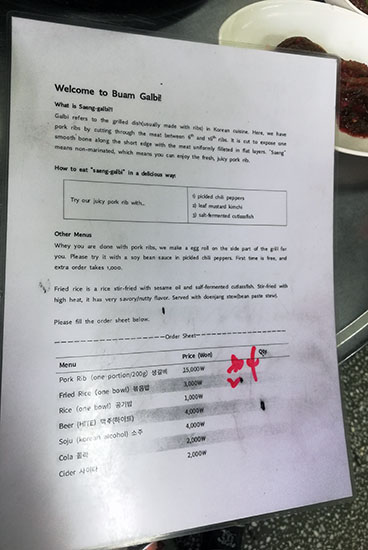 Once we'd made our decision, a woman brought out our plate of raw meat and began cooking it for us. She had a scowl on her face the whole time, but I know she secretly loved it. Surely, at least she enjoyed watching us watch her in eager anticipation, devout admirers of her art, and salivating at what we would be fed next.
She chopped up the children's meat in sizes appropriate for their ages, she dressed the meat with kimchi, peppers and spices and told us to eat.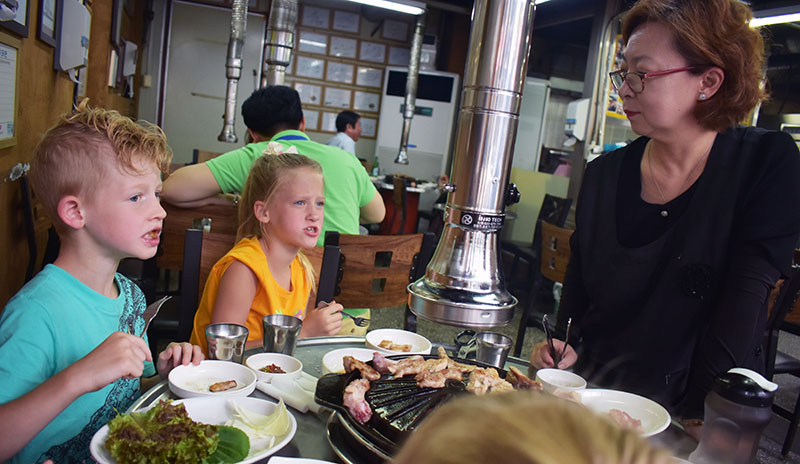 I'm not the adventurous eater in the family. That's Gabriel, then all the kids, and then I come in dead last. There was a time in my life where I only ate mayonnaise sandwiches. Over time I added more and more delicious foods to my palate like sushi and curry lamenting how long I'd gone without enjoying them.
Still now, I am a bit timid. I like to gingerly test my food before eating it, and then decide what I think from a small sample. You know, like especially not having to eat all that fat on a piece of pork. Here though, there was no option for that with our Korean host watching over us. I just stuffed the whole thing, kimchi, peppers and all into my mouth.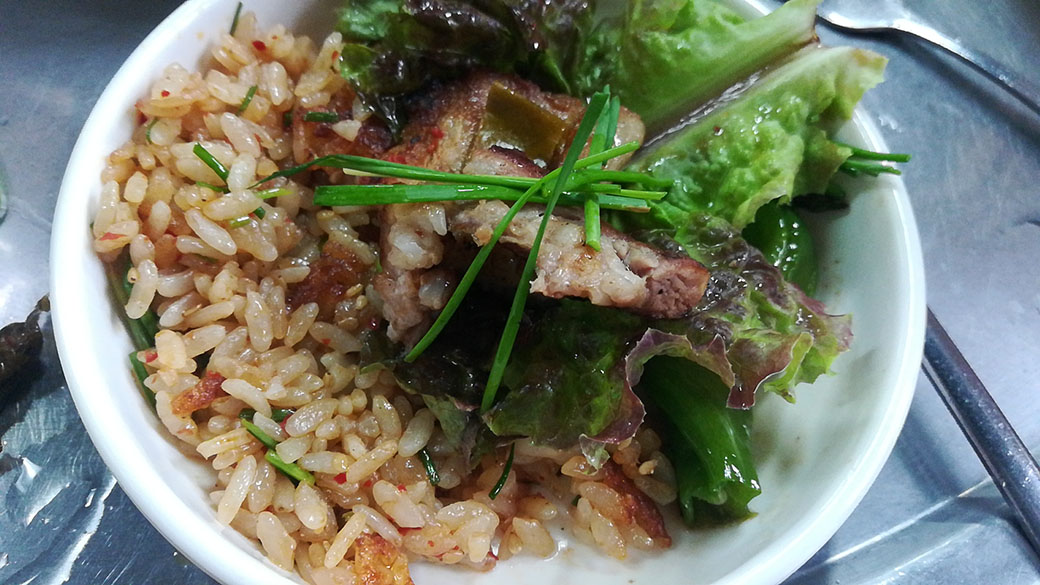 It was amazing. It is amazing. Holy moly, this place deserves all the accolades we can bestow upon it. It is worth the long walk in the humid heat, and being sticky and dirty from sweat. It is amazing.
On our way back to the subway we stopped at the local convenience store, GS25 and each got a new popsicle. I opted for two. Did we mention how hot and humid it is here?
The cool thing about Korea and all that many popsicles stores is that they all have something different. I opted for two popsicles I'd never seen before. A Mille Feuille Ice Cream sandwich and a Biscoff Ice Cream. It's time for the popsicle store in Songdo Triple Street to step it up.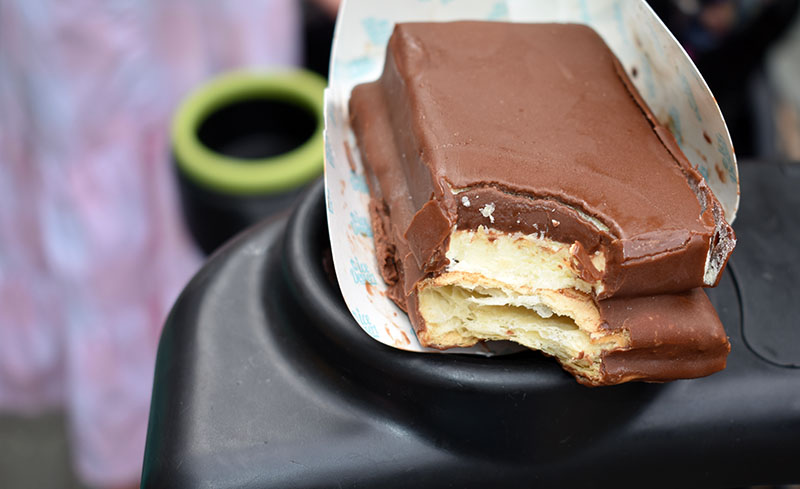 I ended up sharing half of my Biscoff Ice Cream with Eclair. After trying a bite she sweetly kept reminding me how much she wished she'd chosen that one. I couldn't say no.
We hopped back on the subway and took the train to the Incheon Bus Terminal. It was a bit of a hassle and we walked all around before we found the Farmer's Market, but when we did find it, it was glorious.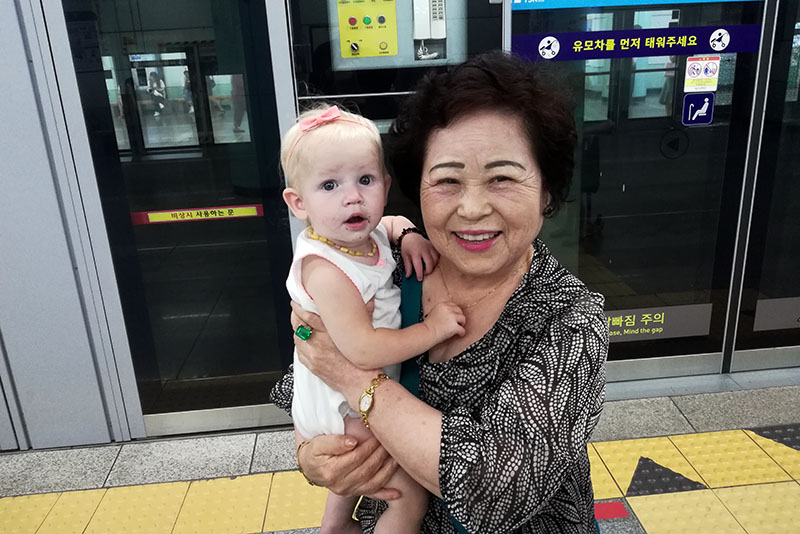 It's actually pretty simple; head up to the main Bus Terminal and walk through the left doors and cross the street. You know which left when you are facing the gigantic electronic information board on the main wall.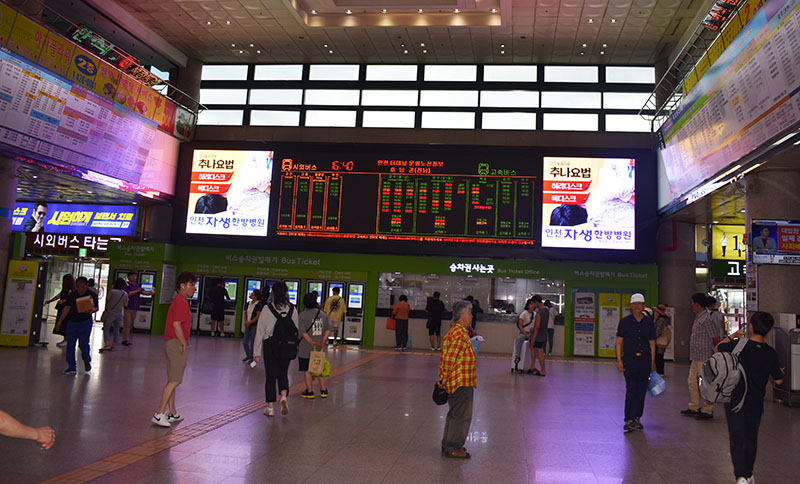 We found every imaginable vegetable, fruit and spice here. Everything is sold in large quantities, think Costco sizes or bigger, and some don't come with packaging. We bought a crate of blueberries that they dumped out of the crate into a plastic bag. By the time we got home, most of them were squished. We learned to take a container with us next time.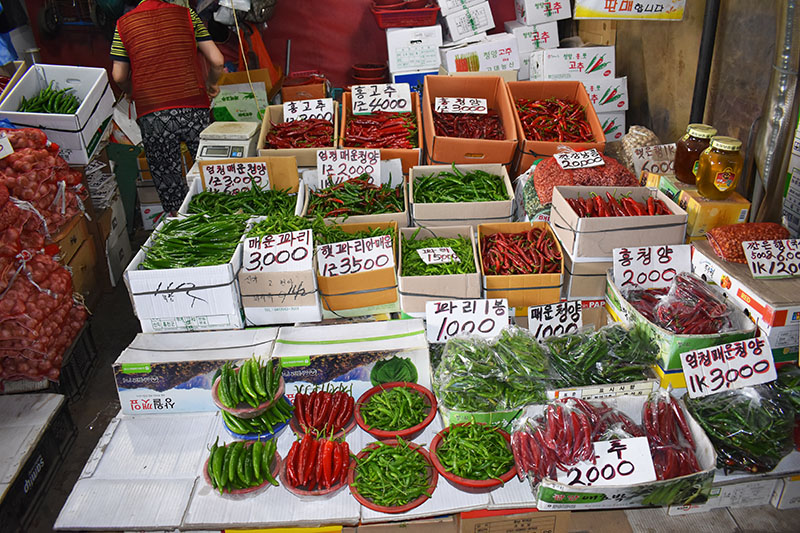 Everyone was so friendly, and lively. There was a bit of bartering going on, but for the most part, the prices were fair and quite cheap.
Watermelons are as low as ₩5,000 each!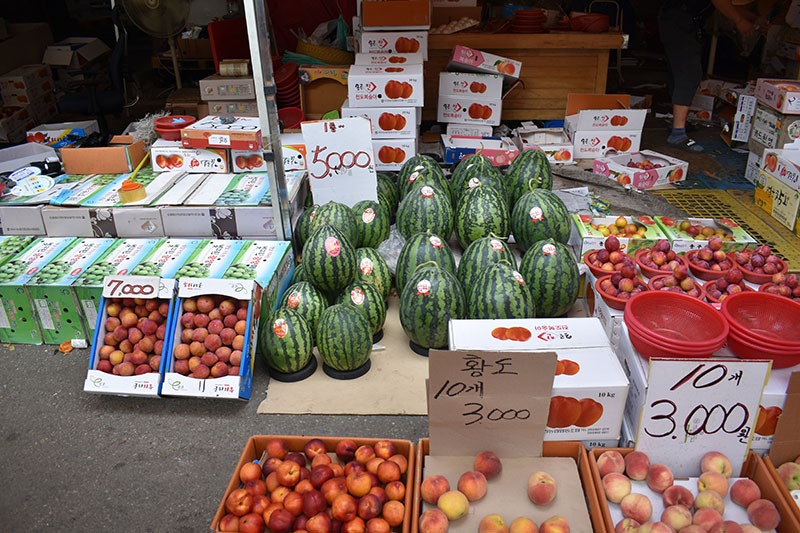 We got an entire box of mandarins for ₩10,000. When we got home we counted about 40!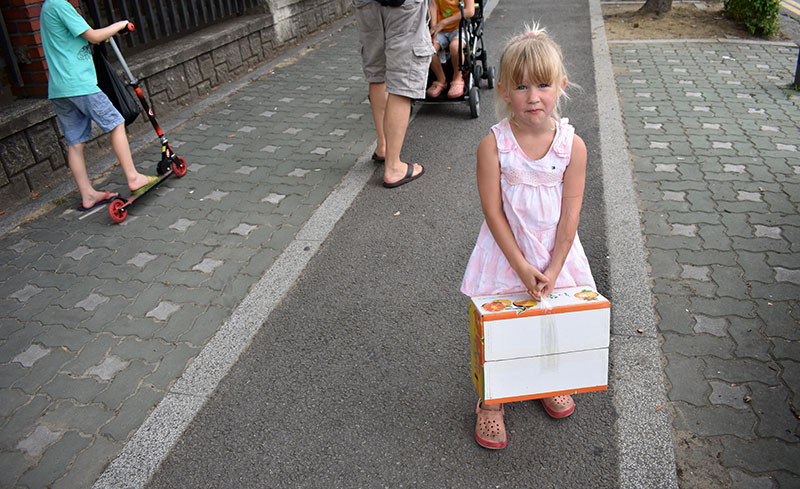 We also picked up green and red apples, peaches, oriental melons, and bananas. In all, we spent less than ₩50,000! If you are coming to live or play in Incheon, South Korea the Incheon Farmer's Market is the best place to go grocery shopping in South Korea. And by best, yes, we mean cheap.