By now, we've had our fill of shopping centers and markets, but when we heard about an American Style mall with a Giant Slide plunging through the center from top to bottom we kind of, sort of, had to go and take the whole family. Plus it is free!
Day 51 South Korea Family Travel Journal:
Giant Slide and American Style Mall
몰 오브 아메리카의 거대한 슬라이드

Four stops from Technopark and we arrived! To reach Square 1 mall, you'll depart the station from Exit 1 and walk across the street.
► Ranking: #cleandiaper
Square 1 Mall
210 Cheongneung-daero, Dongchun-dong
Yeonsu-gu, Incheon
Phone: 1544-1122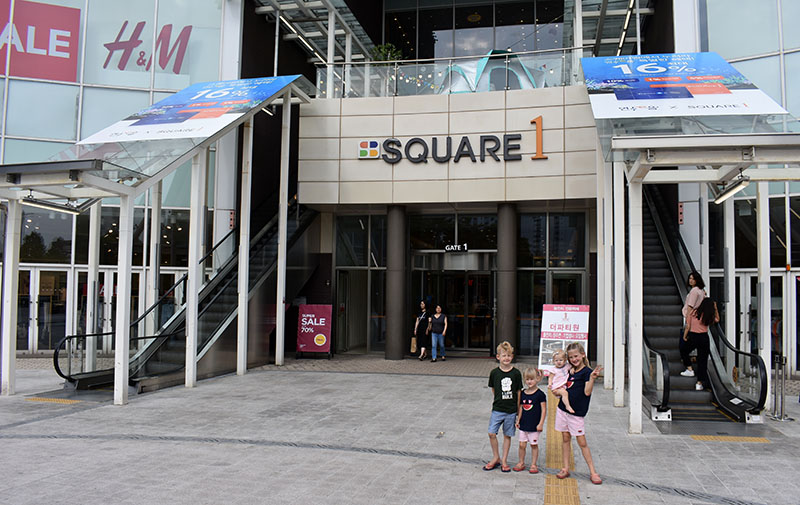 Square 1 Mall is an American Style Mall in that it is completely enclosed. Markets in South Korea are typically open market style or underground. This shopping center, however, is a five story mall that includes a movie theater and a wide range of stores. One such store includes a large children's store that sells everything from processed baby food, to the ultra fancy strollers we see everyone using that put our dilapidated and spartan stroller to shame.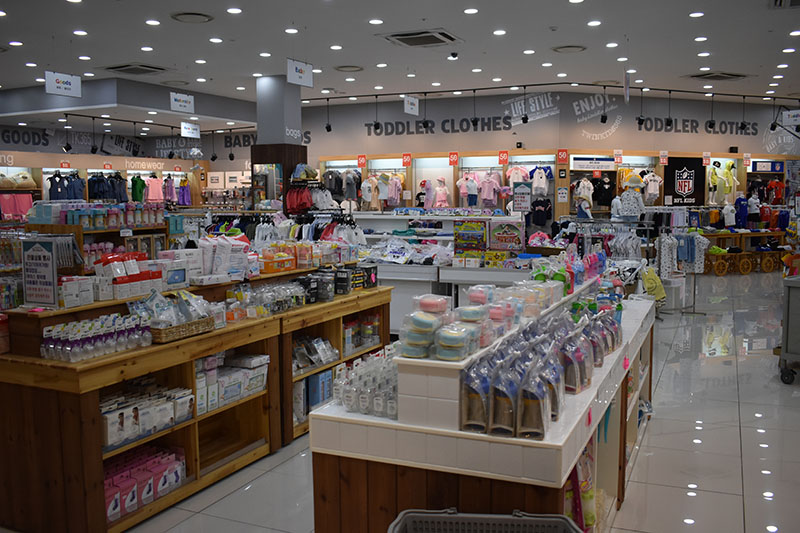 It didn't take us long to locate the giant slide and behold all its glory. It's pretty fantastic! We marveled at its shiny exterior and sleek texture. It's so pretty you want to touch it, and we did. It's as smooth as it looks and acts as a conduit to the future. Upon touching it, your eyes close and you are transported to the future where you immediately envision careening down the silver racetrack.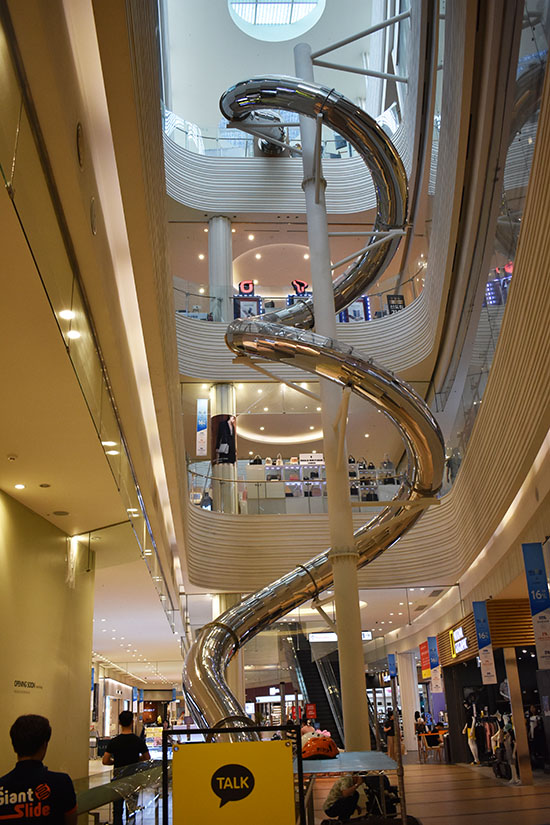 The entrance to the giant slide is located on the fourth floor, one floor shy of the top, so it's not quite as tall as the mall itself but pretty impressive nonetheless. It winds around in a circular pattern before reaching the ground, and the middle half of the giant slide has a clear top so you can watch the mall around you as you speed down.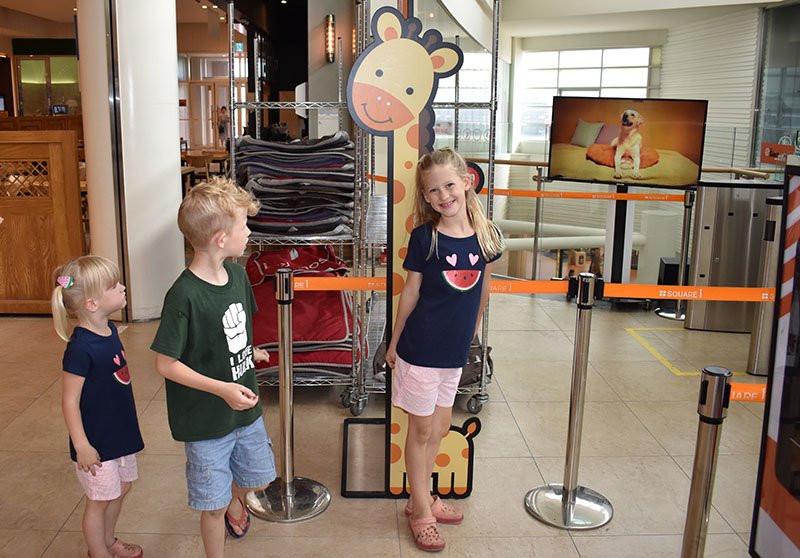 Guests must be a minimum of 120cm and sit inside an oversized potato sack as they go down. That meant Eclair is not quite tall enough to ride. She was so disappointed and who could blame her? We got her a consolation prize.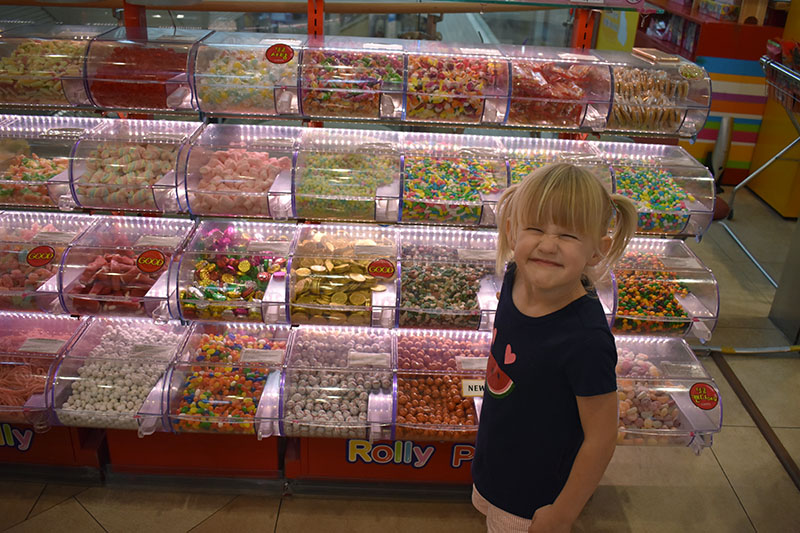 Helmets are also available if you feel like an enclosed giant slide may necessitate a need to protect your head.
We decided to have dinner at the mall, and the entire time we were eating the twins ran up and down the escalator and turn turns on the giant slide. That's right no one else was riding the giant slide. Not a single other human being! We don't get it. It's free, it's fun, and it's great for families.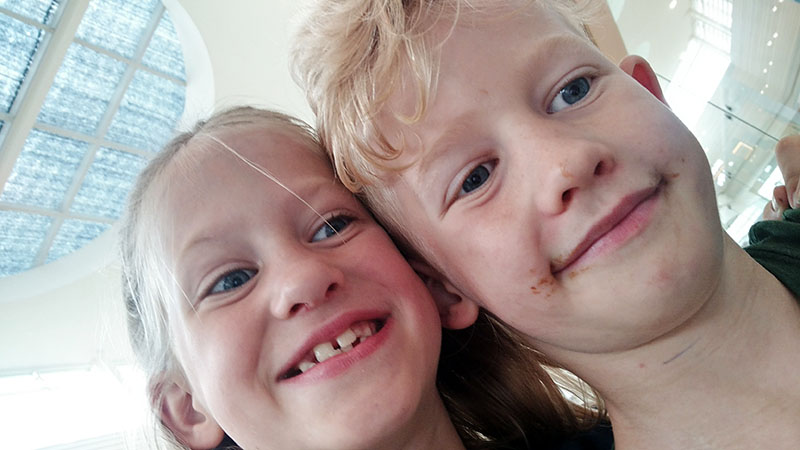 The one thing this mall lacks is a food court with every big name major fast food chain you have come to expect from America. Although, they do have a Korean food court and Gabriel and I spent the afternoon trying out everything there. And then immediately regretting it.
There is some really excellent and quite expensive ice cream at the cafe. But since Gabriel and I were on a date, we totally splurged. He's a keeper!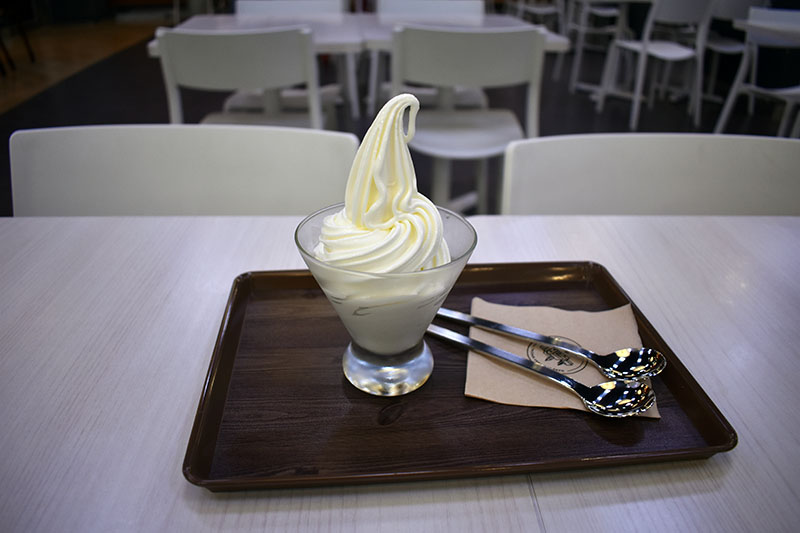 While we were here, we decided to test out another Kids Cafe and put the kids in the Champion Sports Kids Play Center. This Champion is located in the basement of the shopping mall, at the Home Plus store. There is also a toddler cafe upstairs near the food court with an inflatable octopus. It would have been boring for even Eclair, so we were excited to find this gem downstairs.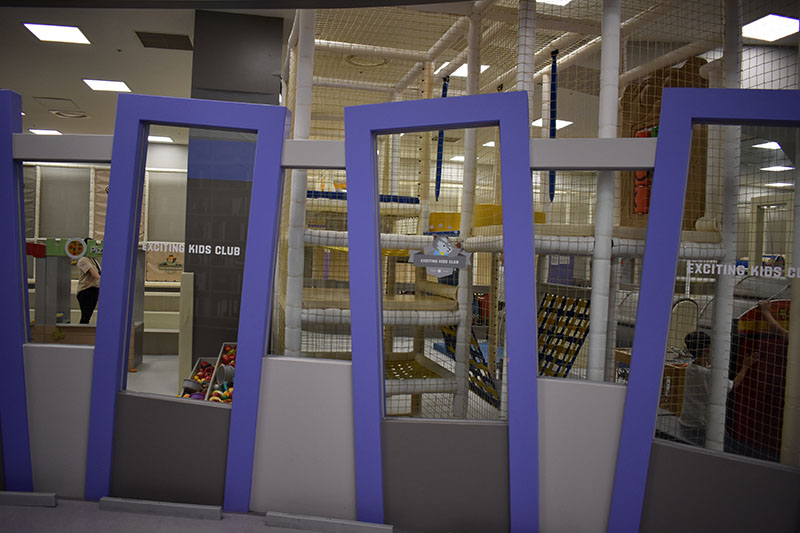 ► Ranking: #cleandiaper
Champion Sports Kids Play Center
Square 1 Mall
Hours: 10am – 10pm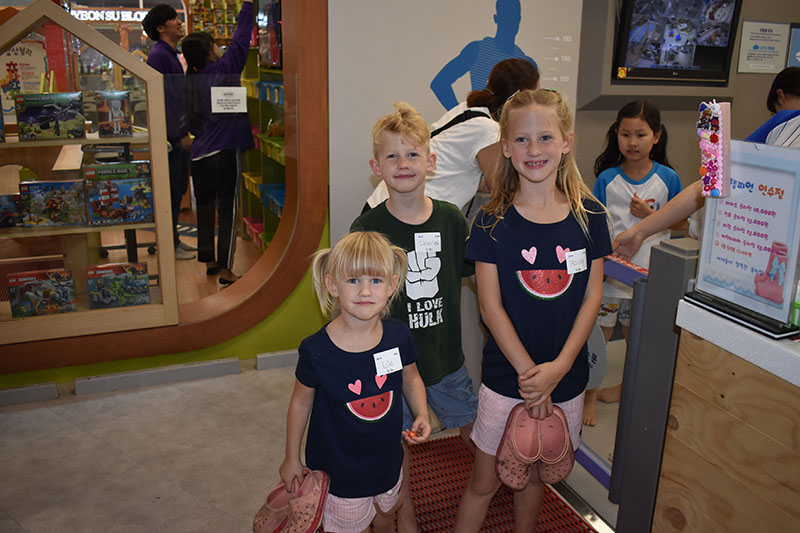 Like all the ones before it, our kids loved this Champion Sports Kids Play Center! This is the first time they've gone to a kids cafe where they didn't have the entire place to themselves. When we returned to pick them up we found Eclair manning the kitchen and taking orders from all the other kids lined up to practice their English.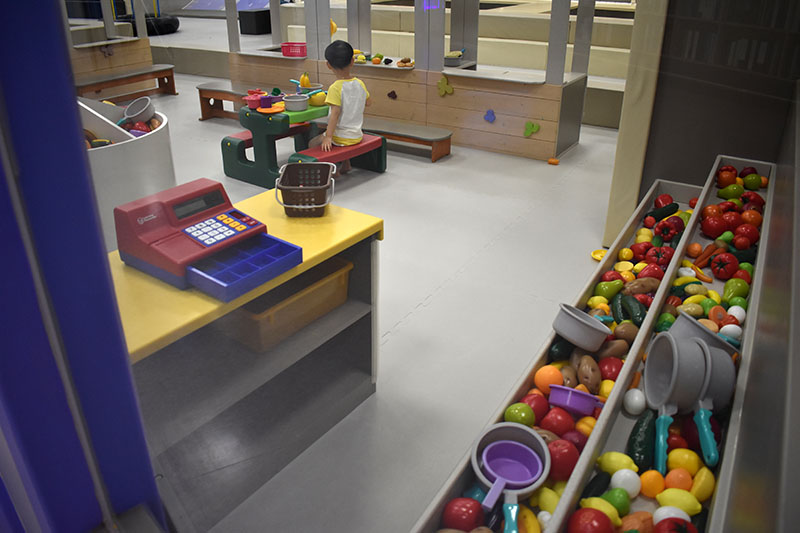 This Champion has trampolines, obstacle courses, climbing structures, a kitchen, a eco wood pit, and even a Mommy and Me station where kids can make art projects with their kids!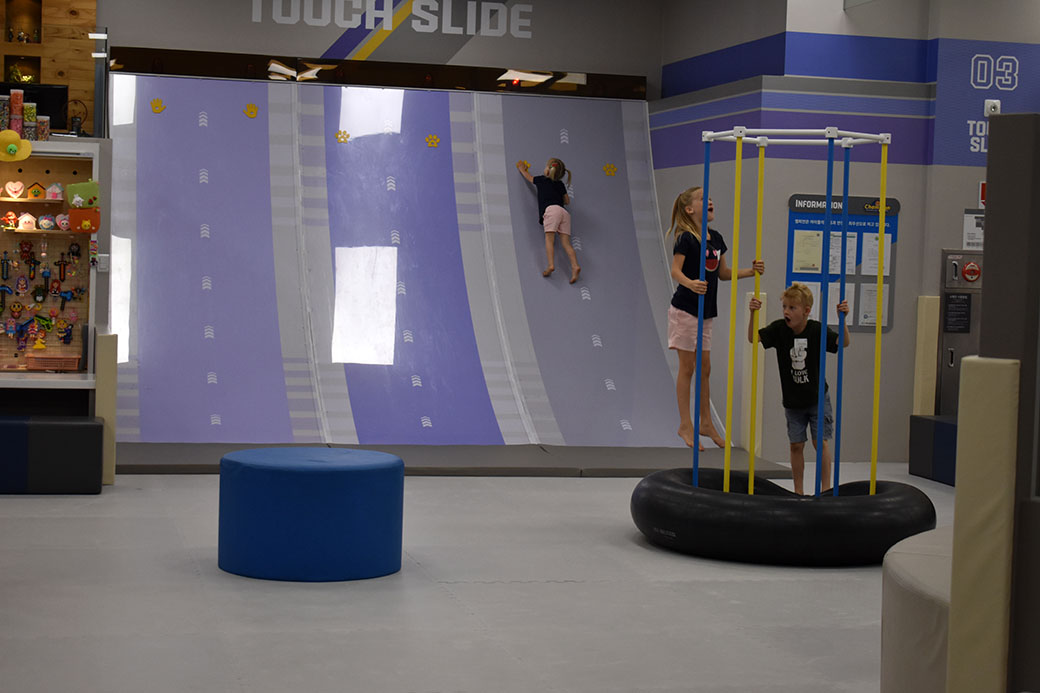 Since we needed to do something to get the taste of fish hot dogs out of our palate, we decided to measure up the good ol' KFC against all the incredible Korean Fried Chicken we've tried. It definitely lost all three rounds. It isn't bad per se, but when you are in Korea, you have a lot to live up to when it comes to drenching chicken in batter and frying it.
► Ranking: #stinkydiaper
KFC
Square 1 Mall
Family Hint: Check out
달콤한닭강정
in Dream City, or
Dakgangjeong at the Sinpo International Market
, or
BBQ Songdo New Town
on Uber Eats for the Best Korean Fried Chicken!
And of course, Molasses made some new friends.