Every weekend since we have arrived here in South Korea there is a street fair held at Triple Street. And every weekend since we've arrived we've wanted to check it out, but we always had something going on that prevented us from being able to. So with nothing else on the schedule, we decided today would be the day we would check it out. As it turns out, today was the one day that the street fair was cancelled (presumably due to the threat of rain)!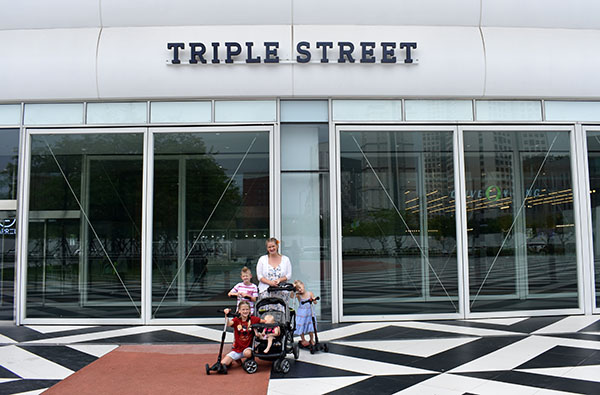 So with nothing else on the schedule, we decided to hop on the Subway with some popsicles and see where it led.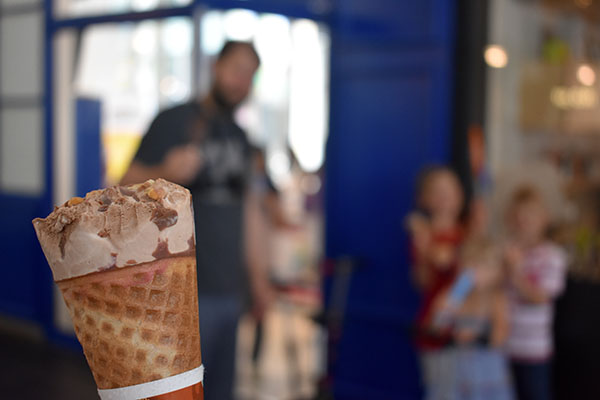 Day 38 South Korea Family Travel Journal:
Whoop Em Family Gangnam Style
엠 가족 강남 스타일

Yes, a short two hours later, of which the kids spent the entire subway ride talking about what to dress up for Halloween, and we found our family in Gangnam's neighborhood, on stage, dancing Gangnam Style.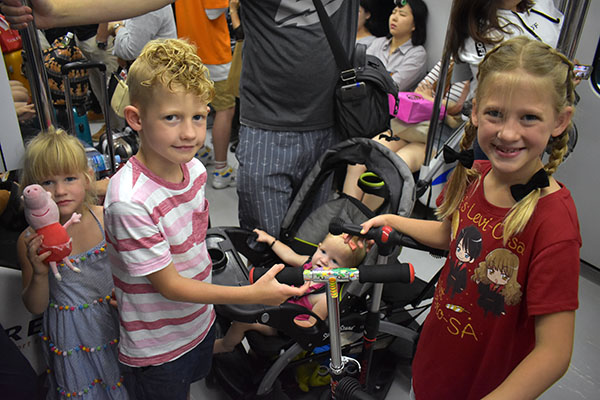 We have so much Family Gangnam Style.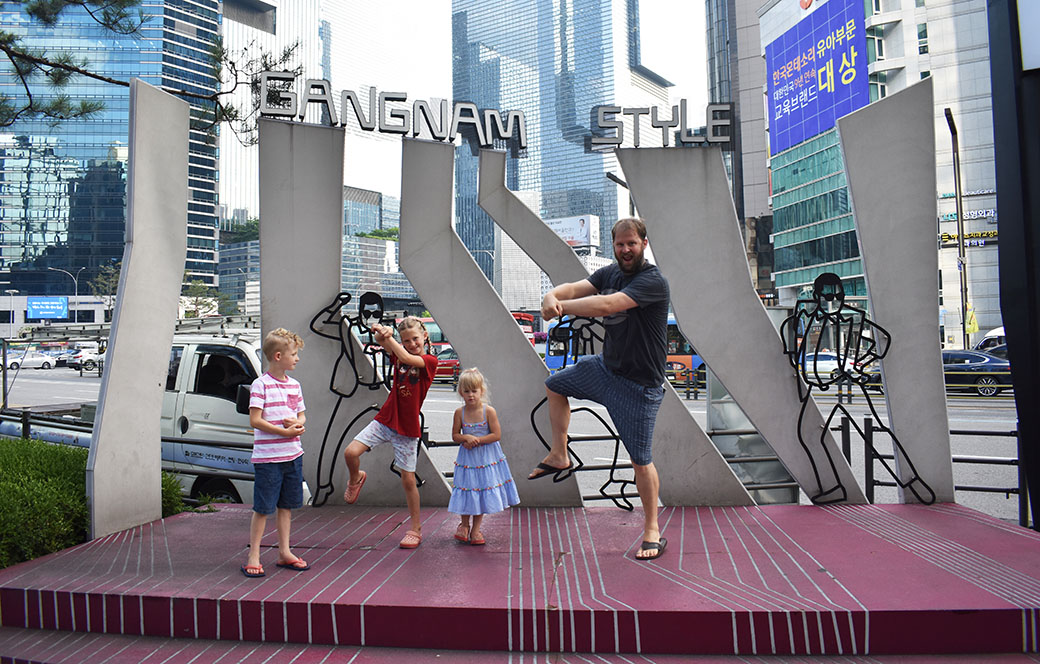 We even have our very own oppa of three girls.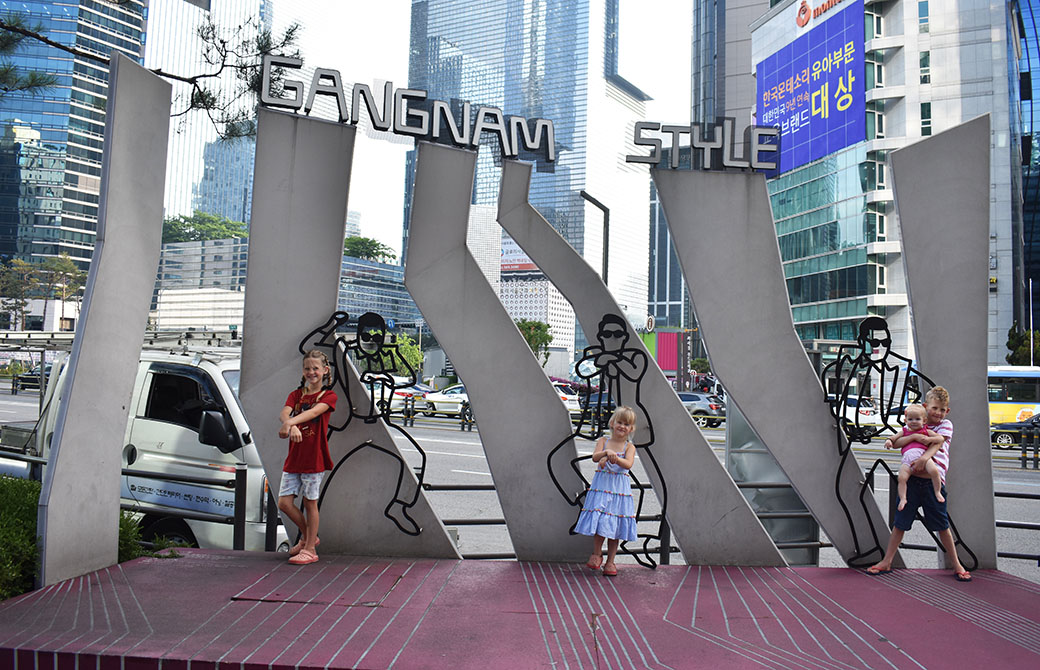 American Gangnam Style!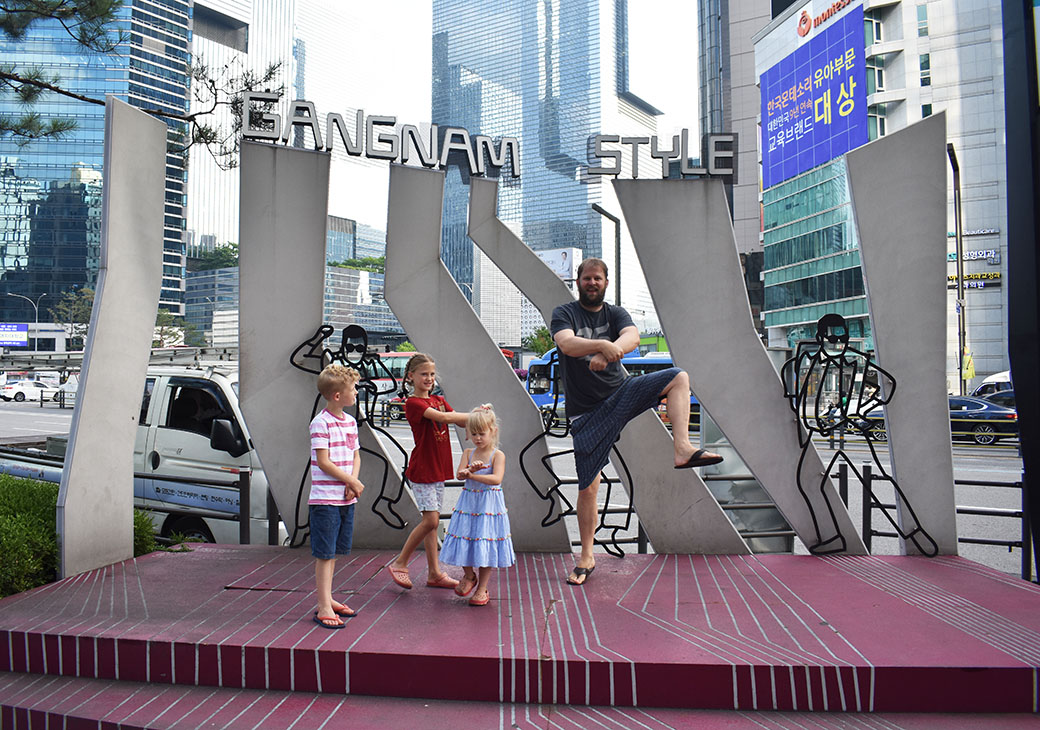 I forgot my booty shorts to show off my Gangnam Style.
Eeeeeh, sexy lady!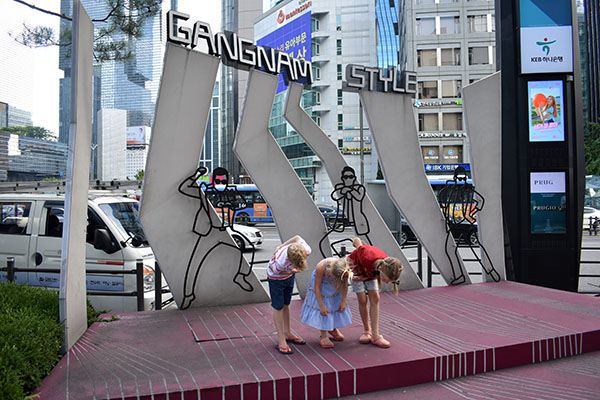 We walked through the Welcome Street of Gangnam and settled on Chicken Galbi for dinner. Even though the first time we consumed this traditional Korean dish it tasted like seaweed doused in hot sauce, Gabriel was sure we ate it wrong.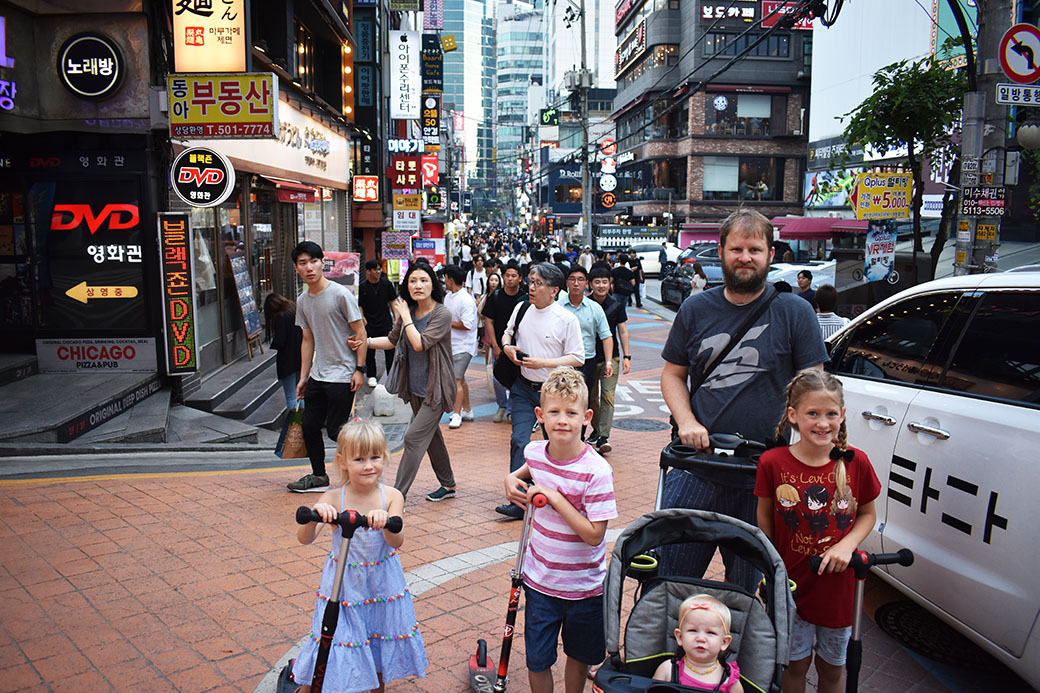 ► Ranking: #cleandiaper
스타닭갈비
Star Chicken Ribs
Gangnam
Seoul, South Korea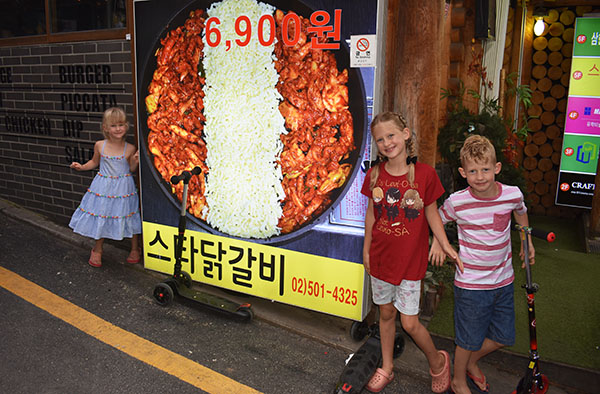 This restaurant was tucked into a basement and a welcome respite from the sticky hot outdoor streets. The menus were covered in hot pepper symbols, so before sitting down we asked multiple times if they had a version that was not spicy. They assured us they did, but when the meal came it was bright red. Bright red always means spicy.
It turns out it was the least spicy version they offered, and it wasn't too bad.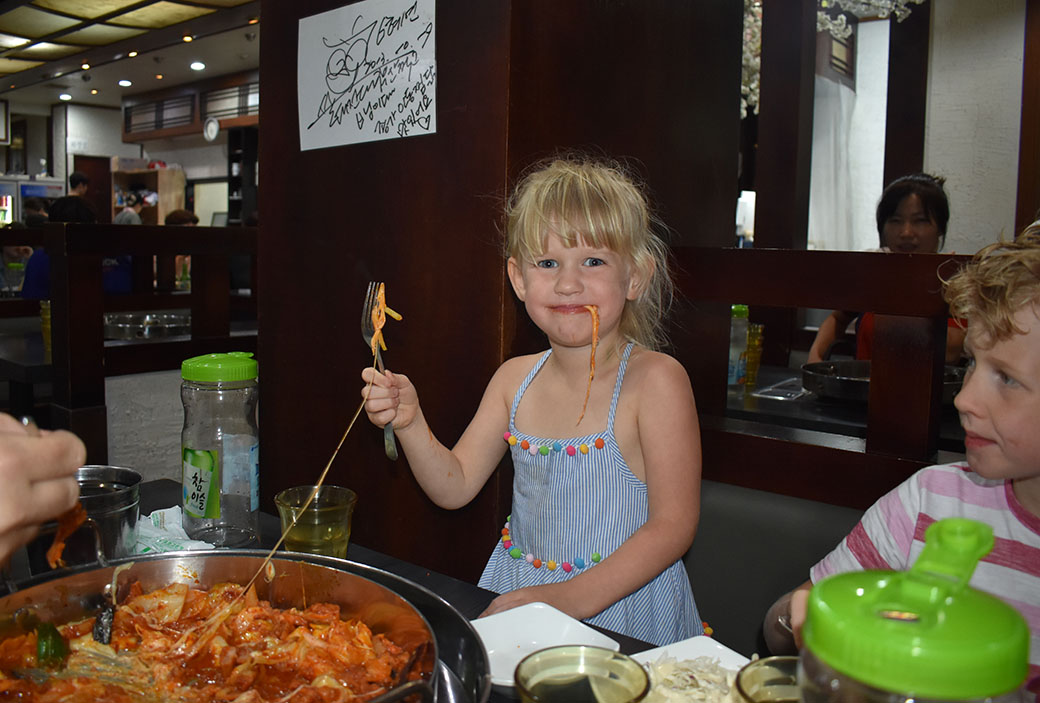 We left the restaurant hoping to find a few more Korean snacks for our family day in Gangnam. Like hottek which is a Korean pancake, but we've since learned is only served in winter. Korean's will consume steaming hot bowls of soup and broth in the sweltering heat of summer, but not pancakes. We were also on the hunt for Chi-Maek. This is Seoul's version of Dakgangjeong, sweet and spicy fried chicken. Chi-Maek is served with a drizzle of honey mustard, and ever since eating the Dakgangjeong at Sinpo International Market we can't get enough of it. Can someone just tell me where to get some Chi-Maek?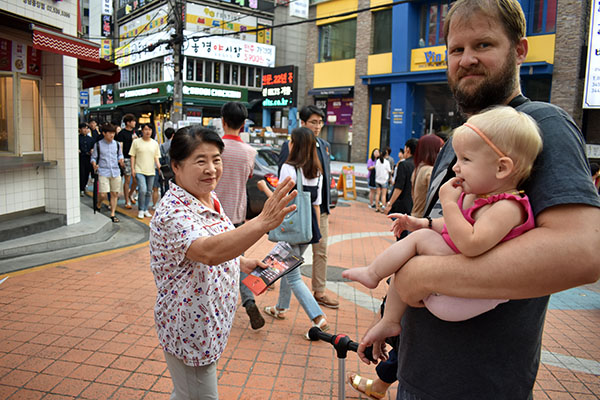 Sadly, we weren't able to find any of the above, or if we did find it we couldn't read it, so we set off to find Myeongdong Street Food Alley Night Market. Our family had to get back on the subway and travel about 30 minutes away from Gangnam for the promise and allure of "grilled lobster, fried milk, baked cheese skewers, tteokgalbi meatballs, strawberry mochi, and a wide variety of sweets and treats" according to Culture Trip.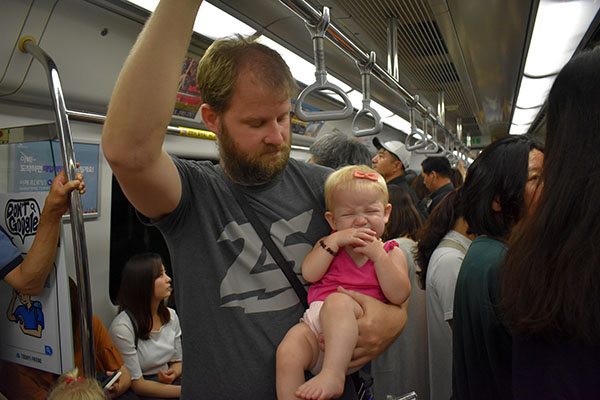 No.
► Ranking: #stinkydiaper
Myeongdong Street Food Alley
Seoul, South Korea
There is nothing remotely family friendly, good food for families, or interesting family activities on or about Myeongdong Street Food Alley.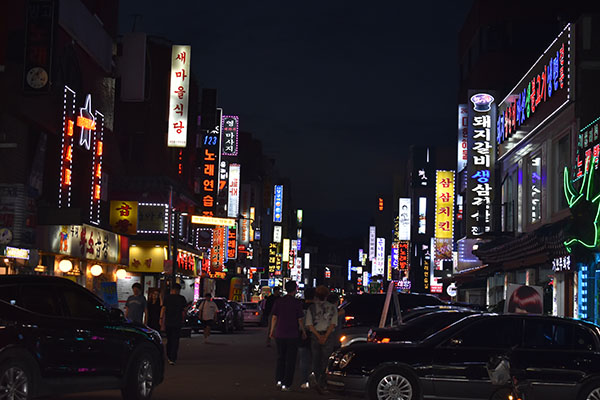 After walking up and down alley after alley finding nothing but a whole lot of "for a good time call…" cards strewn every which way, we finally ate at Ho Chicken.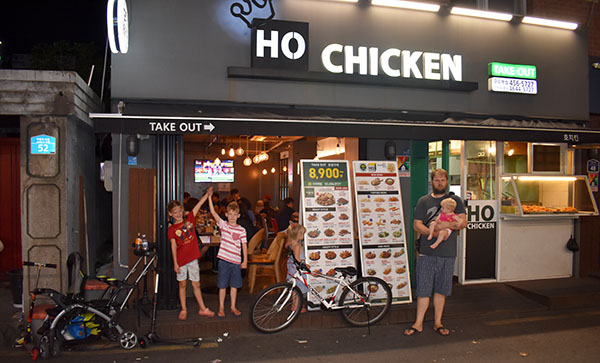 ► Ranking: #stinydiaper
Ho Chicken
Myeongdong Street Food Alley
Seoul, South Korea
I've never eaten anything so terrible in my entire life. Nothing. Gabriel has ever eaten anything so terrible in his life, well, that's questionable, but the kids have definitely never eaten anything so terrible in their lives.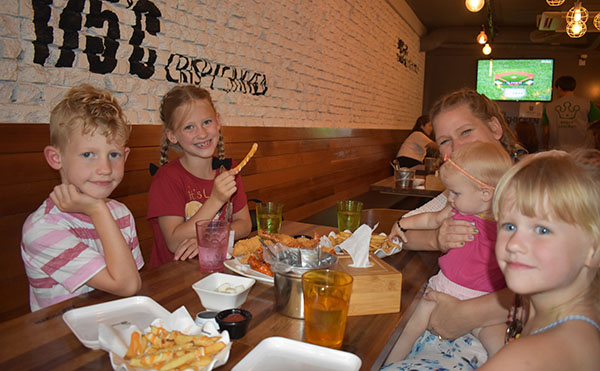 We ordered half and half spicy and regular fried chicken, plus bbq chicken and some bacon and cheese fries.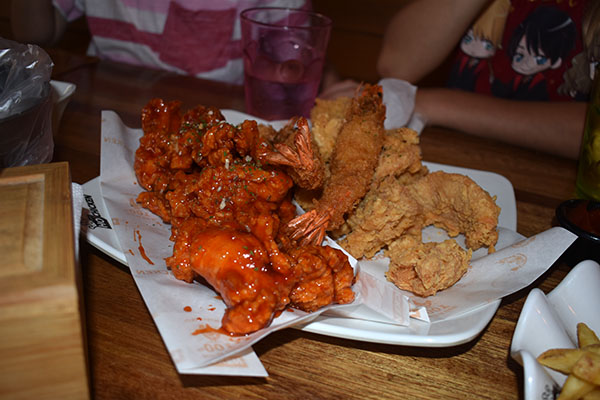 The spicy chicken has one distinguishable flavor: garbage. It tastes like it's coated in a layer of Tabasco that has been sloppily slathered over the chicken in a lazy effort to make it taste in any way different than the regular fried chicken. The regular fried chicken tastes like flavorless gas station play dough trying to pass as real food. It's coated in thin layers of a bland flour mixture that the teenage cook, just trying to make enough money to score the latest k-pop album, forgot to add any herbs and spices to. The BBQ chicken's only redeeming quality is that it is actual chicken, compared to the flimsy strips of regular fried chicken that our family was served in the half half plate, but was nothing more than just a shade darker color of the Tabasco version. Five whole bacon bits plus squeezy cheese made up the bacon and cheese fries.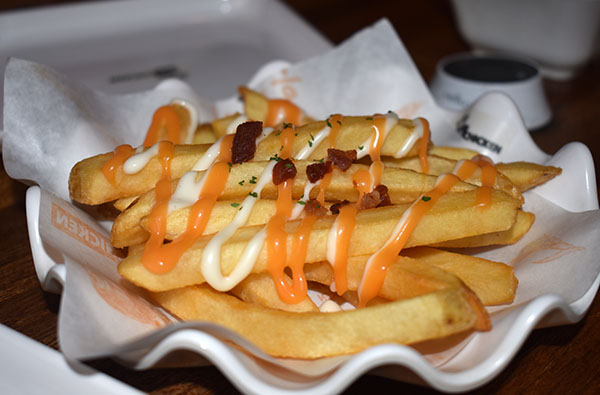 We choked down the regular fried chicken and boxed up everything else to throw away where it belonged.
Then we cried the entire two hour, plus three transfers, subway trip home knowing everything would be closed by the time we arrived. It was a long day. We started out late thinking we weren't going to venture far from home, and then we went about as far as we could go. We had barely enough diapers for the day, no blanket for the baby once the sun went down or an emergency change of clothes. We didn't need a blanket or a change of clothes, but we might have!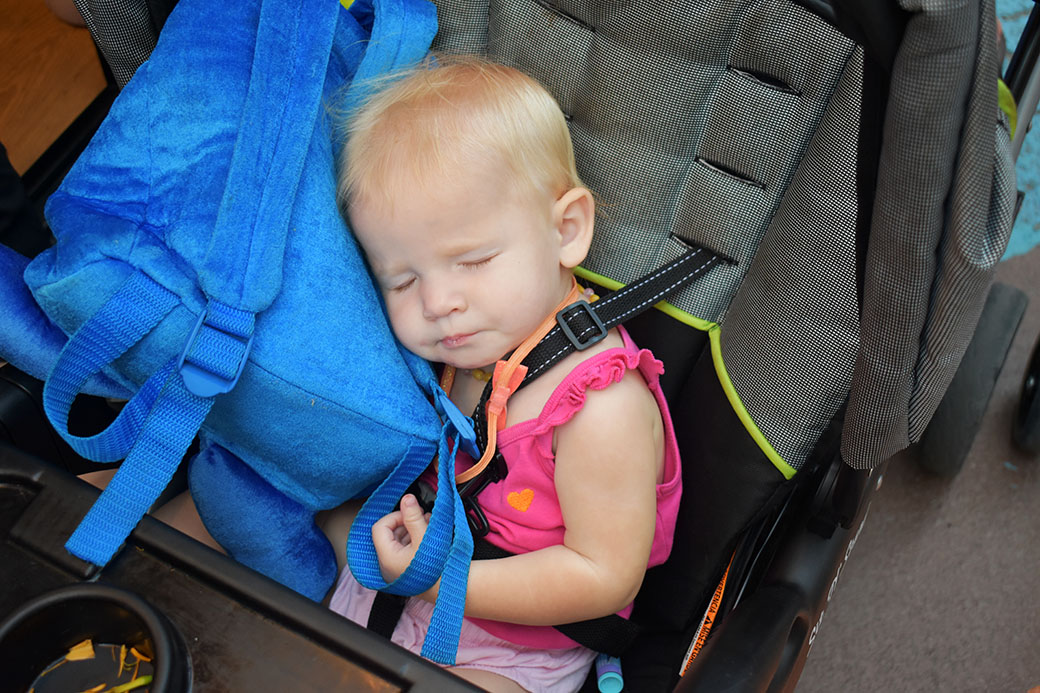 As much fun as dancing like Psy on the Gangnam stage was, our family spent a ridiculous amount of time looking for the Gangnam Style hand statue, and still never found it! We spent the entire day starving, and still went to bed hungry after arriving home at 1am in the morning. So hungry that we even checked the GS25 on our walk back from the subway station; it was closed.
We did have fun listening to Eclair spend the entire Subway ride home at 11pm, serenading everyone with Ooh Child at the top of her lungs as she begged me to teach and feed her the lines one by one.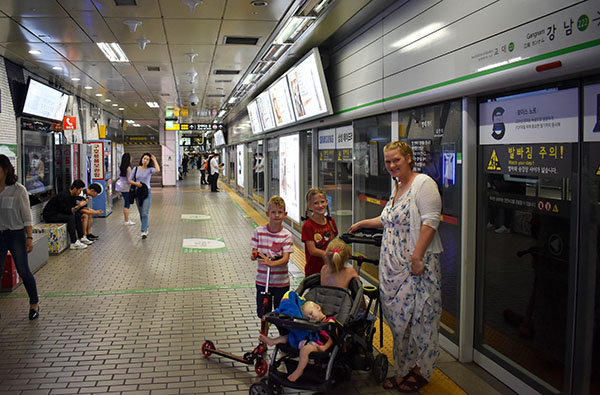 It's hard being spontaneous with four kids, but we do our best to never learn anything from our past travel fails. At least there are memories to be made even when nothing goes according to plan.